Los Angeles Preps:

Derwin Henderson
January, 25, 2012
1/25/12
4:01
PM PT
By
Sean Ceglinsky
| ESPNLosAngeles.com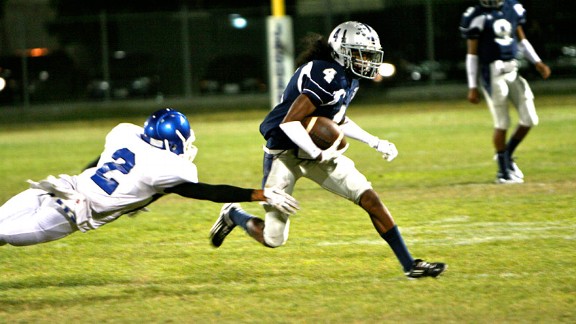 Courtesy of Jackie SattiSouth East's Robert Lewis says he will announce his college choice on Friday night.
LOS ANGELES -- It appeared as if
Robert Lewis
had, at long last, made up his mind about his final destination for college when the senior from South Gate South East gave a verbal commitment to Washington State a couple of weeks ago. Questions about the pledge, however, remain.
Lewis plans to put a stop to all of the second-guessing and make things official on Friday night when a ceremony will be held on his high school campus and the 5-foot-10, 160-pound running back will decide between his final three schools, Oregon, Southern Methodist and Washington State.
"I'm going to make my announcement this weekend at my school and pick the hat of my college choice in front of all my family and friends,'' Lewis said. "I'm still exploring all my options, but the recruiting process is almost over for me. Anything can happen in the next two days.''
There was some who thought San Diego State had recently emerged as a player. When Lewis decided to cancel a visit earlier this month, the talk about the Aztecs subsided.
Utah made a last ditch effort to lure him Salt Lake City. The same thing can be said about Texas Tech and the Red Raiders' desire to wow him with everything Lubbock had to offer.
"We've talked plenty about recruiting in the past, and I know Robert likes Washington State, but I don't think it's a lock that he'll commit to the Cougars,'' South East coach
Derwin Henderson
said. "He also likes SMU, that program has been high on his list since the beginning. We're all in the dark about his decision. I can tell you this, we'll find out on Friday night when he decides.''
The Mustangs and coach
June Junes
initially received a verbal commitment from Lewis in February. At the time, all signs pointed to the program, essentially, being the frontrunner.
December, 10, 2011
12/10/11
12:32
AM PT


MONTEREY PARK -- Derwin Henderson looked over his left shoulder, then over his right. The South East coach promptly pulled the hood of his sweatshirt over his head, knowing exactly what was coming next.

Nothing like an icy bath to kick off the celebration.

Henderson and top-seeded South East captured the City Section Division II championship Friday afternoon with a 51-34 victory against second-seeded Marshall at Weingart Stadium on the campus of East Los Angeles College. South East (13-1), in only its seventh year of existence, shattered its previous school record of eight wins.

The disbelief was evident on junior quarterback Jonathan Santos' face. He passed for 317 yards and five touchdowns, and added a season-high 135 rushing yards and another score to pace the explosive Jaguars attack.

"I wouldn't trade him for the world," Henderson said.

Highly regarded Robert Lewis, the Southern Methodist-bound tailback who had 2,004 rushing yards and 30 touchdowns heading into the game, had difficulty finding running lanes but made his presence felt in a different way. He caught a 24-yard touchdown and returned an interception 36 yards for a score in the second half to help Eastern League champion South East pull away.

"Back in February Robert could have left to any other school he wanted, but he stuck around, stuck with me," Henderson said.

Santos' 71-yard touchdown pass to Ramone Smith was the dagger, making it 38-20 early in the fourth quarter. In the stands, newspaper scraps fluttered in the air, serving as makeshift confetti.

"This is everything," said Santos, who fell just 31 yards short of 3,000 for the season. "Since I was little this is what I've been dreaming about. We never thought it'd be reality."


October, 7, 2011
10/07/11
11:31
PM PT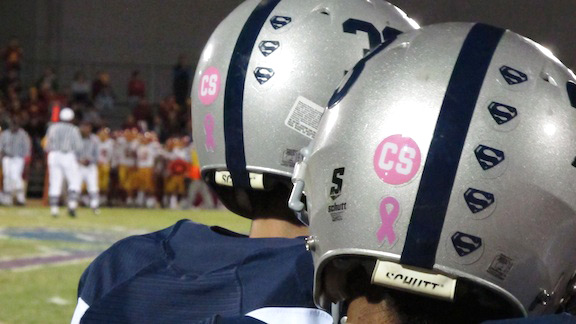 Blair Angulo for ESPNLA.comSouth East players honored slain student Cindi Santana with a decal on their helmets for Friday's game against Roosevelt.
SOUTH GATE -- For a few hours Friday night, the community got lost in a game of football.
There were tears before South East's 42-21 victory over visiting Roosevelt. There were hugs and distraught faces. The school had a moment of silence in memory of
Cindi Santana
, the South East student who was fatally stabbed on campus on Sept. 30. Cheerleaders held each other. Jaguars players commemorated Santana by sticking pink 'CS' decals on the back of their helmets.
Brutal violence had shaken the six-year-old school a week before. On this night, unity was the prevalent theme. The wounds were still fresh but, after kickoff, the home crowd cheered on its undefeated team.
"This team has been through a total roller coaster," South East coach
Derwin Henderson
said. "They decided, as a team, to not only play for Cindi but to play for this community, play for this school. It's destiny. They feel like they can go out and beat anybody."
With the way
Jonathan Santos
threw the ball, the Jaguars (6-0) could very well be the favorites to capture the City Section Division II title. The junior quarterback completed 21 of 33 passes for 319 yards and three touchdowns.
Christian Quiñones
had three touchdown catches and
Juan Nevarez
added 144 yards receiving to help South East pull away.
"We're sad," Santos said. "Everything is happening so fast. But every week we've got to work hard. God is watching us and everyone else is watching us. Hopefully we have their support."
October, 5, 2011
10/05/11
9:30
PM PT
By
Sean Ceglinsky
| ESPNLosAngeles.com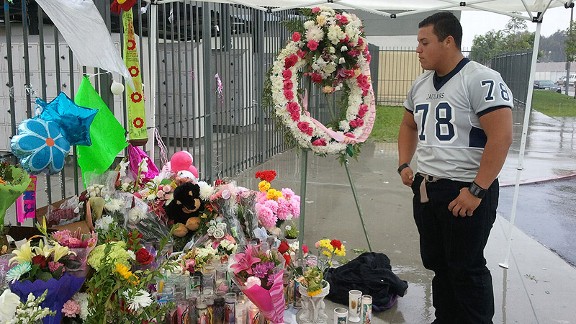 Courtesy of Jackie SattiSouth East junior football player Jorge Garcia intervened during a fatal stabbing on campus last week and helped subdue the accused attacker.
SOUTH GATE -- Football instincts took over.
One second,
Jorge Garcia
was sitting with a group of friends during lunch at South East High, having a good time, seemingly without a care in the world. Moments later, the high school junior was in the midst of a battle for his very life.
During an on-campus altercation last Friday, Garcia did his best but couldn't prevent fellow South East student
Abraham Lopez
, 18, from fatally stabbing
Cindi Santana
, 17, Lopez's one-time girlfriend and also a South East student. Santana died later that night at a local hospital during surgery from the injuries sustained during the attack.
By most accounts, Garcia, a lineman for the Jaguars, without heisitation went into gridiron mode at the time of the incident. In his mind, he said, his own safety was an afterthought.
Garcia said he tackled Lopez, blindsiding the accused attacker in an effort to prevent further harm to Santana. Garcia, himself, suffered stab wounds during the skirmish and was treated at a nearby hospital to receive stitches and close his wound. Days after the fatal tragedy, Garcia continues his road to recovery. He is being hailed as a hero at South East.
"I was with my boys, goofing around like always, then I heard a scared crying noise from a girl,'' the 16-year old Garcia recounted. "I didn't wait around, I jumped in and sacked [Lopez]. I wanted to get him away. My adrenaline was pumping, like it does in football. Thinking about it now, I think my background on the field helped me out.
"After everything happened, I knew I was cut pretty bad. But it didn't hurt. People were telling me I was lucky to be alive. I'm not going to lie, I was calm. I'm not sure why I felt that way. My mom was worried, but she's a mom. My dad told me I did a good thing."
Garcia said he did not personally know Lopez or Santana.
"I never saw them at school," Garcia said. "Still, I was put in that position for a reason. A lot of people would have froze if they saw something like that going on. I didn't. It could have been anyone, I would have helped out. I'd do it again too.''
As the incident unfolded, the dire, echoing scream for help caught his attention first. The commotion taking place nearby was undeniable. Garcia did not have time to think. He merely reacted.
But by the time Garcia subdued Lopez, the damage was done. Santana was rushed to St. Francis Medical Center in Lynwood. With family and friends by her side throughout, she fought to survive, but was pronounced dead at 7:45 p.m.
Garcia was taken to the hospital as well. He first went to St. Francis in an ambulance and later to Kaiser Permanente in Downey for further observation. Garcia received 12 stitches on his right shoulder, six underneath the skin to repair a damaged muscle and another six on the surface to close the gaping gash.
Not overly concerned about his own well being, Garcia said his thoughts were with Santana during his trying time. He says others have always come first in his mind, and he worries about himself second. That mentality best explains why Garcia came to the aid of a peer in desperate need, no questions asked.
Christina Ordonez
, the Dean of School at South East, along with a campus police officer also were injured during the incident. However, both are reportedly recovering well, according to school officials.
October, 4, 2011
10/04/11
5:18
PM PT
By
Sean Ceglinsky
| ESPNLosAngeles.com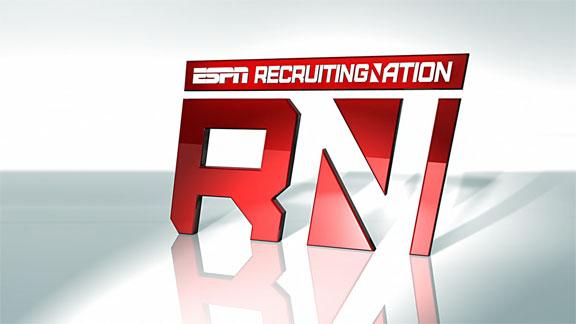 SOUTH GATE -- Make no mistake, South East High has never been known as a hotbed for recruiting high-profile prep football prospects from the Southland.
That is, until now. Thanks in large part to
Robert Lewis
.
The senior running back is one of the nation's premier players. Lewis is so highly thought of, in fact, scouts from all over the country traveling to the West Coast these days schedule a pit-stop at once relatively obscure South East in an effort to keep tabs on him.
"I'm a Jaguar for life, the school is close to my house, in my neighborhood and 10 minutes away, this is where I belong,'' Lewis said. "It doesn't matter where you're from, if you stay focused and work hard, people will come and find you. That's the way I was raised.''
Division I college coaches normally travel to nearby Los Angeles City Sections schools such as Carson, Crenshaw and Narbonne in search of talent. In terms of discovering the next potential star at the next level, other must-stops along the way typically tend to be Southern Section programs Gardena Serra, Long Beach Poly and Los Angeles Cathedral, to name a few.
Lewis, however, has successfully put the Jaguars (5-0 overall) on the map heading into Friday night's Eastern League game against visiting L.A. Roosevelt (2-2)
The school, mind you, is in only its sixth year of existence.
"The thing about Robert is, he's as loyal as they come,'' said
Derwin Henderson
, in his first year as South East coach. "When I got the job, he called right away and told me that we were going to win a championship here. This coming from a teenager, I was impressed.
"I'm sure Robert had his pick of high school schools to play for, kids switch programs all the time. He wanted to break the mold though. Robert started at South East with his friends and he wanted to finish at South East with his friends. In this day and age, with everything that goes on, I have to say that his decision to stay put is refreshing to see. It doesn't happen often.''