Los Angeles Preps:

DeVante Wilson
August, 31, 2011
8/31/11
7:27
PM PT
By
Dan Arritt
| ESPNLosAngeles.com
Through out this season, ESPNLA plans to highlight the Inland Empire's top matchups of the week, whether it's two undefeated teams going head to head in league play, a beefy offensive line against a swarming defensive front, or an offseason transfer meeting up against his former team. And what's a good preview without a prediction?
Here's what to look for this weekend.
A-GAME
Fontana Summit vs. Etiwanda at Fontana A.B. Miller HS, Friday (7 p.m.)
-- One of the top passers in the Southern Section last season goes up against one of the best ball hawks.
Larry Cutbirth
of Etiwanda threw for 2,996 yards and 32 touchdowns last season, both stats among the top 10 in the state's biggest section. He'll have to contend with Boise State-bound senior corner
Donte Deayon
, who hauled in 10 interceptions as a junior, which tied for second in the section. The game was expected to mark the long-awaited return of Etiwanda senior linebacker
Chandler Scott
, who sat out last season because of a knee injury after leading the Baseline League in tackles as a sophomore, but he suffered another knee injury over the summer and is expected to miss the first two games.
Prediction: Summit 26, Etiwanda 21.
B-LIST
San Bernardino Cajon at Temecula Chaparral, Friday (7 p.m.)
-- Chaparral would very much like to spring from the blocks and start the season on a positive note for new coach
Ryan Tukua
. The matchup to watch here is also quarterback vs. cornerback.
Matt Morin
returns behind center for Chaparral and the San Diego State-bound left-hander will be trying to beat a Cajon secondary that includes
Damontae Kazee
, who has committed to Washington but has a brother,
Walter
, who plays running back for San Diego State. Kazee is also Cajon's biggest offensive threat at receiver, and he'll face a defense led by Chaparral strong safety
C.J. Dozier
, who has committed to Arizona State.
Prediction: Chaparral 20, Cajon 17.
Pomona Diamond Ranch at Chino, Friday (7 p.m.)
-- If nothing else, this game should be interesting to watch from a coaching perspective. Chino's balanced offense will stare down a defense coached by former Riverside North, USC and NFL defensive end
Chris Claiborne
, in his first season as defensive coordinator at Diamond Ranch. He'll have to find a way to stop Chino quarterback
Sean Molles
, who threw for 2,343 yards and 29 touchdowns last season, and running back
Xavier Browne
, who totaled 1,275 yards and 20 touchdowns. Claiborne was defensive coordinator the last two seasons at Corona High, where he developed defensive end
DeVante Wilson
, now at USC.
Prediction: Chino 28, Diamond Ranch 10.
La Quinta at Rancho Cucamonga Los Osos, Friday (7 p.m.)
--
Taylor Pope
might have to be a one-man band for La Quinta. The senior quarterback is the lone returning all-Desert Valley League selection from last season's team, and one of the key pieces on defense and special teams for the Blackhawks. Los Osos missed the playoffs last season for the first time since 2004 and returns just eight starters, but the Grizzlies have one of the area's better offensive guards to lean on in 6-4, 280-pound senior
Dylan La Frenz
.
Prediction: La Quinta 14, Los Osos 13.
February, 2, 2011
2/02/11
12:56
PM PT
By
Dan Arritt
| ESPNLosAngeles.com
Below is an updated list of high school football recruits from the Inland Empire and where they're headed.
Tight end
Junior Pomee
and cornerback
Ryan Henderson
of Moreno Valley Rancho Verde are expected to announce their decisions at 5:30 p.m.
Reports
indicate they're headed to USC.
Corona Centennial quarterback
Michael Eubank
just announced he will stick with Arizona State. His decision will be broadcast on FS West at 7 p.m. He had also considered Pittsburgh and Utah.
Eubank committed to the Sun Devils in December but recently had taken a recruiting trip to Pittsburgh. Vista Murrieta quarterback
Derrick Brown
recently switched his commitment from Utah to Washington, which had opened a possible spot for Eubank.
UNDECIDED
Junior Pomee, TE, Moreno Valley Rancho Verde
Ryan Henderson, DB/RB, Moreno Valley Rancho Verde
ARIZONA STATE
Quinton Pedroza, WR/DB, Chino
Brent Walker, OL, Norco
Michael Eubank, QB, Corona Centennial
BOISE STATE
Jake Van Ginkel, K, Upland
BYU
Adam Pulsipher, LB, Temecula Valley
COLORADO
Greg Henderson, DB, Norco
COLORADO STATE
Nuuvali Faapito, F/LB, La Quinta
FRESNO STATE
Ejiro Ederaine, LB, Corona Santiago
February, 1, 2011
2/01/11
6:55
AM PT
By
Dan Arritt
| ESPNLosAngeles.com
With the National Signing Day set for Wednesday, a number of Inland Empire football players have given verbal commitments to various schools across the country. Nothing is official until the papers are signed and returned to the respective colleges, but San Diego State and Oregon have received the most pledges from I.E. athletes. Here's the list of players and where they've committed.

ARIZONA STATE
Michael Eubank, QB, Corona Centennial
Quinton Pedroza, WR/DB, Chino
Brent Walker, OL, Norco

BOISE STATE
Jake Van Ginkel, K, Upland

BYU
Adam Pulsipher, LB, Temecula Valley

COLORADO
Greg Henderson, DB, Norco

COLORADO STATE
Nuvali Faapito, F/LB, La Quinta

FRESNO STATE
Ejiro Ederaine, LB, Corona Santiago

HAWAII
Promise Amadi, Ath., Chino

IDAHO
Dion Bass, DB, Corona Centennial
Todd Handley, RB, Riverside King

IOWA STATE
David Irving, DE/TE, San Jacinto

MONTANA
Nate Harris, RB/DB, Chino Hills

NEVADA
Desman Carter, DB, Fontana Kaiser
Superrior Reid, RB, Riverside Arlington

OREGON
Devon Blackmon, WR, Fontana Summit
Rodney Hardrick, LB, Colton
Ifo Ekpre-Olomu, S, Chino Hills
Jamal Prater, OL, Etiwanda

OREGON STATE
Larry Scott, WR, Corona Centennial

SACRAMENTO STATE
John Taylor, OL, Colton
Blake Robertson, WR, Corona

SAN DIEGO STATE
Darius Guillory, LB, Temecula Chaparral
Jemond Hazely, WR, Corona Santiago
Ryan Jack, LB, Corona Centennial
Paul Pitts, WR, Los Osos
Paul Rodriguez, OL, San Bernardino San Gorgonio
Jonathan Sanchez, DL, Vista Murrieta
Jordan Taylor, OL, Redlands

SAN JOSE STATE
Simon Connette, DB, Corona Santiago
Tyler Ervin, RB, Colton
Sam Boyd, TE, Eastvale Roosevelt

STANFORD
Kelsey Young, RB, Norco

UTAH
Ryan Henderson, DB/RB, Moreno Valley Rancho Verde

USC
DeVante Wilson, DE, Corona

WASHINGTON
Derrick Brown, QB, Vista Murrieta

WASHINGTON STATE
Marcus Mason, RB, Etiwanda

WEBER STATE
Barrinton Collins, RB, Corona Centennial
January, 27, 2011
1/27/11
8:34
PM PT
By
Dan Arritt
| ESPNLosAngeles.com
The All-Southern Section 11-man football teams were released Thursday and, as expected, Corona Centennial had several players representing the Inland Division.
The Huskies had five players selected to the 22-man offensive team, including quarterback
Michael Eubank,
the division's offensive player of the year.
Eubank, who is
expected to sign
with Arizona State next week, threw for 2,831 yards and 22 touchdowns while leading Centennial to the Inland Division title and a Division I state bowl berth. Eubank also ran for 1,329 yards and 19 touchdowns.
Centennial defensive back
Chris Gonzalez
was named the division's defensive player of the year over San Diego State-bound teammate and leading tackler, linebacker
Ryan Jack
. Gonzalez led the Huskies with seven interceptions and was second on the team in tackles.
Milo Jordan
, a junior lineman and top recruit for next year, was the other Centennial player selected to the defensive team.
Matt Logan
completed the sweep for Centennial, winning coach of the year honors.
Inland Division runner-up Vista Murrieta had six selections and semifinalists Rancho Cucamonga and Chino Hills had five each.
Among the notable players not selected was Chaparral receiver
Antoine Arnold
, last season's co-offensive player of the year. Arnold played in all but two games this season but his numbers dropped significantly as the offense struggled to get him the ball. Corona defensive end
DeVante Wilson
, who is
expected to sign
with USC next week, did not return to the defensive team.
January, 5, 2011
1/05/11
9:03
PM PT
By
Dan Arritt
| ESPNLosAngeles.com
Oregon snared one of the Southland's top football recruits Wednesday night when Devon Blackmon of Fontana Summit committed to the Ducks at the Under Armour All-American Game in St. Petersburg, Fla.

Blackmon, who is expected to play wide receiver at the college level, chose Oregon over locals USC and UCLA. Oregon will play in the BCS National Championship game Monday against Auburn in Glendale, Ariz.

A number of other Inland Empire football players have also committed to college programs since the end of the season.

Corona Centennial quarterback Michael Eubank, who led the Huskies to the Inland Division championship and the Division 1 state bowl game, pledged to Arizona State.

Corona defensive end DeVante Wilson committed to USC, Colton linebacker Rodney Hardrick committed to Oregon, and Riverside King running back Todd Handley committed to Idaho.
November, 18, 2010
11/18/10
10:56
AM PT
By
Dan Arritt
| ESPNLosAngeles.com
Nobody expected Temecula Chaparral or Upland to win Southern Section titles last season either.

But then the Pumas got on a roll after finishing second in the Southwestern League and slipped by one quality opponent after another in the Inland Division playoffs, winning their first section title with a 13-7 victory against Southwestern League champ Vista Murrieta.

Over at Upland, the Highlanders squeaked into the Central Division playoffs as a wild card out of the Baseline League, then capped their championship run with a 19-7 victory against Baseline champion Rancho Cucamonga Los Osos.

Upland, now a member of the Inland Division, will host Chaparral in the opening round of playoffs Friday at 7 p.m. and, once again, both teams will enter the postseason having not fulfilled preseason expectations of winning league titles.

No worries.

The second season is here.

One of these teams is guaranteed to see their playoff hopes end in the first round, however. The other will move onto the second round and probably have their next opponent wondering: Here we go again?

Chaparral (4-6) showed as much life last Thursday in a 27-20 victory against Murrieta Valley as it has all season. Then again, the Pumas were faced with the possibility of missing the playoffs if they lost.

Antoine Arnold, considered one of the top receivers in the Inland Empire, had the best game of his injury-filled season, catching six passes for 169 yards and two touchdowns.


October, 17, 2010
10/17/10
10:00
PM PT
By
Dan Arritt
| ESPNLosAngeles.com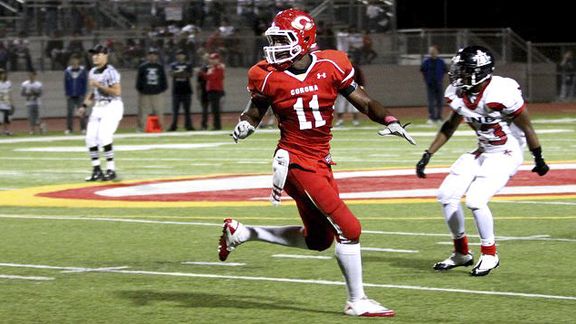 Courtesy of William Zastrow
Corona's DeVante Wilson says he has been a USC fan his entire life.
It was a phone call Corona High defensive end
DeVante Wilson
had envisioned ever since he watched USC running back
Reggie Bush
shatter the Pac-10 Conference record for total yards from scrimmage.
On the other end of the line was USC coach
Lane Kiffin
. He wanted Wilson to be a Trojan. The message arrived on the night of Oct. 8, shortly after Corona defeated Riverside North in a Big VIII League game.
Kiffin told Wilson he liked his speed off the edge. They were impressed with his ability to rush the passer and contain his side of the field.
Wilson wanted to shout at the top of his lungs.
"I felt like a little kid," Wilson said. "I've always been a USC fan."
As much as he wanted to accept the offer, Wilson is intent on enjoying the entire recruiting process. He toured Arizona last month and spent last weekend in Nebraska watching the Cornhuskers lose to Texas.
He plans to make an official trip to USC when the Trojans host Notre Dame over Thanksgiving weekend and announce his college choice shortly after.
September, 15, 2010
9/15/10
5:29
PM PT
By
Dan Arritt
| ESPNLosAngeles.com
Todd Gerhart
is facing another one of those clock management situations.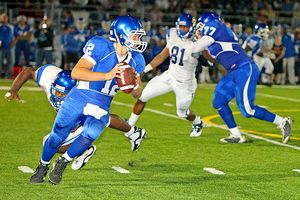 Courtesy of Rob Helfman
Todd Gerhart will coach his son Coltin, above, Friday before beginning a weekend odyssey to see his other two sons play football this weekend.
The Norco High football coach will be on the sidelines Friday night when his youngest son,
Coltin
, a freshman starting quarterback for the Cougars, plays Etiwanda at Colony High in Ontario.
He will then hustle to the Ontario Airport after the game, board a red-eye flight to Atlanta and then on to Wisconsin, where he'll watch his middle son,
Garth
, play center for Arizona State in its game Saturday evening against the Badgers.
Gerhart will then hop on another plane Sunday morning and fly to Minnesota, where he'll root for his oldest son,
Toby
, a rookie running back for the Minnesota Vikings. Gerhart is hoping to make his NFL debut after being on the inactive list last Thursday against New Orleans.
He will then fly back to Southern California on Monday morning, just in time to hold practice.
"I can't miss practice,'' he said.