Los Angeles Preps:

Devin Lucien
October, 18, 2011
10/18/11
7:03
PM PT
By
Sean Ceglinsky
| ESPNLosAngeles.com
ENCINO -- It appears to be a typical afternoon of football practice at Crespi. The first player to emerge from the locker room is
Chris Harper
. The senior receiver makes a beeline to the adjacent field. Right then and there, you get the sense that things are far from normal.
There is work to be done, and apparently, Harper is intent on being first in line for reps.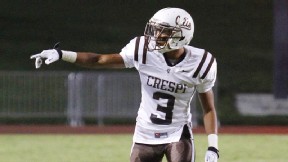 Courtesy of Angela MeansCrespi's Chris Harper has 10 touchdown receptions this season, ranking among the state's top 10.
A few teammates walk and talk on their way to practice. Some individuals lightly jog. However, there does not seem to be a sense of urgency. That is, until Harper decides it's time to speed up the process. Some choice words of encouragement follow. He is ready to get started.
A grueling session ensues. The drills seemingly are never-ending -- too many to count.
More than three hours later, the sun is beginning to set. Practice has been finished for the better part of 30 minutes. Most of his teammates are long gone at this point. Nevertheless, Harper is at midfield, fine tuning his skill set with a group of Celts' assistant coaches.
His work ethic is relentless. Unwavering. On a different level from everyone else.
The resolve Harper exhibits during the week in preparation for game day separates him from his peers. That type of sheer determination is paying off underneath the Friday night lights, of course, and has Harper on the verge of adding his name to the Southland's list of premier prospects.
"I let my actions speak for themselves, there is always ways to get better, to improve, that's why I never take a day off, or a play off,'' Harper said. "Nothing in life comes for free. I was always taught that if you want something bad enough, you half to work for it. That's just the way I am.''
The strategy has worked out particularly well for Harper so far. Full steam ahead.
He has been largely, although not solely responsible for the fast start at Crespi (6-1 overall) this season. The Celts are No. 14 in the ESPNLosAngeles.com Top 25 rankings as they head into Friday's Serra League showdown against No. 16 La Puente Bishop Amat (5-2).
"You can see it in his eyes, Chris is a different person once he steps on the field,'' Crespi coach
Jon Mack
said. "He has bought it to what we're doing here. He's a leader, in every sense.
"What people might not know about him is, he's great student with a GPA well over 3.0. He has no issues in the classroom. There are no roadblocks in his future. When you think about what it means to be a student-athlete at Crespi, Chris Harper if one of the first kids that comes to mind.
February, 22, 2011
2/22/11
5:29
PM PT
By
Greg Biggins
| ESPNLosAngeles.com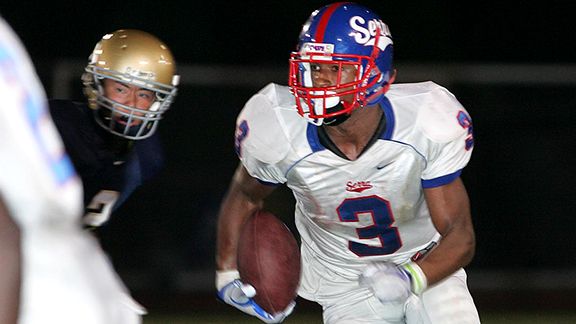 Courtesy of Anthony WatsonSerra's George Farmer, above, will join former high school teammate Robert Woods at USC next season.
Editor's note: In the latest of a postseason series on West Coast prep football prospects, recruiting expert Greg Biggins takes a look at the region's top wide receivers now that national signing day has come and gone:

It was an overall strong year at the receiver position as several highly touted players lived up to their pre-season hype and several other players emerged as legitimate prospects with big senior seasons.

For the second year in a row, a player from Serra (Gardena, Calif.) tops our wide receiver rankings. Last year, it was Robert Woods, a freshman All-American at USC. This year, it's Cavaliers standout George Farmer who earned the top spot.

Farmer did it all for the Cavs catching 65 balls for 1,514 yards and 14 touchdowns, added two more scores on the ground and took four kicks to the house as well. He has incredible speed and could run a sub 10.4 100 meters this year. He played full time in the secondary and some feel Farmer could be an All-American safety in college but receiver is definitely where he'll start out and it wouldn't be surprising if he has the same early impact as Woods.

Kasen Williams finished his career as one of the most prolific receivers in state history. He's a big athlete who can run and shattered just about every school record while playing in four state championship games at Skyline. He ended his high school career with 232 catches, for 4,121 yards and an amazing 56 touchdowns and will be counted on to play the minute he hits the field next fall.

Brandin Cooks does everything well and has the talent to make an impact right away in college. He's explosive with a great burst off the line and has the softest hands in the region. He's a pure route runner and caught 66 passes for 1,125 yards and 10 touchdowns this past season.

Devon Blackmon could end up the top receiver on this list or drop down a few notches. He has tremendous speed and runs very well after the catch. He's one of the few players capable of catching a short hitch, making five guys miss and going the distance. He must work on his hands and consistency catching the ball however as he's still relatively new to the receiver position.

Injuries are the only thing that have slowed down Victor Blackwell the last two seasons. When healthy, he has game breaking speed and is a true deep threat. He's wiry strong, is an advanced route runner and finished his season on a high note catching 50 balls for 976 yards and 14 touchdowns.

The Top 10

1. (1) George Farmer, 6-2, 190, Gardena (Calif.) Serra -- USC
Lived up to the preseason hype and had a dominant year on both sides of the ball.

2. (2) Kasen Williams, 6-2, 205, Sammamish (Wash.) Skyline -- Washington
Some are calling Williams the best WR in state history.

3. (5) Brandin Cooks, 5-10, 160, Stockton (Calif.) Lincoln -- Oregon State
Underrated regionally and nationally but should shine in Beavers offense.

4. (3) Devon Blackmon, 6-0, 155, Fontana (Calif.) Summit -- Oregon
Game breaker who will stretch the field right away for the Ducks.

5. (4) Victor Blackwell, 6-1, 190, Santa Ana (Calif.) Mater Dei -- USC
Has all the tools to shine at the next level.

6. (8) Devin Lucien, 6-1, 190, Encino (Calif.) Crespi -- UCLA
Blew up as a senior and might have the strongest hands in this group.

7. (7) B.J. Kelley, 6-2, 175, Fresno (Calif.) Central -- Oregon
Explosive with good hands, could play before Blackmon.

8. (12) Patrick Onwuasor, 6-2, 195, Inglewood (Calif.) -- Arizona
Great frame, tough and physical and can get deep.

9. (11) Nelson Spruce, 6-2, 190, Westlake (Calif.) -- Colorado
Polished route runner with good size and great hands.

10. (NR) Marvin Hall, 5-10, 175, Los Angeles (Calif.) Dorsey -- Washington
Undersized but has game-breaking speed and is very productive.

The Next 10:
11. (14) Richard Mullaney, 6-2, 185, Thousand Oaks (Calif.) -- Oregon State

12. (17) Blair Holiday, 6-2, 185, Westlake Village (Calif.) Oaks Christian -- Duke

13. (NR) Dominique Williams, 6-4, 185, Pomona (Calif.) Garey -- Washington State

14. (16) Tyler Trosin, 6-0, 170, Folsom (Calif.) -- Oregon State

15. (10) David Richards, 6-2, 200, Palmdale (Calif.) -- Arizona

16. (NR) Michael Thomas, 6-2, 180, Woodland Hills (Calif.) Taft -- Unsigned

17. (13) Rahmel Dockery, 5-10, 160, University Place (Wash.) Curtis -- Washington State

18. (19) Josh Perkins, 6-4, 180, Cerritos (Calif.) Gahr -- Washington

19. (9) Jamaal Jones, 6-2, 175, Graham (Wash.) Graham -- Kapowsin- Washington

20. (NR) Quinton Pedroza, 6-3, 205, Chino (Calif.) -- Utah

Previous posts:
Quarterbacks
Running backs

Greg Biggins is an occasional contributor to the ESPNLosAngeles.com Preps Blog. For more recruiting news, check out his Insider blog on West Coast recruiting.
February, 2, 2011
2/02/11
4:27
PM PT
By
Tim Haddock
| ESPNLosAngeles.com
In a bit of a stunning decision, Crespi's Devin Lucien picked UCLA over Miami, Colorado and Arizona State on national signing day.

UCLA was on his short list of schools, but indications were that he was leaning toward Miami.

The 6-foot-2, 190-pound receiver ultimately decided on UCLA because it was closer to his family and it would give him a chance to play with Brett Hundley, one of the more highly recruited quarterbacks in the country.

"There's a lot of young talent and you can't go wrong with that degree," Lucien said. "I expect to get a lot of hate mail on Facebook. I did what was best for me and my family."

Lucien said the UCLA coaches liked his versatility and he expects to fill several roles in the offense.

Playing with Hundley was another reason Lucien decided on UCLA.

"Me and him are going to do something special," Lucien said. "I expect to turn things around next season. There is so much talent there that people don't know about."
February, 1, 2011
2/01/11
5:42
PM PT
By
Greg Biggins
| ESPNLosAngeles.com
Who's still on the board? With signing day rapidly approaching, here's a look at what top un-committed players from Southern California are still out there (or those from out of the area considering USC, UCLA or both) and who they're currently considering.
ATH Marqise Lee (Gardena, Calif./Serra) -- USC, Oregon, Miami, Cal, UCLA
Lee has been a strong lean to USC for weeks now and that's where the smart money should be. Oregon and Miami are still pushing hard, Cal hasn't given up and Lee took an unofficial visit to UCLA on Sunday and reportedly clicked very well with new OC and WR coach Mike Johnson. Lee will announce at noon PT on Fox Sports West.
WR Devin Lucien (Encino, Calif./Crespi) -- Arizona State, Colorado, UCLA, Utah, Miami
Lucien could go several different directions and the only surprise would be if he picked Utah, since he has never visited the campus. UCLA was thought to be the early favorite but ASU and Colorado are right there at the top as well. Lucien is looking to play early and the depth chart at Colorado is wide open. The coaches at ASU have been relentless and his visit to Miami might have been his favorite. Lucien will announce at 3 p.m. PT.
DB Ryan Henderson (Moreno Valley, Calif./Rancho Verde) -- Utah, USC
Henderson committed early to Utah but took an official visit to USC a few weeks ago and was blown away by the Trojans. USC was Henderson's dream school growing up, it's close to home and it's where his family wants him. The corner enjoyed his visit to Utah but look for him to sign with the Trojans.
November, 26, 2010
11/26/10
11:15
PM PT
By
Sean Ceglinsky
| ESPNLosAngeles.com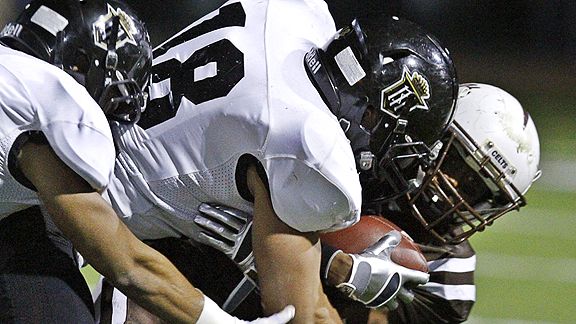 John Lazar/Special to ESPNLA.com
Crespi's M. Ajani Shanks gets tackled by Servite's Butch Pauu in the first half of their Pac-5 quarterfinal game.
ENCINO -- One of their very own came home.
Former Crespi High football coach
Troy Thomas
, also a Celts' alumni, returned to his old stomping grounds Friday night. This time around, however, he was in unfamiliar territory. Thomas was on the opposite sideline as head honcho of Servite, the top-ranked team in ESPNLosAngeles.com's Top 25 rankings.
As much as he attempted to downplay the whole idea of being back at Crespi, you get the sense Thomas was pleased with the Friars' 40-16 victory over the Celts in a Southern Section Pac-5 Division quarterfinal showdown.
"Sure, I recognized a lot of faces tonight, I was here for quite a while. But really, there was no need to make this game any bigger than it already was," said Thomas, who is in his sixth year at Servite after compiling a 34-13 record with the Celts from 2001 to '04. He graduated from Crespi in 1987.
"It's always nice to come back and get a win at your old school. But it wasn't about me. It was about all of our kids and their desire to get the job done. I'm extremely proud of this bunch. They did a great job. ''
With the victory, Servite (11-0) extended its winning streak to 22 consecutive games. Equally important is the fact that the Friars moved one step closer to a successful defense of their division title.
"Coach didn't say much leading up to this game, but deep down, we know he probably wanted this win a little more than the others this season,'' Servite senior
Matt Inman
said. "We got it done for him.''
November, 18, 2010
11/18/10
10:30
PM PT
By
Martin Henderson
| ESPNLosAngeles.com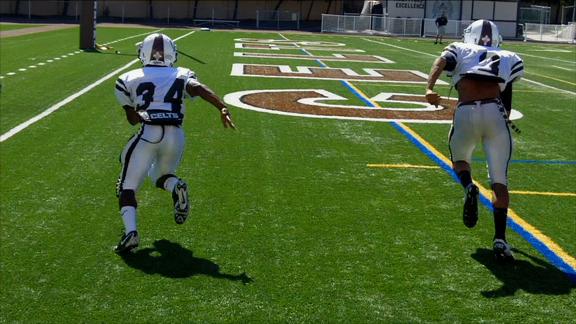 LONG BEACH -- The referee made the call emphatically. There was no question in his mind that
Richard Turner
caught a third-down pass out of bounds along the sideline of the end zone while guarded by
Nathan Walker
. The crowd moaned. Coaches screamed.
There were only 3 minutes 3 seconds left in the game, Crespi held a seven-point lead and it was a do-or-die moment for Los Alamitos.
Now, it was fourth down from the eight-yard line.
Dylan Lagarde
passed to Turner again. He turned to the end zone but was tackled from behind by Walker at the four-yard line.
For all intents and purposes, the game was over.
Two plays later Crespi's
Kenny Stenhouse
threw deep to
Devin Lucien
for a 96-yard insurance score as the Celts defeated Los Alamitos, 28-14, in the first round of the Pac-5 playoffs. Crespi (8-3), which missed the playoffs both years since its 2007 finals appearance, will play the winner of the Servite-Long Beach Jordan game played Friday.
Stenhouse completed 10 of 18 for 233 yards and three touchdowns – two to Lucien, one to
Trevon Calahan
.
November, 3, 2010
11/03/10
10:06
PM PT
By
Sean Ceglinsky
| ESPNLosAngeles.com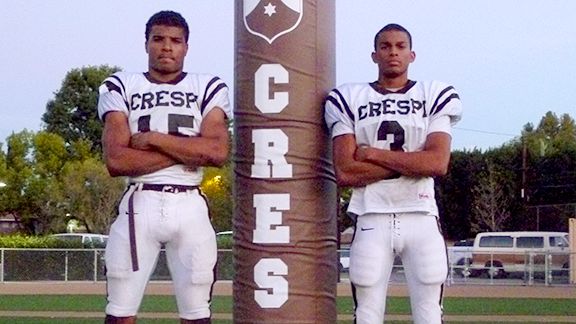 Sean Ceglinsky/Special to ESPNLA.com
Devin Lucien, left, and Chris Harper form one of the most potent receiving duos in the Southern Section.
Pick your poison,
Devin Lucien
or
Chris Harper
. But before making the decision about which Encino Crespi High receiver to double-team on the football field, know this, there's no good answer. More than a few opposing coaches can attest after having made the wrong choice this season.
Week in and week out, Lucien and Harper have combined to play about as well as any other wideout tandem in the Southland. And as a result, the Celts are still alive and well in the postseason playoff picture heading into Friday night's Serra League game against visiting Los Angeles Loyola at 7 p.m.
"Devin and Chris bring so much to the table, it's crazy. Those guys make my job a whole lot easier,'' Crespi quarterback
Kenny Stenhouse
said. "Lucien is big, fast and athletic, he's the total package, no doubt. Harper runs great routes and catches everything thrown his way, he's a handful to deal with.''
Lucien and Harper compare rather favorably to some of the more talented pass-catching teammates residing in Southern California. Of course, Gardena Serra's
George Farmer
and
Marqise Lee
instantly come to mind. And there's also Santa Ana Mater Dei's
Victor Blackwell
and
Sedric Hill
.
For all intents and purposes, Lucien is the more polished of the two outside threats for the Celts. He is, after all, an experienced senior. The 6-foot-1, 190-pounder has scholarship offers from several NCAA Division I programs and leads Crespi with 45 receptions for 860 yards and 12 touchdowns.
October, 22, 2010
10/22/10
11:06
PM PT
By
Sean Ceglinsky
| ESPNLosAngeles.com
ENCINO -- The Crespi High football team tried just about everything it could to stop Vernon Adams on Friday night. Nothing worked.

The senior quarterback from Mission Hills Alemany completed 14 of 17 passes for 265 yards and three touchdowns and he gained 69 yards on 20 carries and scored another time to guide the visiting Warriors to a 28-17 Serra League victory over the Celts.

"Tonight, I was taking what the defense was giving me,'' Adams said.

Alemany (7-0, 1-0), No. 7 in ESPNLosAngeles.com's Top 25 rankings, opened up a 21-7 lead at halftime. Crespi (5-3, 2-0), No. 12 in the rankings, mounted a second-half rally but came up short.

Crespi was opportunistic in the second half, particularly in the opening minutes of the fourth quarter. Noah Ciccel intercepted an Adams pass and returned the ball 38 yards to the Alemany 42-yard line. Shortly thereafter, Patrick McDonough kicked a 26-yard field goal to cut the Warriors lead to 21-17 with 8:25 left.

Alemany responded with a drive of its own to essentially put the game out of reach. The key play came on a third and long as Adams found Corey Sims for 36 yards for a key first down. The Warriors capped things off when Adams hit Saladin McCullough on 9-yard-pass play with 3:41 left to secure an 11-point victory.

"This is a big win for us. I think we wanted it more than Crespi,'' McCullough said. "We came out and did the job we were supposed to do.''