Los Angeles Preps:

Devon Lee
September, 12, 2011
9/12/11
6:49
PM PT
By
Tim Haddock
| ESPNLosAngeles.com
Chaminade running back Terrell Newby shouldered the load in his team's 41-21 win over Venice on Friday night. He scored five touchdowns and rushed for 269 yards. But Newby wasn't the only star of the night for Chaminade. Senior running back Devon Lee rushed for 80 yards in 11 carries. His little brother, sophomore defensive back Donovan Lee, intercepted two passes. Junior wide receiver Elijah Dunston hauled in a 30-yard touchdown catch. Junior receiver Kevin Lewallyn caught five passes for 41 yards. Senior quarterback Logan Scott didn't have a great night passing, going 12-for-16 for 132 yards, but he completed passes to six different receivers. He was able to mix it up well and keep a number of receivers involved in the game. He also rushed for 74 yards on 12 carries.
Arleta's Dejon Coleman had a game for the ages against Marshall. He scored six touchdowns, and the Mustangs needed every one of them in a 56-42 win. He also amassed 456 all-purpose yards. Coleman scored three rushing touchdowns, caught a 60-yard touchdown pass and returned an interception 60 yards for a touchdown. With his team down 42-41 with a little under two minutes to play, he returned a kickoff 98 yards for a touchdown to give his team a 49-42 lead. He scored Arleta's final touchdown to give his team the two-touchdown margin of victory.
After an impressive 35-13 opening night win over Gardena Serra, the Sherman Oaks Notre Dame football team needed overtime and a fumble recovery to win its second game of the season, 17-14, over Valencia. Valencia shut out Notre Dame for three quarters and nearly five minutes into the fourth quarter. Kevin Carrasco caught a 42-yard touchdown pass to bring Notre Dame to within two points, 14-12, with 3:50 to play. The Knights successfully completed a two-point conversion to tie the score and send it into overtime. Sophomore Lucas Alfonso made a 40-yard field goal to give Notre Dame a three-point lead in the first overtime period. Valencia's first overtime possession ended after one play. Jay Jay Wilson caught an 18-yard pass but was stripped at the 10-yard line. Dominick Mugavero recovered the fumble for Notre Dame and ended the game.
The Saugus girls' cross country team hasn't raced in the Kiwanis Seaside Invitational in Ventura for two years. The girls returned for the 22nd annual race and won the junior and senior events. The Frankian sisters, Karis and Abigail, won their races. Karis Frankian won the senior race in 17 minutes, 6.82 seconds over the 3-mile course. It was the fourth-fastest time in meet history. She also won the freshman race at the Seaside Invitational three years ago. Abigail Frankian won the sophomore race. Valencia's Maddie Dignadice won the junior race in 17:43.90. La Reina's Ariana Brajkovich won the freshman race in 19:23.
The Oaks Christian girls' volleyball team won the gold division of the San Luis Obispo tournament, downing Saugus, 25-22, in the championship match. Oaks Christian's Nicole Leonard earned the most valuable player award in the 32-team tournament. Sherman Oaks Notre Dame won the University girls volleyball tournament in Irvine. The Knights beat Beckman, 25-22, 26-24, in the championship match. Emily Moss and Callan Kinnan were all-tournament selections for Notre Dame. Viewpoint won the Laguna Blanca girls volleyball tournament for the second year in a row. The Patriots beat Grace Brethren, 25-23, in the championship match. Elizabeth Sheffield was the tournament MVP for Viewpoint.
August, 21, 2011
8/21/11
4:28
PM PT
By
Sean Ceglinsky
| ESPNLosAngeles.com
Expectations are seemingly at an all-time high at West Hills Chaminade. Rightfully so, considering the Eagles return several key players on offense from a season ago. Also worth mentioning is they have a handful of individuals coming back on defense.
For the San Fernando Valley school to live up to the hype,
Terrell Newby
must prove the breakout effort in his varsity debut was no fluke. Duplicating the nearly 1,500 yards of total offense he amassed as a wide-eyed sophomore running back appears to be attainable goal for the 5-foot-9, 175-plus pound junior.
An experienced line up front figures to help Newby excel once again, and also, put
Logan Scott
in a position to succeed. The junior quarterback has a pair of reliable targets in
Brenden McKinney
and
Kevin Lewallyn
. Bottom line: Chaminade is a balanced unit, particularly on offense, a fact which bodes well for the future.
Here is a closer look at the Eagles:
Team:
West Hills Chaminade
Coach:
Ed Croson, third year.
2010 Record:
11-2, lost in the CIF Southern Section Western Division semifinals.
Returning starters:
16 total. Ten on offense. Six on offense.
Key players on offense:
RB Terrell Newby, RB Devon Lee, QB Logan Scott, WR Brenden McKinney, WR Kevin Lewallyn, OL Taylor Hindy, OL Andrew Chin, OL Eli Sirbian, OL PJ Herrera.
Key players on defense:
S Jacob Bowman , LB Aderemi Adeyemo, DL Howard Lynch-Balani.
Difference maker:
Newby might have been a newbie last year, no pun intended. Well, maybe a little. This season, however, he will be a marked man after rushing for 1,372 yards and 18 touchdowns. Rest assured, opposing defenses will be a keeping a close eye on him. The same thing can be said about Division I college coaches and scouts, alike. Newby has already received varied levels of recruiting interest. Another productive season could do wonders for his aspirations of reaching the next level.
Newcomers:
RB Donovan Lee, LB Ricky Gamboa, DL Sam Hardy, a transfer from Woodland Hills Taft.
Not to be missed:
vs. Venice, Friday Sept. 9. Nonleague games don't get much bigger than this one, the season opener against the Gondoliers, traditionally a formidable opponent in the Los Angeles City Section. Moreover, the Eagles plan to unveil their new surroundings at home. Synthetic blue turf, ala Boise State of college football fame, was installed during the summer. The anticipation for on-the-field action has been building ever since, of course. Festivities begin at 6:30 p.m. and kickoff is set for 7:30 p.m. Get there early, the place figures to be packed with fans.
Coach's comment:
"With Newby, and the rest of our experienced kids, we think we're capable of doing some good things. The goal is to win our last game, and by that we mean, winning in the playoffs. We want to go all the way and are working hard to make that happen. You can't become a champion by talking about it. You can't just turn on the switch. You have to live it everyday.''
Final analysis:
The schedule is brutal for Chaminade, about as competitive as any team in the Southland. Newby & Co. will be tested early and often. If they can weather the proverbial storm during the nonleague portion of things, this group could be poised to make some noise in the Western Division where traditional power Gardena Serra, No. 25 in the ESPNLosAngeles.com rankings, looms large. A run during postseason play beyond that appears to be a distinct possibility for the Eagles.
Sean Ceglinsky covers preps for ESPNLosAngeles.com. Follow him on
Twitter
.
November, 5, 2010
11/05/10
11:24
PM PT
By
Sean Ceglinsky
| ESPNLosAngeles.com
WEST HILLS -- It took quite a while for the Serra High football team to get its vaunted offense started. But once the unit finally figured things out, Chaminade had little chance.

Entering the fourth quarter Friday night, the visiting Cavaliers trailed by a touchdown. However, they scored 21 unanswered points the rest of the way to defeat the upset-minded Eagles, 35-21, and take over sole possession of first place in the Mission League.

"Chaminade gave us a scare, I can tell you that much,'' Serra coach Scott Altenberg said. "It took us a little while to get our offense going, but once we finally found our comfort zone, they couldn't stop us. Once we started clicking, it was pretty much over.''

Serra (9-0, 4-0), No . 5 in ESPNLosAngeles.com's Top 25 rankings, trailed for a majority of the first three quarters. As for the Eagles (8-1, 3-1), No. 24 in ESPNLA poll, they played with inspiration and created some doubt in the minds of their heavily favored opponent.

In the fourth quarter, Marqise Lee made sure to change of all that though. He scored on a 55-yard touchdown pass from Conner Preston to give Serra a 28-21 advantage with 3:25 left.

Any hopes Chaminade might have had at making an improbable comeback were all but ruined when Shaquille Richard scored on an 8-yard run to extend the lead to 35-21 with 1:54 remaining in the fourth quarter. The Eagles were demoralized, to be sure.


October, 29, 2010
10/29/10
11:47
PM PT
By
Sean Ceglinsky
| ESPNLosAngeles.com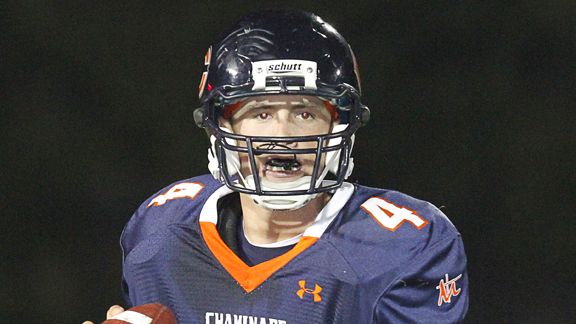 John Lazar/Special to ESPNLA.com
Chaminade quarterback Logan Scott looks to pass during Friday's game against Cathedral.
WEST HILLS -- Not many observers could have imagined the Chaminade High football team would still be undefeated at this stage of the season. But low and behold, the Eagles are, fully equipped with an unblemished record to boot.
Chaminade dominated visiting Los Angeles Cathedral from start to finish on Friday night. The end result was 30-6 Mission Legue victory, but perhaps more important, the win sets up a showdown with Gardena Serra next week in a game where the league title could very well be decided and the mettle of the Eagles will surely be tested.
"We've had a great season, but it's far from over, far, far from over,'' Chaminade coach
Ed Croson
said. "Everyone around here knows what's on the horizon, but we couldn't beat Cathedral if we were worried about Serra. We were focused on the task at hand this week, no talk about Serra, no film on Serra. The only thing on our mind was Cathedral. Tomorrow we'll worry about Serra.''
Chaminade (8-0, 3-0) made its first appearance of the season in ESPNLosAngeles.com's Top 25 rankings this week, coming in at No. 25. And after Friday's effort against the Phantoms (5-3, 1-2), one in which they didn't overlook the opponent, it appears as if the selection was worthy.
"We'll celebrate this win tonight, and be happy about being undefeated, but then it's time to go to work getting ready for Serra in the morning,'' Chaminade's
Terrell Newby
said. "We'll be focused and ready next week for the biggest game of the season.''
Cathedral narrowly avoided the shutout when
Hayden Rettig
found
Ryan
Longoria
on 35-yard touchdown pass with 2:15 left. The damage, however, had already been done as Chaminade built what proved to be an insurmountable 30-0 advantage heading into the fourth quarter.