Los Angeles Preps:

Dick Bruich
November, 23, 2011
11/23/11
7:04
PM PT
By
Dan Arritt
| ESPNLosAngeles.com
INLAND DIVISION

Second round, Friday

Chaparral (7-4) at No. 1 Corona Centennial (10-1), 7:30 p.m.

How they got here: Centennial defeated visiting Redlands, 49-35; Chaparral knocked off visiting Los Osos, 38-14.

Matchup to watch: Centennial running back Romello Goodman (1,913 rushing yards, 32 TDs) vs. Arizona State-bound strong safety Curtis Dozier of Chaparral (5.5 tackles per game).

Fast fact: This will be the ninth meeting between the teams since 2006. Centennial owns a 6-2 record against the Pumas, 2-2 in the postseason.

Prediction: Centennial 35, Chaparral 24.

Rancho Cucamonga (10-1) vs. No. 4 Redlands East Valley (11-0) at Citrus Valley HS, 7 p.m.

How they got here: Redlands East Valley beat visiting Norco, 20-15; Rancho Cucamonga edged visiting Chino Hills, 39-38.

Matchup to watch: Rancho Cucamonga offensive line (averages 300 pounds) vs. Redlands East Valley defensive line (averages 275 pounds).

Fast fact: The fathers of Rancho Cucamonga coach Nick Baiz and Redlands East Valley coach Kurt Bruich are also former longtime high school coaches in the area. Dick Bruich, who coached at Fontana and Kaiser, and Bob Baiz, who was at Claremont, teamed up last summer to coach in an inaugural SoCal vs. Arizona all-star game.

Prediction: Rancho Cucamonga 24, Redlands 21.

Charter Oak (10-1) at No. 2 Upland (11-0), 7:30 p.m.

How they got here: Upland routed visiting Murrieta Valley, 59-21; Charter Oak rolled visiting Corona Santiago, 63-21.

Matchup to watch: Upland 6-foot-3 wide receiver/defensive back Kenny Lawler (23.2 yards-per-catch average, five TDs last two games, three interceptions) vs. Charter Oak's 5-8 wide receiver/defensive back Aaren Vaughns (59 receptions, 1,061 yards, 10 TDs, four interceptions).

Fast fact: Charter Oak's only loss this season came against Rancho Cucamonga, 21-13, in Week 4. Upland beat the Cougars three weeks later in Baseline League play, 31-17.

Prediction: Upland 38, Charter Oak 28.

No. 3 Aaren Vaughns (6-5) vs. J.W. North (10-1) at Riverside College, 7:30 p.m.

How they got here: Vista Murrieta defeated Damien, 38-13; J.W. North knocked off Yucaipa, 27-13.

Matchup to watch: Vista Murrieta junior middle linebacker Bryce Smith (Inland Division-leading 13.5 tackles per game) vs. J.W. North rushing attack (213 yards per game).

Fast fact: J.W. North senior quarterback Justin Gheorghe is the only member of the football team who was also on the school's Division 1 championship baseball team last June.

Prediction: Vista Murrieta 24, J.W. North 17.
October, 6, 2011
10/06/11
3:45
PM PT
By
Dan Arritt
| ESPNLosAngeles.com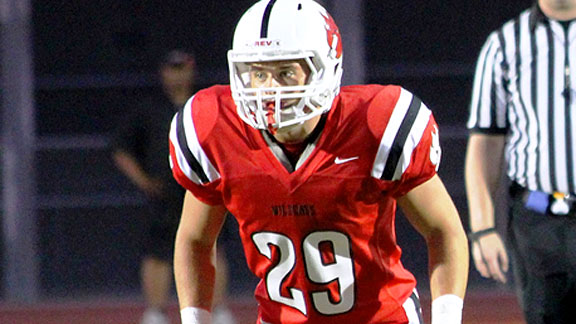 Courtesy of Redlands East Valley High SchoolTrevor Douglass of Redlands East Valley comes from a long line of football players in his family.
Long before the Redlands East Valley and Mission Viejo high school football teams inked their nonleague game Friday night at University of Redlands, they were
connected
by a series of common threads.
Legendary coaches, gifted sons and men trying to carry on their father's traditions.
The newest twist in the knot is
Trevor Douglass
, a returning all-Citrus Belt League strong safety for Redlands East Valley and the son of former El Toro High School quarterback
Bryan Douglass
, who played for Mission Viejo coach
Bob Johnson
during the early years of his now-legendary career.
Trevor's three uncles also starred for Johnson.
Mike Douglass
was the starting quarterback and his twin brother,
Billy
, was a defensive end on the El Toro team that won a Southern Section title in 1982, the first for Johnson and the school.
Mission Viejo's defensive coordinator,
Brett Paton
, is a former teammate of the Douglass twins and is known as "Uncle Brett" by Trevor. A number of other Diablo assistants remain close friends with the Douglass clan.
Then there's Redlands East Valley coach
Kurt Bruich
, a former Fontana High standout and the son of a legendary coach himself,
Dick Bruich
, winner of 292 career games and four section titles. Kurt Bruich played wide receiver for his dad in a victory against Fountain Valley at the 1987 Southern Section finals. The Barons were coached by current Mission Viejo assistant
Mike Milner
.
The following summer, Bruich caught passes in the Shrine all-star game from Johnson's son,
Bret
, none other than the current offensive coordinator at Mission Viejo.
As the biggest game of the season approaches for Redlands East Valley, against a team
ranked 31st
in the nation by ESPN, many of those connected with the other side will have their minds on a certain family bond that's missing.
Trevor's grandmother,
Sue Douglass
, the mother of four football-playing boys and the wife of a longtime high school football coach, died of cancer Sept. 22 at her home in San Clemente. She was 75. Trevor knows Friday night's game is the type his grandmother would have never missed.
"It means a lot to me," he said. "It means a lot to this family."
The funeral was Sunday in San Juan Capistrano. Among the hundreds in attendance were past and present football coaches from throughout the Southland, including Johnson and Paton.
"The coaching network is a close-knit family," Bryan said.
October, 12, 2010
10/12/10
8:00
PM PT
By
Martin Henderson
| ESPNLosAngeles.com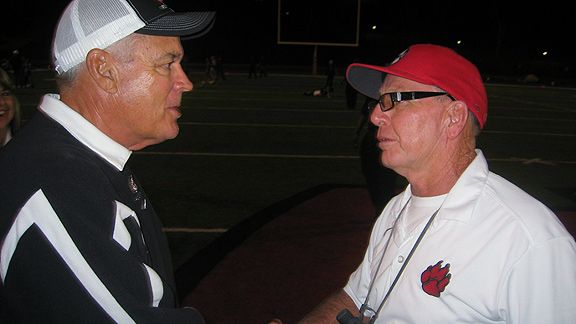 Martin Henderson/Special to ESPNLA.com
Mission Viejo coach Bob Johnson, left, talks to Dick Bruich after last Friday's game against Redlands East Valley, coached by Bruich's son, Kurt. Johnson and Dick Bruich have combined for 540 wins
Have never encountered Mission Viejo coach
Bob Johnson
more pleasant than he was before his team's 42-14 victory over Redlands East Valley last weekend. Johnson is feeling good about his undefeated team and its chances of winning a Pac-5 title, and he was evidently feeling very good living inside the calm before the storm that begins this week with South Coast League play.
The game against REV (3-2) renewed all kinds of memories and relationships for the Mission Viejo coach. Johnson knew
Dick Bruich
, a legendary coaching figure in the Inland Empire who won 292 games and four section championships at Fontana and Kaiser, and decided to call
Kurt Bruich
-- REV's coach -- to see if the kid wanted to play a game. No problem.
And here is where Friday's game seemed to feel like Family Night. Kurt Bruich was a receiver and Johnson's son (and Mission offensive coordinator)
Bret Johnson
was quarterback in the Shrine All-Star game the summer of 1988 in which the all-star team of seniors was coached by the elder Bruich, who had guided Fontana to the mythical national championship the previous autumn. The team that Fontana beat in the Big Five championship during its iconic season was Fountain Valley, which was coached by
Mike Milner
-- who now coaches the secondary at Mission Viejo. Dick Bruich was in the press box, where he would talk to coaches during the game, and Bob Johnson was on the field waving to him.