Los Angeles Preps:

Division 1
April, 24, 2012
4/24/12
9:54
PM PT
It has been quite a week for Long Beach Poly pitcher
Chris Castellanos
. It began with a perfect game against Long Beach Wilson and ended Tuesday night a dramatic win against Moore League top dog Lakewood, the 34th-ranked team in the nation according to ESPNHS.
Castellanos went the distance in Tuesday's gut-wrenching 3-2 victory at Blair Field. The junior left-hander escaped a bases-loaded jam in the final inning. Last week Castellanos beat Wilson's
Chase DeJong
and this week he beat Lakewood's
Shane Watson
. Both DeJong and Watson have signed to play at USC next fall.
With the victory, Poly remained in the hunt for the Moore League title, improving to 7-1 in league and 19-4 overall. Lakewood is also 7-1 in league and 22-4 overall.
Other notable baseball action in south Los Angeles County:
For the first time in school history, Pasadena La Salle beat Bishop Amat, 7-6. Bishop Amat, the defending CIF-Southern Section Division 4 champs, blew a five-run lead and dropped only its second league game since joining the Del Rey League in 2007. La Salle (14-6-1, 6-1) and Amat (14-8, 8-1) face off again on Friday at Citrus College, with the winner gaining the upper hand in the league title race.
Bonita improved to 21-1 with a 4-1 win against Thousand Oaks. The Bearcats are the top-ranked team in Division 3.
February, 23, 2012
2/23/12
3:52
PM PT
Coliseum League representatives Crenshaw and Dorsey officially crashed the party Tuesday night, earning upset victories to advance to the CIF-Los Angeles City Section Division I boys' basketball semifinals.

Fifth-seeded Crenshaw beat fourth-seeded Palisades, 68-66, on a three-pointer by Micah Winn with five seconds left. Seventh-seeded Dorsey shocked second-seeded Fairfax, 47-46, thanks to a Laroy Alexander made basket with two seconds remaining.

The semifinal schedule for Saturday at Cal State Dominguez Hills:

(1) Taft vs. (5) Crenshaw, 6 p.m.
(3) Westchester vs. (7) Dorsey, 8 p.m.

The championship will be played Saturday, March 3 at 8 p.m., also at Cal State Dominguez Hills.
May, 31, 2011
5/31/11
11:34
PM PT
LONG BEACH -- Austin Pettibone knew that if Esperanza won Tuesday night, he'd be taking the mound under the bright lights at Dodger Stadium on Friday. He had to get his hands a little dirty but, sure enough, the Aztecs' ace will toe the rubber at Chavez Ravine.

The right-hander threw two scoreless innings of relief Tuesday, earning the save and helping Esperanza beat Long Beach Wilson, 6-2, in the semifinals of the CIF Southern Section-Ford Championships, presented by Farmers. The Aztecs advanced to Friday night's Division 1 title game at Dodger Stadium, where Pettibone will face off against Riverside J.W. North, which beat Moore League champion Lakewood, 10-4, in the other semifinal.

"It's what you always dream about," Pettibone said. "Pitching at a major league park, in a championship game. Getting the last six outs was nerve-racking, but I knew I had to calm down, throw my stuff and get it done."

Pettibone has three wins and a save in Esperanza's four playoff games. Aztecs head coach Mike Curran never hesitated to bring in his top arm. Six outs away from a trip to the final?

Easiest decision ever.

"He's our guy," Curran said, "we're going to him."

Esperanza (23-10) erased a one-run deficit with a four-run fourth and never looked back. Wilson (26-7) had taken a 2-1 lead in the top half of the inning on a Stefan Miladinovich two-run double that might have gone out at most high school fields. The pro-Bruins crowd could care less, though, as the bleachers at Blair Field rattled loudly.

But the Bruins coughed up the lead on a throwing error by second baseman Daniel DeWolf. They had the tying run at the plate against Pettibone in the sixth, but Mitch Mossman's acrobatic throw to first put an end to the threat.

"That charge and flip was huge," Curran said.

The Aztecs added an insurance run in the sixth to all but punch their tickets to Los Angeles. A potential, intriguing all-Moore League championship game loomed on the horizon. Instead, both Wilson and Lakewood fell in a park they're more than familiar with. The Bruins had won 11 straight.

"I knew we were going to do it," Pettibone said. "When we rolled up I knew we were going to win."
May, 31, 2011
5/31/11
8:32
PM PT
LONG BEACH -- The ball kept rolling, so
Evan Perez
kept running. Past second, wildly around third and, finally, to home plate.
The senior's dizzying, inside-the-park homer keyed J.W. North's explosive first inning in a 10-4 win Tuesday against Lakewood in a CIF-Southern Section Division 1 semifinal game. The Huskies moved on to Friday night's championship game at Dodger Stadium.
"My coach kept waving me in and I kept going," Perez said. "I wasn't going to stop."
North (26-7) had already scored three by the time Perez, the No. 7 hitter, stepped into the batter's box in the first inning. He launched a liner to the right-center field gap and the ball zipped past the outstretched glove of Lakewood's
Tyler Leidholdt
. It rolled and rolled, all the way to the wall, until it came to rest some 400 feet from home. The notoriously spacious grounds at Long Beach State's Blair Field were unforgiving.
"It was huge," North head coach
Steve Madril
said. "Against a team like Lakewood, every game is going to be close. For us to be up five runs and for them to make a couple of errors? Lakewood never makes errors. They're always so fundamental."
Lakewood (29-5-1) chipped away at the five-run deficit, scoring two in the second and one in the third. But North responded with a pair in the fourth, one in the sixth and two in the seventh. The Lancers had beaten North, 4-3, in the Anaheim Lions Tournament in early April. They were one of the hotter teams in the state after upsetting top-seeded Huntington Beach Edison, 3-1, at home last Friday.
"You can't give up five runs in the first to a team like this," Lakewood coach
Spud O'Neil
said. "North is very, very good. We didn't play well."
North, which shared the Big VIII League title with Riverside King, has not experienced much trouble in the playoffs. The Huskies won their three games by a combined score of 17-3. Second baseman
Adrian Anguiano
led the way Tuesday, going 3-for-5 with two RBIs.
"I love this team," said North pitcher
Jack Johnson
, who started and went six innings. "I love my players. I knew we could do it and now we've only got one game left."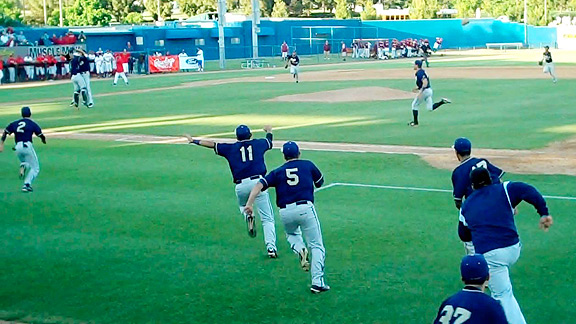 Blair Angulo for ESPN.comPlayers from J.W. North storm out of the dugout after defeating Lakewood at Blair Field.
May, 27, 2011
5/27/11
7:51
PM PT


LAKEWOOD -- Shane Watson was a mess earlier in the year. He smiles about it now because he can. Lakewood baseball coach Spud O'Neil jokes about it because it's true.

There was nothing messy about Watson's complete game performance Friday afternoon, as the ace guided Lakewood to an upset of top-seeded Huntington Beach Edison, 3-1, in the quarterfinals of the CIF-Southern Section Division 1 playoffs. Watson gave up just four hits, out-dueling top major league pitching prospect Henry Owens.

Not bad for a guy who is a few months removed from undergoing surgery to repair a broken shin.

"I wasn't raising my lower half," recalled Watson, who had a metal rod and three screws placed in his leg. "I wasn't getting a lot of strikes. I just kept practicing hard and working hard."

Watson shut down one of the state's top lineups, facing the minimum through three and giving up one hit through five. He improved to 10-2 on the season.

"He's not going to strike out as many guys as Owens," O'Neil said, "but he's got a very good defense behind him. He's been getting better every game. He's really become a leader on this team and you can see by today that he's a winner also."

Lakewood (29-4-1) scored twice in the third on back-to-back RBI doubles from J.P. Yakel and Jonathan Pasillas and, after Edison (25-4) cut the deficit in half, added an insurance run in the sixth on a Jimmy Gosano bunt single.

It was a methodical kind of play -- "small ball," per say -- that eventually doomed Edison, the team everyone expected to hoist the trophy at Dodger Stadium. This group of Chargers, led by Owens and projected draft picks Christian Lopes and Eric Snyder, were three-time league champions and tied the school record for most wins in a season.

"We lost to a team that won 28 ballgames," Edison coach Steve Lambright said. "I'm not bitter. Lakewood did a great job. They outplayed us. I wish them all the luck in the semifinals. ... I'm proud of my team. They have nothing to hang their heads about."


May, 26, 2011
5/26/11
8:51
PM PT
By
Sean Ceglinsky
| ESPNLosAngeles.com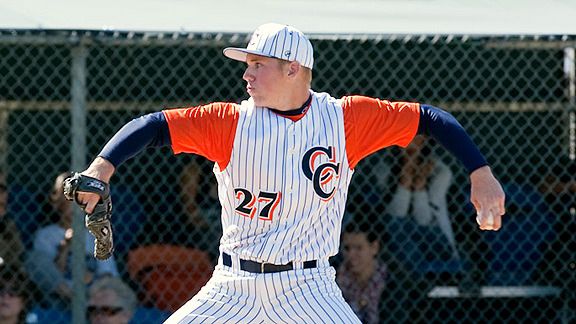 Courtesy of Chatsworth HSChatsworth's Aaron Brown contributed on the mound and in the batter's box in the Chancellors' victory.
CHATSWORTH --
Aaron Brown
entered Thursday's City Section Division 1 baseball playoff game fully aware of the fact his performance would have a major impact on the final outcome.
Given the circumstances, it did not appear as if the Chatsworth High senior felt any added pressure. Brown thrived, in fact, throwing the ball well on the mound and he helped his own cause with some timely hitting in a 5-2 quarterfinal victory over visiting Woodland Hills Taft.
"I wanted to come in and get after it, have fun and play hard,'' Brown said.
Trailing by a run in the bottom of the third inning, Brown delivered a two-run single with bases loaded to give the Chancellors a 2-1 lead. He added an RBI double later in the game, for good measure.
Raul Camas
hit a two-run home run in the bottom of the fifth inning to give Chatsworth (23-5) what proved to be an insurmountable three-run advantage. Brown, of course, made things look rather easy along the way, giving up three hits in five innings of work with a walk and eight strikeouts.
"I attacked the zone and hit my spots, and I got some good pitches to hit,'' Brown said. "The playoff intensity is great.''
In relief,
Christian Lopez
worked a pair of scoreless innings to secure the victory for Chatsworth.
The Chancellors advance to Wednesday afternoon's semifinal at USC's Dedeaux Field against Lake Balboa Birmingham (17-14) at 3 p.m. The Patriots, the 12th seed, have been a pleasant surprise during postseason play thus far, especially after defeating Granada Hills, 3-2, on Thursday.
Sean Ceglinsky covers preps for ESPNLosAngeles.com. Follow him on
Twitter
.
March, 19, 2011
3/19/11
10:34
PM PT
LOS ANGELES -- Understandably, Mater Dei coach
Gary McKnight
didn't want to get into the specifics of his halftime speech. Coaches don't share many secrets.
"I talked about intensity," McKnight hinted, "and I was pretty aggressive about it."
Whatever McKnight said seemed to spark Mater Dei, which erased a seven-point halftime deficit to beat Corona Centennial, 76-64, Saturday night at Galen Center and advance to next week's CIF State Division I boys' basketball championship game in Sacramento. The fourth-seeded Monarchs outscored the second-seeded Huskies 49-30 in the second half.
"We came out knowing we had nothing to lose," said
Katin Reinhardt
, who led Mater Dei with 19 points. "We came out wanting a state title."
Junior
Xavier Johnson
had 16 and freshman
Stanley Johnson
had 14 and 12 rebounds for the Monarchs (31-3).
Dominique Dunning
and
Michael Caffey
led the way for the Huskies (30-5) with 20 and 19 points, respectively. Mater Dei outrebounded Centennial 43-23.
"We had fire in our hearts," Xavier Johnson said.
Things looked promising for Centennial at the break, as the Huskies stormed into the tunnel leading 34-27 behind a combined 27 points from its touted trio of Dunning, Caffey and
Gelaun Wheelwright
. Fast-paced Centennial attempted 11 more fields goals than Mater Dei in the first half.
It all changed in the third. Mater Dei used a 9-2 run to pull even and capped the quarter on a 9-0 spurt to go in front, 47-42. Centennial went cold, making just three of 16 attempts (18.8 percent) in the third.
"We started off the second half as bad as we could have," Centennial coach
Josh Giles
said, shaking his head.
Mater Dei didn't have to wait long to avenge its CIF Southern Section Division 1AA semifinal loss to Centennial. The Huskies had basically stolen that game from the Monarchs' grasp, coming back from 15 down to win, 60-58, March 1 at Anaheim Arena.
"That's the thing," Reinhardt said, "we didn't want to lose again. We couldn't lose again. They knock us off our CIF run and we just proved that we can beat that team. We should have won the first time."
Blair Angulo covers preps and UCLA for ESPNLosAngeles.com. Follow him on Twitter.
March, 12, 2011
3/12/11
9:51
PM PT


LONG BEACH -- In the eyes of Katin Reinhardt, this is how things should have played out last week in Anaheim.

This was what he had pictured: Mater Dei walking off the court with the CIF-Southern Section Division 1AA trophy, championship hats and T-shirts, smiles and tears.

A second-half meltdown in the semifinals cost Reinhardt and the Monarchs a chance to prove themselves against the top-seeded Jackrabbits at Anaheim Arena. Mater Dei got its second chance and made the most of its opportunity Saturday night, shocking top-seeded Poly, 72-55, at Long Beach City College. The fourth-seeded Monarchs advanced to the CIF State Southern California Division 1 Regional title game next Saturday at Galen Center. They will face Corona Centennial, the team that eliminated them from sectionals last week.

"This is how it should have been in the CIF championship," he said. "We should have got a CIF championship. We regrouped. Now we want to win a state title."

Saturday night was exactly how Reinhardt imagined it, but not how he drew it up.

The Monarchs (30-3) assumed a 28-27 lead at halftime thanks to a dizzying second quarter, outscoring Poly 22-8 after falling behind, 19-6, at the end of the first.

Poly (31-2) was sharp out of the gate, opening on a 13-1 run while drawing five fouls. Mater Dei appeared flustered, forcing a heated coach Gary McKnight to call a timeout to sort things through. The Monarchs were 0 for 8 to start and didn't get their first field goal until six and a half minutes in on a Reinhardt jumper. It was their only make of the first quarter.

But then, suddenly, something changed.

"Our guys battled back," McKnight said. "They didn't want to get embarrassed."


March, 11, 2011
3/11/11
7:57
PM PT
CIF State Division 1 boys' basketball Southern California Regional semifinals: No. 4 Mater Dei (29-3) vs. No. 1 Long Beach Poly (31-1), at Long Beach City College Gymnasium, Saturday, 6 p.m.
Five keys to the game
:
1.
Sprint, dash and run
: It will be the third game in five nights for each squad, so this shouldn't be a transition lover's dream. The light at the end of the tunnel? The winner will have an entire week to rest up for the regional final at Galen Center. Now's the time to leave it all on the floor, tired legs or not.
2.
Avoid the whistle
: Poly dodged a bullet while senior
Alexis Moore
sat on the bench
for the final minutes against Etiwanda on Thursday. He fouled out on an unsportsmanlike conduct technical and, afterward, vowed not to let it happen again. "I'm just glad my guys were able to get the win without me," Moore said. "I apologized to each one of them, I apologize to this whole city."
3.
Get the ball down low
: Throwing the ball into the 6-foot-8
Ryan Anderson
has been working for Poly, so why would the Jackrabbits go away from him? The Boston College-bound forward must be consistent in establishing deep post position against the undersized Monarchs. There should be no troubles if he does so -- Mater Dei's tallest player stands at 6-7.
4.
A third option
: Mater Dei coach
Gary McKnight
knows what he has in
Xavier Johnson
and
Katin Reinhardt
. The juniors combined to score 47 of Mater Dei's 72 points Thursday in a win against Loyola. Poly -- which held Etiwanda star
Byron Wesley
to just 12 points Thursday -- will make someone else beat them.
5.
The killer instinct
: The Jackrabbits couldn't put Etiwanda away on Thursday and it nearly cost them, as the Eagles made it interesting with an 11-2 run to start the fourth quarter. The Monarchs, meanwhile, trailed Loyola by nine heading into the fourth but came back to win. The last eight minutes should be interesting, to say the least.