Los Angeles Preps:

Division 2
May, 22, 2012
5/22/12
8:44
PM PT
Senior pitcher Wyatt Wood tossed his first complete game of the season Tuesday afternoon to help Glendora upset fourth-seeded Cypress, 5-2, in the second round of the CIF-Southern Section Division 2 baseball playoffs.

Wood, who has dealt with control issues in his first true year as a pitcher, gave up a two-run homer in the first inning but was spectacular the rest of the way. He responded with a two-run blast of his own in the bottom half of the inning.

"What he did was special," Glendora head coach Dan Henley said.

Glendora (18-9), which finished in a tie for first place in the Baseline League, will face Trabuco Hills on Friday. Cypress (25-7) became the latest team to fall in an upset -- top-seeded Harvard-Westlake also stumbled, losing 3-1 to Placentia Valencia.

"We knew we'd have to play all facets of the game to be competitive," Henley said. "We're a young team and I'd hate to use the term 'rebuilding' but this was a game our kids were looking forward to. ... [Wood] picked a great time to shine."
May, 22, 2012
5/22/12
8:02
PM PT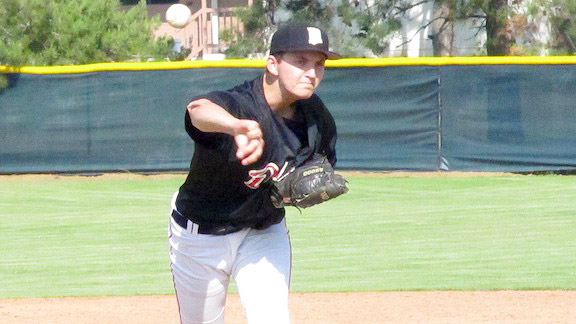 Blair Angulo for ESPN.comAnthony Shew found his groove again in leading Mission Viejo over Damien
LA VERNE -- The pitcher with the funky delivery picked the right time to snap out of his funk.
Mission Viejo right-hander
Anthony Shew
had been knocked around in recent weeks, failing to fool opponents with his uncommon throwing motion. The senior seemed to recapture his deceptiveness in a complete-game effort Tuesday afternoon, leading the Diablos to a 9-1 victory over Damien in the second round of the CIF-Southern Section Division 2 baseball playoffs.
Defending section champion Mission Viejo advanced to the quarterfinals, where it will meet second-seeded Pacifica of Garden Grove on Friday.
Shew had been tagged for 35 hits over his last four starts but gave up just five -- all singles -- on Tuesday. The lone run Damien mustered came in the first inning. Shew struck out six and closed the door by retiring the last seven batters in order.
"It's great to see him bounce back," said senior first baseman
Mitch Holland
, whose three-run double in the fourth broke the game open. "He's one of my best friends and I know how hard it is on him when he doesn't pitch well."
Holland continued his torrid hitting. He had a pair of three-run home runs in a first-round win last week and, on Tuesday, extended his hot streak.
"He's a big, strong kid. He's been a three-year varsity player and a team leader," Mission Viejo head coach
Chris Ashbach
said. "He's the nicest kid in the world, so I couldn't be happier to see this happening for him right now."
Holland's bases-clearing rocket to dead center field knocked out Damien starting pitcher
Grant Hockin
, a highly regarded sophomore who has already verbally committed to play at UCLA. Hockin had beaten Mission Viejo, 3-0, in a tournament game at Chino last month.
"I've been hot lately and looking for the fastball early," Holland said. "He left the ball out over the plate after working me in and out really hard. I hit it hard and luckily it dropped."
June, 2, 2011
6/02/11
10:43
PM PT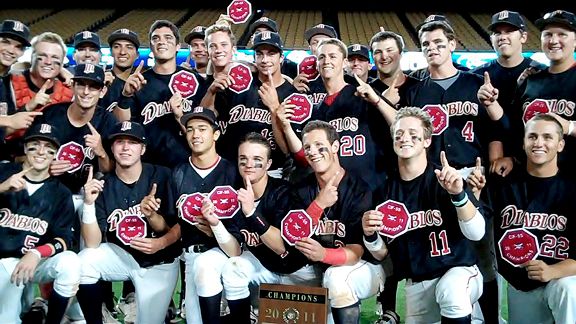 Blair Angulo/ESPNLosAngeles.comThe Mission Viejo baseball team poses after winning the CIF Southern Section Division 2 title.
LOS ANGELES -- It was difficult for Mission Viejo players to keep their eyes off the headlines at the start of the season. Expectations were sky high. All arrows pointed to a happy ending at Dodger Stadium.
The journey was a rocky one but, like expected, Mission Viejo claimed its first ever CIF Southern Section baseball title Thursday night, beating Etiwanda, 6-2, in the Division 2 final. The Diablos (23-13), projected to be one of the top teams in the state, had not reached the title game since 1985, when they lost to Diamond Bar, 2-1.
"It's been a roller coaster ride, really," Mission Viejo head coach
Chris Ashbach
said. "These are wonderful kids."
Mission Viejo had seven seniors in its batting order plus another senior, Cal State Fullerton-bound
Willie Kuhl
, toeing the rubber. Kuhl tossed a complete game, giving up two runs (one earned) on four hits and two walks. He struck out seven.
"I don't even know what to say right now," Kuhl said with a wide smile. "It's hard to describe. It's awesome to be CIF champs. We've been working so hard all season. It's been a bit of a rough season but we really came through in the end."
Kulh retired 15 of the last 17 batters he faced, attacking the zone with hard fastballs knowing he had a cushion to fall back on.
Etiwanda (18-12), despite the loss, was the epitome of a Cinderella story throughout the playoffs. The Eagles, in the finals for the first time in school history, finished third in the Baseline League with an ugly 6-9 mark. They limped into the postseason after losing six of their last eight regular season games. They took flight following an 11-6 win against Tustin in the wildcard round.
Nerves seemed to be a factor early -- at least for the team that wasn't supposed to make it this far. Mission Viejo scored three in the first, capitalizing on an error, a dropped popup in shallow left and a balk. It had the makings of a long, long night, but Etiwanda got used to the bright lights and settled in nicely. They got two runs back in the second, made possible by a Diablo throwing error that could have ended the inning.
The Diablos tacked on a run in the fourth and could have delivered the lethal blow in the fifth, but had to settle for just one after
Sean Miller
bounced into a force out with the bases loaded. A suicide squeeze laid down by
Danny Poe
in the seventh basically sealed it.
"We do a lot of that stuff," said Poe, who went 2-for-3. "I just threw the bat out there because I think they were trying to pitch out. I was dreaming of this game since the start of the season."
For the Diablos, preseason dreams became a reality.
"To start the season ranked that high and with all the hype, we may played into it," Kuhl said. "We thought we could just roll out and beat everybody. But it's baseball -- you've got to play the game. We're just playing as a team now. It's awesome to end it like that."
May, 19, 2011
5/19/11
9:23
PM PT


GLENDORA -- A new team will be crowned in Division 2 this year.

Damien right-hander Chad Lee hurled a complete game and the Spartans battled back from a 4-1 deficit to upset defending champion Glendora, 6-4, in the first round of the CIF-Southern Section Division 2 baseball playoffs Thursday afternoon. Lee held host Glendora scoreless in the final four innings, paving the way for Damien's comeback effort.

"We got one," Damien coach Al Leyva said. "Who would know about tomorrow, but today, when it counted, we got it."

The Spartans (16-12) tied it up at 4-4 in the fifth, capitalizing on a two-out fielding error by Glendora shortstop Martin Gallegos. J.J. Murillo beat out the throw at first, which allowed Lee to race home from second base. In the sixth, Damien scored the go-ahead run on a throwing error and tacked on an insurance run on a Dorian Granados RBI double, making the 10-minute bus ride back to La Verne all the more enjoyable.

"We didn't play our best game," Glendora coach Dan Henley said. "Always at the end of the year you're hoping to play your best game because you're going to be playing really good teams. We've been playing really good baseball as of late, fundamentally sound defense. We struggled with those phases. This is a tough one at the end [of the season]. Last game, we're done. Tomorrow we'll clean out the lockers and figure out what we're doing for the summer."

Glendora (17-7-1) won the Baseline League in its first year since moving over from the Sierra League and had won its first CIF title last season. Senior first baseman John Alexander, a UC Irvine commit, put the Tartans on the board in the first with his ninth home run of the season. He finished among the state's leaders in homers. Pitcher Sean Beckman absorbed the loss, falling to 9-3 on the season.

Lee (4-0) settled down after giving up three runs in the third.

"I think I just lost focus," Lee said. "After that I just pounded the zone. That's what's helped me the most of the year."

Damien, the Sierra League's third-place team, will play Sherman Oaks Notre Dame (18-11) in the second round Tuesday. Both teams had to go through the wild-card round.

"You just hope they want to play like this all the time," Leyva said. "Whether we're only 10 minutes away or four hours away, we want that same intensity."
March, 19, 2011
3/19/11
6:55
PM PT
LOS ANGELES -- Fontana Summit coach
Steven Hickey
and his players admitted they had their sights set on only one team earlier this season.
Lincoln, Lincoln, Lincoln.
The motivation paid off, as 10th-seeded Summit upset top-seeded San Diego Lincoln, 74-69, Saturday afternoon at Galen Center to advance to the CIF State Division II boys' basketball championship game in Sacramento next week. With the win, the SkyHawks redeemed their loss to the Hornets in last year's Southern California regionals.
"That loss last year stuck with us," Summit's
Dorian Cason
said. "That's all we could talk about."
Defending state champion Lincoln (31-2) appeared to be heading for a repeat, leading by as many as 12 in the first half and 13 in the second. Summit (28-7) pulled to within five early in the third quarter, forcing Lincoln coach
Jason Bryant
to call a timeout. The Hornets drew up an alley-oop for UCLA-bound
Norman Powell
, who slammed it through uncontested for some breathing room.
But the SkyHawks rose above it.
"I knew they had an axe to grind," Bryant said. "These guys were ready and mad about losing in our gym last year."
Summit was hardly fazed, taking its first lead of the game early in fourth quarter on a
Montigo Alford
pull-up jumper. Alford then nailed a three-pointer and hit a floater on consecutive possessions. The sequence was at the heart of a 14-1 run to begin the fourth.
"At the beginning of the year all we could talk about was Lincoln," said Alford, who scored a team-high 18 points. "We had them last year. We had to play our game."
Lincoln, meanwhile, hadn't played a close game in months. The Hornets easily won a San Diego Section title and breezed their way to Galen with wins of 22 and 31 points in the state playoffs. Yet Lincoln was off the mark at the free-throw line, making just 11 of 21 attempts. Powell had a game-high 21, but he missed nine of his 10 three-pointers.
"Really, it was about finding my range," Powell said. "There's no backdrop [at Galen], so I tried to stay with it. Usually I make those. It just wasn't my night."
Summit will vie for a state title in just its fifth year as a varsity program.
"This shows everybody that we're a very good team," Devon Alexander said. "I don't think a lot of people believed in us."
Blair Angulo covers preps and UCLA for ESPNLosAngeles.com. Follow him on Twitter.