Los Angeles Preps:

Division 3AAA
February, 15, 2012
2/15/12
10:50
PM PT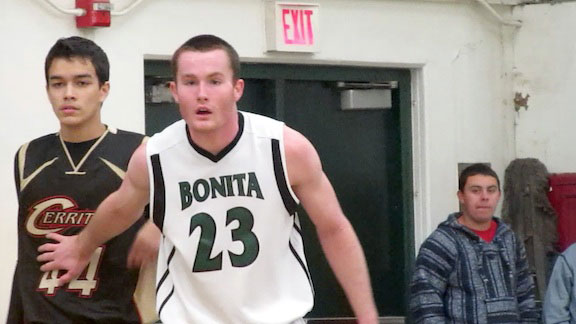 Blair Angulo for ESPNLA.comGarrett Horine scored 17 points in Bonita's easy first-round playoff victory on Wednesday night.
LA VERNE -- Fans trickled into Bonita's old gym through a single door Wednesday night without much commotion. The wooden bleachers weren't filled to capacity, a steady rain maybe discouraging some from leaving the warmth of their homes.
It wasn't loud. It wasn't extravagant. It was basketball in its purest form: Crisp ball movement and suffocating man-to-man defense. Just the way Bonita coach
Greg Eckler
likes it.
Rather silently, seventh-seeded Bonita improved to 24-4 on the season and ran its winning streak to 15 games with a dominant 80-28 victory against Cerritos in the first round of the CIF-Southern Section Division 3AAA boys' basketball playoffs. The Bearcats advanced to meet unseeded Brea Olinda on Friday. They don't get much publicity, and Eckler understands why: It won't happen with two-time defending state champion La Verne Lutheran a mere three blocks away. And it won't happen with two-loss Damien, located less than two miles from Bonita, stealing the city's headlines.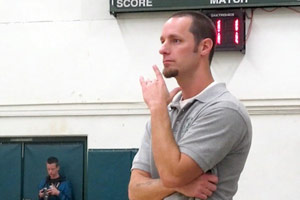 Blair Angulo/For ESPNLA.comBonita coach Greg Eckler has seen his team power its way to a 24-4 record this season.
But the small town's third team is pretty good, too.
"It's great that we've got a strong little basketball area," Eckler says of La Verne, a town with a population of 33,000 that is nestled in the foothills of the San Gabriel mountains some 35 miles east of downtown Los Angeles. "It speaks to what's going on out here. A lot of people don't talk about La Verne being a dominant city when it comes to basketball, but for a couple of years now we've had three solid teams."
Bonita, the Hacienda League champion, is fine with thriving in the shadows. Lutheran has the state's only McDonald's All-American in Arizona-bound forward
Grant Jerrett
. It has hung CIF state championship banners each of the last two seasons. Damien has Saint Mary's-bound forward
Chris Reyes
and a state-of-the-art gym.
Bonita, though, has scrappers and hustlers and a standout football player manning the post.
"Not one guy is a star," says senior
Garrett Horine
, the school's leading receiver last season. "We all share the ball and work hard."
Six players scored in double figures Wednesday night; Horine led the way with 17. The Bearcats went on a defense-fueled 33-2 run in the first half, and held Cerritos to four points in the third quarter.
"We certainly don't get the publicity," says Eckler, who's in his 10th season. "But when [Lutheran and Damien] have the kids that they've got, they're going to get more publicity."
February, 13, 2012
2/13/12
11:05
AM PT
The Muir boys' basketball team, which went 24-2 and won the Pacific League title for the first time in over a decade, missed the CIF-Southern Section Division 4AA playoffs after forfeiting 20 games for using an ineligible player.
The school failed to prove a valid change of address for 6-foot-5 senior forward
Andre Frazier
, according to the Pasadena Star-News.
"We're shocked," Muir coach
Gamal Smalley
told the newspaper
. "I know our administration worked really hard to make sure they could provide everything that CIF was asking for, and I thought they came close."
Frazier transferred last year from Fairfax, and also previously attended Burbank Bellarmine-Jefferson and L.A. University.
As a result, nine-time league champion Pasadena, which came in second place in the Pacific League and received a No. 2 seeding in Division 3AAA, repeats as titlist.