Los Angeles Preps:

Division II
March, 28, 2012
3/28/12
11:27
PM PT


WEST COVINA -- Ty France and C.J. Saylor jog out the corner gate, walk along the outfield fence and, together, retrieve the American flag that waves during their baseball games at South Hills High School. Having fulfilled their duty as team captains and now eying a celebratory snack, the dynamic duo briefly stops at the snack shop behind left field.

Suddenly they sprint back toward the dugout at the sound of Huskies head coach Kevin Smith's whistle, again in unison.

They've known each other for about a decade, their friendship beginning on little league diamonds and growing on travel ballclubs. They bat third and fourth in the South Hills lineup, forming a tandem feared by pitchers across the San Gabriel Valley. And they've signed on to play together next season at San Diego State.

"They were role players for a couple of years," Smith says. "Now they're big time."

Both stand at around 5 feet 10, but France is the flashier of the two. Hair flows out of his hat, his eye black is purposely smeared and the web of his infield glove is bold green. France is a natural third baseman, Smith says, but has unselfishly stepped in at shortstop and doubles as closer.

"When I get on base I feel like he's going to get me in every time," Saylor says. "When Ty's hitting behind me, I know he's going to get the job done."

Saylor is the louder of the two, a fiery catcher who demands attentiveness from the other eight players on the field. He sports a buzz cut and old-school stirrups.

"He takes charge," France says. "When we're in the dugout he's always on everyone, making sure they're in the game."


March, 17, 2012
3/17/12
4:58
PM PT


ONTARIO -- The Riverside J.W. North girls' basketball team didn't want to feel the way it felt two weeks ago in Anaheim. One night of dejection was enough.

North learned its lesson after falling short in the CIF Southern Section title game. It all came together Saturday afternoon in a 57-49 victory against Foothill in the Southern California Division II regional championship at Citizens Bank Arena. The Huskies (30-5) will make their first-ever appearance in the state championship game next week in Sacramento.

"We weren't prepared enough back them," North first-year coach Leonard De Coud said, referring to his team's loss to Lynwood on March 2. "We had to stay humble and hungry at the same time."

Foothill (28-6), making its first SoCal finals appearance, pulled to within two points with two minutes left but never scored again.

"It's sad to see it end, but we've had a really amazing run," Foothill coach Vince Namba said. "It was uncharted territory for us but our fans and community were great."

Pricilla Brooks led North with 17 points and 10 rebounds. Molly Greubel had 16 for Southern Section Division 2A champion Foothill.

North had an amazing turnaround this season under De Coud. The Huskies were 4-21 last year.

"We knew we'd have to come hard this year," said Brittany Crain, who posted a double-double with 14 points and 10 rebounds.
January, 23, 2012
1/23/12
5:33
PM PT
[+] Enlarge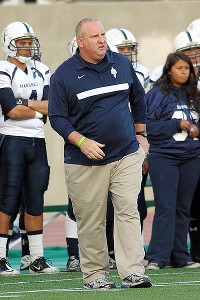 Jose Marin/Marin Media Coach Andy Moran helped lead Marshall to an 11-3 record last season.
Longtime Marshall football coach
Andy Moran
resigned from his position, the CIF Los Angeles City Section announced Monday. Moran, Marshall's all-time leader in wins and a member of the school's hall of fame, acted as head coach in 2011 despite losing his teaching position at the school in the summer.
According to the section office, Moran had been commuting to Marshall from his job as a middle school physical education teacher in Burbank. His old teaching position at Marshall was not brought back this year.
Marshall finished 11-3 last season, losing to South East in the Division II championship game at East L.A. College. Moran guided the Barristers to eight straight playoff appearances during his 10 years on the job. Marshall has gone undefeated in league in back-to-back seasons -- the first and only time it's happened in the school's 81-year history.
A replacement has not been named.
December, 10, 2011
12/10/11
12:32
AM PT


MONTEREY PARK -- Derwin Henderson looked over his left shoulder, then over his right. The South East coach promptly pulled the hood of his sweatshirt over his head, knowing exactly what was coming next.

Nothing like an icy bath to kick off the celebration.

Henderson and top-seeded South East captured the City Section Division II championship Friday afternoon with a 51-34 victory against second-seeded Marshall at Weingart Stadium on the campus of East Los Angeles College. South East (13-1), in only its seventh year of existence, shattered its previous school record of eight wins.

The disbelief was evident on junior quarterback Jonathan Santos' face. He passed for 317 yards and five touchdowns, and added a season-high 135 rushing yards and another score to pace the explosive Jaguars attack.

"I wouldn't trade him for the world," Henderson said.

Highly regarded Robert Lewis, the Southern Methodist-bound tailback who had 2,004 rushing yards and 30 touchdowns heading into the game, had difficulty finding running lanes but made his presence felt in a different way. He caught a 24-yard touchdown and returned an interception 36 yards for a score in the second half to help Eastern League champion South East pull away.

"Back in February Robert could have left to any other school he wanted, but he stuck around, stuck with me," Henderson said.

Santos' 71-yard touchdown pass to Ramone Smith was the dagger, making it 38-20 early in the fourth quarter. In the stands, newspaper scraps fluttered in the air, serving as makeshift confetti.

"This is everything," said Santos, who fell just 31 yards short of 3,000 for the season. "Since I was little this is what I've been dreaming about. We never thought it'd be reality."


December, 7, 2011
12/07/11
7:27
PM PT
CITY SECTION DIVISION II CHAMPIONSHIP

Marshall Barristers (11-2) vs. South East Jaguars (12-1)

When: Friday, 4:05 p.m.

Where: Weingart Stadium at East Los Angeles College

Broadcast: Live on Time Warner Cable channel 101

How they got here: Second-seeded Marshall beat Santee (37-6), Lincoln (49-10) and Granada Hills (37-34). Top-seeded South East beat Grant (56-14), Fremont (42-19) and Canoga Park (42-20).

School history: Marshall has one title to its name, but that came back in 1982. South East is only in its seventh year of existence and, this season, shattered its previous school record of eight wins.

Key players: The Barristers are led by quarterback Anthony Benitez, who has averaged 290 total yards per game, and tailback Walter Moctezuma, who has 19 total touchdowns. Southern Methodist-bound tailback Robert Lewis has 30 rushing scores and quarterback Jonathan Santos adds 35 total touchdowns to form an explosive combination for Eastern League champion South East.

Prediction: South East 42, Marshall 34
October, 7, 2011
10/07/11
11:31
PM PT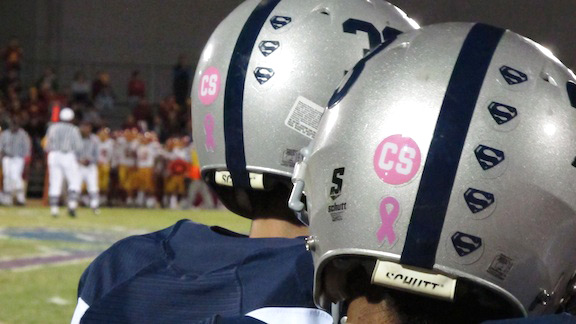 Blair Angulo for ESPNLA.comSouth East players honored slain student Cindi Santana with a decal on their helmets for Friday's game against Roosevelt.
SOUTH GATE -- For a few hours Friday night, the community got lost in a game of football.
There were tears before South East's 42-21 victory over visiting Roosevelt. There were hugs and distraught faces. The school had a moment of silence in memory of
Cindi Santana
, the South East student who was fatally stabbed on campus on Sept. 30. Cheerleaders held each other. Jaguars players commemorated Santana by sticking pink 'CS' decals on the back of their helmets.
Brutal violence had shaken the six-year-old school a week before. On this night, unity was the prevalent theme. The wounds were still fresh but, after kickoff, the home crowd cheered on its undefeated team.
"This team has been through a total roller coaster," South East coach
Derwin Henderson
said. "They decided, as a team, to not only play for Cindi but to play for this community, play for this school. It's destiny. They feel like they can go out and beat anybody."
With the way
Jonathan Santos
threw the ball, the Jaguars (6-0) could very well be the favorites to capture the City Section Division II title. The junior quarterback completed 21 of 33 passes for 319 yards and three touchdowns.
Christian Quiñones
had three touchdown catches and
Juan Nevarez
added 144 yards receiving to help South East pull away.
"We're sad," Santos said. "Everything is happening so fast. But every week we've got to work hard. God is watching us and everyone else is watching us. Hopefully we have their support."
October, 5, 2011
10/05/11
7:14
PM PT
As part of our running feature, here are five of this week's must-see games in south Los Angeles County:
Los Osos vs. South Hills at Covina District Field, Thursday, 7 p.m.
-- Don't let the South Hills Huskies' mediocre 2-2 record fool you. They've been in every game, losing to Ontario Colony by one and defending Southeast Division champ West Covina by two. Workhorse Jamel Hart is a threat to score any time he touches the ball. Los Osos is also 2-2, but its two losses came against a couple of undefeated teams, Orange Lutheran and Vista Murrieta.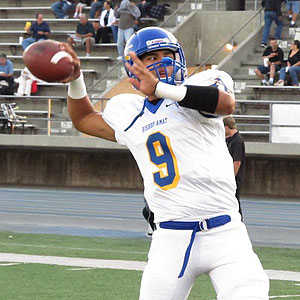 Blair Angulo/For ESPNLA.comQuarterback Rio Ruiz will lead Bishop Amat into its Thursday road game at Venice.
No. 8 Bishop Amat at Venice, Thursday, 7 p.m.
-- A final hurdle for the Bishop Amat Lancers (4-1) before they begin what promises to be a grueling Serra League slate. Matching up against Venice (1-3) might not be a day at the beach, though. The Gondoliers have lost three straight but, after facing the likes of Chaminade, St. Francis and La Mesa Helix, they won't be wide eyed when a Pac-5 squad lines up across from them.
Diamond Ranch at Diamond Bar, Friday, 7 p.m.
-- Childhood friends (turned enemies) will face off when these rival schools meet for just the second time ever. Diamond Ranch (2-3), which sits in Pomona near the Chino Hills and Diamond Bar borders, won the inaugural game last year, 41-0. The stakes have been raised this season, with the winner set to capture the
newly introduced Mayor's Cup trophy
. The Diamond Bar Brahmas (2-3) have lost two straight.
Narbonne at Culver City, Friday, 7 p.m.
-- Battle tested Narbonne (2-2) continues its preseason gauntlet of tough opponents. Junior quarterback Troy Williams carried the Gauchos to a victory against Gardena Serra last week and, like always, figures to be the focal point of that uptempo attack. Culver City (4-0), which has allowed only 14.5 points per game, will be well aware.
Roosevelt at South East, Friday, 7 p.m.
-- Undefeated South East (5-0) has one of the area's most electrifying players, Robert Lewis. The Southern Methodist commit already has 12 rushing touchdowns and four performances of more than 150 yards. The Jaguars are one of only three undefeated City Section Division II teams and, if they win Friday, gain control of the Eastern League.
Blair Angulo covers preps for ESPN Los Angeles. Follow him on Twitter.
March, 25, 2011
3/25/11
10:49
PM PT


SACRAMENTO -- The glass slipper fit, but the clock had to strike midnight eventually.

Fontana Summit's surprise run ended Friday night, as the SkyHawks fell to San Jose Archbishop Mitty, 53-50, in the CIF State Boys Division II basketball championship at Power Balance Pavilion. Summit had made it out of the Southern California Regional as the No. 10 seed and in just its fifth year as a varsity program.

"This is the best group of kids you would want to coach," Summit coach Steven Hickey said. "We as a staff are so proud of these guys. It hurts, but I'm still proud of them."

Summit (28-8) had the ball trailing by one with 18.7 seconds left, but an errant pass by Dorian Cason led to a Mitty (32-2) bucket. Montigo Alford missed the tying shot at the other end, giving the Monarchs their first state title.

"It felt amazing," Mitty forward Aaron Gordon said. "There are no words to express how good that felt. ... I had an out-of-body experience when that ball went over (Alford's) head."

Gordon, one of the top sophomore prospects in the nation, had 17 points and tied a CIF State title-game record with 21 rebounds. Mitty survived despite the fact that Gordon did not score in the final 12 minutes as he battled foul trouble.

Summit (28-8) scored the game's first seven points before Mitty capped the opening quarter on a 9-2 run. Gordon had 13 points and 12 rebounds in the first half alone, guiding the Monarchs to a 26-19 lead at the break. About the only thing he did wrong was pick up a technical foul for smacking the glass after thunderous two-handed dunk.

The SkyHawks opened the second half on a 10-3 spurt to tie it up and hung tough for the remainder. They went into the fourth quarter down three and finally pulled even with 30 seconds left on a lay in by Quinton Lilley. Cason had a game-high 19 to go along with 14 boards. Summit would have been in trouble if not for its 11 free throw makes in the second half. They missed all 17 of their three-pointers.

"I love my guys," Hickey said. "They can't all go in."
March, 24, 2011
3/24/11
6:08
PM PT
CIF STATE BOYS DIVISION II

At Power Balance Pavilion, Sacramento

Matchup: Fontana Summit (28-8) vs. San Jose Archbishop Mitty (31-2), Friday, 8 p.m.

How they got here: Summit: beat Narbonne, 72-70 (OT); Ventura, 66-45; Peninsula, 79-74; San Diego Lincoln, 74-69 to win the Southern California Regional.

Archbishop Mitty: beat Casa Grande, 71-43; Las Lomas, 70-61; Woodcreek, 67-44 to win the Northern California Regional.

Key Players: Point guard Montigo Alford willed Summit to a comeback effort against San Diego Lincoln, scoring 15 of his team-high 18 in the second half. The SkyHawks have more options, including Darrick Arnold, Devon Alexander and sixth-man Cameron Lewis. Mitty's Aaron Gordon, the brother of former UCLA forward Drew Gordon, is ESPNU's eight-best prospect for the class of 2013.

What to expect: As the top-seeded team in the Northern California Division II Regional, Archbishop Mitty was supposed to be in this position. The Monarchs have been here twice before, in 2007 and 2008. They lost to Santa Ana Mater Dei both times. It's a different story for Summit. No one expected the SkyHawks' flight to Sacramento after they received a No. 10 seeding for the Southern California Regional. The odds were even greater last week at Galen Center, where Summit faced off against one of the state's best teams in Lincoln. So can the surprising SkyHawks, in only their fifth year as a varsity program, do it again?
March, 20, 2010
3/20/10
7:23
PM PT
Compton's Cinderella run ran into a big problem in the boys' Division III Southern California regional final Saturday at the Galen Center: A 6-foot-10 problem.

San Diego Lincoln center Nathan Maxey blocked four shots and altered countless others as the second-seeded Hornets defeated the unseeded Tarbabes, 60-52, to earn a berth in the state finals next week.

Lincoln (28-2) will play Mountain View St. Francis in Bakersfield next Saturday.

"He was a big factor," Compton guard Cliff Simms, Jr., who led the Tarbabes with 18 points, said of Maxey. "We haven't seen anybody of his length all year and we weren't that prepared for him. He affected a lot of my shots and my teammates' shots."

Compton, which started this season 3-9 and was seeded seventh in the Southern Section 2AA before advancing to the final, held a 28-22 lead after a poor first-half shooting performance by both teams.

Lincoln, which shot 17.2% in the first half, came out gunning in the third quarter. The Hornets made 12 of 16 shots in the third quarter, outscored Compton 27-10 and took control of the game.

"They came out, they had more energy than us and they took the momentum from us," Compton Coach Tony Thomas said. "I told the guys at halftime that the third quarter has been our Achilles' heel and don't let it happen again. For some reason, this team, we have the lead and we think it's just going to carry on."

Allan Guei had 12 points and forward Anthony January had 11 points and 16 rebounds for the Tarbabes (21-14), but January, at 6-6, had the most problems with Maxey and made only four of 18 shots.
March, 20, 2010
3/20/10
5:18
PM PT
It's been an ugly start in the boys Division II regional at the Galen Center as Compton has taken a 28-22 lead over San Diego Lincoln at halftime.

The teams combined to make only 13 of 60 (21.7%) field goals in the first half. Compton, led by point guard Allan Guei, went on a mini run at the end of the half to open a nine-point lead, 29-20, with 25 seconds left to play.

Cliff Sims, Jr. had 11 points for the Tarbabes and Guei had six. Victor Dean had seven points to lead Lincoln, which shot 17.2% in the half.
March, 18, 2010
3/18/10
4:45
PM PT
To say that Compton is a surprise participant in the Division III Southern California regional final would be an understatement.

This is a team that finished last season 10-18 and 4-8 in the Moore League and was 3-9 this season when the calendar switched to 2010, yet will face second-seeded San Diego Lincoln Saturday at 4 p.m. at the Galen Center with a spot in the state final on the line.

Coach Tony Thomas said the team, which features only two seniors in its regular rotation, simply grew up.

"A lot of our guys are new to the varsity level," he said. "We always had the talent and the potential, we just took time figuring out how to put it all together."

Compton went 9-1 in January and finished second to Long Beach Poly in the Moore League, yet still had trouble attracting believers. They were seeded seventh in the Southern Section Division 2AA playoffs, yet advanced to the final before losing to Murrieta Valley, 50-44.

For the state playoffs, the Tarbabes (21-13) were seeded fifth in Southern California, yet have defeated fourth-seeded San Diego Hoover and top-seeded Rialto Eisenhower en route to the regional final.

"Everybody is surprised, but I'm not," Thomas said. "They look at our record and say we have 13 losses. But they don't realize that five of those losses are to CIF champions and nine of them are to teams that made the state playoffs."

Part of the problem was a gym that needed repairs and had to be shut down for two weeks in December.

"We weren't practicing regularly," Thomas said. "We weren't working on things that needed work."

The development of junior point guard Allan Guei has been instrumental in the turnaround, Thomas said. Guei was a shooting guard the past two seasons but has learned the new position and is now a Division I recruit as a point guard.

"He started out with a scoring mentality, but his all-around game has developed very quickly," Thomas said. "I trust him out there and trust what he's doing with the ball and that allows me to coach areas of the floor away from the ball. I don't have to be watching the ball all the time. That's huge."

Lincoln (27-2), the San Diego Section Division II champion, is on a 22-game winning streak. Their last loss was an 87-68 setback to Compton Centennial on Dec. 30. Compton defeated Centennial, 67-60, on Jan. 18.

"We don't put too much into that," Thomas said. "They lost to Centennial early in the year. We know how much things can change from the beginning to now."
March, 13, 2010
3/13/10
9:54
PM PT


SANTA ANA -- Jessica Duarte had a season-high 29 points as second-seeded Mater Dei advanced to a regional semifinal showdown with top-seeded Brea Olinda with a hard-fought 70-61 victory over Hanford.

Duarte, a 5-foot-11 junior forward, was an inside-outside threat, making three three-point baskets to go along with several layups and putbacks.

The victory for the Monarchs (30-1) sets up a regional final against Brea Olinda, the only team to defeat Mater Dei over the last two seasons. They are the top two teams in the ESPN Rise state rankings.