Los Angeles Preps:

Dominique Walker
February, 21, 2012
2/21/12
10:55
PM PT
By
Dan Arritt
| ESPNLosAngeles.com


CERRITOS -- A 15-point halftime lead had been whittled to single digits early in the third quarter Tuesday night, and Etiwanda boys' basketball coach Dave Kleckner didn't waste any time yanking two starters from the game and giving both a sideline scolding for unacceptable play.

Kleckner then called timeout, brought his team into a tight huddle and shared his message with the rest of the Eagles. Either play his way or don't play at all. They responded by holding off Gahr, 60-52, in the second round of the Division 1AA playoffs.

Despite the victory, Kleckner was still clinching his teeth several minutes after the game.

"That was kind of frustrating, to tell you the truth," he said. "It all started unraveling in the second half there."

Since Kleckner took over at Etiwanda in 1996-97, the Eagles have never been eliminated in the second round or earlier. Gahr, the defending Division 2A champion, was playing in a tougher division this season, but also featured a starting front line of 6-foot-7 senior forward John Benson, 6-6 junior forward Kyle Benton and 6-6 senior center Davion Thomas, as well as 6-4 shooting guard Brian Nebo.

Etiwanda doesn't have a player in its rotation taller than 6-4.

Kleckner wanted his post defenders to front Gahr's big men and provide help on the backside. That's not what he saw to start the second half.

"First possession, they pound it right into the post and we're sitting behind the guy," Kleckner said.


January, 10, 2012
1/10/12
10:04
PM PT
GLENDORA --
Jordan McLaughlin
has grown a couple of inches since last year. His arms are more defined. He's not faster but, rather, quicker. He can dunk with two hands now.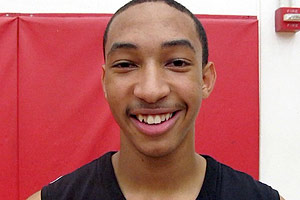 Blair Angulo/ESPN.comJordan McLaughlin has emerged as a top-flight PG and one of Cali's top recruits.
And the scary thing is, the sophomore figures to keep growing, keep adding muscle, keep sharpening his tools.
McLaughlin put on a versatile display Tuesday night, scoring a game-high 21 points in Etiwanda's 56-35 victory against Glendora in the Baseline League opener. He sank six 3-pointers, including three in a row that set the tone early. Later, the 5-foot-11 point guard put an exclamation point on it with a thunderous breakaway two-handed slam.
"Right now he's being overlooked," Etiwanda coach
Dave Kleckner
said. "People aren't aware of him, people don't know about him, but it's early. I'm sure once his name gets out there by the end of this year, I think people will be a lot more familiar with his name."
Etiwanda improved to 16-1, its only loss coming more than five weeks ago against highly regarded La Verne Lutheran. The Eagles used their suffocating defense to fluster Glendora (12-5), holding the home team to only five points in an ugly second quarter.
Glendora junior
Nick Colletta
, one of the region's top perimeter shooters, did not make a field goal, getting his five points at the charity stripe. Colletta missed seven weeks of full-contact play earlier this season, but longtime coach
Mike Leduc
didn't want to use that as an excuse.
"Tonight we didn't show up," Leduc said. "When that happens, we're going to have a tough time."
Sam Flemming
added 11 points for the Eagles, who are favored to claim their sixth consecutive league title. Glendora gets another shot at the defending champs on Jan. 27 at Etiwanda.
McLaughlin opened the game by nailing three long-range jump shots.
Brandon Townes
and
Dominique Walker
also hit from behind the arc, forcing the Tartans to extend their zone scheme and freeing up the paint. From there, McLaughlin captained a deliberate tempo.
"He did have some minutes where he had to be the floor general as a freshman," Kleckner said. "I think it was great for his development. Now in his sophomore year he just looks so natural at that position."
McLaughlin also was a beneficiary of the NBA lockout when former Etiwanda and UCLA standout
Darren Collison
, now the starting point guard for the Indiana Pacers, used his old gym to work on his game. McLaughlin took some pointers on foot speed and refined his jumper.
"I've grown a lot," McLaughlin said with a smirk, "and I hope to grow more."
Blair Angulo covers preps for ESPN Los Angeles. Follow him on Twitter.
December, 30, 2011
12/30/11
2:12
PM PT
By
Dan Arritt
| ESPNLosAngeles.com
The Montclair boys' basketball team continued its record start to the season Thursday with a 60-57 victory in the championship game of the Atascadero tournament.
For the second consecutive season, the Cavaliers (13-0) beat the tournament hosts by three points in the final.
Atascadero guard
Rob Berwick
had a good look at the basket with about 10 seconds remaining, but his three-point attempt went off the rim, according to
this report
in the San Luis Obispo Tribune.
Montclair senior guard
Devyn Sampson
scored a season-high 24 points and contributed 13 rebounds en route to winning tournament MVP honors. Back-court mate
Kevin Fregoso
had 12 points and seven assists and was named to the all-tournament first team.
At the Holiday Hardwood Classic at Oaks Christian HS:
Behind a career-high 18 points from senior guard
Dominique Walker
, the Etiwanda boys' basketball team advanced to tonight's championship game in Westlake Village.
The Eagles (13-1) will meet tournament host Oaks Christian at 8:30 p.m.
Etiwanda took a 14-7 lead after the opening quarter against Santa Monica in the semifinals, stretched it to 11 by the end of three and ultimately advanced with a 56-52 victory. Etiwanda sophomore guard
Jordan McLaughlin
contributed 12 points, only the third time this season has hasn't led the team in scoring.
Oaks Christian (10-2) is led by senior point guard
Chass Bryan
(16.3 ppg) and junior guard
Jackson Miller
(11.7), setting the stage for what should be an interesting back-court matchup.
December, 6, 2011
12/06/11
6:37
PM PT
By
Dan Arritt
| ESPNLosAngeles.com
With the boys' basketball season a week under way, some teams have already proved they're a force to be reckoned with, while a few others have started a step slow. Here's a look at the teams and players to watch in the coming months, and where you can see them play.

1. J.W. North, 4-0

The Huskies return their top two scorers from last season's 19-11 team. Aaron Peck, a 6-4 senior forward, was an all-Division 2A selection after averaging a team-high 17.5 points and nine rebounds. He forms a dangerous trio up front with 6-5 junior forwards Marcus Baugh (10.0 ppg, 7.5 rpg) and Dorian Butler (7.8 ppg, 6.0 rpg). Rancho Verde transfer DeShon Taylor, a sophomore guard, more than shores up the back court.

2. Etiwanda, 3-1

The Eagles graduated their top five scorers from last season's team that advanced to the Division 1AA semifinals but should regroup well behind their next superstar, sophomore guard Jordan McLaughlin. The 5-11 ball handler scored 20 points Saturday night in a 72-61 loss to LaVerne Lutheran in the Rose City Classic championship game in Pasadena. Etiwanda will also count on 6-4 junior forward Sheldon Blackwell and 6-3 senior guard Dominique Walker.

3. Murrieta Valley, 5-0

The Nighthawks graduated their top two scorers from a team that finished 24-4 last season but appear to have filled the gaps in a hurray, evident by their 58-54 victory last weekend against Rancho Verde in the final of the Big Daddy tournament at Citrus Hill High. Darius Butler, a 6-3 senior forward, and Reid Shackelford, a 5-11 senior guard, appear willing and able to step into scoring roles. Butler is averaging 21 points through the first five games after averaging 8.7 last season, and Shackelford has bumped his scoring average up from 3.6 last season to 18.8. Jackson Helms, a 6-7 senior forward, is also rounding into one of the region's better big men.

4. Rancho Verde, 3-1

Jordan Grace, a 6-2 senior guard, is a returning Division I-AA selection. He'll team up nicely with 6-foot senior guard Kendall Schmidt, who transferred from Woodcrest Christian after averaging 25 points a game last season. Sophomore guards Jalen Hall and Tre Nottingham and 6-3 junior forward Lance Jones give the Mustangs additional depth, while 6-6 newcomer Khalil Fuller, the brother of Vanderbilt guard Kyle Fuller, will push to join the rotation.

5. Colony, 3-1

The Titans return their two best players from last season's team, which finished 20-10, including 11-1 in the Mt. Baldy League, and advanced to the Division 2AA quarterfinals. Miles Poullard, a 6-2 senior guard, and Everett Turner, a 6-foot junior guard, were all-Division 2AA selections last season. With no player taller than 6-4 on the roster, the Titans will need to maintain an up-tempo pace to be successful.