Los Angeles Preps:

Drake Griffin
December, 14, 2010
12/14/10
6:39
AM PT
By
Martin Henderson
| ESPNLosAngeles.com
1. Mission Viejo coach Bob Johnson said he wasn't trying to make excuses, but he recognized that the first half of the top-seeded Diablos' 41-27 loss to second-seeded Servite was "a disaster," as his team made too many mistakes and dropped too many passes. Servite coach Troy Thomas quipped, "We dropped a lot of their passes too."

2. All the respect in the world for Alex Bridgford, the Mission Viejo QB who finished 21 of 48 for 274 yards, a touchdown and an interception. Bridgford got crushed on the final play of the game and fumbled one yard from the end zone. In tears during the postgame award presentation, the junior showed the leadership mettle that will serve him well in the long run. He stood in and answered questions about the only loss his team suffered all season. That was in contrast to one of his senior teammates who refused to even acknowledge the reporter without so much as an "I'd rather not talk." From where I stand, Bridgford is the Man.

3. Helping top-seeded Garden Grove win its first-ever football title, Josh Webb's performance in a 31-30 Southern Division victory over Beckman might have been the single-most exciting football performance I've seen in 30 years of covering high school sports. I was there the night Santa Margarita quarterback Carson Palmer outdueled Tustin running back DeShaun Foster, and I've seen plenty of highlight reel footage from the pressboxand the sidelines. I'm not sure anything compared to the dynamic performance by Webb on the biggest stage Garden Grove can play; his five-yard touchdown run (with a somersault) after taking a backward pass and then his conversion run (with a 360-degree rotation across the top of two defenders) with 1:27 left in the game was the best set of back-to-back plays I've seen. Ever.


December, 11, 2010
12/11/10
11:48
PM PT
By
Martin Henderson
| ESPNLosAngeles.com
ANAHEIM – The tally on La Habra's fourth consecutive Southern Section championship will show that the Highlanders scored five touchdowns, including the decisive one midway through the fourth quarter.

But when the history of third-seeded La Habra's 35-26 Southwest Division victory over top-seeded Tustin is recalled, it will be the second and third ones that are talked about, and the fact that the Highlanders beat Tustin at its own game.

La Habra (11-3) matched St. Margaret's as the only team in Orange County to ever win four consecutive titles. The Highlanders' three losses were to Trinity League teams Servite, Orange Lutheran and St. John Bosco. Tustin finished 12-2 in front of 7,294 at Angel Stadium.

La Habra senior Drake Griffin carried 29 times for 317 yards and scored touchdowns on runs of 44, 11, four and nine yards. The Highlanders also salvaged the first half with a TD drive in the final minute, and they drove 93 yards on their first possession of the second half. That's where the title was won.


September, 16, 2010
9/16/10
5:21
PM PT
By
Martin Henderson
| ESPNLosAngeles.com
Frank Mazzotta
hasn't returned my phone calls, but my guess is it's so he won't have to be coy about whether
Cody Clements
will play Friday against No. 1 Servite as it takes on Mazzotta's No. 15 La Habra squad.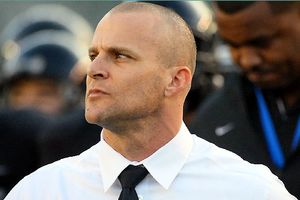 Courtesy of Laurence Martinez
Servite coach Troy Thomas says he hopes Cody Clements plays for La Habra on Friday.
Clements' right knee, which he had surgically repaired as a sophomore, was injured in the season opener against Orange Lutheran, and the dual-threat Washington State-bound quarterback has too bright a future to risk in a nonleague game against the most physical team the Highlanders (1-1) will play.
Naturally, it's to La Habra's benefit that Servite (2-0) not know whether Clements will be in or out of the lineup when the teams take the field Friday, 7:30 p.m., at Cerritos College.
"We hope he plays," said
Troy Thomas
, the Servite coach whose defense might be even better than it was a year ago when it won the Pac-5 and State Division II Bowl championship. "We want to play their best."
Even though Mazzotta has been able to keep Clements' status a secret, you can be sure of one thing: Servite is practicing as if Clements will play, and if he doesn't, it will be a tough night for
Matt Yackey
when he's not handing the ball off to
Ahmad Avery
and
Drake Griffin
-- which will probably be about 98 percent of the time.
September, 10, 2010
9/10/10
12:54
AM PT
By
Martin Henderson
| ESPNLosAngeles.com
When it comes to drama, the early leader on the season has to be La Habra. A week after taking Orange Lutheran to the wire -- the Highlanders had the ball in Lancer territory as time expired on a 21-17 loss -- La Habra sweated out a 23-17 victory Thursday over La Mirada from the OLu point of view.

The game matched teams that won section titles last season -- although La Habra has won three in a row -- and it didn't disappoint. It might have been skewed somewhat because La Habra held out star quarterback Cody Clements to give him additional time to rehabilitate his knee for next week's opponent -- No. 1 Servite. Not as if that won't create more tension for the Highlanders.

With the score tied at 17-17 Ahmad Avery scored on a five-yard run with 4:19 left, but the point-after try was missed. That meant La Mirada could win it with a touchdown and extra point. The Matadores (0-2) reached as far as the 13-yard line but couldn't advance the ball over the next three plays.

Credit goes to Matt Yackey and Alex Ibarra for successfully filling in at QB in a big game. Last week, coach Frank Mazzotta told his players that Yackey, in particular, was a senior quarterback like Clements who had worked hard all summer just like everyone else in the program. Five of nine passing for 59 yards, Yackey rewarded that faith by directing the game-winning drive 65 yards in nine plays.

Drake Griffin rushed for 116 yards, including a 43-yard touchdown, Vai Peko returned a kickoff 95 yards for a score, and La Habra continued to raise the bar when it comes to nailbiters.
September, 4, 2010
9/04/10
12:41
AM PT
By
Martin Henderson
| ESPNLosAngeles.com
The game became close as the minutes wore on, but the most telling thing about Orange Lutheran's 21-17 victory Friday over La Habra is what the Lancers did in the first 12-1/2 minutes.

With seven starters back on offense and five on defense, La Habra was the fashionable pick for those predicting the game's outcome. Most media outlets ranked La Habra ahead of Lutheran – one of the few exceptions being ESPNLosAngeles, which had OLu at No. 5 in Orange County and La Habra at No. 6.

But in the first quarter, the Lancers showed why they had been to the Pac-5 semifinals three of the last four years. They showed they were physical, they are well-coached, and they are back running the option the way they did when Aaron Corp was leading them to a section and state title in 2006.

They showed they were playing Pac-5 football, that they might have a little chip on their shoulder, and that OLu was not ready to be counted out or written off.

"When La Habra made their push, our guys didn't cave in or give up," Lutheran coach Jim Kunau said.

It was Mike Markovsky, a quarterback/safety, who steered the Lancers' on-field statement. On the opening drive of the season, Lutheran drove 80 yards in nine plays.

Markovsky completed four of five passes for gains of 19, four, six and 16 yards. He ran for 15 and six. And he pitched to Will Jabarion an option that Jabari took two yards for a 7-0 lead – the first of his two touchdowns. Markovsky punched the air like a boxer.

There were still 40 minutes to play but OLu was knocking out people's perception of La Habra as the next big thing.

"It was a great morale boost to our program," Markovsky said of the victory. "We knew they were going to come out hungry and we came out hungry too."

The defense forced a three-and-out against La Habra's highly-touted offense, which this week had transfer running back Drake Griffin cleared to play, adding another weapon to its arsenal.

Lutheran responded with a 74-yard drive, using 13 plays. All but two yards came on the ground, and the final yard came from Markovsky again on the option despite getting rocked by Will Peppard and Anthony Baca.

It was a 14-0 lead for the Lancers less than a minute into the second quarter. Though La Habra used big plays to pull within 14-10 and 21-17, Lutheran didn't wilt. It showed it was still relevant, no matter what most people thought.

"You can tell those guys are winners, they're used to winning, they expect to win, they play like it," Kunau said.

And what does that say about Lutheran?

"I really believe in the character of our kids and I believe in our coaches."

Today, a lot more people will be believing too.