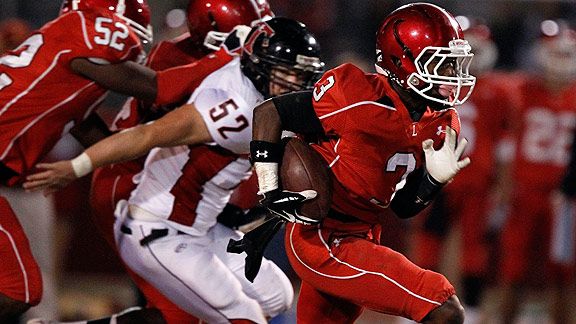 Alex Gallardo/Special to ESPNLA.com
Rashad Wadood of Lakewood rushed for 201 yards against San Clemente after hardly practicing during the week because of an injured ankle.
LAKEWOOD -- While the rest of his teammates fine-tuned the playbook, Rashad Wadood lined up at the five-yard line and sprinted past the back of the end zone. No footballs involved. He turned around and raced back, repeating the sequence a few more times as he tested the sprained ankle that had kept him out of Lakewood's final three Moore League games.
For Lakewood, they were the most important minutes in its 24-7 victory over visiting San Clemente on Friday night -- even if they occurred half an hour before kickoff.
Wadood barely practiced during the week, but he and his ankle were forced into duty when workhorse Allie Long left the game in the first quarter because of a left wrist injury. Wadood and his ankle responded well, piling up 201 yards rushing on 34 carries and scoring a touchdown to pace Lakewood's offense.
Not bad for someone who Lakewood coach Thadd MacNeal didn't think would play.
"Honestly, he barely practiced all week," MacNeal said. "We got him a nice tape job and a spat. He did a fantastic job. What a burst -- it was great. With Allie going down we sure needed him."
Quarterback Tyler Schultz added two touchdown passes -- finishing with 215 yards on 17 for 27 passing -- and the Lancers' defense forced three turnovers to send the crowd home happy. San Clemente quarterback Travis Wilson threw for 170 yards and ran for 71 more, but he was picked off twice and completed fewer than half of his pass attempts.
"I think we have a really good defense," MacNeal said. "The only team that really ran on us this year was Long Beach Poly. Other than that, our defense has played great all year. Our offense gets all the headlines, but our defense is playing great football."
The scoreboard may not reflect it, but it was a physical game for Lakewood. The Lancers appeared to be in trouble when Long, who had rushed for 13 yards on four carries early, left the game holding his left arm. He watched the remainder of the game from the bench, with a bag of ice wrapped around his left wrist.
And then there's star defensive tackle Todd Barr, who caught a 16-yard touchdown pass to break the scoreless tie in the second quarter before absorbing a vicious hit early in the third. He did not return, though his absence was more precautionary than anything else.
Injuries like Barr's are magnified times 100 during the playoffs.
"If you would have told me that we wouldn't have Allie Long, our starting center Kelly Harpham and Todd Barr in the second half, I would have thought we'd have a tough time winning the game," MacNeal said.
Maybe MacNeal should advise his training staff to bring more tape when Lakewood hosts No. 3-seeded Alemany next Friday.
It seemed to work just fine for Wadood.