Los Angeles Preps:

Ed Croson
November, 21, 2011
11/21/11
1:08
AM PT
By
Tim Haddock
| ESPNLosAngeles.com
One team in the L.A. North Top 10 lost in the first round of the CIF football playoffs. Another team in the top 10 didn't even make the playoffs.
Alemany, the No. 4-seeded team in the Southern Section Pac 5 Division playoffs, lost to St. John Bosco, 33-28.
Crespi, which ended up in a three-way tie with Sherman Oaks Notre Dame and Bishop Amat for third place in the Serra League, lost a spot in the Pac-5 Division playoffs on coin flips.
It was probably just as well. The three teams from the Serra League in the Pac-5 Division playoffs lost in the first round. Loyola was upset by Huntington Beach and Bishop Amat lost to Santa Margarita.
Here's a look at this week's L.A. North top 10:
(1) Westlake (11-0) – The Warriors easily eliminated Eastside, 59-12, in the first round of the Northern Division playoffs. Kicker Alex Ball set the Southern Section record for field goals with a 24-yarder in the second quarter. Westlake was up 52-6 at halftime. The good news for Eastside is that the Lions almost outscored Westlake's second stringers in the second half.
(3) Oaks Christian (9-2) – Mira Costa was no challenge for the reigning Northern Division champion. Oaks Christian scored on its first six possessions and rolled to a 43-10 win in the first round. Running back Ishmael Adams had quite a night, rushing for 98 yards on three carries and scored two touchdowns.
(4) Ventura (11-0) – The Cougars are putting on their best DJ Khaled impression. All they do is win, win, win no matter what. Ventura jumped out to a 21-0 lead and won convincingly, 41-14, over visiting Dominguez in the first round of the Western Division playoffs. After top-seeded Gardena Serra was upset by Culver City, Ventura is now the highest remaining seeded team in its half of the playoff bracket.
(5) St. Bonaventure (8-3) – It wasn't pretty, but St. Bonaventure won its first round Northern Division playoff game, 19-10, over Redondo. The Serpahs were down 10-0 in the second quarter and 10-8 at halftime. They finally took the lead on a 40-yard field goal by Brandon Rominger in the third quarter and held Redondo scoreless in the second half. St. Bonaventure certainly won no style points for this one.
November, 17, 2011
11/17/11
3:52
PM PT
By
Tim Haddock
| ESPNLosAngeles.com
Eastside(4-6) vs. No. 2 Westlake (10-0), Friday (7 p.m.)
The top-seeded team in the Southern Section Northern Division playoffs eases into postseason with a first-round game against Eastside, the fourth-place team from the Golden League. The Lions have lost three games in a row. They don't run the ball well -- the Lions' leading rusher is Kevin Teate with 691 yards and two touchdowns. They don't pass the ball well, averaging a notch over 31 yards per game. They don't score many points, averaging 16.6 points and were shut out in three of their last five games. Westlake is undefeated, averaging 45.5 points and coming off a 35-14 win over St. Bonaventure, the No. 11 team in the ESPN Los Angeles prep football Top 25 rankings.

Mira Costa (4-6) vs. No. 9 Oaks Christian (8-2), Friday (7:30 p.m.)
Oaks Christian, the reigning Northern Division champion and the second-seeded team in the Northern Division playoffs, opens against the third-place team from the Bay League. Mira Costa is another team that hasn't scored much, only 17.7 points per game, and lost its league finale, 21-7, against Redondo Union. Oaks Christian stumbled a bit into the playoffs, playing two close games in the final three weeks of the Marmonte League season. Both of Oaks Christian's running backs, Carlos Mendoza and Ishmael Adams, were nicked up in the final weeks of the season. Still the Lions are averaging 35.3 points and should be in good position to make another run at a CIF championship.

No. 11 St. Bonaventure (8-2) vs. Redondo Union (5-5), Friday ( 7:30 p.m.)
The Sea Hawks finished in second place in the Bay League and won four of the last five games of the season. Two of their toughest games were a 21-0 loss to Gardena Serra in Week 2 and a 33-13 loss to Orange Lutheran in Week 5. St. Bonaventure, the No. 3 seed in the Northern Division playoffs, has been ranked higher than Serra and OLu all season in the ESPNLA rankings. The Seraphs might be playing with some chips on their shoulders, too. Coach Todd Therrien was definitely not happy with the way his team lost to Westlake in the Marmonte League finale. Don't get him started on how his team lost to Oaks Christian.

Inglewood (5-5) vs. No. 24 Chaminade (8-2), Friday (7 p.m.)
Chaminade Coach Ed Croson said his players were "disheartened" after losing to Gardena Serra in the Mission League finale and, as a result, dropping from the No. 1 to No. 3 seed in the Western Division playoffs. The Eagles run the ball well and can score against any team. Running back Terrell Newby has 1,533 yards and 24 touchdowns. Quarterback Logan Scott is efficient, passing for 1,490 yards and 11 touchdowns at a 65 percent completion rate. The wild card in the Chaminade offense is speedster wideout Elijah Dunston. He caught 34 passes for 412 yards and a team-high five touchdowns among the receivers. Inglewood, the second-place team from the Ocean League, has won four games in a row. The Sentinels also lost five of their first six games. Two of those losses were to Palos Verdes and Mira Costa, the top two teams from the Bay League. It could be a long night for Inglewood.

Birmingham (8-2) vs. Arleta (9-1), Friday (7 p.m.)
Birmingham is the No. 6 seed in the City Section Division I playoffs and takes on Arleta in the first round. It is East Valley vs. West Valley. Birmingham was the surprise champion of the West Valley League after upsetting El Camino Real in the second to last game of the season. Arleta won the East Valley League championship with an undefeated record. The only loss for the Mustangs was against Chatsworth, 28-12, in the second week of the season. It was also be a matchup of two of the best running backs in the San Fernando Valley. Arleta's Dejon Coleman is one touchdown away from setting the City Section for touchdowns in a season. Birmingham's Isaiah Hastings has outplayed the top tailbacks in the West Valley League all season.

Cresnshaw (5-4) vs. El Camino Real (8-2), Friday (7 p.m.)
El Camino Real opens the City Section Division I playoffs against the reigning champs. This is a winnable game for El Camino. Crenshaw is the No. 8 seed in the playoffs. El Camino is No. 9 and home for the playoff opener. The Conquistadores won four of their last five games but stumbled a bit into the playoffs. They lost to Birmingham and, as a result, lost the West Valley League championship. In the West Valley League finale, they narrowly beat Granada Hills, 35-34, and had to erase a 20-point halftime deficit. Crenshaw finished in third place in the Coliseum League and lost its last two games of the season.
November, 14, 2011
11/14/11
8:34
PM PT
By
Tim Haddock
| ESPNLosAngeles.com
Coaches react and respond to the CIF-Southern Section and City Section football playoff brackets released over the weekend.
Alemany coach Dean Herrington agreed there are no easy roads through the Pac-5 Division playoffs. Alemany is the No. 4 seed and plays St. John Bosco in the first round. "We're at home. It's going to be a big, big test. It's going to be a tough one for us," Herrington said. St. John Bosco finished in third place in the Trinity League, behind Servite, the No. 1 seed in the Pac-5 Division playoffs, and Santa Margarita. The Braves won their Trinity League finale, 48-28, over Orange Lutheran. Senior running Royce Moore rushed for 179 yards and four touchdowns. Junior DaVonte Young has 829 yards rushing and six touchdowns on the season. "They run the ball great," Herrington said. "We gotta slow down their run game." Alemany is coming off a 21-14 win over Sherman Oaks Notre Dame in the Serra League final. Herrington had to play his starters a little longer than he wanted, but he said his players are healthy and ready for playoffs. The Warriors are in the same half of the bracket as San Clemente, Lakewood and top-seeded Servite. "They all worry you," Herrington said. "San Clemente's only lost one game. Lakewood, they're a solid team. Survive and advance is all you can do. We're definitely not looking ahead, that's for sure."
At first glance, Oaks Christian's first-round opponent, Mira Costa, doesn't look all that tough. The Mustangs have a losing record at 4-6 and finished in third place in a weak Bay League. But Oaks Christian Bill Redell is not taking Mira Costa lightly. "I would say, they're a 4-6 team, but they've had a lot of injuries. They're getting players back," Redell said. "They're a really good team, big. If they all come back, I categorize them physically with Bellevue. It's not a cakewalk." Oaks Christian lost to Bellevue, the defending Washington state Division 3A champion, to open the season. Oaks Christian won the Northern Division championship last year and the Lions are looking to make a CIF playoff final for the ninth time in school history. Redell said his half of the bracket is fair. "I'm glad we're not having to play any Marmonte League teams until the semis," he said. St. Bonaventure, the No. 3 seed in the Northern Division playoffs, is the only other Marmonte League team in the bottom half of the bracket. Oaks Christian beat St. Bonaventure, 36-24, during Marmonte League play. Another bit of good news for Oaks Christian: Running back and linebacker Carlos Mendoza, an Arizona State commit, is expected to play after missing the last two games because of a shoulder injury.
October, 7, 2011
10/07/11
11:42
PM PT
By
Sean Ceglinsky
| ESPNLosAngeles.com


WEST HILLS -- They will remember this one for a while.

Chaminade did seemingly everything in its power to blow what appeared to be an insurmountable lead at halftime Friday night against Sherman Oaks Notre Dame.

Questionable play calling. Countless mistakes on special teams. Unnecessary timeouts. You name it and the Eagles somehow, someway, committed the wrong doing.

In the end, however, Chaminade managed to figure things out.

Scoring a pair of touchdowns with less than two minutes left in the fourth quarter certainly helped out matters. And turning away one last-gasp effort by the visiting Knights as time expired enabled Chaminade to escape with a 36-32 nonleague victory

"There is no quit in this team, no way'' Chaminade coach Ed Croson said. "We gave Notre Dame plenty of chances to win this game. We almost self-destructed. We knew it was going to be a fight though and we weren't going to back down. This was a big, big win.''

Indeed it was a big win for Chaminade (4-1), ranked No. 25 in the ESPNLosAngeles.com rankings. Notre Dame (5-1) figures to fall from its No. 20 spot next week.

Chaminade's Logan Scott scored on a nine-yard touchdown to cut the Notre Dame lead to 32-29 with 1:56 left. And when Cory Harris and Isaiah Bernard recovered the subsequent onside kick, the Eagles were in business near midfield.

Chaminade handed the ball over to its workhorse, Terrell Newby, the rest of the way. He scored on a one-yard run with 15 seconds left for the game's final margin. All told, the 5-foot-10 junior had 141 yards rushing and three touchdowns.

"We never gave up hope in this one,'' Newby said. "This team has a lot of spirit, a lot of fight in it, and I think we proved that to everyone out there tonight.''

Notre Dame trailed 21-3 at intermission.

Lucas Alfonso kicked a 25-yard field goal, Kelly Hilinski scored on a one-yard touchdown run and Khalfani Muhammad found the end zone on a seven-yard run of his own to give Notre Dame its first lead of the game, 25-21, with 7:17 left.


September, 23, 2011
9/23/11
11:41
PM PT
By
Sean Ceglinsky
| ESPNLosAngeles.com
WEST HILLS -- For those who have not heard the name Steven Mitchell, consider this a formal introduction. His name is one to remember, rest assured.

The junior wide receiver from Mission Hills Alemany made a number of game-changing plays Friday night, seemingly too many count, to help guide the visiting Warriors to a rather impressive 38-14 victory over West Hills Chaminade in a nonleague game.

"I was in the zone out there tonight, I felt like I couldn't be stopped,'' said Mitchell, who finished with nine receptions for 151 yards and a pair of touchdown catches. "I was seeing things before they happened. There wasn't much thinking. Instincts took over.''

Mind you, with the game out of reach, he did not play in the fourth quarter.

The win was important on several levels for the Warriors (3-1), No. 10 in the ESPNLosAngeles.com top 25 rankings. They were coming off last week's 36-35 loss to Riverside North and the skeptics began wondering about whether the team was overrated.

The talk is bound to subside now.

The Eagles (2-1), No. 18 in the ESPNLosAngeles.com rankings, were in the wrong place at the wrong time. With no answer for Mitchell, they were in trouble from the start.


September, 16, 2011
9/16/11
11:05
PM PT
By
Tim Haddock
| ESPNLosAngeles.com


VALENCIA -- The Chaminade football team scored two second-half touchdowns and rallied to beat host Valencia, 14-10, at Valencia High School on Friday night.

Chaminade running back Terrell Newby scored both touchdowns on short, goalline runs. Quarterback Logan Scott did most of the work for the Eagles on the ground, gaining 101 yards in 17 carries.

More than half his yards came on his first carry of the second half. Pinned on the 3-yard line after the second-half kickoff, Chaminade turned a broken pass play into a 58-yard scamper down the sideline for Scott.

The Eagles, ranked No. 18 in the ESPN Los Angeles prep football rankings, had a first and 10 on the Vikings' 39-yard line. They capped the drive with a 1-yard touchdown run by Newby and took the lead, 8-7, for the first time on a two-point conversion run by Newby.

"That just shows what kind of team we are," Scott said. "We had our backs up against the wall. That was just a team effort to get that play, to get our offense rolling and come out and win this game."

Valencia (0-2) scored the first touchdown of the game on a 2-yard touchdown run by Ryan Gorman in the second quarter. The Vikings took a 7-0 lead into halftime in a game that was dominated by defensive plays. Valencia held Chaminade to one yard passing and Newby to 27 yards rushing in eight carries in the first half.

Valencia quarterback Sean Murphy was 9-for-12 passing in the first half, but for only 61 yards. Jay Jay Wilson was the top receiver for Valencia with four catches for 43 yards in the first half.

But Chaminade (2-0) came out strong in the second half. The Eagles, led by Scott and Newby, marched down the field, covering 97 yards on 14 plays and chewed up nearly six minutes of the third quarter clock.

"I don't want to be a second-half team. It wasn't pretty," Chaminade coach Ed Croson said. "The guys hung in there and kept battling. Hopefully we learned some lessons."


September, 14, 2011
9/14/11
6:14
PM PT
By
Tim Haddock
| ESPNLosAngeles.com
The Chaminade and Valencia football teams are working on improving the same things in preparation for Friday night's game at Valencia High School.

Both teams are focusing on their special-teams play after some miscues in last Friday night's games.

Valencia (0-1) missed a field-goal and an extra-point attempt in a 17-14 overtime loss to Sherman Oaks Notre Dame.

Chaminade (1-0) missed three 50-yard field goals in its 41-21 win over Venice.

The missed kicks for Valencia could have made a big difference against Notre Dame. The Vikings could have won the game in regulation if they made the field-goal try.

Chaminade, the No. 18 team in the ESPN Los Angeles prep football poll, missed two field goals in the first half and went into halftime with a slim, 13-7, lead. The Eagles scored four touchdowns in the second half to extend their lead, but the field goals might have given Chaminade a little extra confidence after a tight first half.

Valencia lost a heartbreaker against Notre Dame. The Vikings shut out the Knights for three quarters and didn't give up a touchdown until seven minutes into the fourth quarter.

"It was a real tough loss," Valencia coach Larry Muir said. "The kids have responded well. We've had a good week of practice."

Despite the slow start, Chaminade had a nice game statistically against Venice. Running back Terrell Newby rushed for 269 yards and scored five touchdowns. The Eagles racked up 441 yards rushing as a team.

Chaminade coach Ed Croson said the offense ran 89 plays. Newby carried the ball 27 times and broke off some big runs. His last carry of the game went for a 63-yard touchdown. He also had a 13-yard touchdown run in the first half and a crucial 27-yard run just before halftime.

"He had some big runs," Croson said. "We're certainly OK with that."

Here's a look at some of the other top games in the L.A. North area this weekend:


September, 10, 2011
9/10/11
12:17
AM PT
By
Tim Haddock
| ESPNLosAngeles.com


WEST HILLS -- Chaminade running back Terrell Newby scored a career-high five touchdowns in his team's 41-21 win over Venice at Chaminade High School on Friday night.

Newby gained 269 yards in 27 carries and continually pounded the Venice defense with bruising runs.

Newby's biggest gain of the game came on his last carry. Chaminade coach Ed Croson, with his team up 35-21 in the fourth quarter, was trying to run out the clock. He sent in his goalline unit with Newby in the backfield. Newby broke off a 63-yard touchdown run with a little under three minutes to play.

"We pulled the plug at the beginning of the fourth quarter," Croson said. "It got a little ragged. We didn't plan on that."

The Chaminade offense looked a little shaky in the first half. Newby scored two touchdowns, one on a five-yard run and the other on a 13-yard run, but Venice kept it close.

Dayrian Clark intercepted a pass from Chaminade quarterback Logan Scott that slipped out of his hand and returned it 24 yards for a touchdown.

Chaminade (1-0), the No. 20 team in the ESPNLA top 25 rankings, went into halftime with a 13-7 lead with Newby carrying the load. He rushed for 122 yards and two touchdowns in the first half. While the Chaminade offense struggled in the first half, the Eagles' defense shined. They held Venice to -5 rushing yards on seven carries in the first half.


September, 7, 2011
9/07/11
6:06
PM PT
By
Tim Haddock
| ESPNLosAngeles.com
Chaminade football coach Ed Croson doesn't schedule any easy games for his team. Friday night's opener against Venice is no different.

Venice reached the semifnals of the CIF City Section Division I playoffs last season and lost to eventual champion Crenshaw.

The Gondoliers opened their season with an impressive, come-from-behind, 34-27 win over Harvard-Westlake. Croson said Venice will be a good test for his team to open the season at Chaminade High School at 7:30 p.m.

"They're one of the top four teams in the City Section year in and year out," Croson said. "They've always got talent. What they lack in discipline, they make up for in speed."

The big question at Venice is who will start at quarterback. Senior Dean Sarabia started at quarterback against Harvard-Westlake, but when Venice was down 21-0, coach Angelo Gasca put in sophomore Alexander Diamont. He rallied his team to tie the score at 27-27 before engineering the winning drive in the final seconds of the fourth quarter.

Croson said the Venice players have a history of never giving up, and he credits the coaching staff for instilling that quality.

"They have to play every play," Croson said. "Playing every play, there's something to be said for that. And they're tough kids."

Chaminade, ranked No. 19 in this week's ESPNLA Top 25 rankings, has no questions at quarterback. Senior Logan Scott will start. He passed for 1,409 yards and seven touchdowns as a junior. He also rushed for 267 yards, averaging 4.3 yards per carry, and scored a touchdown.


September, 4, 2011
9/04/11
12:00
PM PT
By
Tim Haddock
| ESPNLosAngeles.com
The fields of fall have a number of names, some more famous than the players who accomplish feats of greatness upon them.
The Frozen Tundra of Lambeau Field has been the stage for many a Green Bay Packer victory. Would
Bart Starr
or
Brett Favre
have such a legacy if their greatest victories were achieved in the arid climate of the University of Phoenix Stadium in Arizona?
Perhaps. But the lore of Lambeau adds to the legacies.
Sometimes a football field can capture the imagination of both fans and football players. At Chaminade High School in West Hills, a blue hue is in the new.
The Chaminade football team will be playing its home games on a new blue turf. The gridiron tucked on the west side of the San Fernando Valley resembles the football field at Boise State more than Lambeau Field. The unmistakable blue field is always worth a second glance during the Humanitarian Bowl.
Who can forget last year's epic contest between Northern Illinois and Fresno State? A quick search on Google reminds us that the Huskies from Northern Illinois won, 40-17.
Fresno State has been a regular participant in the Humanitarian Bowl, making three trips in the 14-year history of the game. UTEP, Louisiana Tech and Bowling Green, not exactly the powerhouses of college football, have also made trips to the blue-turfed field in Idaho for the Humanitarian Bowl.
The teams playing in the game might last for only a short time in the memories of football fans, but the blue field makes even the casual fan stop to wonder, "What is that?"
For Chaminade, the blue field is a symbol, a sea of pride, a display of school colors 100 yards long (the end zones are orange, another topic for another day).
It was a symbol of school pride that was in much need of repair. The old green field had worn out its welcome. It had become a patch as hard as pavement and as slick as ice. The new turf might not add a spring to the players' steps, but it lifts the spirits in the players' hearts.
As the whispers of fall grow louder and the start of football season edges closer, the Chaminade football team has a field of dreams, a blank slate to write the next chapters of the school's football story.
What the future holds for the Chaminade football team is uncertain. But one thing is for sure: The blue field, the pool of azul, the sea of cyan, will be hard to ignore.
Follow Tim Haddock on Twitter @thaddock.
August, 21, 2011
8/21/11
4:28
PM PT
By
Sean Ceglinsky
| ESPNLosAngeles.com
Expectations are seemingly at an all-time high at West Hills Chaminade. Rightfully so, considering the Eagles return several key players on offense from a season ago. Also worth mentioning is they have a handful of individuals coming back on defense.
For the San Fernando Valley school to live up to the hype,
Terrell Newby
must prove the breakout effort in his varsity debut was no fluke. Duplicating the nearly 1,500 yards of total offense he amassed as a wide-eyed sophomore running back appears to be attainable goal for the 5-foot-9, 175-plus pound junior.
An experienced line up front figures to help Newby excel once again, and also, put
Logan Scott
in a position to succeed. The junior quarterback has a pair of reliable targets in
Brenden McKinney
and
Kevin Lewallyn
. Bottom line: Chaminade is a balanced unit, particularly on offense, a fact which bodes well for the future.
Here is a closer look at the Eagles:
Team:
West Hills Chaminade
Coach:
Ed Croson, third year.
2010 Record:
11-2, lost in the CIF Southern Section Western Division semifinals.
Returning starters:
16 total. Ten on offense. Six on offense.
Key players on offense:
RB Terrell Newby, RB Devon Lee, QB Logan Scott, WR Brenden McKinney, WR Kevin Lewallyn, OL Taylor Hindy, OL Andrew Chin, OL Eli Sirbian, OL PJ Herrera.
Key players on defense:
S Jacob Bowman , LB Aderemi Adeyemo, DL Howard Lynch-Balani.
Difference maker:
Newby might have been a newbie last year, no pun intended. Well, maybe a little. This season, however, he will be a marked man after rushing for 1,372 yards and 18 touchdowns. Rest assured, opposing defenses will be a keeping a close eye on him. The same thing can be said about Division I college coaches and scouts, alike. Newby has already received varied levels of recruiting interest. Another productive season could do wonders for his aspirations of reaching the next level.
Newcomers:
RB Donovan Lee, LB Ricky Gamboa, DL Sam Hardy, a transfer from Woodland Hills Taft.
Not to be missed:
vs. Venice, Friday Sept. 9. Nonleague games don't get much bigger than this one, the season opener against the Gondoliers, traditionally a formidable opponent in the Los Angeles City Section. Moreover, the Eagles plan to unveil their new surroundings at home. Synthetic blue turf, ala Boise State of college football fame, was installed during the summer. The anticipation for on-the-field action has been building ever since, of course. Festivities begin at 6:30 p.m. and kickoff is set for 7:30 p.m. Get there early, the place figures to be packed with fans.
Coach's comment:
"With Newby, and the rest of our experienced kids, we think we're capable of doing some good things. The goal is to win our last game, and by that we mean, winning in the playoffs. We want to go all the way and are working hard to make that happen. You can't become a champion by talking about it. You can't just turn on the switch. You have to live it everyday.''
Final analysis:
The schedule is brutal for Chaminade, about as competitive as any team in the Southland. Newby & Co. will be tested early and often. If they can weather the proverbial storm during the nonleague portion of things, this group could be poised to make some noise in the Western Division where traditional power Gardena Serra, No. 25 in the ESPNLosAngeles.com rankings, looms large. A run during postseason play beyond that appears to be a distinct possibility for the Eagles.
Sean Ceglinsky covers preps for ESPNLosAngeles.com. Follow him on
Twitter
.
November, 5, 2010
11/05/10
11:24
PM PT
By
Sean Ceglinsky
| ESPNLosAngeles.com
WEST HILLS -- It took quite a while for the Serra High football team to get its vaunted offense started. But once the unit finally figured things out, Chaminade had little chance.

Entering the fourth quarter Friday night, the visiting Cavaliers trailed by a touchdown. However, they scored 21 unanswered points the rest of the way to defeat the upset-minded Eagles, 35-21, and take over sole possession of first place in the Mission League.

"Chaminade gave us a scare, I can tell you that much,'' Serra coach Scott Altenberg said. "It took us a little while to get our offense going, but once we finally found our comfort zone, they couldn't stop us. Once we started clicking, it was pretty much over.''

Serra (9-0, 4-0), No . 5 in ESPNLosAngeles.com's Top 25 rankings, trailed for a majority of the first three quarters. As for the Eagles (8-1, 3-1), No. 24 in ESPNLA poll, they played with inspiration and created some doubt in the minds of their heavily favored opponent.

In the fourth quarter, Marqise Lee made sure to change of all that though. He scored on a 55-yard touchdown pass from Conner Preston to give Serra a 28-21 advantage with 3:25 left.

Any hopes Chaminade might have had at making an improbable comeback were all but ruined when Shaquille Richard scored on an 8-yard run to extend the lead to 35-21 with 1:54 remaining in the fourth quarter. The Eagles were demoralized, to be sure.


October, 29, 2010
10/29/10
11:47
PM PT
By
Sean Ceglinsky
| ESPNLosAngeles.com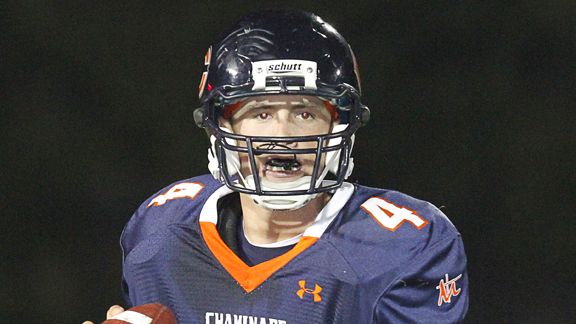 John Lazar/Special to ESPNLA.com
Chaminade quarterback Logan Scott looks to pass during Friday's game against Cathedral.
WEST HILLS -- Not many observers could have imagined the Chaminade High football team would still be undefeated at this stage of the season. But low and behold, the Eagles are, fully equipped with an unblemished record to boot.
Chaminade dominated visiting Los Angeles Cathedral from start to finish on Friday night. The end result was 30-6 Mission Legue victory, but perhaps more important, the win sets up a showdown with Gardena Serra next week in a game where the league title could very well be decided and the mettle of the Eagles will surely be tested.
"We've had a great season, but it's far from over, far, far from over,'' Chaminade coach
Ed Croson
said. "Everyone around here knows what's on the horizon, but we couldn't beat Cathedral if we were worried about Serra. We were focused on the task at hand this week, no talk about Serra, no film on Serra. The only thing on our mind was Cathedral. Tomorrow we'll worry about Serra.''
Chaminade (8-0, 3-0) made its first appearance of the season in ESPNLosAngeles.com's Top 25 rankings this week, coming in at No. 25. And after Friday's effort against the Phantoms (5-3, 1-2), one in which they didn't overlook the opponent, it appears as if the selection was worthy.
"We'll celebrate this win tonight, and be happy about being undefeated, but then it's time to go to work getting ready for Serra in the morning,'' Chaminade's
Terrell Newby
said. "We'll be focused and ready next week for the biggest game of the season.''
Cathedral narrowly avoided the shutout when
Hayden Rettig
found
Ryan
Longoria
on 35-yard touchdown pass with 2:15 left. The damage, however, had already been done as Chaminade built what proved to be an insurmountable 30-0 advantage heading into the fourth quarter.