Los Angeles Preps:

Elias Gedyon
June, 13, 2011
6/13/11
4:09
PM PT
Jonathan Sanders from New Jewish Community in West Hills finished in a tie for eighth place at the CIF boys golf state championship at Poppy Hill Golf Club in Pebble Beach. He was 1-over par 73. Johnny Ruiz from Camarillo shot 9-over par 81 and finished tied for 36th place out of 48 golfers who qualified for the state final. Sanders was 2-under par after 11 holes, but ran into trouble on the 12th hole, a 509-yard, par-5. He recorded a double bogey after hitting his tee shot out of bounds. He followed with bogeys on the 13th and 17th holes before recording a birdie on the 18th. Ruiz, who lost in a playoff in the CIF Southern California Golf Association regional at Brookside Golf Club in Pasadena a week earlier, had a rought start on the back nine at Poppy Hills. He had a triple bogey on the 12th and was 7-over par from the ninth to the 13th holes. Alexander Schauffele from Scripps Ranch won the CIF state golf championship over Nicolo Galleti of Foothill in a playoff. Both were tied with 3-under par 69s after 18 holes. Schauffele won the tournament on the third playoff hole.
David Hubinger from St. Francis High School in La Canada Flintridge earned the most valuable player award in the fifth annual City vs. Southern Section All-Star Baseball Game. The Southern Section won the game, 15-3, at Birmingham High School. Hubinger, a catcher who's headed to Pepperdine, was 2-for-3 with a double and drove in three runs. The Southern Section all stars won for the first time since 2008. The City Section leads the series, 3-2.
The San Fernando Valley boys and girls basketball all star teams won the War on the Floor Future Stars games against Ventura County all star teams at Moorpark High School. The San Fernando Valley boys won, 102-96, as 10 players scored in double figures. Terrell Funchess from Chatsworth led the San Fernando all stars with 18 points. Sherman Oaks Notre Dame's Jonathan Bell had 14 and Cleveland of Reseda's JR Williams had 12. Oxnard's Matt Ramon, playing for the Ventura County all stars, led all scorers with 21 points and had 10 rebounds. The San Fernando girls won, 86-53, over the Ventura County all stars. Jasmine Smith and Rishonda Napier from Bellarmine-Jefferson in Burbank led the San Fernando Valley all stars. They combined for 29 points. Napier had 16 points and Smith poured in 13 and had eight rebounds. Brianna Barrett of Oaks Christian led the Ventura County all stars with 17 points.
Cami Chapus from Harvard-Westlake won the adidas Grand Prix High School Girls' Dream Mile at Randall's Island, N.Y. She set the fastest time in the nation in the mile this year and set a personal-best in 4 minutes, 42.71 seconds. Chapus finished ahead of Elanor Fulton of Highlands Ranch in Colorado and Alli Billmeyer of Torrey Pines in San Diego. Loyola's Elias Gedyon was third in the adidas Grand Prix boys race in New York.
Agoura's Jonathan Cabral missed setting the state record in the 110 hurdles by 0.02 seconds, but won the race in the Golden West Invitational at Folsom High School. He won the race in a wind-legal time of 13.41 seconds, the second-fastest time in state history. Kevin Craddock of James Logan High School in Union City set the state mark in 13.39 seconds in 2004. Cabral matched the time set by Steve Kerho of Mission Viejo in 1982. Cabral also won the 300 hurdles in 35.76 seconds, the fifth-fastest time in state history.
June, 3, 2011
6/03/11
7:26
AM PT
By
Dan Arritt
| ESPNLosAngeles.com
The CIF-State boys' track and field track championships Friday and Saturday at Clovis Buchanan High School should provide some memorable moments.
Jonathan Cabral
of Agoura and
Remontay McClain
of Covina are each defending champions in two events and both could take down some long-standing records. As far the distance races, they might be as close at the finish line as the sprints. Here's a rundown of the 16 events.
400 RELAY
The story of this race isn't so much who's in, but who's out. Long Beach Poly, the defending state champion and a regular state finalist in the one-lap relay over the years, was disqualified at the Masters Meet last weekend, and 2009 winner Gardena Serra dropped the baton a week earlier at the section finals. That leaves top qualifier Eastvale Roosevelt as the team to beat, with Westlake Village Oaks Christian a distant second.
1,600 METERS
It will be difficult to top the excitement as this race unfolded at the Masters Meet. Jantzen Oshier of Mission Viejo Trabuco Hills and Elias Gedyon of Los Angeles Loyola locked up in a dead sprint to the finish line with Oshier holding on to win in 4:09.06, one one-hundredth of a second faster than Gedyon. Oshier has run about five seconds faster this season at the Orange County Championships but Gedyon is the defending state champion
110 HURDLES
Buckle your seat belts for this one. Cabral comes in with a blazing qualifying time of 13.27. Though it was wind aided, Cabral proved at the Masters Meet that he has a legitimate shot of breaking the national high school record of 13.30, set 21 years ago by Chris Nelloms of Dunbar High in Dayton, Ohio. It's likely he'll be racing against the clock as the next-fastest qualifier, Jacob Hare of San Diego Scripps Ranch (13.99), will likely be a hurdle behind.
400 METERS
This event could go a long way toward determining the team title. Shaquille Howard of Long Beach Poly was the top qualifier out of Masters (47.15) but six others qualified in under 48 seconds. Bernard Quinn of Vista Murrieta will need a top finish to give the Broncos a shot at the team title, so will the Serra pair of Pete Lauderdale (47.74) and Francisco Olliquii (47.98).
100 METERS
McClain is a no-namer no more. A year after a surprising sweep in the sprint events, the Covina senior is not only a favorite to defend his titles, but he has a decent shot at toppling the state meet record in the 100. McClain is coming off a victory in the 100 in 10.34, but has gone as low as a wind-aided 10.28 and a wind-legal 10.31. The state meet record is 10.30, set in 1992 by Riley Washington of San Diego Southwest.
800 METERS
Immanuel Hutchinson has already established himself as the all-time best 800 runner in Riverside County history, now he can add to his collections by winning a state championship. Hutchinson is the No. 1 qualifier in the two-lap event, winning in 1:50.50 last weekend, the fastest time in the state this season. Myles Andrews of Long Beach Poly, fourth in this event last season, is the No. 2 qualifier at 1:51.33.
300 HURDLES
If all goes as planned, Cabral will try to become the first multi-event champion at the meet. He toyed with the competition at the Masters Meet, hanging with the pack until midway through the turn and then blowing them away to win by 10 meters. None of the other qualifiers are within a second of Cabral's nation-leading time of 36.19, so barring any stumbles he should defend his title with ease.
May, 21, 2011
5/21/11
11:16
PM PT
By
Dan Arritt
| ESPNLosAngeles.com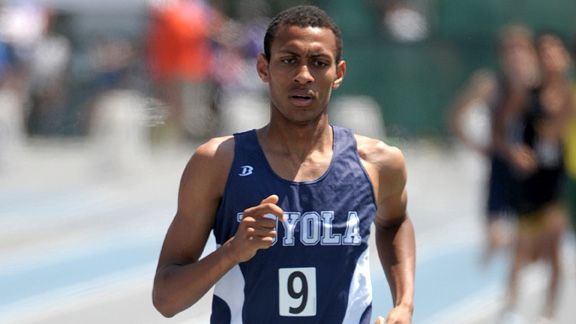 Kirby Lee/US PresswireElias Gedyon swept his three events and helped Loyola to the CIF-SS Division 2 boys track and field title.
CERRITOS — Heading into the final event, the goal was simple for the Vista Murrieta boys' track and field team. Finish in the top four in the 1,600-meter relay and the Broncos would clinch a second consecutive Southern Section Division 1 title.
They hit their mark once again Saturday at Cerritos College, finishing second in the four-lap relay to win
the team title over Long Beach Poly, 65-61,
and fend off another challenge from one of the state's most decorated programs.
"I'm ecstatic right now," said senior
Jovonte Slater
, who won the only event for Vista Murrieta, a soaring leap in the long jump, but also took second in the 100, third in the 200 and ran the second leg on the final relay.
The Broncos entered the final event one point behind El Toro and six ahead of the Jackrabbits. El Toro did not have a team in the relay, so Vista Murrieta's biggest challenge was keeping Poly within its sights during the race.
Slater, who is headed to USC on a track scholarship, took the baton and circled the track in just over 47 seconds, passing two runners on his final straightaway and catching up with Poly's lead runner.
"I was impressed with the 47 split because I didn't know my legs had it in me after three events," he said. "I just did everything in my power and my body and my spirit to do it. I went out there and just ran."
Elias Gedyon
of Los Angeles Loyola ran even more.
The Oregon-bound senior swept the 800, 1,600 and 3,200 in Division 3, helping the Cubs run away with the team title.
Without being pressed, Gedyon strode to victory in the 1,600 in 4:11.15, followed by the 800 in 1:54.20 and finally the 3,200 in 9:00.37.
November, 20, 2010
11/20/10
8:16
PM PT
By
Dan Arritt
| ESPNLosAngeles.com
WALNUT--The Arcadia boys' cross-country team dethroned three-time defending champion Dana Hills at the Southern Section Division I cross-country finals Saturday at Mt. San Antonio College.
There was little time to celebrate, however. The undefeated Apaches were already thinking ahead to next Saturday's state championships in Fresno, followed by the Footlocker West Regionals on Dec. 4 at Mt. SAC.
"We still have two more weeks in our season," said
Ammar Moussa
, who was first overall in Division I. "We've run well so far, but the most important thing is seven days from now and 14 days from now."
Two-time state champion
Elias Gedyon
of Los Angeles Loyola also used Saturday's meet to build momentum for a three-peat. Gedyon won the Division II title in 15:47, beating
Anthony Castro
of Glendora by five seconds.
"My coaches have done a really good job keeping me in shape," he said. "I'm very thankful for that."
Loyola was edged out for the team title by Saugus, 90-99.
For a list of results from all five divisions, check
here
.