Los Angeles Preps:

Elijah Brown
March, 15, 2012
3/15/12
8:01
PM PT
By
Sean Ceglinsky
| ESPNLosAngeles.com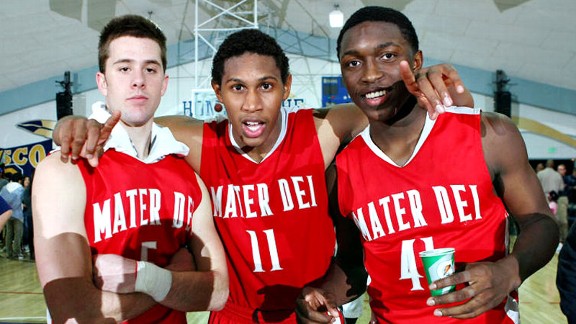 Courtesy of Nick KozaFrom left, Katin Reinhardt, Xavier Johnson and Stanley Johnson are key cogs in Mater Dei's success.
SANTA ANA -- Most prep basketball teams from this region are lucky to have at least one star player on their roster. A select few programs suited up a pair of standouts in the same uniform. One school, however, was fortunate enough to have a trio of high-profile prospects in their mix: Santa Ana Mater Dei.
When opponents focused their efforts on limiting the effectiveness of
Katin Reinhardt
, the Monarchs countered with the equally dangerous
Xavier Johnson
. When defenses shifted toward him, a more-than-capable
Stanley Johnson
stepped to the forefront.
Slowing down one player was entirely possible. Shutting down two proved to be quite daunting. Completely stopping the Southland's makeshift version of "The Big Three," albeit on a much smaller scale in comparison to the moniker recently made so well-known in NBA circles, was not met with much success.
"Go ahead, pick your poison,'' said Reinhardt during practice this past week as top-seeded Mater Dei (32-2 overall) prepared for sixth-seeded Fresno Bullard (33-3) in Saturday night's Division I championship game of the Southern California Regional Playoffs at Citizens Business Bank Arena in Ontario. The winner advances to next week's CIF State finals in Sacramento.
"We're not trying to be 'The Big Three' from the Boston Celtics, maybe the Miami Heat. Just kidding,'' Stanley Johnson said. "People give us nicknames, we hear the hype about the three of us, but we don't think about it. We're just Katin, Xavier and Stanley.''
Fair enough.
Whatever the case, it's difficult to argue with the success the Monarchs have enjoyed this season with Reinhardt, and the Johnsons -- who are not related -- leading the way of course.
They have gone wire-to-wire as the top-ranked team in the ESPNLosAngeles.com top 20. On the national level, it has been more of the same. Mater Dei is No. 8 in the country by ESPNHS in its latest Powerade Fab 50 rankings.
"We want to leave a legacy as, maybe, the three best players to come through Mater Dei. At same time, we know there is a lot of history at this school,'' Xavier Johnson said. "The big things for us, we're all so competitive and unselfish. Three heads are better than one.''
February, 14, 2012
2/14/12
8:03
AM PT
If the CIF-Southern Section Division 1AA bracket unravels as many expect it to, fourth-seeded Loyola will get a shot at top-seeded Mater Dei in a dream semifinal matchup at Anaheim Arena on Feb. 28.
Yes, the boys basketball playoffs have yet to tip off and each team still has to win three games, but we're looking ahead for the sake of projection. Some recent history also adds intrigue here: Last season, defending Division 1A champ Loyola lost to Mater Dei in the Southern California regionals, 72-70, after leading by nine heading into the fourth quarter. The Monarchs went on to Sacramento and returned home with another state crown.
Think that hasn't crossed the minds of Loyola players this season?
The Cubs (21-4), at least on paper, stack up well against Mater Dei (24-2). The Monarchs have a dynamic 3-point shooter in
Katin Reinhardt
, and Loyola has one too in senior guard
Jacob Hazzard
. Mater Dei's
Xavier Johnson
, a Colorado signee, is one of the most versatile forwards in the Southland, but Loyola's
Julian Harrell
, a Pennsylvania signee, could keep up. Each team has solid role players: Mater Dei with
Eli Stalzer
and
Elijah Brown
; Loyola with
Justin Childress
and sharpshooter
Trey Mason
.
And don't forget about forward
Stanley Johnson
of Mater Dei and point guard
Parker Jackson-Cartwright
, maybe the best sophomores in the area.
Loyola, which hosts Trabuco Hills in the first round on Friday, and Mater Dei, which plays Chaparral, appear to be on a collision course. And it's impossible not to consider what may lie ahead.
Blair Angulo covers preps for ESPN Los Angeles. Follow him on Twitter.
October, 19, 2011
10/19/11
8:11
PM PT
By
Jim Barrero
| ESPNLosAngeles.com
The Mater Dei boys' basketball team, which won a state title last season in what was supposed to be a rebuilding season, is ranked No. 6 in the
preseason POWERADE ESPNHS Fab 50 national rankings
.
The Monarchs return several key players, including underclass All-American
Xavier Johnson
and point guard
Katin Reinhardt
. One key newcomer is 6-foot-3 junior
Elijah Brown
, whose father
Mike
is the new Lakers coach.
Other local teams ranked in the top 50 are Loyola at No. 26, Long Beach Poly at No. 40 and La Verne Lutheran at No. 47, led by No. 1 West prospect
Grant Jerrett
, who has committed to Arizona.
Mater Dei also leads the
West Region Top 20
, with the three other teams also listed. Other locals in the regional rankings are Orange Lutheran, Westchester, Windward and Fairfax.
September, 30, 2011
9/30/11
10:35
PM PT
By
Sean Ceglinsky
| ESPNLosAngeles.com
ENCINO -- The unthinkable nearly happened to Vista Murrieta in the first quarter of Friday's game at Encino Crespi. The Broncos star player, Su'a Cravens, went down with what appeared to be a sternum injury. Turned out, it was only a scare.

The highly-touted junior returned in the second quarter. Returned in a big way, mind you. Cravens had an interception and scored a pair of touchdowns, one rushing and the other receiving, to guide Vista Murrieta to an impressive 38-20 victory.

"I wasn't coming out, no way, this one was too big of a game,'' Cravens said. "I got popped pretty good and the hit stung. I played through the pain though. If the coaches told me that I couldn't have returned, I would've jumped in the lineup somehow.''

Indeed it was a big game. Crespi (4-1) entered the showdown as the odd-on favorite with a No. 4 spot in the ESPNLA.com rankings.

The Broncos (4-0) were not considered a slouch. They boasted a No. 17 ranking in the ESPNLA poll and will likely move up next week.