Los Angeles Preps:

Eric Cooper
April, 26, 2012
4/26/12
1:33
PM PT
Eric Cooper, who guided La Verne Lutheran to back-to-back state basketball titles in 2010 and 2011 before falling short in the Southern California regional semifinals last season, has accepted the head coaching position at Long Beach St. Anthony.

Lutheran was 25-8 last season behind Arizona-bound forward Grant Jerrett, the state's only McDonald's All-American.

"It's an opportunity to come home to the area I grew up at, a chance to do something out here," Cooper said. "I still have a great team over there at Lutheran. It was a very tough decision, kind of just came about. I prayed about it and it worked out."

Cooper took over at Lutheran in 2007 and quickly built its program into a small-school power, compiling a 132-30 record in five seasons. Cooper's son, Eric Cooper Jr., will also make the move to St. Anthony. Cooper Jr. is an Arizona commit and one of the area's top rising senior guards.

St. Anthony was 17-10 last season and 50-30 over the last three years under former coach Chris Morrison.

"Everything fell in place at Lutheran," Cooper said. "I had good kids who were ready to work and great assistant coaches. That's what made it right."
March, 7, 2012
3/07/12
10:52
PM PT
By
Dan Arritt
| ESPNLosAngeles.com
The second-seeded Long Beach Poly boys' basketball team had to fight off a stiff test from No. 15 Capistrano Valley on Wednesday night in a Division 1 Southern California Regional first-round game before ultimately winning in overtime, 65-59.

The Jackrabbits finally took control by scoring the first six points of overtime while the Cougars were committing three turnovers. Capistrano Valley had led by as many as 13 points in the first half before Poly scored the final eight points of the second quarter to get back into the game.

The Jackrabbits will host seventh-seeded Orange Lutheran in Saturday's second round. The Lancers knocked off Dorsey, 64-57.

In other Division 1 games:

Etiwanda 57, Vista 50 – Sophomore point guard Jordan McLaughlin scored 18 points as the fifth-seeded Eagles overcame a four-point deficit at the start of the fourth quarter.

Mission Viejo 70, Torrey Pines 62 – The ninth-seeded Diablos surged to a 17-point lead after three quarters against No. 8 Torrey Pines.

Taft 84, Clovis West 54 – Anthony January, a 6-7 senior power forward for third-seeded Taft, scored 17 points as the Toreadors surged to a 26-12 lead after the opening quarter. Taft will host Fresno Bullard in Saturday's second round.

Fresno Bullard 68, Westchester 53 – The sixth-seeded Knights got 32 points and 15 rebounds from senior shooting guard Aaric Armstead. Westchester trailed by just five points heading into the final quarter but were outscored, 21-9.

In Division 2:

El Camino Real 71, Colony 63 – The ninth-seeded Titans led by two heading into the fourth quarter but No. 8 El Camino Real outscored Colony, 15-7, over the next four minutes to take the lead for good.

Elsinore 56, Thousand Oaks 46 – The fourth-seeded Tigers cut the deficit to two points at the end of the third quarter on a four-point play by E.J. Twyman at the buzzer and then outscored the 13th-seeded Lancers, 20-8, in the final quarter. Elsinore moves on to host fifth-seeded Inglewood, a 65-52 winner against Garfield.

Tulare Union 72, Righetti 71 – In the biggest upset in the division, the 11th-seeded Redskins knocked off No. 6 Righetti and advanced to play third-seeded San Diego Lincoln, a 76-64 winner against visiting Sunny Hills.

Fresno San Joaquin Memorial 51, Royal 43 – The 10th-seeded Highlanders went on the road and couldn't get past the seventh-seeded Panthers.


February, 24, 2012
2/24/12
9:51
PM PT


LA VERNE -- As his team scrambled on defense in the final seconds, La Verne Lutheran basketball coach Eric Cooper's heart didn't skip one beat. Or so he says.

Cooper has seen late-game theatrics far too often this season to be fazed by another frantic finish, but he might be due for a trip to the cardiologist in the offseason after Friday night's thriller at the University of La Verne.

McDonald's All-American forward Grant Jerrett missed two free throws with 14 seconds remaining, and Crespi raced to the other end looking for the tie or the win. Michael Milligan's runner didn't fall, Jerrett grabbed the rebound and heaved the ball into the air, securing a 51-49 victory and a trip to the CIF-Southern Section Division 4AA championship game for a meeting against top-seeded Gardena Serra at Anaheim Arena. The date and time is scheduled to be announced Monday.

It was the second consecutive nail-biter for two-time defending state champion Lutheran (24-6), which escaped with a 50-48 victory at Oaks Christian in the quarterfinals.

"It's been like that all season. We had a quadruple overtime game, two double overtime games," Cooper said smiling. "That's the type of season we've had. If Crespi would have made the last shot to send the game into overtime, it wouldn't have fazed me. That kind of stuff has been happening to us."

Jerrett, an Arizona signee, finished with 17 points, 14 rebounds and four blocks.

"With Grant, you've always got a chance," Cooper said.

Sophomore point guard Brian Beard Jr. sank a desperation 3-pointer from about 40 feet out as the shot clock expired to give the second-seeded Trojans a seven-point lead with less than two minutes remaining. It grew to nine points with 1:10 left.


January, 31, 2012
1/31/12
11:37
PM PT
LA VERNE -- The old windowless gym on the campus of Lutheran High makes for great echoes, and a thunderous dunk by
Grant Jerrett
easily reverberated across its walls Tuesday night.
Then, a loud thud. Deep gasps followed, and the building went hush.
[+] Enlarge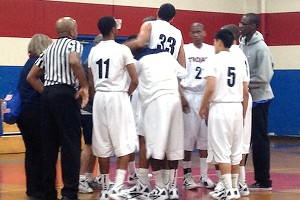 Blair Angulo/For ESPNLA.com Grant Jerrett (33) of La Verne Lutheran is helped off the court Tuesday by teammates after hurting his left ankle.
Jerrett was flat on his back, clutching a left ankle that, recently, has been given him issues. He had tweaked the ankle yet again, rolling it on an opposing player's foot on his way down from an explosive and, what turned out to be, unlucky dunk.
"It's pretty bad," Jerrett said. "It's something I've been dealing with and I've been trying to strengthen the ankle. I don't know. I have to deal with it, I guess."
To make matters even gloomier it was senior night at Lutheran, and Jerrett spent it on the bench with a towel over his head and his elevated left ankle resting on a chair. The Trojans, ranked No. 9 by ESPN Los Angeles, faced little trouble without the top-rated senior in the Southland, routing Ribet Academy, 89-60. The ankle injury, though, is a major concern for the back-to-back state champions.
Jerrett estimates that he'll only be sidelined a day or two, but his status for Saturday's matchup at top-ranked Mater Dei is up in the air, according to Lutheran coach
Eric Cooper
.
"The playoffs are the most important thing," Cooper said. "There's no need for him to play Saturday. He'll want to play, but we'll see."
Fellow seniors
Cameron Osorno
and
Brandon Shaw
were recognized at halftime, with their parents joining them at half-court as Cooper spoke on a microphone. Jerrett, meanwhile, remained seated as his parents walked across the floor to embrace him on the bench.
December, 20, 2011
12/20/11
10:32
AM PT
By
Sean Ceglinsky
| ESPNLosAngeles.com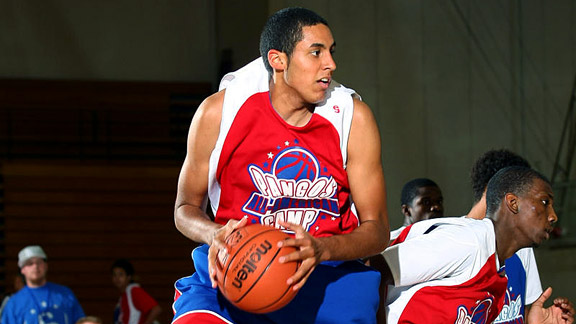 Nick KozaGrant Jerrett of La Verne Lutheran -- and his big, agile frame -- are headed to Arizona.
LA VERNE -- At 6-foot-10 and 220 pounds, and potentially growing,
Grant Jerrett
possesses the size necessary to make an impact each time he steps out on the basketball court. There is more to him than merely an ideal frame for the game though. Much more, in fact.
The senior from La Verne Lutheran is as skilled as they come.
A well-rounded interior game separates Jerrett from most of his peers. A deft touch from the perimeter, especially for a post player, makes him a match-up nightmare for opposing bigs. An unrelenting will to grab seemingly every rebound from counterparts in his general vicinity is a valuable asset. Blocking shots and stepping in passing lanes for steals comes naturally.
[+] Enlarge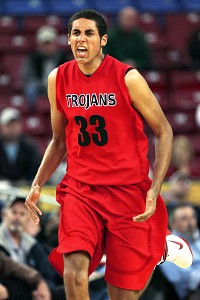 Nick KozaJerrett caught the eye of many Pac-12 schools, including UCLA and USC.
All of the intangibles are there, and given that fact, the Arizona-bound Jerrett is recognized as one of the Southland's premier players. The Trojans, as result, figure to be a force to be reckon from start to finish this season. With Jerrett leading the way, of course.
"Grant gets better with each day, with every practice, every game, every jumper, every rebound. He's a special player,'' La Verne Lutheran coach
Eric Cooper
said. "The best is yet to come. Once he realizes that he can dominate games, everybody better watch out for him.''
Make no mistake, Jerrett has been a well-known commodity for quite some time. He has, after all, been at the forefront of back-to-back CIF State titles for the Trojans.
Jerrett & Co. are expected to be one of the marquee attractions at the Chick-fil-A Classic, a high-profile multiple-day tournament the rest of this week in Decatur, Ga.
There was, however, a time when he wasn't a household name.
Jerrett is in his fourth year as a contributor on the varsity level for La Verne Lutheran. His first season, unfortunately, was cut short when he broke his foot twice.
He took a big step forward during as a sophomore, no pun intended. Jerrett opened plenty of eyes with more than respectable averages 18 points and 10 rebounds per game.
"Everything happens for a reason, I'm just thankful all of those injuries are behind me and I'm healthy now,'' Jerrett said. "I feel stronger than ever, which is a good thing because I know I have a big target on my back nowadays. I'm always up for the challenge though.''
That was blatantly obvious last season as a junior. Jerrett was unstoppable, at times, and averaged 18 points, 10 rebounds and more that three blocks every night.
March, 19, 2011
3/19/11
3:43
PM PT
LOS ANGELES -- La Verne Lutheran coach
Eric Cooper
will be the first to tell you about his team's bumpy season. And, fortunately for him, it's not over.
The 11th-seeded Trojans used a strong second half to upset top-seeded La Caņada, 57-47, Saturday afternoon at Galen Center to advance to next week's CIF State Division III boys' basketball championship in Sacramento. Lutheran outscored La Caņada 35-22 in the second half behind 14 points from forward
Grant Jerrett
. He finished with 22.
"This was one of the three toughest teams we've faced this year," Cooper said. "You had to think or they could embarrass you."
Lutheran (25-5) turned the ball over leading by four with less than two minutes remaining. The Spartans (30-4) had a three-on-one the other way with a chance to cut the deficit, but
C.J. Cooper
anticipated a pass under the basket. The Trojans got an easy bucket at the other end.
"If we got that," La Caņada's
Mason Holle
said, "it could have been a different game."
The momentum had shifted long before that, when Lutheran broke out a box-and-1 zone defense to contain
Michael McGlashan
. McGlashan and
Matt Faber
combined for 22 points in the first half as the Spartans led 25-22 heading into the locker room. Together, they were 10-for-16 shooting. McGlashan had only seven points in the second half.
"When coach [Cooper] puts a challenge on my plate," Lutheran guard
Bruce English
said, "I tend to take it serious."
English was the "one" in box-and-one. He answered the call offensively, too, scoring 10 of his 13 points in the second half. Lutheran beat the third-seeded, second-seeded and top-seeded teams to advance out of the Southern California regional. The fact that La Caņada fans packed both sides of the court made it more daunting. It felt like a true road game for the Trojans -- even if their nickname was painted onto the floor at Galen Center.
"We brought a whole community to its feet," La Caņada coach
Tom Hofman
said. "For two weeks, that's all they were talking about -- La Caņada basketball."
And for good reason. The Spartans (30-4) had defeated Los Angeles Price for the CIF-Southern Section Division 3AA championship two weeks previous. But on Saturday, Lutheran looked like a team on a mission.
"I don't really believe in the seeding system," Cooper said. "All it did was make us prepare to be a road team. We had to win on the road against some very good, talented teams. All that does is helps us."
Blair Angulo covers preps and UCLA for ESPNLosAngeles.com. Follow him on Twitter.
February, 25, 2011
2/25/11
11:50
PM PT
GLENDORA --
Askia Booker
had to maintain his poise. What teammates see, teammates do -- that's what he has learned as Price's leader.
He couldn't show any sign of weakness, especially after La Verne Lutheran had stormed back with a furious 23-4 run. The Colorado-bound guard sank four free throws in the final two minutes to help top-seeded Price hold off No. 4-seeded Lutheran, 63-58, Friday night at Citrus College. Price advanced to next week's CIF-Southern Section Division 3AA championship game.
"I'm the leader of this team, so I can't let my teammates see that I'm down," said Booker, who scored 15 of his team-high 20 points in the second half.
Price (22-6) had built a 21-point lead midway through the third quarter. It seemed like the Knights were going to top their 15-point win over Lutheran (21-5) from
earlier this season
. The snooze fest was on.
But Lutheran junior forward
Grant Jerrett
woke up the crowd with one left hook after another. He scored 18 of his game-high 26 points following the break.
"He was huge," Lutheran coach
Eric Cooper
said. "When he plays like that, there's no question marks about what we can do. He got rid of the fear, the fear of what's going to happen if [Price's]
Norvel (Pelle)
blocks his shot. He just played basketball."
You couldn't blame Jerrett for being a little hesitant against Pelle, a senior who will play at St. John's next season. Pelle had dominated the previous matchup, scoring 20 points and earning California Elite Showcase MVP honors. But Jerrett, who is committed to Arizona, held him to only 10 points Friday.
Cameron Osorno
had 15 for Lutheran,
Kenny Green
had 13 for Price.
Lutheran wasn't completely healthy when the teams met Jan. 22 at the full-day event held at University of La Verne. Lynch acknowledged it and knew things would be tougher the second time around.
It took an entire half for the tough to come out. Something clicked -- perhaps Jerrett and Co. realized that Lutheran, like Price, won a state title last year. Jerrett's driving lay in made it 55-53 Price with 2:10 to go.
The Trojans had the momentum until Booker was fouled on consecutive possessions. All eyes on him, all net on his attempts.
"He's a senior, he's going to the University of Colorado," Price coach
Michael Lynch
said. "He's supposed to knock those down."
That's what leaders do.
January, 31, 2011
1/31/11
10:39
PM PT
1. Once wasn't enough for La Verne Lutheran. Nope, the Trojans broke the century mark
twice
last week, beating Anza Hamilton 108-18 and Riverside Sherman Indian 101-33. Coach
Eric Cooper
's bunch has now four triple-digit performances this season. Some may question Lutheran for not taking it easy, but the group was clearly angry about its 15-point loss to L.A. Price in its own tournament.
2. Speaking of L.A. Price, the Knights are still perfect in 2011. Price extended its win streak to eight games and avenged an earlier loss to Alemany with a 66-61 victory at the Fairfax State Preview Classic on Saturday. Standout forward
Norvel Pelle
was late to the game due to traffic
but still managed 20 points for the 16-5 Knights. Coach
Michael Lynch
couldn't ask for better momentum heading into Saturday's game against Mater Dei (20-2) at the Nike Extravaganza.
3. Fairfax hosted the State Preview Classic, but the home environment couldn't help them fend off a bad, 61-49 loss to Gardena Serra. It's been a rough three weeks for the Lions since they returned from their triumphant trip to Canada. Fairfax has dropped five of eight -- and it hasn't been very pretty. The five losses have been by an average margin of nearly 13 points. To make matters worse, Serra was a meager 10-11 when it walked into the gym Saturday.
4. For the third time in as many attempts, Long Beach Poly easily disposed of Moore League competitor Compton, 71-46, to kick off the weekend. Not much has gone right for Compton in the three games. Actually, it's gotten worse -- the Tarbabes losing by 16 on Dec. 4, by 19 on Jan. 5 and by 25 on Jan. 26. Still, highly regarded Compton is ranked No. 5 in the latest CIF-SS Division 2AA poll. That just how good Poly truly is.
5. A number of teams continued to roll: Bay League-leading Peninsula (21-2) extended its win streak to 19 games, Almont League-leading Montebello (22-2) to 15 games, Westchester (19-5) to eight games and Downey (21-2) has won 16 of 17.
January, 22, 2011
1/22/11
11:05
PM PT


LA VERNE -- Lutheran basketball coach Eric Cooper pleaded so much that his voice turned raspy. He spent much of Saturday night's 79-65 loss to Los Angeles Price in the officials' ears, asking for fouls, for fairness, for anything.

"We're at home, man," Cooper said to one official. "That's not right. ... Where's the foul? ... Is it because (Price coach Michael Lynch) is wearing a suit and I'm not? ... Every single call; in our own building!"

Things just didn't go well for the hosts of the inaugural California Elite Showcase at the University of La Verne. Price -- like Cooper indicated time after time -- held an advantage at the free-throw line, attempting 26 to Lutheran's 17. But the game wasn't won at the line; it was won in transition. St. John's-bound forward Norvel Pelle had 20 points, eight rebounds, five assists and a handful of dunks to pace the Knights (15-5). Colorado-bound Askia Booker added 16 points and seven assists.

In reality, Cooper could have been venting about the Trojans' difficulties. Lutheran, last year's Division V state champion, missed another opportunity to make a statement.

"As coaches we understand that's a part of it," Lynch said of Cooper's frustrations. "Cooper was trying to have the referees see it his way. I'd do the same thing."

Lynch didn't have to.

Price won its seventh straight after dropping three in a row at the Oaks Christian Holiday Invitational in late December. The Knights scored 21 points off 20 turnovers -- a rate as efficient as the Booker-to-Pelle connection that worked time after time.

"They're starting to know each other," Lynch said. "We weren't playing good basketball for the first 14 games. We were trying to get that chemistry going. Now they understand when (Pelle) is back there under the basket, just throw it up there. He'll go catch it."

Lutheran (11-4) couldn't slow down and when it did, it struggled to crack the Knights' zone defense. A five-point deficit at halftime quickly turned into the a big, big hole. Loyola Marymount-bound guard Bruce English did his best to keep the Trojans in it, scoring a team-high 19 points on 8-for-12 shooting. Top forward prospect Grant Jerrett, a junior who has committed to play at Arizona, had 15 points and 11 rebounds.

"The season started kind of shaky, kind of rough," Pelle said. "We finally got it together and fit the puzzle in right."
March, 25, 2010
3/25/10
5:03
PM PT
By
Dan Arritt
| ESPNLosAngeles.com
Heading into the Division V state championship boys' basketball game Saturday in Bakersfield, the big decision for La Verne Lutheran is whether to entice The Branson School of Ross into shooting early in the shot clock, or beat the Bulls at their own methodical game.

"That's the dilemma," Lutheran Coach Eric Cooper said Thursday afternoon. "They like to make about a hundred passes before they shoot. If they get the offensive rebound, they'll pull it out and make another hundred passes."

The Trojans prefer an up-tempo style on both ends of the floor. However, playing at a quick offensive clip is much easier than getting the other team to follow suit. Cooper has seen the Bulls play a couple of times this season and noticed they don't like being pressured on offense.

If the Trojans should fall behind early, however, they might be forced to play into Branson's hands.

"We're going to have to think about how we're going to deal with that," Cooper said. "Are we going to make them play defense for 30 seconds, or get them to play our style of basketball?"

Branson should be aided by the return of junior guard John Dunn, who was expected to miss the rest of the season because of a stress fracture in his back, but he made a surprise return last Friday in the NorCal Division V final and scored six points in the 62-44 victory against University Prep of San Francisco.

The Bulls also have experience on their side, having reached the state title game for the fifth time in the last six years. Lutheran is making its first state championship appearance.

Cooper said he wasn't sure if that was an advantage for Branson.

"I'll tell you after I've been there a few more times," he said.

Tip-off at Rabobank Arena is scheduled for 11:30 a.m.
March, 17, 2010
3/17/10
11:50
AM PT
By
Dan Arritt
| ESPNLosAngeles.com
A number of successful high school basketball programs in Southern California wear the small-school tag. La Verne Lutheran lives it.
"If you blink, you'll miss us," said its boys' basketball coach,
Eric Cooper
.
But college recruiters know Lutheran is located just off the Foothill Freeway, in the shadow of the San Gabriel Mountains. The play of the Trojans over the last three seasons–the length of time the 150-student school has fielded a varsity basketball program–has certainly put them on the map of general high school basketball fans as well.
(The infrastructure that went in to building the program is detailed
in this story
from earlier this season).
Lutheran looks to take another step into the limelight Saturday at 3 p.m., when it plays Los Angeles Windward in the Southern California Regional Division 5 championships at Colony High in Ontario. The winner advances to the state final March 26-27 in Bakersfield.
Don't be surprised if this game ends up as close as their last meeting March 4 in the Southern Section Division 5AA final at Colony. In that game,
Bruce English
sank a 15-footer at the buzzer to lift second-seeded Lutheran to a
62-61 victory
against the top-seeded Wildcats. Seconds earlier, Windward standout
Wesley Saunders
had scored off a drive to give his team a one-point lead.
What makes the Trojans such a strong small school is the depth of their starting five.
C.J. Cooper
, the nephew of Eric, is a 5-foot-11 junior point guard who is being recruited by San Diego State and Montana State.
Grant Jerrett
is a 6-8 sophomore forward who has scholarship offers from UCLA, USC, Washington, Arizona and Nevada-Las Vegas.
Xavier Jones
is also a 6-8 junior forward with exceptional shot-blocking abilities.
English, a junior guard, and freshman guard
Eric Cooper
, the coaches' son, are also key parts of the team.
The only senior, 6-7 forward
Jordan Salley
, has been sidelined all season after injuring his knee last June. He has signed with Montana State.
In addition to its victory against Windward, the Trojans have a number of other results that solidify their standing as one of the top teams in Southern California.
They defeated defending Division 2 state champion Eisenhower of Rialto and City Section power Los Angeles Dorsey earlier this season at the Pasadena Rose City Classic. They've also knocked off Division 2 Southern California Regional finalist Compton and Central Section Division 1 champion Clovis East.
"Nine of our opponents were in section finals," Cooper said.
Definitely a small school with big-time results.