Los Angeles Preps:

Eric Cooper Jr.
April, 26, 2012
4/26/12
1:33
PM PT
Eric Cooper, who guided La Verne Lutheran to back-to-back state basketball titles in 2010 and 2011 before falling short in the Southern California regional semifinals last season, has accepted the head coaching position at Long Beach St. Anthony.

Lutheran was 25-8 last season behind Arizona-bound forward Grant Jerrett, the state's only McDonald's All-American.

"It's an opportunity to come home to the area I grew up at, a chance to do something out here," Cooper said. "I still have a great team over there at Lutheran. It was a very tough decision, kind of just came about. I prayed about it and it worked out."

Cooper took over at Lutheran in 2007 and quickly built its program into a small-school power, compiling a 132-30 record in five seasons. Cooper's son, Eric Cooper Jr., will also make the move to St. Anthony. Cooper Jr. is an Arizona commit and one of the area's top rising senior guards.

St. Anthony was 17-10 last season and 50-30 over the last three years under former coach Chris Morrison.

"Everything fell in place at Lutheran," Cooper said. "I had good kids who were ready to work and great assistant coaches. That's what made it right."
March, 1, 2012
3/01/12
7:28
PM PT
ANAHEIM --
Kajon Mack
and
Dakarai Tucker
were sophomores when Gardena Serra won section and state titles two years ago. They were handed championship rings but, with guys
Marqise Lee
doing most of the heavy lifting, it didn't quite feel right.
The senior duo felt grand Thursday afternoon, as Serra captured the CIF-Southern Section Division 4AA crown with a 69-59 victory against La Verne Lutheran at the Anaheim Convention Center Arena. Fellow senior
Daddy Ugbede
scored 32 points on 14-for-20 shooting, out-dueling Lutheran's
Grant Jerrett
, an Arizona-bound forward and the state's only McDonald's All-American.
"It feels good to be a part of this now," Mack said smiling.
Tucker added 21 points for top-seeded Serra, which pulled away late in a game that featured 15 lead changes and nine ties. The Del Rey League-champion Cavaliers capitalized on their size advantage down low, out-rebounding the Trojans 36-20 and forcing Jerrett, Lutheran's only big, into foul trouble.
"I'm a firm believer in whoever controls the boards, controls the game," Serra coach
Dwan Hurt
said. "That's what we talked about in practice."
Serra (29-2) had 10 second-chance points and it proved to be the difference. Jerrett picked up his fourth foul with 1:32 remaining in the third quarter, paving the way for the 6-foot-7 Ugbede. The student section serenaded him with chants of "Who's your Daddy?"
"La Verne Lutheran is a very good team," Hurt said. "We just persevered out there. Once we got rid of Jerrett, Daddy basically had his way down low."
Jerrett finished with 19 points but only five rebounds.
Eric Cooper Jr.
scored 12 points and
Brian Beard
had 11 for Lutheran, which now turn its attention a state tournament it has won the last two years.
"If Serra does play us again they know it will be a game," Lutheran coach
Eric Cooper Sr.
said. "It will definitely be a game. I look forward to state and seeing what these guys do when they step on the court again."
Mack and Tucker, meanwhile, were giddy in the postgame media room, knowing they had just won arguably the most difficult division in the state.
"There's a difference when you're on the bench than being a part of it," Hurt said. "This one is probably more meaningful to them because they know they had a part in it."
Blair Angulo covers preps for ESPN Los Angeles. Follow him on Twitter.
February, 24, 2012
2/24/12
9:51
PM PT


LA VERNE -- As his team scrambled on defense in the final seconds, La Verne Lutheran basketball coach Eric Cooper's heart didn't skip one beat. Or so he says.

Cooper has seen late-game theatrics far too often this season to be fazed by another frantic finish, but he might be due for a trip to the cardiologist in the offseason after Friday night's thriller at the University of La Verne.

McDonald's All-American forward Grant Jerrett missed two free throws with 14 seconds remaining, and Crespi raced to the other end looking for the tie or the win. Michael Milligan's runner didn't fall, Jerrett grabbed the rebound and heaved the ball into the air, securing a 51-49 victory and a trip to the CIF-Southern Section Division 4AA championship game for a meeting against top-seeded Gardena Serra at Anaheim Arena. The date and time is scheduled to be announced Monday.

It was the second consecutive nail-biter for two-time defending state champion Lutheran (24-6), which escaped with a 50-48 victory at Oaks Christian in the quarterfinals.

"It's been like that all season. We had a quadruple overtime game, two double overtime games," Cooper said smiling. "That's the type of season we've had. If Crespi would have made the last shot to send the game into overtime, it wouldn't have fazed me. That kind of stuff has been happening to us."

Jerrett, an Arizona signee, finished with 17 points, 14 rebounds and four blocks.

"With Grant, you've always got a chance," Cooper said.

Sophomore point guard Brian Beard Jr. sank a desperation 3-pointer from about 40 feet out as the shot clock expired to give the second-seeded Trojans a seven-point lead with less than two minutes remaining. It grew to nine points with 1:10 left.


February, 23, 2012
2/23/12
3:41
PM PT
By
Tim Haddock
| ESPNLosAngeles.com
Southern Section Division 1A

Mission Viejo (25-3) vs. West Ranch (17-10): Top-seeded Mission Viejo travels to play eighth-seeded West Ranch in the quarterfinals on Friday night. Can West Ranch pull of the upset? Mission Viejo plays tough defense. Opposing teams are scoring an average of 54.5 points per game against the Diablos. In the playoffs, the Mission Viejo defense is even better, surrendering only 44.5 points per game. Mission Viejo had an 18-game winning streak at one point during the season. West Ranch has a legitimate big man in 6-foot-7 forward Ako Kaluna. He is averaging 16.1 points per game and coming off a 29-point performance against Edison in the second round of the playoffs. West Ranch as a team is averaging 70.4 points per game and 86.5 points per game in the playoffs.

El Toro (22-8) vs. Crescenta Valley (25-4): This should be a tight one. Fifth-seeded El Toro is on the road against fourth-seeded Crescenta Valley. The Falcons are coming off a 67-55 win over Warren in the second round. Dylan Kilgour, Davis Dragovich and Cole Currie each scored in double figures for Crescenta Valley. They combined for 51 of the Falcons' 67 points against Warren. Kilgour led the way with 19 points. El Toro's Cody White scored 24 points in his team's 76-48 win over Huntington Beach in the second round.

Division 2AA

Riverside Poly (21-8) vs. Thousand Oaks (20-8): The Lancers won their biggest game of the season, knocking out top-seeded Ocean View in the second round of the playoffs. Heck, it might have been the biggest win of the playoffs. Now 15th-seeded Thousand Oaks is home against No. 8 Riverside Poly in the quarterfinals. Tanner Fanjoy went off for Thousand Oaks against Ocean View, hitting seven 3-pointers and scoring 27 points. The Lancers were 11-for-12 from 3-point territory as a team. They probably can't rely on that kind of performance again, but coach Richard Endres is used to preparing teams for deep playoff runs. Poly Riverside narrowly beat Ayala, 44-42, in the second round.


February, 21, 2012
2/21/12
10:58
PM PT
By
Sean Ceglinsky
| ESPNLosAngeles.com
WESTLAKE VILLAGE – Injury or not, there was no way of keeping
Eric Cooper Jr.
on the bench for Tuesday night's Southern Section playoff game. The junior guard from La Verne Lutheran understood the importance of his presence out on the floor for his teammates.
Despite a troublesome finger on his shooting hand, Cooper Jr. logged major minutes for the Trojans and was an all-important steadying presence down the stretch as they avoided an upset with a 60-58 victory over host Oaks Christian in a Division 4AA quarterfinal game.
"At this stage of the game, you have to stick it out and fight through some things in order to get the job done,'' Cooper Jr. said. "Nothing is going to keep me out of the lineup. I just taped up my finger, went out there and did my thing. It's the playoffs, that's what you do.''
The Lions (22-6) had a chance to win the game. Luckily for La Verne Lutheran (22-6),
Chass Bryan
's 3-pointer hit off the back iron just before the buzzer sounded.
If not for Cooper Jr., the Trojans might have been in trouble. Starting point guard
Brian Beard
picked up three fouls in the first five minutes and was forced to the sidelines. The Arizona-bound Cooper Jr. finished with six points, four rebounds and four assists in 30 minutes.
"Eric might need to have surgery,'' said his father and Trojans coach
Eric Cooper Sr.
"I think he has a dislocated right index finger, his shooting hand, and a possible break too. We're going to see the doctor on Monday. He says his discomfort is at an eight on a scale to 10. I don't think so. He would not be able to play. Still, we're trying to be cautious about things.''
Cooper Jr. had help along the way, of course.
Grant Jerrett
scored 11 of his game-high 21 points in the first half as La Verne Lutheran rallied from eight-point deficit. The 6-foot-10 senior post and Arizona commit also contested Bryan's potential game-winner.
Bryan kept the Lions close and finished with 18 points.
His teammate,
Michael Roletti
, nearly played the role of spoiler. He made four three-pointers in the fourth quarter alone and ended up with 18 points of his own.
Sean Ceglinsky covers preps for ESPNLosAngeles.com. Follow him on
Twitter
.
February, 4, 2012
2/04/12
10:56
PM PT
SANTA ANA -- If crowd murmurs were any indication, the showdown between defending state champions exceeded expectations Saturday night. Mater Dei fans hoping for yet another Monarchs blowout were in for a reality check.
The tension built but it subsided quickly.
Top-ranked Mater Dei beat La Verne Lutheran, 71-66, to successfully defend its home court in the 17th annual Nike Extravaganza, but the margin was too close for the red-clad fans. The Monarchs had won their previous eight games by an average of 30 points but trailed the Trojans early in the fourth quarter.
Mater Dei (22-2), the defending CIF Division I state champion, used one of its patented runs to pull away. Senior guard
Eli Stalzer
sank a jumper, forward
Stanley Johnson
had a monstrous breakaway dunk and
Jordan Strawberry
nailed a runner to create some space. The final minute turned into a free-throw shooting contest, but the Monarchs passed that test.
Ninth-ranked La Verne Lutheran (18-6), a two-time defending state titlist, showed the crowd why it has been successful in recent years. Junior guard
Eric Cooper
had a game-high 21 points and wing
Cameron Osorno
added 12.
Senior forward
Grant Jerrett
gave Lutheran a brief two-point lead early in the fourth quarter, but he was never heard from again. Mater Dei denied the post, forcing low-percentage shots from the perimeter. Jerrett, an Arizona signee and arguably the Southland's best prep player, had only seven points and six boards.
"We had to box out this big 6-foot-10 dude over here," said
Xavier Johnson
, who led Mater Dei with 19 points and 15 rebounds.
Katin Reinhardt
had 17 points, and
Stanley Johnson
pitched in with 10 and 11 boards.
Blair Angulo covers preps for ESPN Los Angeles. Follow him on Twitter.
January, 5, 2012
1/05/12
10:21
PM PT
CHINO HILLS -- Two-time defending state champion La Verne Lutheran, like many across the Southland, still hasn't found its top form. Oftentimes it doesn't arrive until February, a few weeks before the start of playoffs.
Lutheran provided glimpses of what it might look like in a month in a 61-36 non-league victory against Chino Hills on Thursday night. Arizona-bound forward
Grant Jerrett
scored 22 points before taking a seat early in the fourth quarter. Guard
Eric Cooper Jr.
added 19.
"We've got a ways to go," Jerrett said. "We've still got to find our team camaraderie."
The Trojans (11-4) buckled down defensively in the second quarter, outscoring the Huskies 24-7 to pull away for good. Their largest lead was 27, built by contesting perimeter jump shots and forcing movement into the crowded paint.
Even the home fans couldn't help but applaud Jerrett's transition slam dunks.
"Our team has to live off winning the 50-50 loose ball challenges," Lutheran coach
Eric Cooper Sr.
said. "We've got to be aggressive enough to challenge other teams."
Deandre Page
led Sierra League contender Chino Hills (10-4) with 10 points. Twin brother
Deion Page
had nine.
Lutheran has won four straight since losing its first two games in the Torrey Pines Holiday Classic tournament. Up next is a matchup against one-loss Carlsbad La Costa Canyon in the San Diego Lincoln Showcase on Saturday.
Blair Angulo covers preps for ESPN Los Angeles. Follow him on Twitter.
December, 6, 2011
12/06/11
6:20
PM PT
Loyola, Long Beach Poly and La Verne Lutheran are ranked in
the preseason POWERADE ESPNHS Fab 50 national rankings
, and they lead the way in our opening edition of the south Los Angeles County boys' basketball top 10:
1. Loyola (4-0)
Key players:
PG Parker Jackson-Cartwright, SG Justin Childress, SG Jacob Hazzard, SF Julian Harrell (Penn)
Last season:
The Cubs went 25-6 and won the CIF-Southern Section Div. I-A championship before losing by two to eventual state champion Mater Dei in regionals.
Why they're here:
Jackson-Cartwright, only a sophomore, is already considered the top point guard in the state. Mix in the shooting of Childress and Hazzard -- as well as the versatility of Harrell -- and the Cubs have a lineup that few can match.
2. Long Beach Poly (3-1)
Key players:
SF Roschon Prince, PF Jordan Bell, PG Chris Croom, SG Reuben Strickland
Last season:
The Jackrabbits posted a 30-2 record and captured the Division 1AA title in Anaheim before losing to eventual state champion Mater Dei in regionals.
Why they're here:
Poly coach Sharrief Metoyer lost his top two to graduation -- state player of the year Ryan Anderson (Boston College) and Alexis Moore (USC) -- but there's more than enough talent left. Prince and Bell might be the best one-two combination in the county.
3. La Verne Lutheran (4-0)
Key players:
PF Grant Jerrett (Arizona), SG Eric Cooper Jr. (Arizona), SF McKay Anderson, SG Cameron Osorno
Last season:
The Trojans overcame off-the-court adversity, finishing with a 25-5 mark and a second consecutive state championship.
Why they're here:
Jerrett, a long and lean power forward, is arguably the top prospect on the West Coast. Coach Eric Cooper Sr. returns nine letter-winners from last year's team, including son Eric Cooper Jr., a sharp-shooting junior who makes teams pay for double-teaming Jerrett down low.
4. St. John Bosco (4-0)
Key players:
SG Isaac Hamilton, PF Anthony January (UTEP), SF Darryl Matthews, SG Daniel Hamilton
Last season:
The Braves finished 21-9 and were eliminated in the quarterfinals of the CIF-SS Division 4AA playoffs.
Why they're here:
New coach Derrick Taylor, who built Woodland Hills Taft into a City Section power, has the Braves thinking about the Trinity League crown. Getting past defending state champion Mater Dei won't be easy, but Bosco has Isaac Hamilton, a transfer from Crenshaw who is one of the nation's top juniors.
5. Price (3-1)
Key players:
PF Skylar Spencer (San Diego State), PG Chance Murray, SG Chris Sandifer
Last season:
The high-flying Knights went 24-8 and fell just short against La Caņada in the CIF-SS Division 3AA championship game.
Why they're here:
Yes, Price lost guard Askia Booker (Colorado) and ultra athletic forward Norvel Pelle to graduation but don't dismiss coach Michael Lynch's bunch. Spencer is another high-soaring scorer who's lethal in fast break opportunities, and Murray, a junior, already has a scholarship offer from UCLA.
March, 16, 2011
3/16/11
5:01
PM PT
By
Sean Ceglinsky
| ESPNLosAngeles.com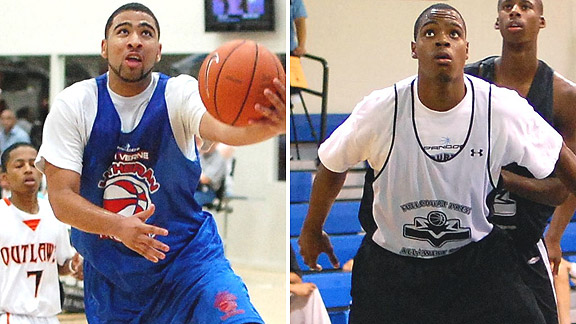 Courtesy of Dave KeeferKevin Payne, left, lost his father to a car accident in September, and Xavier Jones, right, suffered a heart attack in November and had to be revived by coaches through CPR. Both look to lead La Verne Lutheran to a berth in the state finals.
LA VERNE -- In most cases, a tragedy, particularly a loss of life, tends to have a profound impact on the psyche of a high school sports program.
Sometimes the extenuating circumstances can cause strife so severe the players and coaches, often times, find it difficult to overcome.
The La Verne Lutheran boys' basketball team has been a resilient bunch. It's a group that has recently dealt with three deaths to persons closely associated to the program and a close call with regard to another, a teammate no less.
Through it all, the players and coaches have persevered and are now on the verge of reaching a goal that many observers thought unattainable a couple of months ago.
A victory over La Canada (30-3) in Saturday's Southern California Regional playoffs at USC's Galen Center will secure the Trojans (25-5) an improbable Division III title and enable them to advance to the state finals on March 25 and 26 at Arco Arena in Sacramento.
"We have had some ups and downs so far, but our kids have stuck it out and fought through adversity,'' La Verne Lutheran coach
Eric Cooper Sr
. said.
Perhaps
Kevin Payne
and
Xavier Jones
have been involved in the most traumatic experiences, given that each senior lost a close family member.
Payne's father,
Kevin Payne Sr
., was killed in an automobile accident in early September. The grief left a lasting impression on the entire program.