Los Angeles Preps:

Evan Zeller
March, 10, 2012
3/10/12
11:12
PM PT


SANTA ANA -- With two starters out of the lineup, you'd think Mater Dei might have a serious dropoff in talent.

You'd be wrong.

The skill sets might be a little different, but the state's top-ranked team kept rolling on Saturday with Katin Reinhardt on the bench and Eli Stalzer at home sick. The Monarchs scored a 78-66 victory Saturday over visiting Mission Viejo

Mario Soto and Elijah Brown. stepped in for Reinhardt and Stalzer.

Soto hit some big shots, including a buzzer-beater to end the third quarter, and scored 11. Brown was 6-for-6 from the free-throw line and scored 10 to complement the Monarchs' big guns.

Namely, Xavier Johnson.

Johnson scored 28 points and had a game-high 11 rebounds to lead the Monarchs' charge into the Southern California Regional semifinals next week against Loyola, a 48-35 winner over Etiwanda.

The game, though, was competitive and not nearly the one-sided affair it was in the first game of the season, 89-53. For one thing, Mission Viejo (28-5) had its football players this time and that impacted Mater Dei's Stanley Johnson, which no doubt helped keep it close.

Fullback Jahleel Pinner told coach Troy Roelen he wanted to guard Johnson, the sophomore sensation, and held him to six points, none in the first half as Mission hung tough, 34-29.


February, 28, 2012
2/28/12
10:22
PM PT
By
Tim Haddock
| ESPNLosAngeles.com
MISSION VIEJO --
Michael Cramer
scored 17 of his game-high 20 points in the second half for Mission Viejo and sparked a third-quarter surge to oust Crescenta Valley, 65-60, in the semifinals of the CIF-Southern Section Division 1A playoffs on Tuesday night.
Cramer was instrumental in Mission Viejo's little third-quarter run that separated the two teams in a closely contested game.
[+] Enlarge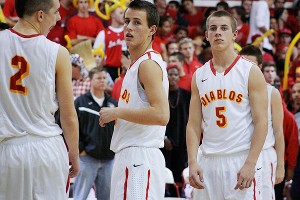 Tim Haddock/For ESPNLA.comMission Viejo's Michael Cramer (2) had a big second half to lift the Diablos over Crescenta Valley.
Mission Viejo (27-3), ranked No. 17 by ESPN Los Angeles, outscored Crescenta Valley, 8-0, early in the third quarter and turned a one-point, halftime lead into a seven-point advantage. Cramer scored six of his team's eight points in that run and Mission Viejo built a lead it would not surrender.
Crescenta Valley (26-5) jumped out to the early lead, 22-15, in the first quarter. But Mission Viejo rallied to take a 29-26 lead near the end of the second period.
Dylan Kilgour
hit a pair of 3-pointers just before halftime to give Crescenta Valley a one-point lead, 32-31. But Mission Viejo's
Max Redfield
scored a basket at the end of the first half for a 33-32 lead.
"It's a credit to our guys' toughness and ability to play through adversity," Crescenta Valley coach
Shawn Zarganian
said. "That's what these guys are about."
Crescenta Valley opened the second half with a 6-2 run to take a 38-35 lead. That's when Mission Viejo started to break away.
Cramer converted two free throws to give his team a one-point lead, 39-38.
Evan Zeller
made it 41-38 with a basket. Then Cramer pushed the lead to 45-38 with a basket and a pair of free throws.
January, 18, 2012
1/18/12
11:25
PM PT


MISSION VIEJO -- Aleks Lipovic knew his shot was true from the moment it left his hand. When the ball fell through the hoop, Lipovic had buried a 3-point basket as well as Mission Viejo's 18-game winning streak.

Capistrano Valley, ranked No. 16 in the ESPNLA top 20, scored a 46-43 boys' basketball victory over the defending South Coast League champion.

Lipovic's big shot came with 31 seconds remaining, and it capped a comeback in which Capo Valley had trailed, 42-34, after Mission's Michael Cramer scored on a follow with 7 minutes 6 seconds left in the game. From that point on, Mission scored only one point.

Capo Valley (18-2, 4-0) is now in the driver's seat the for South Coast League title as Mission (18-2, 3-1) dropped to second place. The teams will play again on Feb. 9 in the league finale.

Nick Thomas scored 10 points for Capo Valley, and Johnny Bates had eight, including a three-pointer that pulled the Cougars to within 42-41 with 4:17 left.


January, 16, 2012
1/16/12
5:11
PM PT
1. Mission Viejo won its 18th in a row on Saturday, sending Victorville Victor Valley to its 17th straight defeat, but the Diablos (18-1) almost saw their streak end on Friday night. They won at El Toro, 76-72, after trailing in the fourth quarter of the South Coast League game.
Evan Zeller
led the way with 30 points, and
Michael Cramer
had 19 as the Diablos overcame a 54-49 deficit heading into the fourth quarter. The victory sets the stage for a showdown Wednesday at Capistrano Valley (17-2). That place will be rocking. Both teams are undefeated in league.
2. In what turned out to be the marquee game of the the Coaches vs. Cancer Showcase,
Jojo Ballestero
hit a three-point shot at the buzzer to give Canyon a 65-62 victory over Huntington Beach. Ballestero wasn't even the first option on the play. Ballestero led Canyon (15-4) with 23 points, which was enough to overcome the game-high 32 points scored by
Harley Ruder
of Huntington Beach. In other Showcase games, Redondo Union beat Edison, 59-49; Villa Park beat Los Alamitos, 62-52; Palm Springs beat Cerritos Gahr, 65-39; and Mission Viejo beat Victor Valley, 84-45.
3. Three Orange Country wrestlers won championships Saturday in the prestigious Five Counties meet. In the heavyweight division, Villa Park's
David Trujillo
scored a 3-2 victory in the finals
against Esperanza's
Carl Hulick
, the second time this season that Trujillo has beaten his Century League rival by that score.
Juan Hernandez
of Capistrano Valley won the championship at 195 pounds, and Edison's
Greg Meline
won the title at 171.
January, 15, 2012
1/15/12
9:32
PM PT
1. Mater Dei (15-2) — Trailed early against Orange Lutheran before Johnson and Johnson -- Xavier and Stanley -- took over. Next: vs. Middle Village (NY) Christ the King, Monday.

2. Capistrano Valley (17-2) — Aleks Lipovic hangs 19 on Aliso Niguel and 22 on Dana Hills as Cougars' win fifth in a row to set up huge South Coast showdown. Next: vs. Mission Viejo, Wednesday.

3. Mission Viejo (18-1) — Diablos have won 18 in a row, but trailed by five in fourth quarter to El Toro before pulling out 76-72 win behind Evan Zeller's 31 points. Next: at Capistrano Valley, Wednesday.

4. JSerra (12-5) -- Lions take care of business against York-less OLu, and Devon Pflueger and Reece Lemon scored season highs against Santa Margarita. Next: vs. Mater Dei, Friday.

5. Orange Lutheran (12-4) -- With Gabe York out with appendicitis for a second week, the Lancers lose their big gun -- and two in a row, to Mater Dei and JSerra. Next: vs. La Verne Lutheran, Monday.


March, 5, 2011
3/05/11
3:54
PM PT
By
Sean Ceglinsky
| ESPNLosAngeles.com
ANAHEIM -- Jared Wilson lined up with his feet positioned just beyond the 3-point arc and waited. He hoped the ball would eventually swing his way. And when it did, there was no hesitation.

Given the all-important opportunity, the senior hoisted up a shot. It ended up dropping too, giving the Ventura High boys' basketball team a one-point lead with less than two minutes left in overtime of a Southern Section Division 2AA championship game against Mission Viejo.

The basket was indeed pivotal. It provided the Cougars all the momentum they would need en route to a 56-55 title-clinching victory at the Anaheim Convention Center.

"Jared has made some big shots for us and that was a big one,'' Ventura coach Dan Larson said. "This was a great game with both teams giving 100 percent till the very end.''

Top-seeded Ventura (29-2) and second-seeded Mission Viejo (29-2) went back and forth in the fourth quarter, with the lead exchanging hands several times.

Dylan Houck hit several timely free throws for Ventura.

James Cramer countered for the Diablos. He knocked down four consecutive free throws, each more important than the last, to send the game into overtime.

Houck and teammate Jon McMurry put the game out of reach by making a combined four straight free throws in the waning moments.


February, 22, 2011
2/22/11
11:20
PM PT
By
Dan Arritt
| ESPNLosAngeles.com


MISSION VIEJO — Creating a mismatch is one thing, completely changing the game's outcome is another. Isaac Neilson managed to do both Tuesday night in a Southern Section Division 2AA boys' basketball quarterfinal.

The 6-foot-10 senior center for Mission Viejo finished with 20 points, 17 rebounds and seven blocked shots in the 71-54 victory against visiting Ontario Colony. And those were just the numbers found in the box score. He did a lot more to perplex the Titans.

"He altered all of our shots," said Colony junior guard Miles Poullard, who managed a team-high 16 points.

Neilson, who has signed with Brigham Young but first plans to take a two-year LDS mission when he turns 19 in December, caused the Titans to throw up some wild shots nearly every time they penetrated Mission Viejo's zone defense. They didn't have much luck hitting from outside, either.

The 10th-seeded Titans (20-10) made an effort to crash the offensive boards, but Neilson would usually claim the rebound and quickly start an odd-numbered fast break with a crisp outlet pass.

"It helped that we went up and down the court," Neilson said. "They got three guys on you, just like that, so you have to quickly get the ball out."

Colony scored the first six points of the game on fast-break opportunities but the second-seeded Diablos (28-1) quickly adjusted and took their first lead with 2 ½ minutes remaining in the opening quarter. Mission Viejo carried a 7-0 run into the second quarter to take an 18-14 lead it would never surrender.

After falling behind by as many as 10 in the second quarter, the Titans scored the last five points of the first half and trailed, 32-29, at the intermission. That was as close as Colony would get, however. The Diablos scored the first four points of the second half and stretched the lead to 14 by the end of the third quarter.

Colony coach Jerry De Fabiis struggled to guard Neilson with his lone big man, 6-6 senior Chris Mays, so he elected to go with a small lineup and Neilson and the Diablos made him pay for that too.

"We thought that was about the only way we could try and get the tempo up," De Fabiis said. "We needed to try and get back in the game, pressure them, and that worked at the end of the half but the second half they were good enough to know how to get the ball through."

Michael Cramer contributed 19 points and Evan Zeller had 13 for Mission Viejo, which moves on to the semifinals Friday. The Diablos will play sixth-seeded Fontana Summit, a winner against third-seeded Anaheim Canyon, at an alternate site to be determined.