Los Angeles Preps:

Five to see live
November, 30, 2011
11/30/11
9:09
PM PT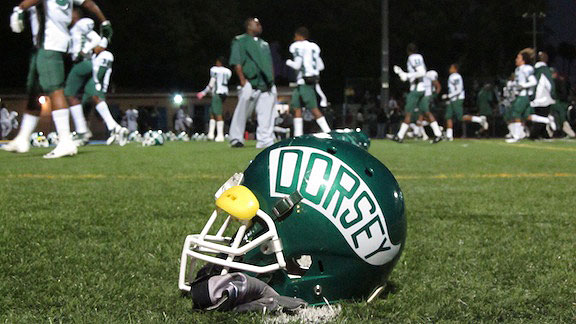 Blair Angulo/For ESPNLA.comDorsey gets its chance for respect Friday when it takes on Narbonne in the City semifinals.
On a Saturday earlier this month, the Dorsey Dons were in the film room when coach
Paul Knox
walked in ready to share two bits of information. The good news: Dorsey had received one of four seedings for the City Section Division I football playoffs. The bad: The Dons were seeded third despite winning their league and losing just once, on the road to highly regarded Redlands East Valley.
Adding salt to the wound was the fact that Narbonne, the Marine League runner-up to top-seeded San Pedro and loser of three games, received the No. 2 seeding.
Coliseum League champion Dorsey (11-1) gets a chance to state its case under the lights Friday in Harbor City.

Allison
"We want to make skeptics believers," Dons defensive end
Jeremiah Allison
said.
It doesn't promise to be an easy task. Narbonne (9-3) averages 48 points per game behind dual-threat quarterback
Troy Williams
, one of the city's top junior prospects. Williams touts single-game highs of 385 passing yards and 124 rushing yards this year.
"I know he has a pretty good feet on him," said Allison, who has been credited with 14 sacks.
But Williams is aware of what he and the explosive Gauchos offense is up against. The Dons are quick defensively and haven't given up more than 26 points in a game this season. On average they give up only 10.

Williams
"It's the best defense we've see all year," Williams said.
Kickoff is set for 7 p.m., with the winner advancing to the Dec. 10 championship game at East L.A. College. Marine League foes San Pedro (12-0) and Carson (7-5) square off in the other semifinal.
Here are four other top third-round playoff games in south Los Angeles County on Friday (with ESPN Los Angeles prep football Top 25 rankings):
City: Carson (7-5) at No. 11 San Pedro (12-0), 7 p.m.
-- The top-seeded Pirates won 21-0 when these two met in Carson on Oct. 28. Senior quarterback Kenny Potter looks to lead San Pedro to its first title-game appearance since 2008. The Colts, meanwhile, hope to get back to the championship game after losing to Crenshaw at the Coliseum last year.
Western: No. 20 Santa Monica (11-1) at No. 22 Culver City (9-3), 7:30 p.m.
-- A chance at redemption for Culver City, which wasn't even expected to make it past Gardena Serra in the opening round. The Centaurs lost to Santa Monica, 17-14, during the regular season. The Vikings pulled that one out thanks to a pair of late-game takeaways.
Southeast: Muir (8-4) vs. La Serna (9-3) at California High, 7 p.m.
-- What resolve the Muir Mustangs have shown without coach Ken Howard, who has been on administrative leave since Week 4 following
an on-campus incident with a student
. Muir has won its two playoff games by scores of 39-7 and 48-0.
Mid-Valley: Monrovia (9-3) vs. Covina (11-1) at Covina District Stadium, 7 p.m.
-- After this one is over, either defending division champion Monrovia or top-seeded Covina will be eliminated. The Wildcats, behind big defensive tackle Ellis McCarthy, have been playing their best football lately and could give the Colts a serious scare.
November, 9, 2011
11/09/11
6:01
PM PT
League championships are up for grabs across the region this week. Here are Thursday night's top five games in south Los Angeles County:

Cabrillo vs. No. 5 Long Beach Poly at Veterans Stadium, Thursday, 7 p.m. -- As the Jackrabbits take the final turn toward a second consecutive Moore League title, it's only fitting that ESPN High School will recognize the defending national champion Long Beach Poly girls' track team during halftime Thursday. Football coach Raul Lara, meanwhile, can only hope that his team -- specifically the defense -- sprints through the finish line. A win would give Poly (8-1, 5-0) sole possession of first place and likely secure a high seeding in the Pac-5 Division bracket. Upset-minded Cabrillo (7-2, 4-1) has the division's leading passer, senior Derek Stewart (2,116 yards, 19 touchdowns).

Diamond Ranch at West Covina, Thursday, 7 p.m. -- When West Covina coach Mike Maggiore had his team take on Loyola earlier this season, it was with games like this in mind. West Covina (8-1, 5-0) will stay home this time but the hungry Diamond Ranch Panthers (5-4, 4-1) will try everything to unseat the defending Hacienda League champions. The Bulldogs, ranked No. 1 in the Southeast Division, can go perfect in league play for the second straight year.

La Puente vs. Azusa at Citrus College, Thursday, 7 p.m. -- The Mid-Valley Division poll that the CIF-Southern Section released before the season didn't include the La Puente Warriors (9-0, 6-0). Well, look at the Warriors now. They have a chance to finish with an unblemished mark and their first Montview League title since 2007. It won't be an easy task against Azusa (6-3, 6-0), the three-time defending league titlist.

El Monte at Arroyo, Thursday, 7 p.m. -- El Monte, coming off a thrilling win against crosstown rival South El Monte, has plenty of momentum. The Lions (7-2, 4-0) scored two touchdowns in the final 43 seconds to remain in contention to win its first league championship since 1979. Two-time defending champ Arroyo (8-1, 4-0) is potent behind quarterback Steven Rivera (2,512 passing yards, 33 total touchdowns).

Schurr at San Gabriel, Thursday, 7 pm. -- The San Gabriel Matadors (5-4, 4-0) can win the Almont League outright with a victory against visiting Schurr (3-6, 3-1). A Schurr win, combined with an Alhambra win at Bell Gardens, would create a three-way tie atop the standings.
November, 3, 2011
11/03/11
3:52
PM PT
Big league implications throughout the Southland this week. Here are Friday night's top five games in south Los Angeles County: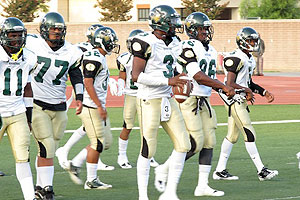 Blair Angulo/For ESPNLA.comNarbonne quarterback Troy Williams (3) looks to lead the Gauchos to a victory over undefeated San Pedro on Friday.
No. 19 Narbonne at No. 20 San Pedro, 7 p.m.
-- For quite a while now, Narbonne coach Manual Douglas has been eying the top seeding in the City Section Division 1 playoffs. The time has come for his Gauchos (6-2, 3-0) to prove they deserve it. The Marine League title goes to the winner. Narbonne's uptempo offense averages nearly 32 points, but San Pedro (8-0, 3-0) hasn't given up more than 20 in any game this season.
Damien at No. 23 Charter Oak, 7 p.m.
-- Head over to Covina if you want some touchdowns. Or stay away if you like defensive stops. Over their last six games, the Damien Spartans (6-2, 2-1 Sierra) have given up an average 27 points. That's music to quarterback Travis Santiago's ears, for sure. Charter Oak (7-1, 3-0) has one of the most explosive attacks in the region, averaging 42 points.
Garfield vs. Roosevelt at East L.A. College, 7:30 p.m.
-- The longtime rivals meet for the 77th time, and the game is expected to be played in front of another capacity crowd of 20,000. The East Los Angeles Classic is one of the area's most treasured traditions, dating to 1926 and spanning generations. It's really a toss-up this year: Garfield is 4-5 overall but 4-1 in the Eastern League; Roosevelt is 5-3 and 3-1.
La Puente at Duarte, 7 p.m.
-- With a win, the unblemished La Puente Warriors (8-0, 5-0) can intensify the magnitude of next week's gigantic matchup against three-time defending Montview League champion Azusa. The Warriors are led by quarterback Ivan Vasquez and his 19-1 touchdowns-to-interceptions ratio. Duarte (6-2, 4-1) is still mathematically in contention for the league title.
Downey at Dominguez, 7 p.m.
-- The streaking Dominguez Dons (6-2, 3-0) have won six straight, finding a groove that went missing in blowout losses to Crespi and Redlands East Valley. A win against Downey should set up a San Gabriel Valley League championship game next week at Paramount, which is favored against Warren.
October, 26, 2011
10/26/11
6:49
PM PT
Here are this week's top five games in south Los Angeles County:
No. 1 Servite at No. 16 St. John Bosco, Friday, 7:30 p.m.
-- A year older, wiser and better, the St. John Bosco Braves (6-1, 2-0 Trinity) hope they can pull off the shocker this time around. They held a brief lead against Servite (6-1, 2-0) last season before the Friars' experience -- and the Braves' inexperience -- took over. Junior tailback DaVonte Young's spectacular performance against Mater Dei last week was proof that Bosco has another wrinkle to its prolific spread offense. And the Braves were great on defense too, limiting the Monarchs to only a field goal. A Cody Pittman-led Servite attack is an entirely different test, though.
No. 15 Loyola at No. 14 Bishop Amat, Friday, 7 p.m.
-- Apparently, the return of hybrid receiver/tailback Zachary Shay (concussion) was exactly what Bishop Amat (6-2, 1-1 Serra) needed to rejoin the league race. After missing the previous five games, the senior had eight catches for 83 yards and a touchdown run in the Lancers' rather surprising 28-14 win at Crespi. If Shay can stay healthy, and if the defense holds up the way it did against the potent Celts, Amat can be a scary team. The Loyola Cubs (6-1, 1-0), meanwhile, haven't won a league road game since 2008, which also marks the last time they beat Amat. The game will be televised by Time Warner Cable on Channel 101 at midnight.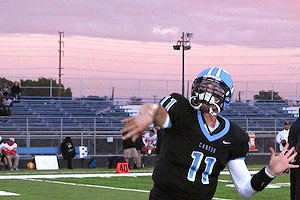 Blair Angulo/For ESPNLA.comThe play of Carson quarterback Kevin McMahon will be key against 7-0 San Pedro.
No. 22 San Pedro at Carson, Friday, 7 p.m.
-- Undefeated San Pedro (7-0, 2-0 Marine) finally gets to show that its record is no fluke. The Pirates have won their games by an average of 26 points behind senior quarterback Kenny Potter's 25 total touchdowns, but the combined record of their seven opponents is a woeful 16-33. That obviously hasn't earned them much respect. Carson (3-4, 1-1) comes in on the other side of the spectrum, having played a mini Pac-5 Division series against the likes of Mater Dei, Long Beach Poly, Santa Margarita and Mission Viejo. The Colts are motivated following last week's last-minute loss to rival Narbonne. Quarterback Kevin McMahon has to find a way to get the ball to top playmaker Darreus Rogers more consistently.
Gardena Serra at St. Paul, Friday, 7 p.m.
-- Yeah, the Serra Cavaliers (5-2, 2-0 Mission) are young and depleted, but they're still dangerous and a legitimate league contender. Just ask previously unbeaten St. Francis, which fell victim to the young Cavs and standout junior running back Anterio Bateman. St. Paul's only loss came to Chaminade, the league favorite and top-ranked team in the Western Division. "I know this league is awesome from top to bottom," Serra coach Scott Altenberg
told the Daily Breeze
following last week's victory against St. Francis. "We know how tough it's going to be week to week, and now we know how tough it's going to be half to half."
Gahr at Dominguez, Friday, 7 p.m.
-- These teams are heading in opposite directions. Gahr (5-2, 0-2 San Gabriel Valley) has dropped two straight after winning its first five; Dominguez (5-2, 2-0) lost its first two in lopsided fashion -- albeit to Crespi and Redlands East Valley -- but has since won five in a row.
October, 19, 2011
10/19/11
7:31
PM PT
Here are five of this week's must-see games in south Los Angeles County:
[+] Enlarge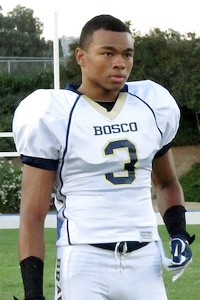 Blair Angulo for ESPNLA.com Bryce Treggs leads all Pac-5 Division receivers with 744 yards so far this season.
No. 25 Mater Dei at No. 19 St. John Bosco, Friday, 7:30 p.m.
-- They've been waiting for this in Bellflower for a while. The St. John Bosco Braves (5-1), playing at home for the first time in more than a month, can make a loud statement by beating revitalized Mater Dei (3-3), which is coming off a rather shocking upset of previously unbeaten Santa Margarita. A loss Friday would deal a major blow to Bosco's Trinity League hopes, a win would cement them as a serious contender for one of the league's three playoff spots. Cal-bound Bryce Treggs leads all Pac-5 Division receivers with 744 yards and ranks third with seven touchdowns.
Carson at No. 24 Narbonne, Friday, 7 p.m.
-- Think a fractured finger is going to keep Carson receiver Darreus Rogers out of this one? No chance. The USC commit suffered a hand injury in last week's 30-9 victory over rival Banning but that hasn't stopped him from
predicting a three-touchdown performance
Friday. The Carson Colts (3-3) have won 15 straight Marine League games, though that carries little weight against the confident Narbonne Gauchos (4-2) and talented quarterback Troy Williams. A possible No. 1 seeding for the City Section Division 1 playoffs is on the line.
Lakewood at Cabrillo, Friday, 7 p.m.
-- Quick, name the leading passer in the Pac-5 Division. It's not Utah-bound Travis Wilson (999 yards) of San Clemente or Conner Sullivan (1,193) of Orange Lutheran. It's not Crespi's Cody Cordell (1,354), St. John Bosco's Rene Medina (1,376) or even Mission Viejo's Alex Bridgford (1,724). The division's top passer? It's Cabrillo's Derek Stewart, who has 1,917 yards and 17 touchdowns for the upstart Jaguars (6-1). The Lakewood Lancers (5-2), behind standouts Darius Powe and Malik Gilmore, are hungry for a win after last week's loss to Moore League favorite Long Beach Poly.
St. Francis at Gardena Serra, Friday, 7 p.m.
-- It's a different feeling in Gardena, where the Serra Cavaliers (4-2) are, at least by their standards, on a down year. And even though they've lost two games in a season for the first time since 2007, don't count them out of the Mission League race just yet. Coach Scott Altenberg's bunch is a perfect 1-0 in league and a victory Friday against undefeated St. Francis (6-0) would speed up the rebuilding process. Dual-threat quarterback Jalen Greene, a sophomore who averages 185 yards of total offense per game, gives Serra hope.
San Dimas vs. Covina at Covina District Field, Friday, 7 p.m.
-- Opening weekend didn't unfold how these Valle Vista teams had hoped -- San Dimas lost to Bonita, Covina lost to West Covina. There's been nothing but wins since. The San Dimas Saints (5-1) have won five straight games, outscoring opponents 221-52 behind a strong Wing-T offense. Quarterback Billy Livingston (shoulder) was successful in his return to action last week for the streaking Covina Colts (6-1). A league title is at stake here, as well as serious consideration for a No. 1 ranking in the Mid-Valley Division.
October, 12, 2011
10/12/11
4:19
PM PT
League play kicks off with a bang. As part of our running feature, here are five of this week's must-see games in south Los Angeles County:
[+] Enlarge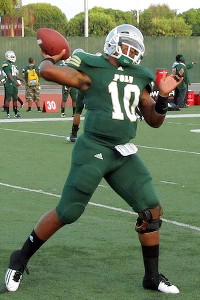 Blair Angulo/For ESPNLA.comPoly QB Chaiyse Hales hopes to repeat his performance of a year ago against Lakewood.
No. 19 Lakewood vs. No. 6 Long Beach Poly at Veterans Stadium, Friday, 7 p.m.
: When the final whistle blew last year, the Long Beach Poly Jackrabbits gave coach Raul Lara the celebratory, icy Gatorade bath. He probably wouldn't mind a good soaking Friday night. The scoreboard keeper at the Vet might be busy. Poly (5-1, 2-0 Moore League) finally found its offensive rhythm last week, hanging 67 points on Jordan, and the Lakewood Lancers (5-1, 2-0) are averaging 45 points per game under first-year offensive coordinator Zach LaMonda, a former assistant coach at Servite. Jackrabbits senior quarterback Chaiyse Hales was the standout in last year's rivalry game, throwing for 189 yards and two touchdowns, and running for another score.
No. 22 Alemany at No. 7 Bishop Amat, Friday, 7 p.m.
: Poor defensive play is Bishop Amat coach Steve Hagerty's biggest concern heading into this one -- and for good reason. The Lancers (5-1) have allowed the most points (111) among Serra League teams this year. These two met for the league title in last season's finale -- Alemany (4-1) claimed the championship with a 38-30 win -- so you know the Lancers will be plenty motivated. "It's going to be a fight," Lancers senior running back Jalen Moore said after last week's 38-35 win at Venice. "The league is going to come down to the end, but I feel like we should be able to take it all way." The game will stream live on
FOXSportsWest.com
as part of the website's
Prep Zone platform
.
Charter Oak vs. South Hills at Covina District Field, Friday, 7 p.m.
: For now, the Sierra League appears to be a four-team race and these two are a part of that group. The Charter Oak Chargers are the favorites (4-1) but Friday's road game could get tricky given that the South Hills Huskies (3-2) aren't strangers to tight games. Four of their five contests have been decided by four points or less. Chargers defensive coordinator Roger Lehigh would like to contain tailback Jamel Hart, who has hit triple-digit rushing yards in every game this season. It all adds up to an intriguing league opener.
Damien at Claremont, Friday, 7 p.m.:
This is the
other
marquee Sierra League matchup, though it could have been a headliner any other week. The Damien Spartans (4-1) are fresh off a win against a Pac-5 Division opponent, JSerra, and their only loss this season was to Bishop Amat, which entered the week ranked No. 7 by ESPN Los Angeles. Meanwhile, the Claremont Wolfpack (4-1) are looking to avenge last year's loss. Quarterback Gabe Schaper looks to rebound after throwing two costly interceptions last week.
West Covina at Bonita, Friday, 7 p.m.
: Will spectators be in for another epic? These two met twice in 2010. West Covina thumped Bonita in the first game, basically securing the Hacienda League championship behind Chris Solomon's spectacular running. They saw each other again in the Southeast Division title game, which the West Covina Bulldogs (5-1) won on a thrilling last-minute drive. The Bonita Bearcats (2-3), coming off a bye week, will have redemption on their minds.
Blair Angulo covers preps for ESPN Los Angeles. Follow him on Twitter.
October, 5, 2011
10/05/11
7:14
PM PT
As part of our running feature, here are five of this week's must-see games in south Los Angeles County:
Los Osos vs. South Hills at Covina District Field, Thursday, 7 p.m.
-- Don't let the South Hills Huskies' mediocre 2-2 record fool you. They've been in every game, losing to Ontario Colony by one and defending Southeast Division champ West Covina by two. Workhorse Jamel Hart is a threat to score any time he touches the ball. Los Osos is also 2-2, but its two losses came against a couple of undefeated teams, Orange Lutheran and Vista Murrieta.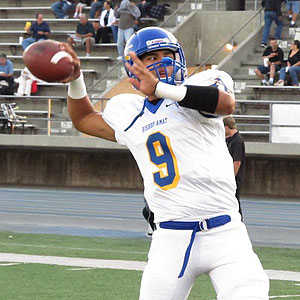 Blair Angulo/For ESPNLA.comQuarterback Rio Ruiz will lead Bishop Amat into its Thursday road game at Venice.
No. 8 Bishop Amat at Venice, Thursday, 7 p.m.
-- A final hurdle for the Bishop Amat Lancers (4-1) before they begin what promises to be a grueling Serra League slate. Matching up against Venice (1-3) might not be a day at the beach, though. The Gondoliers have lost three straight but, after facing the likes of Chaminade, St. Francis and La Mesa Helix, they won't be wide eyed when a Pac-5 squad lines up across from them.
Diamond Ranch at Diamond Bar, Friday, 7 p.m.
-- Childhood friends (turned enemies) will face off when these rival schools meet for just the second time ever. Diamond Ranch (2-3), which sits in Pomona near the Chino Hills and Diamond Bar borders, won the inaugural game last year, 41-0. The stakes have been raised this season, with the winner set to capture the
newly introduced Mayor's Cup trophy
. The Diamond Bar Brahmas (2-3) have lost two straight.
Narbonne at Culver City, Friday, 7 p.m.
-- Battle tested Narbonne (2-2) continues its preseason gauntlet of tough opponents. Junior quarterback Troy Williams carried the Gauchos to a victory against Gardena Serra last week and, like always, figures to be the focal point of that uptempo attack. Culver City (4-0), which has allowed only 14.5 points per game, will be well aware.
Roosevelt at South East, Friday, 7 p.m.
-- Undefeated South East (5-0) has one of the area's most electrifying players, Robert Lewis. The Southern Methodist commit already has 12 rushing touchdowns and four performances of more than 150 yards. The Jaguars are one of only three undefeated City Section Division II teams and, if they win Friday, gain control of the Eastern League.
Blair Angulo covers preps for ESPN Los Angeles. Follow him on Twitter.
September, 28, 2011
9/28/11
1:08
PM PT
As part of our running feature, here are five of this week's must-see games involving teams from south Los Angeles County:
No. 18 St. John Bosco at La Habra, Thursday, 7 p.m.
— Players usually want to forget recent failures, so the humbled St. John Bosco Braves (3-1) could benefit from their short rest following last week's loss to Loyola at L.A. Valley College. A likely bullet point in Braves coach Jason Negro's motivational speech: La Habra (2-2) has already given a pair of Trinity League teams -- Servite and Orange Lutheran -- all they could handle.
No. 3 Mission Viejo at No. 22 Carson, Friday, 7:30 p.m.
— For those not keeping tally, the Carson Colts (1-2) meet a ranked opponent for the fourth consecutive week. Nationally-ranked Mission Viejo promises to be the toughest test yet. Sure, Carson is in danger of losing its third straight, but how could other City Section teams not admire the ambition? Quarterback Kevin McMahon has to find USC-bound receiver Darreus Rogers often.
No. 15 Loyola at No. 21 Upland, Friday, 7 p.m.
— Until last Friday, the Loyola Cubs (4-0) were solid candidates for most improved. But, after what coach Mike Christensen's bunch did to St. John Bosco, consider that an understatement. Boise State-bound Chaz Anderson, a difference maker on both sides of the ball, has the Cubs believing in Serra League glory following a poor 3-7 mark in 2010. They can accumulate more believers by winning at Upland (4-0).
Serra at Narbonne, Friday, 7 p.m.
— As the games go by, Serra sophomore Jalen Greene's passing numbers keep getting better -- from 91 yards to 175 to 180 -- despite the absence of top playmaker Raymond Ford (ankle). The progression at key positions is important for Serra (3-1). The Narbonne Gauchos (1-2) will be plenty motivated after coming up just short the last two weeks at Long Beach Poly and Tesoro.
Arcadia at Muir, 7 p.m.
— Clearly, schedule makers had no intention of saving the best for last. This Pacific League opener promises to have the intensity of a title game. The Muir Mustangs (2-1) look to bounce back after being overwhelmed by Rancho Cucamonga last week; the Arcadia Apaches (2-1) hope to capitalize on another opportunity after knocking off rival and defending Mid-Valley Division champ Monrovia two weeks ago.
Blair Angulo covers preps for ESPN Los Angeles. Follow him on Twitter.
September, 21, 2011
9/21/11
9:47
PM PT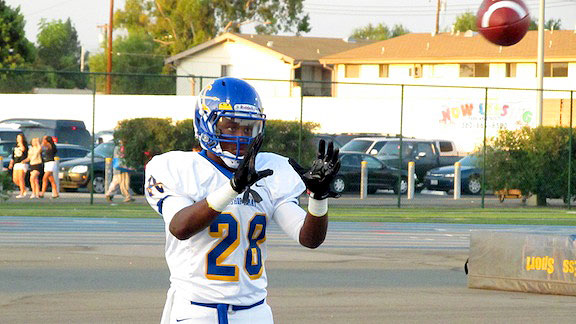 Blair Angulo for ESPNLA.comJalen Moore had 303 yards rushing last week, which this week's opponent, Damien, is surely aware of.
If there was ever a time you needed a body double, it's this week. Three highly ranked teams hit the road and two others seek upsets, making for a juicy slate of games that could shake up the ESPN Los Angeles prep football Top 25 rankings. Long Beach Poly needs to keep the score close at Mission Viejo, for morale's sake; a Carson win against Santa Margarita would send shock waves across the Southland; St. John Bosco plays Loyola in preparation for the grueling Trinity League. If only there was some sort of body-double machine.
As part of our running feature, here are this week's five must-see games involving teams from south Los Angeles County, in no particular order:
No. 2 Long Beach Poly at No. 4 Mission Viejo, Friday, 7:30 p.m.
-- The Long Beach Poly Jackrabbits (3-0) have revenge on their minds after a 30-point home loss to Mission Viejo last year. It's a great opportunity for them to prove the doubters wrong. A win would suggest that Poly is an elite team once again, a serious Pac-5 Division contender and worthy of such a high ranking. A loss, at least on the surface, would temper expectations. 'Rabbits senior quarterback Chaiyse Hales has already thrown five interceptions this season. He will have to make smart decisions with the football for them to have a good chance.
No. 11 Bishop Amat at Damien, Friday, 7 p.m.
-- With Bishop Amat senior Zachary Shay (concussion) sidelined, human demolition ball Jalen Moore carried a heavier load and exploded for 303 yards rushing and five touchdowns. It was a great sign for the Lancers (2-1), particularly because the senior didn't have his finest performance a week prior against Servite's physical defense. The Damien Spartans (2-0) are inspired and could present several challenges behind a Jalen of their own, running back Jalen Castille (101 rushing yards and two TDs last week).
No. 3 Santa Margarita at No. 12 Carson, Friday, 7 p.m.
-- Before the season, Carson Colts coach Elijah Asante wanted his team to be noticed for the right reasons, not for scheduling difficult teams (as Asante did) but for being a tough test for
other
teams. "People are giving the teams we'll play more credit than they're giving us," Asante said then. This week's matchup might be the prime example of what he was talking about. The Colts (1-1) are the underdogs but coming off an extra week of rest, preparation and motivation. Buckle your seat belts, folks.
No. 9 St. John Bosco vs. Loyola at L.A. Valley College, Friday, 7 p.m.
-- Cal-bound receiver Bryce Treggs
curiously tweeted
, "I wonder what it says about me in loyola's scouting report." Well, the Loyola Cubs' report most likely reads: "Contain No. 3!!!" But with that being said, St. John Bosco's spread offense puts Loyola in a tough predicament. Focusing entirely on Treggs could backfire, with Rene Medina and Royce Moore leading a potent, balanced attack that has averaged nearly 38 points per game. One team will improve to 4-0, the other will drop to 3-1. If the Braves emerge victorious, you can be sure Treggs will tweet on the bus ride back to Bellflower.
No. 14 Rancho Cucamonga at Charter Oak, Friday, 7 p.m.
-- Bring your best oohs and aahs because there promises to be fireworks in Covina. Two dual-threat quarterbacks will try to outdo each other -- Dimitri Morales (561 passing yards, 137 rushing, seven total touchdowns) leads the Rancho Cucamonga Cougars (3-0), who have allowed only six points in three games; Travis Santiago (798 passing yards, 228 rushing, 11 total touchdowns) has the undefeated Charter Oak Chargers (3-0) seeking respect and thinking upset.
Blair Angulo covers preps for ESPN Los Angeles. Follow him on Twitter.
September, 14, 2011
9/14/11
6:17
PM PT
The third week of high school football brings a solid collection of matchups, including another intersectional battle involving No. 2-ranked Long Beach Poly. As part of our running feature, here are this week's five must-see games in south Los Angeles County, in no particular order:
Narbonne vs. No. 2 Long Beach Poly at Veterans Stadium, Friday, 7 p.m.
-- The Jackrabbits (2-0) took care of one Marine League team last week and now turn their attention to another. Narbonne (1-0), a serious contender in the City Section, tests its rising quarterback prospect, junior Troy Williams, against a Poly defense that seems to get better by the quarter. Defending Moore League champion Poly held off the Gauchos with
a last-minute defensive stand last year
.
[+] Enlarge
Blair Angulo For ESPNLA.comMonrovia's De'Shawn Ramirez practiced with Arcadia for a brief time this summer.
Monrovia at Arcadia, Friday, 7 p.m.
-- Defending Mid-Valley Division champion Monrovia (1-0) kicked off its title defense with a victory behind the strong play of George Frazier and De'Shawn Ramirez. Ramirez, coincidentally,
practiced with Arcadia early in the summer
while his status at Monrovia was being sorted out. He was reinstated and, now, figures to play a key role Friday against his brief practice mates. The Wildcats beat Arcadia (0-1), 34-7, last year.
No. 15 Rancho Cucamonga at Muir, Friday, 7 p.m.
-- Talented Muir defensive back Kevon Seymour could get tested by Rancho Cucamonga quarterback Dimitri Morales, who has 500 passing yards and six touchdowns through two games. On offense, the Muir Mustangs (2-0) are led by tailback Tairen Owens, a Washington commit who has totaled 215 all-purpose yards. Rancho Cucamonga (2-0) could be on upset alert, especially if Seymour forces Morales and Co. to become one-dimensional.
No. 19 Lakewood vs. Mayfair at Bellflower High, Friday, 7 p.m.
-- Another chapter will be written in this fierce rivalry. The Lancers (1-1) have won the last four battles for the "Milk Bucket," retaining the trophy last year with a surprisingly close 24-14 victory. The Monsoons (1-1) look to regroup following a dizzying 56-21 loss to Los Alamitos and you can bet those wounds would heal quickly if they were to capture the bucket Friday.
Mira Costa at Serra, Friday, 7 p.m.
-- Both teams got back on track in Week 1 after tripping in their respective openers. The Mira Costa Mustangs (1-1) blanked Inglewood, 17-0; the Serra Cavaliers (1-1) did the same to Redondo Union, 21-0. And, even though it's not as lucrative as it may have been in recent years, this game has the potential to be the topic of choice across South Bay breakfast tables on Saturday morning. Can't make it out? The game will stream live on
FOXSportsWest.com
as part of the website's
Prep Zone platform
.
Don't agree with this list of top games? Does another game deserve more notoriety? Leave a comment on this post or contact ESPNLosAngeles.com preps writer Blair Angulo directly on his Twitter page. Follow @ESPNLAPreps for live in-game updates, final scores and news.