Los Angeles Preps:

Florida
March, 13, 2012
3/13/12
4:28
PM PT
By
Sean Ceglinsky
| ESPNLosAngeles.com
LOS ANGELES -- The football season ended for Su'a Cravens from Murrieta (Calif.) Vista Murrieta in early December. That, however, does not mean the gridiron goings on for the highly-touted 2013 prospect have come to a complete standstill.

The buzz is just getting started, in fact.

The recruiting process had not subsided for Cravens since the beginning of the new calendar year as Division I colleges from all over the country remain in constant contact with the 6-foot-1, 205-plus pound junior safety who has more than 25 offers.

"In some cases the hype can be bad, but overall, I think Su'a has a good problem on his hands with the whole recruiting process,'' Vista Murrieta coach Coley Candaele said. "There are times when he has to turn his phone off because of all the calls he receives on a weekly and daily basis. When it comes to talking to people, he's on a strict schedule now.''

Powerhouse programs such as Alabama, Florida, Notre Dame, Michigan, Ohio State and Oklahoma are among those interested in his services. To somewhat of a lesser extent, Arkansas, Clemson, Nebraska and Wisconsin are in the hunt for a Cravens' pledge.

A bit closer to home, seemingly every Pac-12 Conference school around has put a scholarship offer on the table for him. Nearby UCLA and USC would like nothing more than for Cravens to offer up an all-important, yet elusive to this point commitment.

"I don't have any top teams right now, there is no team ahead of any other one,'' Cravens said. "Really, I'm not worried about making a decision soon.''


March, 1, 2012
3/01/12
12:50
PM PT
By
Sean Ceglinsky
| ESPNLosAngeles.com
LOS ANGELES --
Troy Williams
was a relative unknown on the recruiting landscape around this time last year. The status of the 2013 prospect from Harbor City (Calif.) Narbonne, however, has recently changed. Rightfully so, considering his body of work lately.
The 6-foot-2, 190-plus-pound quarterback had a breakout effort during his junior season and enters the spring as one of the West Coast's hotter commodities. Williams, in fact, has emerged as legitimate prospect on the national scene as well.
"The recruiting process has been crazy lately,'' Williams said. "I'm talking to coaches from all over the the country every week. It seems like there's a lot of interest in me and that means I have to work twice as hard to keep my reputation going strong.''
Williams has scholarship offers on the table from six programs, mostly from those within the Pac-12 Conference. Arizona State, UCLA and Washington were a few of the first to jump on the bandwagon. Bowling Green, Nevada and SMU are the others.
His days of flying under the radar came to an end after Williams completed 62 percent of his passes for 3,247 yards and 34 touchdowns a season ago for the Gauchos. Equally effective on the ground, he gained 587 yards and scored 11 times.
Plans are in the works for a visit to Washington's junior day later this month. An April trip to Arizona State's junior day is the next order of business.
Williams has been contacted programs such as Oregon and USC. Clemson, Florida and Wisconsin have also expressed varied level of interest.
"I have a target on by my back, I want to be No.1 quarterback in the nation next year, but that's up to everyone in the media,'' Williams said. "Right now, I don't have a leader, you know, a school that I like the best. Everyone is about even. At some point soon, I think I'll have to narrow down my list. I am going to try and keep my options open.''
Sean Ceglinsky covers preps for ESPNLosAngeles.com. Follow him on
Twitter
.
January, 31, 2012
1/31/12
2:17
PM PT
By
Sean Ceglinsky
| ESPNLosAngeles.com
Wide receiver
Jordan Payton
from Westlake Village (Calif.) Oaks Christian committed to Washington on Tuesday, making his choice known during a live announcement on ESPNU.
Among the many others thought to be in the running for a pledge from the senior were Cal and UCLA.
The 6-foot-2, 200-pounder initially committed to USC. Payton changed his mind recently and appeared heading to Cal. In the end, however, the Huskies proved to be the best fit for Payton, considered one of the Southland's premier players.
"I like everything about Washington, I had a visit, it went well and I think I can go there and play right away if I do what the coaches tell me,'' Payton said. "I wanted to make my college pick today and have a clear mind about the future."
Payton had scholarship offers on the table from some of the country's powerhouse programs. Florida, Notre Dame, Michigan and Oklahoma had courted him for quite some time. Arkansas and Penn State were believed to be players at one point as well.
"Jordan is the type of player that is going to make an immediate impact once he reaches the next level,'' Oaks Christian coach
Bill Redell
said. "He was able to do plenty of special things for us here. We're talking about a kid with a bright future ahead of him.''
Staying close to home and playing in the Pac-12 Conference proved to be too good of an opportunity to pass up, apparently. Payton will have the chance to make things official on Wednesday morning during national signing day.
"There was a lot of indecision at first. It was hard for me to choose a school. I learned plenty of things along the way though,'' Payton said. "The whole recruiting process has been crazy. It's not one of those things for everybody. Only a few select people go through some of the things I did. Bottom line is, I'm a Husky. I couldn't be more happy.''
Sean Ceglinsky covers preps for ESPNLosAngeles.com. Follow him on
Twitter
.
October, 25, 2011
10/25/11
4:47
PM PT
By
Sean Ceglinsky
| ESPNLosAngeles.com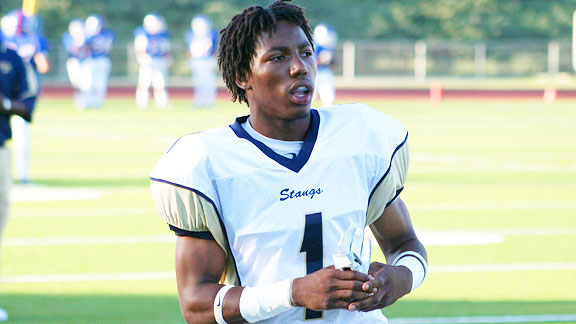 Erik McKinney/WeAreSC.comMuir's Kevon Seymour had a rough unbringing but has always vowed to make a difference.
PASADENA -- Some call the Community Arms housing project dangerous. Others call it treacherous, thus the ominous nickname: the Snake Pits.
Kevon Seymour
simply calls it home.
The highly-touted senior for the Muir High School football team has spent 17 years growing up in the neighborhood, known to be as tough as they come in the greater Los Angeles area. Seymour is fully aware of the, often times, unforgiving streets surrounding him. He possesses a good understanding about the constant threat of gang activity looming outside his door.
Nevertheless, Seymour has avoided hanging out with the wrong crowd. Developing bad habits was never an option. Succumbing to peer pressure was not in the cards. Instead, he has focused his time and energy on doing something better with his life.
"I'm a leader, not a follower,'' Seymour said.
And therein lies the key. He has successful navigated the numerous potential pitfalls in his path, both on and off the field. Given his life experiences, it should come as no surprise to learn Seymour has provided the Mustangs (4-3 overall) with an immeasurable presence this season as they head into Friday night's Pacific League game against Burbank Burroughs.
"Where I come from, they call it the Snake Pits for a reason,'' Seymour said. "There is a lot of fighting, gang violence and crime that goes on around here. I see it all the time. I've had friends who have been in some trouble. I know it happens in other places too. Where I live isn't as bad as some places. But I have seen some crazy things in my life.
"All that stuff isn't me though. I'm smarter than that. I'm also lucky. I have a good family life and there are a lot of people in my community who look after me. They want me to be a success. I'm motivated to make a difference, to do something special.''
Seymour is doing just that: Making a difference.