Los Angeles Preps:

Fontana Kaiser
May, 30, 2011
5/30/11
3:59
PM PT
By
Dan Arritt
| ESPNLosAngeles.com
SOUTHERN SECTION SOFTBALL SEMIFINALS
TOP CHOICE
Division 1
Corona Santiago at Orange El Modena, Tuesday, 3:15 p.m.
When it comes to entertainment, these teams belong right at the top. Santiago won its
quarterfinal game
Thursday at Huntington Beach Marina on an eighth-inning solo home run by No. 9 hitter
Brenda Lee
. The Vanguards
survived
the second round with a 12-11 victory against second-seeded Etiwanda, throwing out the tying run at the plate to end the game after the runner tried to score from first on ball hit into the gap. El Modena traveled to Valencia the next day and scored twice in the seventh to defeat the Vikings, 5-4. The Vanguards are led by Michigan-bound pitcher
Haylie Wagner
, who is probably most dangerous with a bat in her hands. El Modena needs to figure out a way to keep Santiago lead-off hitter
Lauren Sweet
off the bases. The senior catcher is also a threat to hit the ball out of the park, owning 13 home runs for the third-seeded Sharks this season.
SECOND BEST
Division 3
Chino Hills at Westlake Village Oaks Christian, Tuesday, 3:15 p.m.
These teams met in a quarterfinal last season and Chino Hills walked away with a 5-0 victory behind a four-hitter from sophomore pitcher
Nikki Innamorato
. Now a year older, Innamorato is sporting an 18-5 record for the fourth-seeded Huskies, who have allowed a total of one run in their three previous playoff victories. Chino Hills features five starters hitting .367 or better, led by junior third baseman
Garie Blando
(.430). Oaks Christian is the top-seeded team in the division and the Lions have played like it, shutting out their last five opponents. Senior pitcher
Kiana Quolas
(Coastal Carolina) has been leading the defensive effort, notching 27 consecutive scoreless innings from the circle.
THE REST
May, 11, 2011
5/11/11
1:47
PM PT
By
Dan Arritt
| ESPNLosAngeles.com
The Corona Santiago baseball team might not be in the hunt for the Big VIII League championship this season, but the Sharks had a big hand in helping Riverside King clinch at least a share of the title.

Santiago traveled to Riverside North on Tuesday and scored six runs in the fifth inning, then let right-hander Steven Pallares finish off the Huskies in the 6-2 victory.

North (21-7, 9-4) came into the game tied with King (18-8, 10-3) for first place, but the Wolves now control their own destiny.

Santiago (18-8, 8-5) was led by sophomore Michael Darr with three hits and an RBI. Pallares allowed one earned run on seven hits and struck out 11 in the complete game.

King travels to North on Thursday, where a victory would give the Wolves sole possession of first place and the No. 1 seeding from the league heading into the Southern Section Division 1 playoffs next week.

If the Huskies win, they would be co-champions and the league's top-seeded team because of their sweep against King this season. North would also make the rare leap from last in the league standings a year ago to first.

Over in the Sunkist League, Fontana Summit defeated Fontana Kaiser, 5-1, to keep its league title hopes alive. The SkyHawks are 9-5 in league play with a game remaining Thursday at Riverside Patriot, which is tied for third at 7-7.

Kaiser fell to 10-4 in league and travels Thursday to Bloomington (7-7) for another regular-season finale. Summit owns the tiebreaker against Kaiser because it won two of three against the Cats this season.

Lake Elsinore Temescal Canyon clinched the Sunbelt League title Tuesday with a 2-1 victory against Lake Elsinore Lakeside.

Palm Desert (Desert Valley League) and Redlands (Citrus Belt League) also won Tuesday to lock up the No. 1 seeds from their respective leagues.

Here's a list of the leagues that have key games on today's slate.


November, 16, 2010
11/16/10
4:26
PM PT
By
Dan Arritt
| ESPNLosAngeles.com
For the first time this season, the top 10 went 10-0, giving ESPNLA a bye when it comes to resetting the rankings.

1. (1) Corona Centennial, 10-0

The Huskies have scored 564 points in 10 games. If they can maintain that pace through the next four playoff games, they would total 789 points, which would be third on the all-time Southern Section list. Last week: Beat Eastvale Roosevelt, 63-21. Next: vs. Yucaipa, Friday.

2. (2) Vista Murrieta, 9-1

For all the hard work the Broncos undertook to be the second-seeded team in the Inland Division, the bracketologists didn't do them any favors, placing Norco and Roosevelt in the same lower half of the bracket. Last week: Beat Murrieta Mesa, 59-6. Next: vs. Covina Charter Oak, Friday.

3. (3) Eastvale Roosevelt, 8-2

The Mustangs got the Centennial "treatment" last weekend, giving up touchdowns on the Huskies' first nine possessions before finally calling "mercy." Now they'll face another high-octane offense led by one of the Southland's top quarterbacks. Last week: Lost to Centennial, 63-21. Next: vs. Claremont, Friday.

4. (4) Norco, 8-2

The Cougars have their best receiver back, tight end Joshua Long, who suffered a shoulder injury in Week 3 against Upland. He showed his value to the passing game Friday, scoring on a 37-yard reception to give Norco a 7-0 lead. Last week: Beat Corona, 21-14. Next: at Redlands, Friday.

5. (5) Fontana Kaiser, 10-0

The Cats won their 17th consecutive Sunkist League game Thursday night. Now they'll turn their attention to winning an Eastern Division title, which should be a whole lot easier with the Desert Valley League now competing in the Central. Last week: Beat Bloomington, 44-8. Next: vs. Apple Valley, Friday.


November, 14, 2010
11/14/10
12:09
PM PT
By
Dan Arritt
| ESPNLosAngeles.com
INLAND DIVISION

Seeded teams:

1. Corona Centennial; 2. Vista Murrieta; 3. Rancho Cucamonga; 4. Chino Hills

At-large selection:

None

Best first-round game:

Temecula Chaparral (4-6) at Upland (7-3) – Chaparral is the defending Inland Division champion, while Upland won the Central Division title last season. Chaparral was the preseason favorite to repeat, but a 1-5 start ending any discussion of that. Still, the Pumas tend to get better as the season rolls along.

Best potential second-round game:

Vista Murrieta (9-1) at Norco (8-2) – Both of these teams should survive the first round to create a semifinal-type second-round matchup. Norco's upset loss to Eastvale Roosevelt on Oct. 8 ultimately dropped them into third place and created this nightmare matchup for Southwestern League champ Vista Murrieta.

Prediction:

Corona Centennial should walk through this division, especially with either Vista Murrieta or Norco getting knocked off in the second round. Corona Centennial 56, Norco 7.


November, 9, 2010
11/09/10
7:37
AM PT
By
Dan Arritt
| ESPNLosAngeles.com
A couple eye-popping upsets caused some re-arranging at the bottom end of the rankings. Palm Springs disposed of La Quinta in a Desert Valley League game, and Fontana Miller knocked off Redlands in the Citrus Belt League. Rancho Cucamonga rejoins the top 10 as it continues to run the table in the Baseline League, and Romoland Heritage drops in after an impressive win against Elsinore.

1. (1) Corona Centennial, 9-0

The Huskies beat Corona by 61 points last weekend, in doing so sending a message to the folks in charge of the state bowl berths. After all, Mission Viejo only beat Corona by 22 earlier this season. Last week: Beat Corona, 82-21. Next: at Eastvale Roosevelt, Friday.

2. (2) Vista Murrieta, 8-1

Whoever thought Vista Murrieta's biggest obstacle in its run to another Southwestern League title would be Murrieta Valley? The collapse of Temecula Chaparral was an event few could have predicted two months ago. Last week: Beat Murrieta Valley, 38-15. Next: at Murrieta Mesa, Friday.

3. (3) Eastvale Roosevelt, 8-1

If only the Mustangs didn't lay an egg against Corona Santiago in their Big VIII League opener, we'd be writing about two undefeated teams going head-to-head this Friday for the league title. Last week: Beat Riverside King, 49-20. Next: vs. Centennial, Friday.

4. (4) Norco, 7-2

The Cougars qualified for the playoffs for the 24th consecutive season but won't finish any better than third in the Big VIII, creating a nightmare first-round match-up for their playoff opponent. Last week: Beat Riverside Poly, 42-21. Next: vs. Corona, Friday.

5. (5) Fontana Kaiser, 9-0

Despite allowing just two first downs and forcing four turnovers, the Cats were still losing late in the game Friday against Fontana Summit. Then they stepped on the gas and scored 16 points in the final 4 ½ minutes. Last week: Beat Summit, 19-7. Next: at Bloomington, Thursday.


November, 5, 2010
11/05/10
11:27
PM PT
By
Dan Arritt
| ESPNLosAngeles.com
FONTANA — Summit was 4 ½ minutes away from posting the biggest upset in the program's short history, but then Kaiser snatched it all away.
The Cats,
ranked No. 15
in the Southland by ESPNLA.com, scored 16 points in the final minutes Friday night to escape with a 19-7 victory against visiting Summit and give the program at least a share of its 10
th
consecutive Sunkist League title.
The turning point came when Kaiser punted the ball inside the Summit one-yard line with 9:43 remaining. The SkyHawks, who had two first downs through that point of the game, could not move the chains and was forced to punt.
Kaiser (9-0, 4-0) took over at the Summit 29 and began marching toward the SkyHawks' end zone. On fourth and two at the seven-yard line, Kaiser quarterback
David Bedran
sneaked for the first down. One play later, running back
Jimmy Awolesi
broke through some are tackles and scored on a five-yard run to give the Cats their first lead, 10-7.
Summit again failed to get a first down and a bad snap on the ensuing punt went out of the end zone for a safety. Kaiser recovered an on-sides attempt and continued moving the ball against a tired Summit defense, eventually scoring on Bedran's one-yard sneak to push its lead to 19-7.
November, 4, 2010
11/04/10
2:42
PM PT
By
Dan Arritt
| ESPNLosAngeles.com
ESPNLA
finally gets to sort out the question for ourselves.
Just how good is Fontana Kaiser?
We hope to find out Friday night beginning at 7 p.m., when the Cats, ranked No. 15 in the Southland
by ESPNLA
, host Fontana Summit in a battle for first place in the Sunkist League.
Looking at Kaiser's results this season and it's clear there's something special under the hood.
The Cats (8-0, 3-0) shutout San Bernardino Cajon, 35-0, on Sept. 24. Cajon is ranked No. 5 in the Central Division and sits in sole possession of first place in the San Andreas League. A week later, they blew out No. 8 Palm Desert, 48-0, and prior to that shut out Big VIII League member Riverside North, 28-0.
Summit (6-1-1, 3-0) has been more streaky this season, but has the talent to make a run at Kaiser.
The SkyHawks opened the season with an impressive 42-35 victory against Etiwanda, then tied Redlands, 24-24, despite missing its best player,
Devon Blackmon
, due to an ankle injury. Blackmon, who plays defensive back and rotates among the skill positions on offense, is the
third-highest rated
recruit in the Southland by ESPNLA.
The SkyHawks were at full strength Oct. 1 against Victorville Silverado, but lost, 20-18, knocking them from their perch in the Eastern Division. Now that spot is occupied by the Cats, with Summit down at No. 4.
Three more to see:
La Quinta (7-1, 3-0) at Palm Springs (7-1, 3-0), Friday–This game has settled the Desert Valley League championship the last two seasons and this year appears no different. La Quinta defeated the Indians, 44-22, last season, but Palm Springs went on to win its first Southern Section title. La Quinta is ranked No. 2 in the Central Division, Palm Springs is No. 3. ESPNLA.com's pick: La Quinta 24, Palm Springs 17.
October, 26, 2010
10/26/10
11:59
AM PT
By
Dan Arritt
| ESPNLosAngeles.com
The drumbeat is growing louder in the Inland Empire as a number of top 10 teams prepare to face their league rivals. Corona Centennial still must wade through Norco and Eastvale Roosevelt, Fontana Kaiser has Fontana Summit on the horizon, La Quinta must get past Palm Springs and Palm Desert, Moreno Valley Rancho Verde hasn't played anybody until it meets Riverside Arlington and Upland gets a showdown this week against Rancho Cucamonga.

1. (1) Centennial, 7-0

Dual-threat quarterback Michael Eubank received his second and third scholarship offers last week (San Jose State and Utah State), then went out and rushed for a season-high 128 yards against Corona Santiago. Last week: Beat Santiago, 69-13. Next: at Norco, Friday.

2. (3) Norco, 6-1

Horsetown USA is known for its equestrian lifestyle, lack of sidewalks and a pretty good high school football team. Visitors can see all three Friday when the Cougars host their biggest game since 2007. Last week: Beat Riverside King, 35-15. Next: vs. Centennial, Friday.

3. (2) Vista Murrieta, 6-1

Something about the Broncos isn't adding up to a second consecutive appearance in the Inland Division championship game. Could be the 21.5 points a game their opponents are putting up this season? Last week: Beat Temecula Valley, 33-22. Next: vs. Temecula Great Oak, Friday.

4. (5) Roosevelt, 6-1

If you haven't jumped on the Roosevelt bandwagon, it might be time to hitch a ride. The Mustangs just put up 56 points on a defense led by former USC standout and NFL first-round pick Chris Claiborne. Last week: Beat Corona, 56-35. Next: vs. Riverside North at King, Thursday.

5. (4) Kaiser, 7-0

The Cats are putting up more zeros than Cliff Lee and Tim Lincecum combined. They have five shutouts and have allowed just 20 points this season. Last Week: Beat Riverside Patriot, 49-0. Next: at Riverside Notre Vista, Friday.


October, 19, 2010
10/19/10
3:30
PM PT
By
Dan Arritt
| ESPNLosAngeles.com
The cream continues to rise to the top in the Inland Empire. Corona Centennial, Vista Murrieta, Norco and Fontana Kaiser averaged nearly 50 points in their victories last weekend, while allowing an average of 13. Redlands East Valley beat Redlands to take its spot in the top 10, and Riverside King did the same to Corona.

1. (1) Centennial, 6-0

The Huskies haven't scored less than 44 points in a game this season, putting them on pace to outscore their basketball team. Last week: Beat Riverside North, 49-7. Next: vs. Corona Santiago, Friday.

2. (2) Vista Murrieta, 5-1

Well, the Southwestern League race was fun while at lasted, all 2 ½ quarters worth. Now the Broncos can start thinking of ways to beat Centennial. Last week: Beat Temecula Chaparral, 45-17. Next: at Temecula Valley, Friday.

3. (3) Norco, 5-1

Somebody had to pay for Norco's loss to Eastvale Roosevelt the week before and Corona Santiago just happened to be up next. Last week: Beat Santiago, 49-28. Next: vs. King, Friday.

4. (4) Kaiser, 6-0

The Cats posted their fourth shutout of the season last weekend. Maybe their defense can meet Centennial in a back alley somewhere? Last week: Beat Mira Loma Jurupa Valley, 55-0. Next: vs. Riverside Patriot at Riverside Rubidoux, Friday.

5. (5) Roosevelt, 5-1

The Roosevelt-Norco-Santiago triangle is complete, so ESPNLA.com doesn't feel so bad about ranking Roosevelt behind Norco anymore. Last week: Beat Riverside Poly, 27-8. Next: vs. Corona, Friday.


October, 12, 2010
10/12/10
3:49
PM PT
By
Dan Arritt
| ESPNLosAngeles.com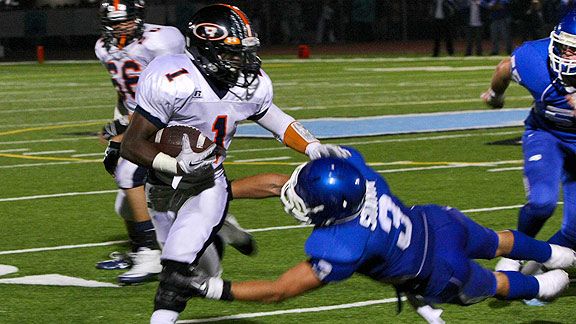 Courtesy of Paul Moureaux
Eastvale Roosevelt running back Buster Jackson helped the Mustangs upset Norco, 24-21, and create a logjam in the Big VIII League standings.
Corona Centennial continues to sit on its perch while the rest of the Big VIII League teams knock each other off. Corona Santiago defeated Eastvale Roosevelt in Week 3, then turned around and lost to Riverside King in Week 4. A night later, Roosevelt toppled Norco, putting ESPNLA.com in a no-win situation when it comes to establishing an Inland Empire top 10.
1. (1) Centennial, 5-0
The Huskies are averaging 51 points this season, putting them on pace for 714 through 14 games. Only Westlake Village Oaks Christian (2004, '06) and Bloomington (1994, '96, '97) have scored more in Southern Section history. Last week: Beat Riverside Poly, 52-8. Next: vs. Riverside North, Friday.
2. (3) Vista Murrieta, 4-1
Javonte Slater is headed to USC on a track and field scholarship, but he continues to prove he's more than just a straight-ahead runner. He had a season-high 145 rushing yards last weekend against Palisades. Last week: Defeated Palisades, 45-16. Next: vs. Temecula Chaparral, Thursday.
3. (2) Norco, 4-1
Something happened on the way to that showdown with Centennial on Oct. 29. The Cougars got run down by the Mustangs of Roosevelt. Last week: Lost to Roosevelt, 24-21. Next: at Santiago, Friday.
4. (4) Fontana Kaiser, 5-0
OK, so the Cats aren't perfect, giving up their first points since Week 1. Still, they managed to score 55 points in a game that lasted just under 90 minutes because officials used a running clock from the second quarter on. Last week: Beat Hesperia, 55-14. Next: vs. Mira Loma Jurupa Valley, Friday.
5. (10) Roosevelt, 4-1
Excuse the Mustangs for over-celebrating their upset victory against Norco last weekend. The program is only four years old and, quite frankly, that was its biggest victory to date. Last week: Beat Norco, 24-21. Next: vs. Poly, Friday.
October, 4, 2010
10/04/10
5:39
PM PT
By
Dan Arritt
| ESPNLosAngeles.com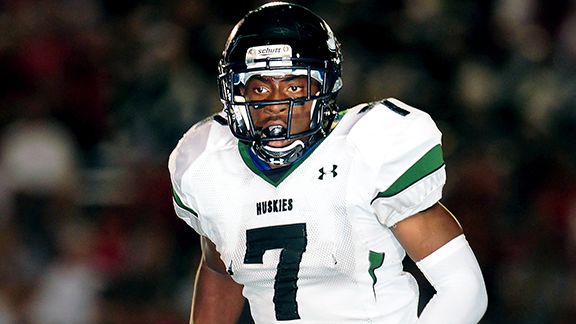 Courtesy of Lee Calkins
Ifo Ekpre-Olomu of Chino Hills, ESPN's No. 1 cornerback prospect in California, suffered a shoulder injury against Redlands East Valley last week.
1. A big sigh of relief at Chino Hills High, where two-way standout
Ifo Ekpre-Olomu
is expected to be back on the field when the Huskies travel to Claremont for their Sierra League opener Oct. 15. Ekpre-Olomu, rated as the
No. 1 cornerback prospect
in the state by ESPN, injured his right shoulder late in the third quarter of a 14-3 victory Friday night against Redlands East Valley and did not return. "Nothing's broke, just a sprain," Chino Hills coach
Derek Bub
said Monday. As a precaution, Ekpre-Olomu was scheduled to see a doctor later Monday, Bub said, but the possibility of any structural damage has been reduced. Ekpre-Olomu would be an especially big asset against Claremont, as the Wolfpack are led by one of the state's top quarterbacks,
Daniel Kessler
, who has thrown for 1,513 yards and 16 touchdowns this season.
2. Despite the return of its own blue-chip prospect, Fontana Summit suffered one of the bigger upsets of the season Friday night. The SkyHawks, the top-ranked team in the Southern Section Eastern Division, were downed by unranked Victorville Silverado, 20-18, at Fontana Miller High.
Devon Blackmon
of Summit,
ranked by ESPN
as the 36
th
best college prospect in the nation, missed the two previous games because of an ankle injury but was back on the field against the Hawks, catching five passes for 36 yards. Unfortunately, kicking is not in his skill set. The SkyHawks missed the point-after following their first two touchdowns, forcing them to try an unsuccessful two-point conversion with 90 seconds remaining.
September, 28, 2010
9/28/10
3:27
PM PT
By
Dan Arritt
| ESPNLosAngeles.com
If there was any doubt which was the best team in the Inland Empire, Corona Centennial put that to rest Friday night with a 45-12 victory against host Temecula Chaparral. Norco leapfrogged Vista Murrieta with its second victory against a quality opponent, and Redlands East Valley, Rancho Cucamonga and Fontana Kaiser make their season debuts in the top 10 after undefeated starts.

1. (1) Corona Centennial, 3-0

The Huskies destroyed their nonleague competition, now the rest of the Big VIII League can see what they've been missing. Last week: Beat Temecula Chaparral, 45-12. Next: vs. Riverside King, Friday.

2. (3) Norco, 3-0

Just when you think the Cougars might get tested, they turn to Stanford-bound running back Kelsey Young for all the answers. Last week: Beat Upland, 35-21. Next: vs. Riverside North at Riverside King, Friday.

3. (2) Vista Murrieta, 3-0

The Broncos are getting better on both sides of the ball, evident by their thrashing of Rancho Cucamonga Los Osos last weekend. The Southwestern League title looks like theirs to lose. Last week: Beat Los Osos, 30-7. Next: vs. Encino Crespi, Friday.

4. (NR) Redlands East Valley, 3-0

Can't discount the Wildcats any longer after their victory against Orange Lutheran. The next two weeks will determine if they have any staying power. Last week: Beat Orange Lutheran, 10-6. Next: vs. Chino Hills at University of Redlands, Friday.

5. (4) Upland, 3-1

The Highlanders couldn't catch up with the Cougars, but the loss shouldn't put them far behind. Last week: Lost to Norco, 35-21. Next: vs. Los Angeles Loyola at L.A. Valley College, Friday.\