Los Angeles Preps:

Fresno Bullard
March, 15, 2012
3/15/12
8:01
PM PT
By
Sean Ceglinsky
| ESPNLosAngeles.com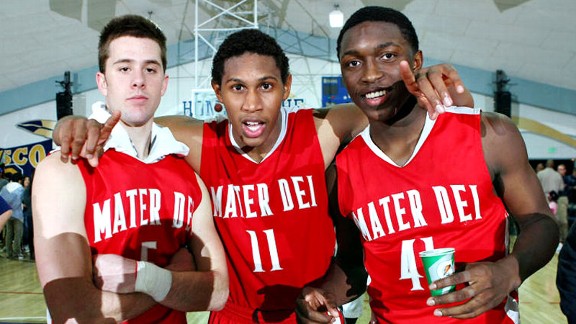 Courtesy of Nick KozaFrom left, Katin Reinhardt, Xavier Johnson and Stanley Johnson are key cogs in Mater Dei's success.
SANTA ANA -- Most prep basketball teams from this region are lucky to have at least one star player on their roster. A select few programs suited up a pair of standouts in the same uniform. One school, however, was fortunate enough to have a trio of high-profile prospects in their mix: Santa Ana Mater Dei.
When opponents focused their efforts on limiting the effectiveness of
Katin Reinhardt
, the Monarchs countered with the equally dangerous
Xavier Johnson
. When defenses shifted toward him, a more-than-capable
Stanley Johnson
stepped to the forefront.
Slowing down one player was entirely possible. Shutting down two proved to be quite daunting. Completely stopping the Southland's makeshift version of "The Big Three," albeit on a much smaller scale in comparison to the moniker recently made so well-known in NBA circles, was not met with much success.
"Go ahead, pick your poison,'' said Reinhardt during practice this past week as top-seeded Mater Dei (32-2 overall) prepared for sixth-seeded Fresno Bullard (33-3) in Saturday night's Division I championship game of the Southern California Regional Playoffs at Citizens Business Bank Arena in Ontario. The winner advances to next week's CIF State finals in Sacramento.
"We're not trying to be 'The Big Three' from the Boston Celtics, maybe the Miami Heat. Just kidding,'' Stanley Johnson said. "People give us nicknames, we hear the hype about the three of us, but we don't think about it. We're just Katin, Xavier and Stanley.''
Fair enough.
Whatever the case, it's difficult to argue with the success the Monarchs have enjoyed this season with Reinhardt, and the Johnsons -- who are not related -- leading the way of course.
They have gone wire-to-wire as the top-ranked team in the ESPNLosAngeles.com top 20. On the national level, it has been more of the same. Mater Dei is No. 8 in the country by ESPNHS in its latest Powerade Fab 50 rankings.
"We want to leave a legacy as, maybe, the three best players to come through Mater Dei. At same time, we know there is a lot of history at this school,'' Xavier Johnson said. "The big things for us, we're all so competitive and unselfish. Three heads are better than one.''
March, 13, 2012
3/13/12
9:49
PM PT
Madness struck in Long Beach on Tuesday night.
Second-seeded Long Beach Poly fell to Fresno Bullard in a shocker at Cabrillo High School, eliminating the Jackrabbits from the Southern California Regionals Boys Division I playoffs.
Junior forward
Jordan Bell
blocked a potential tying shot, but the ball deflected out near mid court, where Bullard's
Walter Orr
scooped it and heaved a turnaround jumper that swished through the net to give the visitors the improbable win.
Bullard advanced to the title game to play top-seeded Mater Dei, the defending state champion, on Saturday at Citizens Bank Arena in Ontario.
The winner will play for the state title in Sacramento the following weekend.
Click here
for video of the dramatic shot.
March, 10, 2012
3/10/12
11:39
PM PT
By
Dan Arritt
| ESPNLosAngeles.com
The Woodland Hills Taft boys' basketball team, seeded third in the Southern California Regional Division I playoffs, was upset Saturday night by visiting Fresno Bullard, 70-63.

Taft led by nine points at the half and appeared headed to a semifinal meeting against second-seeded Long Beach Poly, but Bullard opened the third quarter on an 8-0 run en route to outscoring the Toreadors, 48-32, in the second half.

Kris Yanku scored 18 points to lead Taft and Anthony January had 14 before fouling out with 25 seconds remaining.

Corey Silverstrom scored 23 points to lead Bullard to its biggest victory in program history.

In Division II:
Inglewood 60, Elsinore 55 -- The fifth-seeded Sentinels knocked off the fourth-seeded Tigers and earned a semifinal matchup Tuesday at top-seeded La Costa Canyon. Second-seeded Mayfair advanced to the semifinals in the bottom half of the bracket, knocking off San Joaquin Memorial, 49-48, and will host third-seeded San Diego Lincoln.

In Division III:
San Diego Cathedral Catholic 89, Oak Park 79 (2OT) -- After letting a four-point lead slip away at the start of the fourth quarter, Oak Park climbed back from a seven-point deficit with two minutes remaining to force the first overtime. The fifth-seeded Eagles then hit a buzzer-beating 3-point shot to force the second extra period. Oak Park scored the first three points of the second overtime before the fourth-seeded Dons seized control for good.

Pasadena 77, Bell 44 -- Pasadena senior shooting guard Blake Hamilton scored 23 of his 25 points in the opening half as the second-seeded Bulldogs built a 53-17 lead. Pasadena will meet sixth-seeded St. John Bosco in the semifinals Tuesday at Monrovia High. St. John Bosco upset third-seeded Calabasas in another quarterfinal.

In Division IV:
Pacific Hills 62, Crespi 54 – The fifth-seeded Bruins trailed by nine points at the half but stormed back over the final two quarters to beat the fourth-seeded Celts. Pacific Hills will meet top-seeded Gardena Serra in Tuesday's semifinals. Serra knocked off ninth-seeded San Diego Francis Parker, 53-31.

La Verne Lutheran 57, Visalia Central Valley Christian 52 – Lutheran forward Grant Jerrett scored 27 points to lead the second-seeded Trojans to the victory. Lutheran advanced to play Price, a 67-51 winner against La Jolla Country Day in another quarterfinal. Lutheran beat Price by two points in the regular-season finale.

In girls' Division I:
Summit 45, Corona Santiago 44 – The fifth-seeded SkyHawks held on to beat the fourth-seeded Sharks. Summit took a six-point lead with 1:37 remaining, but Santiago sophomore Chrishae Rowe converted a four-point play with a minute left to pull the Sharks back to within two. Summit didn't give up the lead, however, and moves on to a semifinal meeting Tuesday against top-seeded Mater Dei.

Second-seeded Brea Olinda will host third-seeded Long Beach Poly in the other semifinal.

In Division II:
Foothill 50, Ventura 48 – A steal and layup by Dayanara Armenta with 2:49 remaining gave fifth-seeded Foothill a 45-36 lead, and the Knights held on to beat fourth-seeded Ventura. Foothill will meet top-seeded Lynwood in one semifinal, while second-seeded J.W. North and sixth-seeded Palisades will play in the other.