Los Angeles Preps:

Garrett Horine
February, 15, 2012
2/15/12
10:50
PM PT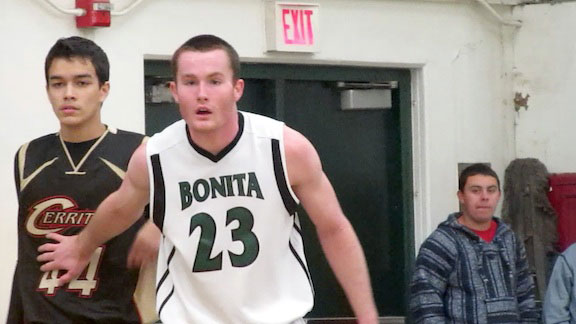 Blair Angulo for ESPNLA.comGarrett Horine scored 17 points in Bonita's easy first-round playoff victory on Wednesday night.
LA VERNE -- Fans trickled into Bonita's old gym through a single door Wednesday night without much commotion. The wooden bleachers weren't filled to capacity, a steady rain maybe discouraging some from leaving the warmth of their homes.
It wasn't loud. It wasn't extravagant. It was basketball in its purest form: Crisp ball movement and suffocating man-to-man defense. Just the way Bonita coach
Greg Eckler
likes it.
Rather silently, seventh-seeded Bonita improved to 24-4 on the season and ran its winning streak to 15 games with a dominant 80-28 victory against Cerritos in the first round of the CIF-Southern Section Division 3AAA boys' basketball playoffs. The Bearcats advanced to meet unseeded Brea Olinda on Friday. They don't get much publicity, and Eckler understands why: It won't happen with two-time defending state champion La Verne Lutheran a mere three blocks away. And it won't happen with two-loss Damien, located less than two miles from Bonita, stealing the city's headlines.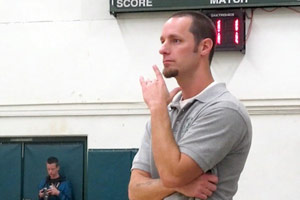 Blair Angulo/For ESPNLA.comBonita coach Greg Eckler has seen his team power its way to a 24-4 record this season.
But the small town's third team is pretty good, too.
"It's great that we've got a strong little basketball area," Eckler says of La Verne, a town with a population of 33,000 that is nestled in the foothills of the San Gabriel mountains some 35 miles east of downtown Los Angeles. "It speaks to what's going on out here. A lot of people don't talk about La Verne being a dominant city when it comes to basketball, but for a couple of years now we've had three solid teams."
Bonita, the Hacienda League champion, is fine with thriving in the shadows. Lutheran has the state's only McDonald's All-American in Arizona-bound forward
Grant Jerrett
. It has hung CIF state championship banners each of the last two seasons. Damien has Saint Mary's-bound forward
Chris Reyes
and a state-of-the-art gym.
Bonita, though, has scrappers and hustlers and a standout football player manning the post.
"Not one guy is a star," says senior
Garrett Horine
, the school's leading receiver last season. "We all share the ball and work hard."
Six players scored in double figures Wednesday night; Horine led the way with 17. The Bearcats went on a defense-fueled 33-2 run in the first half, and held Cerritos to four points in the third quarter.
"We certainly don't get the publicity," says Eckler, who's in his 10th season. "But when [Lutheran and Damien] have the kids that they've got, they're going to get more publicity."
November, 18, 2011
11/18/11
9:30
AM PT
It's win or go home now. Here are Friday night's top first-round playoff games in south Los Angeles County:
Pac-5: Huntington Beach (8-2) vs. No. 16 Loyola (8-2) at L.A. Valley College, 7 p.m.
— The Loyola Cubs have some momentum after coming back from a 15-point deficit in the Serra League finale against Crespi. Loyola tailback Wyatt Bradford could eclipse the 1,000-yard mark, and senior quarterback Nick Cotton is coming off his best game of the season (17 of 28 for a season-high 208 yards and four touchdowns). The impressive thing about the Cubs is that if opposing teams want to grind it out, they will too.
Inland: Corona Santiago (7-3) at No. 19 Charter Oak (9-1), 7 p.m.
— The Sierra League champion Charter Oak Chargers might be the league's only hope for a playoff win, given that third-place Damien plays at Vista Murrieta and runner-up Chino Hills heads to Rancho Cucamonga. An attractive matchup against undefeated Upland looms in the second round, but senior quarterback Travis Santiago (2,629 passing yards and 21 touchdowns) will have to steer his group clear of overlooking Corona Santiago.
Southeast: Bonita (6-4) at Arcadia (8-2), 7 p.m.
— The defending Southeast Division runner-up Bonita Bearcats capped the regular season with four consecutive wins, so they've got a bit of swagger heading into this one. It's not the same team coach Eric Podley had last year but running backs Cameron Griffin and Reggie Turner and receiver Garrett Horine were capable weapons during the season. And speaking of weapons, Arcadia has its share in quarterback Myles Carr, the top-rated signal caller in the area according to ESPNU Recruiting, and Washington-bound receiver Taylor Lagace.
Mid-Valley: Pomona (6-4) at Monrovia (7-3), 7 p.m.
— Will defending Mid-Valley Division champion Monrovia take its first step toward a repeat? Highly touted defensive tackle Ellis McCarthy, rising linebacker prospect George Frazier and the rest of the Wildcats defense appears to have found its groove in Rio Hondo League play, allowing under six points per game on average. Monrovia might be on upset alert, though: Three of Pomona's four losses were by a combined 10 points, and the Red Devils gave top-seeded Covina all it could handle.
Blair Angulo covers preps for ESPN Los Angeles. Follow him on Twitter.
September, 6, 2011
9/06/11
6:53
PM PT
Tanner Diebold
admitted he felt jittery, if not completely nervous, when he saw fans streaming into Citrus Stadium for the annual Smudge Pot game between rivals Bonita and San Dimas on Thursday night. The sophomore quarterback attended the showdown in 2010 but going as a fan didn't quite prepare him for what he felt on the field during pregame.
[+] Enlarge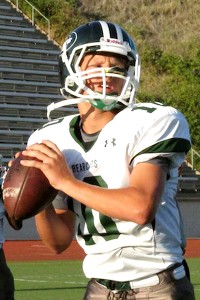 Blair Angulo/For ESPNLA.comTanner Diebold's first varsity start was in the Smudge Pot game, leading Bonita over San Dimas.
"Before it all started I was real nervous," Diebold said following Bonita's dominant 40-20 win. "After the first series everything settled down. It was like playing in any other game."
Diebold, making his first varsity appearance, was shaky throwing the ball, completing only five of 13 pass attempts for 71 yards. He missed some throws early, though his receivers dropped at least four balls. Diebold made an adjustment and his first throw of the second half was a 19-yard laser up the middle that led
Garrett Horine
into the end zone. Bonita's student section, one of the liveliest in the area, chanted his name on various occasions.
Bonita coach
Eric Podley
said Diebold "looked like a rookie" but, overall, was pleased with how the sophomore directed his shotgun offense.
"I think he has unlimited capabilities," Podley said. "But he's got to show some progress."
Some of that development hinges on how he adjusts to the faster pace of the varsity game. Diebold guided Bonita's freshmen team to a 10-0 record last year, but he said he could stand in the pocket for a good while and scan every option. Now Diebold has to make his read and fire quickly.
September, 1, 2011
9/01/11
11:31
PM PT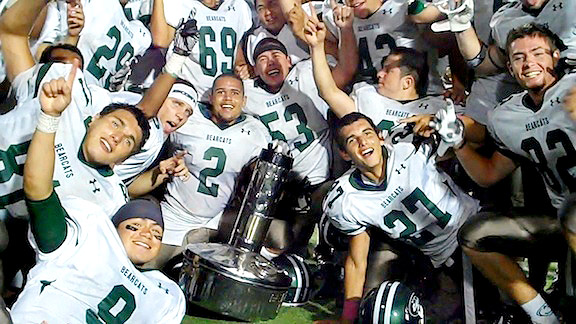 Blair Angulo for ESPNLA.comBonita players huddle around the Smudge Pot trophy after beating their rivals from San Dimas.
GLENDORA -- After the dust had settled and Bonita had hoisted the Smudge Pot trophy for the second straight year, Bearcats coach
Eric Podley
could breathe a sigh of relief.
"This means a renewal of my contract," Podley said jokingly. "I'll be back next year."
All kidding aside, Bonita looked like the team that reached the Southeast Division championship game last season, beating rival San Dimas handily, 40-20, in the annual Smudge Pot game Thursday night at Citrus College. The Bearcats claimed the hardware for the second straight season and have inched closer in the head-to-head series, which San Dimas now leads 22-17-1.
"The first goal we always have when we meet as a team, our number one goal, is to keep coach Podley employed," Podley said with a smile, not shying away from speaking in the third-person.
The Bearcats (1-0) led 10-6 at halftime before outscoring the Saints (0-1) 17-0 in the third quarter. Tailback
Cameron Griffin
had a pair of touchdown runs to go along with 64 yards rushing, receiver
Garrett Horine
scored twice and tailback
Reggie Turner
added another.
"We'll be running the ball a lot more this year," Griffin said. "You'll see more touchdowns."