Los Angeles Preps:

Gary Harris
December, 28, 2011
12/28/11
6:47
PM PT
By
Sean Ceglinsky
| ESPNLosAngeles.com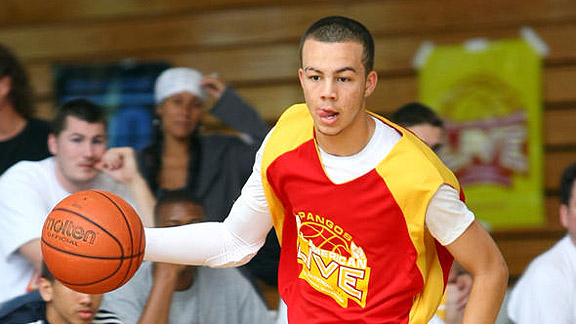 Nick KozaGabe York had to bide his time at Orange Lutheran, but now he's a mainstay and averaging 27 points.
LOS ANGELES -- As
Gabe York
dribbles across halfcourt, his head is up, eyes constantly scanning the floor on the lookout for an open teammate. The ball appears on to be on a tightly-wound yo-yo string attached to the right hand of the senior from Orange Lutheran.
A split second later, York effortlessly switches things up and heads directly toward the basket with his left. Forget about the two undersized guards tugging on his jersey in an effort to keep pace. The small forward charging straight at him offers little, or no, resistance.
A jump-stop at the free-throw line draws the attention of a pair of post players, essentially freezing the tandem in their tracks. With the focus on him, York passes up a tough jumper in the lane and tosses a well-placed bounce pass that leads to an uncontested layup.
The scenario has played out on more than a few occasions.
Nevertheless, his decision-making process has rarely wavered despite the fact opponents have regularly designed game plans around stopping York. Suppose that best explains why the Arizona-bound guard is considered one of the nation's premier players in his class.
"Teams are all over Gabe, and as a high school kid, that's tough to deal. Give him credit though, he has handled things well,'' Orange Lutheran coach
Chris Nordstrom
said. "I think we have seen every kind of defense. Double-teams and triple-teams. Box-and-one. Triangle-and-two. You name it, opponents have thrown it at us. I'm not sure what they will think of next.
"Gabe has a knack for making the difficult play look easy. He understands the game, he gets it. I can't tell you the number of big plays he's made for us in the biggest moments of games. He has a calmness about him. We want the ball in his hands as much as possible.''
York figures to have plenty of chances to make plays this season for the Lancers (8-2 overall), who figure to be a mainstay in the ESPNLosAngeles.com Top 20 rankings.