Los Angeles Preps:

Gerard Wicks
May, 30, 2012
5/30/12
7:33
PM PT
Running back Gerard Wicks of Long Beach Poly picked up two scholarship offers Wednesday, from Nevada and Colorado State. He has also holds an offer from Washington State.

Wicks and fellow senior-to-be Manusamoa Luuga form a powerful backfield tandem for the Jackrabbits. Wicks rushed for 11 touchdowns last season and averaged nearly eight yards per carry; Luuga had 10 scores and more than six yards per carry.

And although Wicks shares the ball, he figures to be one of the area's most productive seniors this fall.
February, 7, 2012
2/07/12
9:54
PM PT
With national signing day behind us, we take an early look at 13 rising senior football recruits from south Los Angeles County to keep tabs on for the 2012 prep season:

QB Troy Williams, Harbor City Narbonne -- At this point, any given prospect list is incomplete without Williams, the dual-threat signal caller who already holds offers from UCLA, Arizona State, Nevada, Southern Methodist and Washington. He was the CIF Los Angeles City Section player of the year last season, guiding Narbonne to the Division I championship by passing for 3,247 yards and 34 touchdowns, and running for 11 more scores. Depending on how the summer goes, Williams can become a national-level prospect.

QB Hayden Rettig, Los Angeles Cathedral - The 6-foot-3, 200-pound Rettig had a spectacular start to the 2011 season, passing for 508 yards and six touchdowns in Cathedral's opener, and another 294 yards the next week. But that was it for the highly touted quarterback, who suffered a torn anterior cruciate ligament in his right knee and was forced to sit out the remainder of his junior season. Rettig, the younger brother of Boston College quarterback Chase Rettig, holds offers from Arizona, Arizona State, Boston College, Purdue and Vanderbilt, but will have to prove that his right knee has fully recovered.

WR John Ross, Long Beach Jordan -- The 5-foot-10 Ross was named the Moore League co-player of the year last season after accumulating 994 receiving yards and returning six kickoffs for touchdowns. On defense he intercepted five passes, returning two for scores. Ross has offers from UCLA and Washington, but many more are expected to follow suit.

ATH Sebastian Larue, Santa Monica -- On film, Larue looks like the Bryce Treggs of the 2013 class. Fast and shifty -- the 5-foot-11 receiver/cornerback/returner boasts a 4.42 time in the 40-yard dash -- Larue is lethal in open space. He had 17 total touchdowns as a junior, and already has offers from Arizona, Arizona State, Boise State, Idaho and nearby UCLA.

RB DaVonte Young, Bellflower St. John Bosco -- Young rushed for at least 100 yards in five games last season and, really, would have had more had he not shared carries with departing senior Royce Moore. With Bosco losing standout receivers Bryce Treggs (Cal), Justin Johnson (Fresno State) and Dalis Bruce (Eastern Washington) to graduation, Young will be counted on to supply the offensive firepower.

RB Anterio Bateman, Gardena Serra -- Bateman, an early ESPNU 150 watch list member, figures to be Serra's top weapon next season. An ankle injury forced him to miss action late in 2011, yet he still surpassed the 900-yard plateau and averaged more than nine yards per carry. Health will be key for a successful campaign this fall.

OL Nico Falah, Bellflower St. John Bosco -- The Braves averaged more than 400 yards of offense per game and the 6-foot-4 Falah was in the middle of it. He has scholarship offers from UCLA, Oregon State, Utah State and San Jose State, but it surely won't end there. The Trinity League will be loaded with a bevy of premier offensive lineman next season, and Falah is among that group.

QB Brandon Cox, Pasadena -- Cox passed for nearly 2,700 yards and 26 touchdowns, and rushed for over 500 yards -- stellar stats that helped him punch a ticket to the prestigious U.S. Army All-American underclassmen combine in San Antonio. He has reportedly garnered interest from the likes of Auburn and Oregon, as well as other Pac-12 schools.

RB Gerard Wicks, Long Beach Poly -- Wicks shares the carries with Manusamoa Luuga, so his numbers may not be as flashy as those of other running backs. He could emerge as the go-to guy for the Jackrabbits, especially with the departures of Arizona State-bound receivers Richard Smith and Josiah Blandin. UCLA appears to be the early front-runner in Wicks' recruitment.

DT R.J. Coleman, Mira Costa -- Last season Coleman had the task of filling the void left by the graduation of J.R. Tavai (USC) and he didn't disappoint. The 6-foot-4, 300-pound Coleman is on the ESPNU 150 early watch list, and promises to be one of the top players in the South Bay.

LB George Frazier, Monrovia -- Much of the publicity surrounding Monrovia's back-to-back CIF championship run centered on mammoth defensive tackle Ellis McCarthy (UCLA), but Frazier deserves his share of credit. The ESPNU 150 early watch list member was the perfect complement to McCarthy's havoc up front, making play after play for the Wildcats. Frazier is an intriguing prospect who should garner plenty of attention.

DB David Price, Long Beach Poly -- The 6-foot-1 safety is expected to spearhead a solid Poly defense that loses lineman Alonzo Williams (Texas A&M) and linebackers Salamo Fiso (ASU) and Matthew Rowe (ASU) to graduation. Price, an ESPNU 150 early watch list member, holds an offer from Southern Methodist.

WR A.J. Richardson, Harbor City Narbonne -- As the favorite target of Troy Williams, Richardson should get his share of opportunities every week. Gauchos coach Manual Douglas also finds other ways to get the ball in Richardson's hands -- and for good reason. He averaged more than 15 yards per reception last season.
November, 27, 2011
11/27/11
10:50
PM PT
Long Beach Poly fell out of the region's top spot for the first time this season following its second-round loss to Santa Margarita. Last week's second- and third-ranked teams -- St. John Bosco and Charter Oak, respectively -- also stumbled. Now, three of the region's top four squads come from the City Section. Marine League champion and top-seeded San Pedro is the only remaining undefeated team in the south Los Angeles County top 10 rankings heading into the third round of the playoffs:

1. (4) San Pedro (12-0)
The top-seeded Pirates eliminated the two-time defending City Section Division I champs Friday, securing another matchup with fifth-seeded Carson. The Marine League champs defeated the Colts 21-0 on Oct. 28. Last week: Beat Crenshaw, 31-7. Next: semifinals vs. Carson, Friday.

2. (1) Long Beach Poly (10-2)*
The lack of consistency from the quarterback positions was a season-long concern for coach Raul Lara. That turned into a nightmare Friday when the Jackrabbits were intercepted five times. The good news: Gerard Wicks returns next season. Last week: Lost to Santa Margarita, 49-16.

3. (5) Narbonne (9-3)
Junior quarterback Troy Williams had six total touchdowns, and the emerging Tray Boone had two more to propel the Gauchos to their third straight 50-point performance. They now face perhaps the city's top defense. Last week: Beat West Adams, 59-20. Next: semifinals vs. Dorsey, Friday.

4. (6) Dorsey (11-1)
The fast and talented Dons defense had six takeaways Friday, and USC-bound receiver Jaydon Mickens had four total touchdowns to go along with six receptions and 82 yards. Last week: Beat Birmingham, 45-13. Next: semifinals at Narbonne, Friday.

5. (2) St. John Bosco (8-4)*
Bosco twice cut its deficit to four on Friday but the defense couldn't come up with stops. Still, the Braves made their first playoff appearance since 2006, so they've got nothing to hang their heads about. Last week: Lost to San Clemente, 42-24.


November, 25, 2011
11/25/11
10:47
PM PT
By
Sean Ceglinsky
| ESPNLosAngeles.com

LONG BEACH -- Johnny Stanton did just about whatever he pleased on Friday night. The 6-foot-3 and 200-pound junior quarterback from Santa Margarita threw the ball well and picked up plenty of yards on the ground. And there was not much Long Beach Poly could do about it.

In the end, the Eagles prevailed with a 49-16 victory. But not before Stanton completed 11-of-17 passes for 105 yards. Can't forget to mention he gained 125 yards rushing and scored four times in a Southern Section Pac-5 Division quarterfinal game at Veterans Memorial Stadium.

"I don't feel like I had a target on my back, or anything. I knew that Long Beach Poly was prepared,'' Stanton said. "I felt pretty good overall. I mean, I'm sure I'll be sore in the morning. But it will be worth it. To come in here and get a victory like this gives us a lot of momentum.''

The Eagles (10-2) entered the showdown No. 10 in the ESPNLosAngeles.com rankings. Long Beach Poly (10-2, on the other hand, was ranked No. 4 in the most recent poll.

Stanton got stronger as the game went on. That was most evident at the start of the fourth quarter. He carried the ball multiple times and ended up scoring from five yards out on fourth down to increase the advantage to 28-16 with 11:50 remaining.

Santa Margarita did not let up. Ryan Wolpin scored two rushing touchdowns, a 60-yarder and a 10-yarder. Alex Suchesk added an eight-yard run for the final margin.

"Johnny was great, he carried us tonight, he had a heck of a game,'' Wolpin said. "He's our guy. He made a lot of critical plays at the biggest moments of this game.''


November, 24, 2011
11/24/11
9:49
AM PT
Here are Friday night's top second-round playoff games in south Los Angeles County (with ESPN Los Angeles prep football Top 25 rankings):
Pac-5: No. 10 Santa Margarita (9-2) vs. No. 4 Long Beach Poly (10-1) at Veterans Stadium, 7 p.m.
— The Jackrabbits' defense, which on average has allowed under 14 points per game, will have the difficult task of slowing down explosive Eagles quarterback Johnny Stanton. That's something not even mighty Servite was able to do a few weeks ago. Poly's Richard Smith, Josiah Blandin and Gerard Wicks will be counted on to keep pace.
Pac-5: No. 12 San Clemente (10-1) at No. 15 St. John Bosco (8-3), 7:30 p.m.
— Some teams would deem making the playoffs a year after missing out a success. But the St. John Bosco Braves, the third-place representatives of the Trinity League, aren't content. They shocked a lot of people by beating Serra League champion Alemany on the road last week, and now set their sights on taking another step toward a possible rematch with Servite in the semifinals.
City Division I: Crenshaw (6-4) at No. 14 San Pedro (11-0), 7 p.m.
— At the end of Friday night's game, either the two-time defending City Section champion Crenshaw Cougars will have been eliminated or the top-seeded San Pedro Pirates will have been knocked off. Given Crenshaw's apparent rebuilding year, we'll go with the former. Besides, San Pedro quarterback Kenny Potter is playing as well as anybody in the city.
Western: No. 22 Ventura (11-0) vs. Santa Monica (10-1) at Santa Monica College, 7:30 p.m.
— Now that top-seeded Gardena Serra is out, falling victim to a shocking upset in the first round, the four top-bracket teams (these two included) will scramble to gain control this weekend. Ventura has surrendered fewer than nine points per game, and tailback Conner Armstrong has the offense clicking.
Blair Angulo covers preps for ESPN Los Angeles. Follow him on Twitter.
October, 15, 2011
10/15/11
12:05
AM PT


LONG BEACH -- A second straight Moore League championship appears to be heading Long Beach Poly's way.

The Jackrabbits reached the end zone on three consecutive possessions to start the second half, erasing a four-point deficit and beating rival Lakewood, 38-21, Friday night at Veterans Stadium. Backup quarterback Nick Pope put Poly in front with a 29-yard touchdown pass to Arizona State-bound Richard Smith and, after the defense came up with an interception, Gerard Wicks found a gaping hole for a 19-yard scoring scamper. A few minutes later, Chaiyse Hales sneaked in from a yard out to basically seal it.

"We were playing lackadaisical, like we're not here," Poly coach Raul Lara said. "It seemed like guys were afraid to make plays. We had a nice little speech for our offense at halftime."

The Lancers pulled to within 10 with 4:52 remaining but John Smith returned the ensuing onside kick for a touchdown.

Lakewood's upset bid looked promising early. Jaleel Wadood bullied Hales, stripping him of the football and returning it 64 yards for the score. A sophomore taking the ball from a senior? Clearly, there were no rivalry jitters for Wadood, who, in the second quarter, also saved a sure touchdown by nearly intercepting a pass intended for the much taller Josiah Blandin.

A 47-yard field goal by Hayden Hunt put Poly (6-1, 3-0 Moore) on the board and the Jackrabbits took the lead, 10-7, after Jaylen Massengill recovered a blocked punt in the end zone.

But stellar plays on special teams were followed by blunders.


September, 21, 2011
9/21/11
9:36
AM PT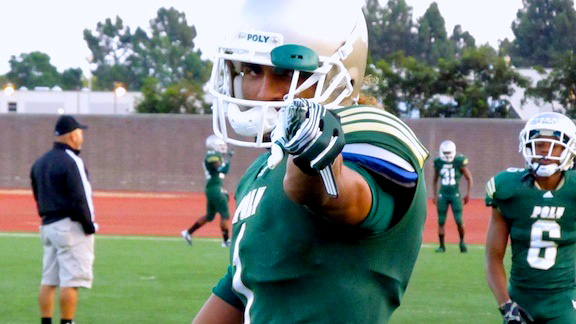 Blair Angulo for ESPNLA.comJosiah Blandin and the Long Beach Poly Jackrabbits still maintain their swagger despite some tough seasons by their standards.
Arrive at Veterans Stadium early enough and you'll hear rapper
Snoop Dogg
's ode to Long Beach Poly, his alma mater, loud and clear. It blares through the speakers as players, wearing brand-new uniforms provided by Snoop, bounce around the field in pregame warmups. The chorus is simple and catchy, to say the least:
Green and gold, together,
Lose to y'all? Never.
This eastside forever,
Long Beach Poly.
Some Poly players have the nearly five-minute-long track memorized, the others bob their heads as the beat builds between whistles and drills. Take one look around and you notice these Jackrabbits don't lack confidence. A pair of poor seasons in Long Beach -- a combined 15-8 record the last two years -- have done little to diminish their swagger.
"There's always something we've got to prove," senior receiver
Richard Smith
said.
Poly (3-0), the No. 2 team in the ESPN Los Angeles prep football Top 25 rankings, can make a loud statement Friday against powerhouse Mission Viejo, ranked No. 4. The Jackrabbits were dominated at home by the Diablos last season, 37-7, and coach
Raul Lara
hasn't let them forget it. He gathered his players after last week's 19-16 victory over visiting Narbonne, reminding them of last year's debacle.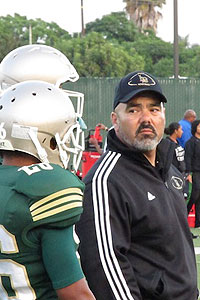 Blair Angulo/For ESPNLA.comPoly coach Raul Lara says his team is all about defense until the offense gets things going.
This squad's psyche isn't damaged, though, largely because its strong defense gives them a chance against
anyone
,
anytime
,
anywhere
.
"This is Poly High School," Lara said. "Poly's all about defense ... until our offense gets really clicking."
Balance makes Poly's unit difficult to scheme against. Looking to run between the tackles? You'll have to consider double-teaming senior defensive lineman
Alonzo Williams
, who is a handful up front. Planning to attack the edges? Physical linebackers
Salamo Fiso
and
Matthew Rowe
, both committed to Arizona State, are relentless in pursuit. Thinking about throwing the ball? Good luck against ASU-bound
Randall Goforth
, who has the speed and quickness to match up against the other team's best receiver.
Yet, in team sports especially, talent isn't enough.
Doubts about the Jackrabbits -- and whether or not they're truly back to elite status -- stem from their offensive struggles. And it isn't because of a shortage of weapons. Senior quarterback
Chaiyse Hales
had 18 touchdown passes last season and the ASU-bound tandem of Smith and
Josiah Blandin
are more-than-capable options at receiver. The ground attack has shown promise, too, with junior running backs
Manusamoa Luuga
and
Gerard Wicks
combining for more than 160 yards rushing per game so far.
For Lara, the challenge is getting the most from all facets in time for the Pac-5 Division playoffs. The defense appears be ready, the offense is a bit behind.
"Our defense goes really hard in practice," Smith said. "I expect them to stop teams all the time."
Friday night deep in Orange County, Lara and his 'Rabbits will get a better idea of how much they've improved. This much we do know: Poly has no troubles in the confidence department.
It's still green and gold, together.
Blair Angulo covers preps for ESPN Los Angeles. Follow him on Twitter.
September, 9, 2011
9/09/11
10:37
PM PT
By
Sean Ceglinsky
| ESPNLosAngeles.com
LONG BEACH -- It was supposed to be an early season showdown between two of the premier programs the Southland had to offer. Carson and Long Beach Poly on Friday night at Veterans Stadium had all the makings of one of those classic nonleague encounters.

The hype, believe it or not, lived up to the advanced billing. For the better part of the first half, that is. The Jackrabbits proved to be far too talented thereafter. They imposed their will in the second half and ended up with a rather impressive 38-18 victory over a Colts.

"We made some adjustments at halftime and were a different team the rest of the game,'' Poly coach Raul Lara said. "We did what we needed to do to win this thing. That's what good teams do and I think we proved that we were the better team out there tonight.''

The biggest adjustment came on defensive for the Jackrabbits.

Darreus Rogers gave Poly (2-0), No. 4 in the ESPNLosAngeles.com rankings, problems throughout the first half. The senior receiver, who has committed to nearby USC, had 10 receptions for 192 yards and pair of touchdowns for in the opening 24 minutes of play.

As a result, the Colts (1-1), No. 8 in the ESPNLosAngeles.com poll, trailed by six points at the break. Carson, however, had difficulty to finding Rogers after that.

The Jackrabbits secondary, Randall Goforth in particular, did a good job of limiting Rogers the rest of the way. He had two catches for 18 yards in the third and fourth quarters.

All told, Rogers had 12 grabs for 210 yards and the two scores.