Los Angeles Preps:

Hacienda League
January, 19, 2012
1/19/12
12:28
PM PT
Compton (11-7) handed Long Beach Jordan (12-6) its first Moore League loss with a 72-63 overtime win Wednesday night. Victor Robbins overcame leg cramps to lead the Tarbabes with 19 points. Long Beach Poly (14-1) returned from a successful trip to Seattle and manhandled Long Beach Wilson to the tune of 79-33. Roschon Prince had 20 points.

In Western League action, Fairfax (12-6) improved to 4-1 in league with an 80-55 home win over LACES, while Westchester (11-4) blew out Venice, 63-32.

CIF-Southern Section Division 3AAA top-ranked Damien (17-1) took sole possession of first place in the Sierra League with a 63-55 victory against Chino Hills (12-7). Chris Reyes had 24 points, including 12 straight in a clutch fourth quarter. Sharpshooting wing Jared Dizon added 21.

In a battle for first place in the Hacienda League, Bonita (15-4) beat Walnut, 55-40.

Gardena Serra (17-2) remained atop the Del Rey League by defeating Bishop Amat, 52-21. The Cavaliers held the Lancers to just nine points in the first half. Elsewhere in league, Bishop Montgomery (16-3) earned a 72-48 win at Cathedral.
January, 10, 2012
1/10/12
4:57
PM PT
It has been a dizzying start to the new year in the San Gabriel Valley, where four head football coaches have stepped down in recent days:
Bob Burt
(Hacienda Heights Wilson),
Darryl Thomas
(Covina),
Eric Podley
(Bonita) and
Steve Bogan
(South Hills).
Bogan won four CIF-Southern Section titles and 13 league crowns in his 19 years at South Hills. He will remain a teacher at the school, the
San Gabriel Valley Tribune reported
. The Huskies went 3-7 in each of the last two seasons.
Thomas spent the last 15 years as Covina's coach, reaching the playoffs 10 times. The Colts were 11-2 last season, losing to two-time Mid-Valley Division champion Monrovia in the semifinals. Thomas will remain as Covina's athletic director and will hire his replacement.
Podley was Bonita's head coach for 12 years, highlighted by the Bearcats' appearance in the 2010 Southeast Division championship game.
Adrian Medrano
, who served as Bonita's special teams coordinator, will replace Podley, who will remain on the staff as offensive coordinator.
Wilson went 1-9 under Burt in his first and only season.
Nick Christos
was named the school's new head coach, according to the San Gabriel Valley Tribune.
Elsewhere, Pasadena La Salle will announce
Russell Gordon
as its new football coach, according to the
Pasadena Star-News
. Gordon, who spent 15 seasons at Campbell Hall, replaces
Antoine Peterson
, who was fired after four seasons.
November, 9, 2011
11/09/11
6:01
PM PT
League championships are up for grabs across the region this week. Here are Thursday night's top five games in south Los Angeles County:

Cabrillo vs. No. 5 Long Beach Poly at Veterans Stadium, Thursday, 7 p.m. -- As the Jackrabbits take the final turn toward a second consecutive Moore League title, it's only fitting that ESPN High School will recognize the defending national champion Long Beach Poly girls' track team during halftime Thursday. Football coach Raul Lara, meanwhile, can only hope that his team -- specifically the defense -- sprints through the finish line. A win would give Poly (8-1, 5-0) sole possession of first place and likely secure a high seeding in the Pac-5 Division bracket. Upset-minded Cabrillo (7-2, 4-1) has the division's leading passer, senior Derek Stewart (2,116 yards, 19 touchdowns).

Diamond Ranch at West Covina, Thursday, 7 p.m. -- When West Covina coach Mike Maggiore had his team take on Loyola earlier this season, it was with games like this in mind. West Covina (8-1, 5-0) will stay home this time but the hungry Diamond Ranch Panthers (5-4, 4-1) will try everything to unseat the defending Hacienda League champions. The Bulldogs, ranked No. 1 in the Southeast Division, can go perfect in league play for the second straight year.

La Puente vs. Azusa at Citrus College, Thursday, 7 p.m. -- The Mid-Valley Division poll that the CIF-Southern Section released before the season didn't include the La Puente Warriors (9-0, 6-0). Well, look at the Warriors now. They have a chance to finish with an unblemished mark and their first Montview League title since 2007. It won't be an easy task against Azusa (6-3, 6-0), the three-time defending league titlist.

El Monte at Arroyo, Thursday, 7 p.m. -- El Monte, coming off a thrilling win against crosstown rival South El Monte, has plenty of momentum. The Lions (7-2, 4-0) scored two touchdowns in the final 43 seconds to remain in contention to win its first league championship since 1979. Two-time defending champ Arroyo (8-1, 4-0) is potent behind quarterback Steven Rivera (2,512 passing yards, 33 total touchdowns).

Schurr at San Gabriel, Thursday, 7 pm. -- The San Gabriel Matadors (5-4, 4-0) can win the Almont League outright with a victory against visiting Schurr (3-6, 3-1). A Schurr win, combined with an Alhambra win at Bell Gardens, would create a three-way tie atop the standings.
October, 12, 2011
10/12/11
4:19
PM PT
League play kicks off with a bang. As part of our running feature, here are five of this week's must-see games in south Los Angeles County:
[+] Enlarge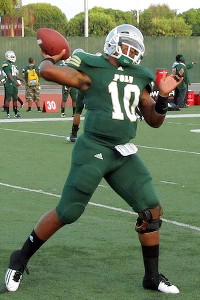 Blair Angulo/For ESPNLA.comPoly QB Chaiyse Hales hopes to repeat his performance of a year ago against Lakewood.
No. 19 Lakewood vs. No. 6 Long Beach Poly at Veterans Stadium, Friday, 7 p.m.
: When the final whistle blew last year, the Long Beach Poly Jackrabbits gave coach Raul Lara the celebratory, icy Gatorade bath. He probably wouldn't mind a good soaking Friday night. The scoreboard keeper at the Vet might be busy. Poly (5-1, 2-0 Moore League) finally found its offensive rhythm last week, hanging 67 points on Jordan, and the Lakewood Lancers (5-1, 2-0) are averaging 45 points per game under first-year offensive coordinator Zach LaMonda, a former assistant coach at Servite. Jackrabbits senior quarterback Chaiyse Hales was the standout in last year's rivalry game, throwing for 189 yards and two touchdowns, and running for another score.
No. 22 Alemany at No. 7 Bishop Amat, Friday, 7 p.m.
: Poor defensive play is Bishop Amat coach Steve Hagerty's biggest concern heading into this one -- and for good reason. The Lancers (5-1) have allowed the most points (111) among Serra League teams this year. These two met for the league title in last season's finale -- Alemany (4-1) claimed the championship with a 38-30 win -- so you know the Lancers will be plenty motivated. "It's going to be a fight," Lancers senior running back Jalen Moore said after last week's 38-35 win at Venice. "The league is going to come down to the end, but I feel like we should be able to take it all way." The game will stream live on
FOXSportsWest.com
as part of the website's
Prep Zone platform
.
Charter Oak vs. South Hills at Covina District Field, Friday, 7 p.m.
: For now, the Sierra League appears to be a four-team race and these two are a part of that group. The Charter Oak Chargers are the favorites (4-1) but Friday's road game could get tricky given that the South Hills Huskies (3-2) aren't strangers to tight games. Four of their five contests have been decided by four points or less. Chargers defensive coordinator Roger Lehigh would like to contain tailback Jamel Hart, who has hit triple-digit rushing yards in every game this season. It all adds up to an intriguing league opener.
Damien at Claremont, Friday, 7 p.m.:
This is the
other
marquee Sierra League matchup, though it could have been a headliner any other week. The Damien Spartans (4-1) are fresh off a win against a Pac-5 Division opponent, JSerra, and their only loss this season was to Bishop Amat, which entered the week ranked No. 7 by ESPN Los Angeles. Meanwhile, the Claremont Wolfpack (4-1) are looking to avenge last year's loss. Quarterback Gabe Schaper looks to rebound after throwing two costly interceptions last week.
West Covina at Bonita, Friday, 7 p.m.
: Will spectators be in for another epic? These two met twice in 2010. West Covina thumped Bonita in the first game, basically securing the Hacienda League championship behind Chris Solomon's spectacular running. They saw each other again in the Southeast Division title game, which the West Covina Bulldogs (5-1) won on a thrilling last-minute drive. The Bonita Bearcats (2-3), coming off a bye week, will have redemption on their minds.
Blair Angulo covers preps for ESPN Los Angeles. Follow him on Twitter.
October, 5, 2011
10/05/11
5:33
PM PT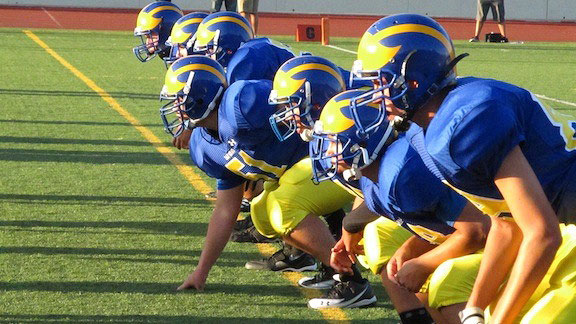 Blair Angulo/For ESPNLA.comSan Dimas could be the biggest obstacle for Covina's back-to-back title hopes in the Valle Vista League.
A pair of Valle Vista League football teams sputtered to start the season. Defending champion Covina suffered a gut-wrenching loss to rival West Covina in the opener; San Dimas was blown out by rival Bonita in the annual Smudge Pot game. Coincidentally, both defeats came against the competitive Hacienda League.
A month later, it sure seems as if Covina and San Dimas have regained their footing.
The Covina Colts (4-1) have allowed a combined 30 points in four games since losing to West Covina, 26-20. They kicked off league play with a 16-14 win at Pomona last week despite the absence of record-setting quarterback
Billy Livingston
(shoulder). Coach
Darryl Thomas
has the Colts in position to repeat as league champs.
San Dimas (3-1), the league's top team in 2009, might present the biggest obstacle to Covina's back-to-back hopes. The Saints shocked defending Mid-Valley Division titlist Monrovia, 31-14, on the road last week. In the 20-point loss to Bonita, senior quarterback
Shawn Kennedy
threw the ball 19 times. Get this: In the three games since, Kennedy has only 19 pass attempts. That's a sign the Wing-T offense, led by
Devante Brown
and
Domonic Jollevet
, is getting the job done.
According to the CIF-Southern Section week 4 polls, Covina and San Dimas are ranked second and third in the Mid-Valley Division, respectively. Needless to say, it should be an interesting battle for the hardware.
The teams could very well be heading toward a winner-take-all scenario when they meet at Covina District Stadium on Friday, Oct. 21.
September, 3, 2011
9/03/11
11:47
PM PT
Defending Southeast Division champion West Covina avenged its only loss from 2010 Saturday night, beating rival Covina, 26-20, in an overtime thriller.

Solomon
The Bulldogs did it without standout tailback/safety
Chris Solomon
, who was on crutches after suffering an ankle injury in the first half. Solomon, a senior with
offers from Arizona, Arizona State, Colorado and Nevada
, is one of the area's top returning rushers. He ran for 1,790 yards and 20 touchdowns last season, guiding West Covina to a 13-1 record and the Hacienda League title.
"I don't think it's serious," West Covina coach
Mike Maggiore
said, adding that Solomon had X-rays and was walking normally.
Jimmy Frazier
shouldered a heavier load and ran for 102 yards and a touchdown.
Aaron Salgado
had the game-winning, two-yard touchdown run in overtime.
"We had guys go down all night," Maggiore said. "Things just kept going wrong for us and we kept playing hard. I was proud of our effort. We showed a lot of character."
Blair Angulo covers preps for ESPNLosAngeles.com. Follow him on Twitter.
September, 1, 2011
9/01/11
11:31
PM PT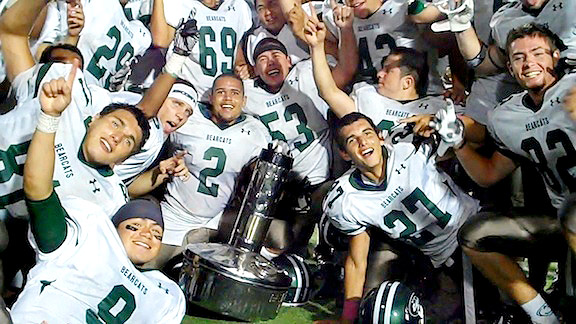 Blair Angulo for ESPNLA.comBonita players huddle around the Smudge Pot trophy after beating their rivals from San Dimas.
GLENDORA -- After the dust had settled and Bonita had hoisted the Smudge Pot trophy for the second straight year, Bearcats coach
Eric Podley
could breathe a sigh of relief.
"This means a renewal of my contract," Podley said jokingly. "I'll be back next year."
All kidding aside, Bonita looked like the team that reached the Southeast Division championship game last season, beating rival San Dimas handily, 40-20, in the annual Smudge Pot game Thursday night at Citrus College. The Bearcats claimed the hardware for the second straight season and have inched closer in the head-to-head series, which San Dimas now leads 22-17-1.
"The first goal we always have when we meet as a team, our number one goal, is to keep coach Podley employed," Podley said with a smile, not shying away from speaking in the third-person.
The Bearcats (1-0) led 10-6 at halftime before outscoring the Saints (0-1) 17-0 in the third quarter. Tailback
Cameron Griffin
had a pair of touchdown runs to go along with 64 yards rushing, receiver
Garrett Horine
scored twice and tailback
Reggie Turner
added another.
"We'll be running the ball a lot more this year," Griffin said. "You'll see more touchdowns."
December, 9, 2010
12/09/10
1:55
PM PT
West Covina coach
Mike Maggiore
was genuinely surprised.
Were his eyes fooling him? Had his team really scored 55 points against Hacienda League rival Bonita? Had his team actually walked off the field with a 34-point victory over the then-No. 2 team in the Southeast Division?
"I thought we could move the ball on them," Maggiore said on Oct. 29 following West Covina's 55-21 win. "I thought it would be a tight game, thought it would come down to the fourth quarter."
It didn't.
Not even close
. The top-seeded Bulldogs (12-1) thoroughly dominated the Bearcats (12-1) behind the play of standout tailback
Chris Solomon
. It was a beautiful display in a game that turned ugly quick.
On Friday night, Bonita has a chance to make things right -- or at least prove the disparity isn't as wide -- in the Southeast Division championship game at Walnut High.
Maybe we'll get a surprise or two.
November, 4, 2010
11/04/10
9:51
AM PT
Carson (6-2, 3-0 Marine) at San Pedro (6-2, 3-0 Marine), Friday, 7 p.m.

Both teams have won four straight, including three in a row to start Marine League play. Carson escaped with a 26-23 victory over Narbonne last week, while San Pedro clobbered Gardena. It's been relatively easy work for the San Pedro Pirates, who have outscored league opponents 125-15. The task is considerably tougher this week against Justin Alo and Co.

West Covina (7-1, 4-0 Hacienda) vs. Diamond Ranch (5-3, 4-0 Hacienda) at Ganesha High, Friday, 7 p.m.

West Covina gets its chance to claim the Hacienda League title after taking down previously unbeaten Bonita last week. Standing in their way is Diamond Ranch, a team known for its furious mid-season charges. West Covina (300-plus yards rushing per game) runs the ball like no other team in the area. Quarterback George Johnson has only 73 pass attempts this year.

Chino Hills (6-2, 2-1 Sierra) at Charter Oak (5-3, 2-1 Sierra), Friday, 7 p.m.

With leader Claremont all but assured the Sierra League championship, these two have a postseason berth to play for. The winner is in, the loser might still be in -- but neither team would like to take that chance. Two-time defending CIF champion Charter Oak finds itself in unfamiliar territory. The Chargers have as many losses this season as they had in the previous three combined.

Norwalk (5-3, 3-1 Suburban) at La Mirada (5-3, 4-0 Suburban), Friday, 7 p.m.

Although it's not the monstrous Southeast Division No. 1 vs. No. 3 scenario that West Covina at Diamond Ranch presents, this matchup is still intriguing. La Mirada is ranked No. 4 -- just behind Diamond Ranch -- while Norwalk comes into the game at No. 7. It should be close, entertaining battle: Calpreps.com projects a 31-22 La Mirada victory.
October, 25, 2010
10/25/10
10:08
AM PT
1. The Arcadia boys' cross country team, ranked No. 2 nationally,
ran away with the Team Sweepstakes title
at the Mt. SAC Cross Country Invitational on Saturday.
Ammar Moussa
tied the course record with a time of 14:24 in the 2.91-mile trek. Arcadia's team time of 75:16 broke the previous course record by more than a minute.
2. St. John Bosco has a good thing growing with quarterback
Raymond Medina
. The junior may not have the out-of-this-world stats yet (11 touchdowns in seven games), but he possesses the tools (strong arm, quick feet, pocket presence, size) to break out next season. He and go-to receiver
Bryce Treggs
, a fellow 2012 class member, are already a major force. Treggs was a recipient in 10 of Medina's 19 completions -- two for scores -- in Friday night's 32-24 loss to Servite.
3. Things should get more difficult for Bonita (7-0) in the next few weeks with games against West Covina (6-1), Rowland (4-4) and Diamond Ranch (4-3). The winner of Friday's game at West Covina gains control of the Hacienda League, but it also gives the Bearcats a chance that they're for real. Aside from an eye-opening 22-point win in Week 1 against Sierra League leader Claremont (6-1), Bonita has beaten up on teams with a combined record of 18-26. Not exactly your cream of the crop. Meanwhile, Diamond Ranch's three losses were to teams that have gone 16-5; West Covina's lone loss was to Covina, which is 7-1.
4. Any more Long Beach Poly (5-2) doubters out there? In retrospect, the Jackrabbits must be feeling pretty good about their 32-7 Week 1 loss to St. Bonaventure, which is coming off a 52-0 dismantling of Thousand Oaks on Friday. The No. 8 Seraphs are 6-1 (only defeat was by a point to Oaks Christian). Poly's other loss was to No. 3 Mission Viejo (7-0). The positive spin? The 37 points the Diablos put up against Poly are a season-low (Mission Viejo has averaged 47 points in its six other wins).
5. The scoreboard was on hyperactive mode at Maranatha High on Friday. Cerritos Valley Christian eventually emerged from the points-fest that included five overtime periods and lasted nearly five hours,
leaving Pasadena with a 70-64 victory
. The teams combined to score 54 points after regulation.
October, 11, 2010
10/11/10
11:09
AM PT
1. Lakewood, the No. 4 team heading into the weekend, just didn't have it Friday in its loss to Long Beach Poly. The Lancers were out to prove that last year's win against Poly was no fluke, but maybe it was. Nothing was doing offensively, while Poly's side ate up the clock with methodical drives. Lakewood tied the game following a fumbled punt return. The Lancers' other touchdown came on a kickoff return.

2. It was interesting to hear Long Beach Poly players talk about the Moore League belonging to them and no one else. The Jackrabbits were clearly prepared to show it Friday, but what happened in their previous two losses? Is there a magical on and off switch at Poly? Losing by 25 to St. Bonaventure and then 30 to Mission Viejo -- both at the home -- makes it feel that way. If so, the Moore League race is far from over -- no matter what Poly players say.

3. A good amount of teams chose last week as their bye. Dorsey came off its bye week and barely escaped with a 22-21 win against San Diego Mira Mesa on Friday. How will some of the region's top teams -- namely Serra, Crenshaw and Dominguez -- respond to the extra week of rest?