Los Angeles Preps:

Henry Owens
June, 6, 2011
6/06/11
10:36
PM PT
Henry Owens
, the left-handed ace of Huntington Beach Edison, was selected in the compensation portion of the first round of the Major League Baseball draft on Monday
by the Boston Red Sox
with the No. 36 pick overall.
Owens (6-6, 200) has already signed to play college at Miami.
He was announced by former Red Sox star
Jim Rice
, who referred to him as "Henry Owings." Rice figures to get it right soon enough. Owens was one of the top prospects in the nation. He had 140 strikeouts in 91 2/3 innings, and a 1.15 earned run average. In 16 appearances, 12 in which he pitched five innings or more, he allowed more than four hits only twice. He gave up 45 hits.
June, 6, 2011
6/06/11
10:35
PM PT
By
Dan Arritt
| ESPNLosAngeles.com
While a number of Southland high school baseball players came to the realization that their stock had indeed dropped Monday during the opening round of the MLB draft, Chino High outfielder/first baseman Jacob Anderson and Corona Santiago shortstop Brandon Martin met their expectations.

Anderson was selected 35th overall by the Toronto Blue Jays, a supplemental pick between the first and second round, making him the second high school player from Southern California selected in the draft.

Toronto was awarded the pick as compensation for losing left-handed relief pitcher Scott Downs to the Angels through free agency. The Blue Jays passed on highly touted Huntington Beach Edison left-hander Henry Owens, who went one pick later to the Red Sox. Owens was one of several prep players with Southern California ties who weren't selected as high as projected.

Three picks after Anderson's name was announced, the Tampa Bay Rays grabbed Martin, a slick-fielding middle infielder who has speed and can hit for power.

Martin, who signed with Oregon State in November after de-committing from Cal State Fullerton, is mostly lauded for his soft hands and strong, accurate arm.

The Rays received the 38th pick as compensation for losing closer Rafael Soriano to the Yankees via free agency.

Anderson, who has signed with Pepperdine, is 6-4, 185 pounds and projects as both an outfielder or corner infielder. Scouts like his combination of speed and power.

Anderson made a name for himself last August by winning the home run derby at the Under Armour All-American Game at Wrigley Field in Chicago.

It's the second time in the last three years a player from the I.E. was drafted 35th overall. Yucaipa third-baseman Matthew Davidson was selected with that pick two years ago by the Arizona Diamondbacks.
May, 29, 2011
5/29/11
6:07
PM PT
By
Dan Arritt
| ESPNLosAngeles.com
CIF-SOUTHERN SECTION BASEBALL SEMIFINALS
TOP CHOICE
Palm Desert vs. Westlake Village Oaks Christian at College of the Desert in Palm Desert, Tuesday, 3:15 p.m.
Even if this Division 4 semifinal didn't feature two of the most recognized last names in Los Angeles sports history, it still stands as a pretty good match up. But the selling point, no doubt, will be Palm Desert outfielder
Ryan Garvey
, the son of legendary Dodgers first basemen
Steve Garvey
, trying to lead the Aztecs over visiting Westlake Village Oaks Christian and first baseman
Trevor Gretzky
, the son of—you guessed it—
all-time great
hockey player
Wayne Gretzky
, who spent 7 ½ seasons with the Kings. Garvey, who signed with USC and should go high in next month's MLB draft, is hitting .374 with a team-high nine home runs and 44 RBIs. Garvey would like nothing more than to win this game and return to his father's former place of business, Dodger Stadium, for the championship game Friday at 4:30 p.m. Gretzky, who signed with San Diego State, is hitting .394 with 31 runs scored and 26 RBIs. He had two doubles and two runs scored in a 6-3
quarterfinal victory
Friday against fourth-seeded Laguna Beach.
SECOND BEST
Riverside North vs. Lakewood at Blair Field in Long Beach, Tuesday, 4 p.m.
The dream season continues for North. A year after finishing last in the Big VIII League and two years removed from a 4-24 season, the Huskies won their
first league title
in 14 years earlier this month. They haven't let up either, advancing to the Division 1 semifinals, their first trip past the quarters since winning the Division 2 title 1994. That season they were led by the division's player of the year and future Angels second baseman
Adam Kennedy
. North has been leaning on its pitching during this postseason run, and the Huskies will have junior left-hander
Jack Johnson
rested and ready for Lakewood. Johnson (6-2) threw a one-hitter in a 3-0 second-round victory against fourth-seeded JSerra and was the winning pitcher in the league-clinching victory two weeks ago against Riverside King. Lakewood has history on its side and a pretty good familiarly with the wind and
spaciousness
of Blair Field. The Lancers have won five section titles, most recently in 2006, and are coming off a 3-1 victory Friday against one of the
best prep southpaws
in the nation,
Henry Owens
of Huntington Beach Edison.
THE REST
May, 28, 2011
5/28/11
7:12
AM PT
Orange County's 1-2 punch of Edison and Mater Dei may have fallen to the wayside on Friday in the quarterfinals of the Southern Section baseball playoffs, but it was a good day for some other Orange County teams.
Esperanza is still playing after taking down Mater Dei.
Also still alive are Mission Viejo, Beckman, Woodbridge and Oxford Academy.
In marquee Division 1, Dana Hills, which was beaten in the section finals last season by Mater Dei, only managed three hits in losing to Riverside North, 6-2.
And second-seeded Mater Dei was, of course,
beaten by Esperanza, 5-1
.
Esperanza, a longshot in Division 1, will continue its surprising run to the semifinals when it plays Long Beach Wilson Tuesday at Blair Field. Wilson plays some of its home games on Blair Field. Esperanza won behind the hitting of
Nick Catalano, Kevin Viers
and
Ryan Cooper
, and the pitching of
Austin Pettibone
.
Despite having previously unbeatable left-hander
Henry Owens
on the hill,
top-seeded Edison was beaten, 3-1
, by Lakewood. Owens (12-1) had pitched a no-hitter in the first round, and two innings of hitless relief in the second. He gave up four hits, walked three, and struck out 11.
Earlier in the week, Lakewood coach
Spud O'Neil
talked about just how good Edison is: "They're No. 1, and when they have Owens pitching, they're better."
Not anymore.
Here's a look at Orange County's day in the quarterfinals:
May, 27, 2011
5/27/11
7:51
PM PT


LAKEWOOD -- Shane Watson was a mess earlier in the year. He smiles about it now because he can. Lakewood baseball coach Spud O'Neil jokes about it because it's true.

There was nothing messy about Watson's complete game performance Friday afternoon, as the ace guided Lakewood to an upset of top-seeded Huntington Beach Edison, 3-1, in the quarterfinals of the CIF-Southern Section Division 1 playoffs. Watson gave up just four hits, out-dueling top major league pitching prospect Henry Owens.

Not bad for a guy who is a few months removed from undergoing surgery to repair a broken shin.

"I wasn't raising my lower half," recalled Watson, who had a metal rod and three screws placed in his leg. "I wasn't getting a lot of strikes. I just kept practicing hard and working hard."

Watson shut down one of the state's top lineups, facing the minimum through three and giving up one hit through five. He improved to 10-2 on the season.

"He's not going to strike out as many guys as Owens," O'Neil said, "but he's got a very good defense behind him. He's been getting better every game. He's really become a leader on this team and you can see by today that he's a winner also."

Lakewood (29-4-1) scored twice in the third on back-to-back RBI doubles from J.P. Yakel and Jonathan Pasillas and, after Edison (25-4) cut the deficit in half, added an insurance run in the sixth on a Jimmy Gosano bunt single.

It was a methodical kind of play -- "small ball," per say -- that eventually doomed Edison, the team everyone expected to hoist the trophy at Dodger Stadium. This group of Chargers, led by Owens and projected draft picks Christian Lopes and Eric Snyder, were three-time league champions and tied the school record for most wins in a season.

"We lost to a team that won 28 ballgames," Edison coach Steve Lambright said. "I'm not bitter. Lakewood did a great job. They outplayed us. I wish them all the luck in the semifinals. ... I'm proud of my team. They have nothing to hang their heads about."


May, 20, 2011
5/20/11
8:13
PM PT
By
Dan Arritt
| ESPNLosAngeles.com
HUNTINGTON BEACH — Oh Henry!
The Southern Section Division 1 playoffs opened with a bang for the Huntington Beach Edison baseball team.
Henry Owens
, a 6-foot-7 senior left-hander, threw a no-hitter in an 11-0 victory Friday afternoon against visiting Corona Santiago.
Owens faced only one batter over the minimum while striking out 12. He issued a two-out walk to
Jeremy Goldenetz
in the third and hit
Steven Pallares
with a pitch with one out in the seventh. The game ended when the next batter,
Kyle Ferret
, grounded into a force play and Pallares was called for interference after sliding well past second base, resulting in a double play.
Owens, who is
expected
to be taken early in next month's major league draft, raised his long arms in celebration and was quickly engulfed by his teammates.
"I was fresh and ready to go," Owens said. "My stuff was there the whole game."
Owens struck out the side in the first, fifth and sixth innings. During that late stretch, he struck out seven consecutive batters. But he was also efficient. Heading into the seventh inning, he had thrown only 69 pitches.
"He had command of everything," said Edison coach
Steve Lambright
. "That's a good hitting ball club over there. [Santiago] scored 10 runs against Mater Dei and 15 runs against Vista Murrieta, so it just kind of shows what a special pitcher he is."
Lambright said he had not seen Owens so dominant since he threw a five-hitter in a 2-1 victory against Mater Dei two years ago in a Division 1 semifinal. Lambright said he challenged Owens earlier in the week to put the team on his shoulders.
May, 18, 2011
5/18/11
4:02
PM PT
By
Dan Arritt
| ESPNLosAngeles.com
SOUTHERN SECTION BASEBALL PLAYOFFS
Division 1
Corona Santiago at No. 1 Huntington Beach Edison, Friday, 3:15 p.m.
Santiago has scored one-sided victories this season against second-seeded Mater Dei and third-seeded Vista Murrieta, but the Sharks weren't facing the type of fastball they'll see against Edison lefty
Henry Owens
, a consensus
first-round pick
in the upcoming major league draft. The game will also feature two of the Southland's premier senior shortstops in
Christian Lopes
of Edison and
Brandon Martin
of Santiago. Lopes has committed to USC and Martin to Oregon State, but both are expected to go high in the draft as well.
Simi Valley Royal at No. 3 Vista Murrieta, Friday, 3:15 p.m.
Royal won its 12th consecutive game Tuesday, a 4-2 victory at Villa Park, earning an even longer bus ride to Southwestern Riverside County. The Highlanders finished fifth in the exceptionally deep Marmonte League and have four starters back from last season's Division 1 semifinalists. The Broncos will ask sophomore right-hander
Tyler Russell
(8-1, 1.03) to defend their home turf.
Temecula Great Oak at No. 4 San Juan Capistrano JSerra, Friday, 3:15 p.m.
Another I.E. team that hopes to represent well against an O.C. powerhouse is Great Oak, which played Vista Murrieta tough in their three Southwestern League games. Great Oak shortstop
Austin Bailey
, who signed with San Diego,
hit three home runs last week in the regular-season finale against Murrieta Mesa, giving him six on thes season. The most watched player will be JSerra catcher
Austin Hedges
, considered the best defensive prospect in the nation, high school or college.
Division 2
Yucaipa at West Torrance, Thursday, 3:15 p.m.
When it comes to pitching, the Thunderbirds have the type of 1-2 punch that can carry them back to the finals for the second straight year.
Justin Lewis
(8-1) threw a two-hitter Tuesday in a 3-0 wild-card victory against visiting Rancho Cucamonga. Now it's
Kevin Davidson
's turn. The senior right-hander is 7-1 with a 2.10 ERA and helps himself out at the plate with a .511 batting average. West Torrance won the Bay League.
May, 17, 2011
5/17/11
7:45
PM PT
By
John Klima
| ESPNLosAngeles.com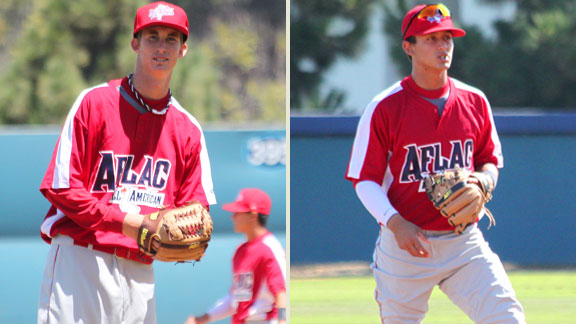 John Klima for ESPN.comHenry Owens, left, and Christian Lopes approach the game differently but both are top prospects.
High school statistics are meaningless to professional evaluators. Scouts want tools and players who they can dream on, kids who they can envision as adults as regular major leaguers or at least major league roster contributors.
That's what they see at Edison High School in Huntington Beach, where shortstop
Christian Lopes
and left-hander
Henry Owens
could become the third tandem of high school teammates to become first-round picks since the amateur draft began in 1965 -- but if only if they can lead their top-ranked 22-3 team deep into the CIF playoffs first.
When teams evaluate Lopes, they see an everyday middle infielder. Some will see him as a shortstop and some will see him as a second baseman depending on organizational need. They will note this season that Lopes worked hard to train and trim his body, losing about 20 points and greatly enhancing his athletic actions at shortstop, where his smooth defensive ability is seen in proper footwork, enough range to go to his right, soft hands, and a solid average throwing arm. Lopes won't be a burner, but he won't be a clogger, and his speed will be enough to first to third or score from home.
But the biggest drawing card for Lopes is the bat, which produces a clean, compact and efficient swing that gives off consistent hard contact. He projects as a gap hitter with occasional power who can play second base or shortstop.
Owens is a 6-foot-7 left-handed starting pitcher who wears size 17 cleats and has long fingers that he jokes remind him of NBA star
Dwight Howard
. Owens' combination of pitch-ability, polish and power is what makes him attractive to major league scouts. For two summers he has pitched in the Area Code games, where his fastball has routinely comfortably worked in 90-92 mph range with a couple of different versions of his curveball – slow and slower. He throws a version of his curveball that serves as a slow change and also throws a straight change. Occasionally, he will put a touch of sink on his change-up to add an extra look of deception.
May, 16, 2011
5/16/11
7:08
PM PT
Orange County had three of the top four seeded teams in the Southern Section Division 1 baseball playoff pairings that were released on Monday.

Edison (23-3), led by pitcher Henry Owens, was the No. 1 team despite losing a game to Marina in the Sunset League's final week.

Mater Dei (22-5), the defending champion behind last year's state player of the year, senior Cory Hahn, was seeded second and JSerra (23-4) was seeded fourth. Mater Dei and JSerra finished 1-2 in the Trinity League.

The only team outside of Orange County to be among the top four seeded teams was third-seeded Vista Murrieta (21-5), the champion of the Southwestern League.


April, 5, 2011
4/05/11
7:28
AM PT
1. Even though Edison left-hander Henry Owens (5-0, 0.42 ERA)—who beat Marina with a two-hit, 11-strikeout performance—is regarded as the county's best pitcher and has 43 strikeouts in 36 innings, he is not the county leader in making opponents whiff. That distinction belongs to Nate Anderson (4-0, 0.61) of Garden Grove with 53 Ks in 34.1 innings.

2. Bob Zamora, who coached Capistrano Valley for the past 34 seasons, won his 600th game on Friday. The milestone came in an 11-4 victory over Dana Hills in a South Coast League game as Gradeigh Sanchez had three hits, scored two runs and drove in three; Capo had a 10-run second inning. Under Zamora's guidance, the Cougars have won 15 league titles and six section championships. They're looking for another big year behind Kyle Matzek (.462), who has scored 14 runs and has 18 RBIs.

3. Los Alamitos, trailing by four runs, got a single, double and two-run homer from Allison Brown to help the Griffins come from behind to beat Mater Dei, 5-4, in the Corona Santiago Spring Fling softball tournament. Pinch-hitter Alicia Walker got the game-winning RBI in the top of the fifth inning.