Los Angeles Preps:

Ifo Ekpre-Olomu
February, 2, 2011
2/02/11
12:56
PM PT
By
Dan Arritt
| ESPNLosAngeles.com
Below is an updated list of high school football recruits from the Inland Empire and where they're headed.
Tight end
Junior Pomee
and cornerback
Ryan Henderson
of Moreno Valley Rancho Verde are expected to announce their decisions at 5:30 p.m.
Reports
indicate they're headed to USC.
Corona Centennial quarterback
Michael Eubank
just announced he will stick with Arizona State. His decision will be broadcast on FS West at 7 p.m. He had also considered Pittsburgh and Utah.
Eubank committed to the Sun Devils in December but recently had taken a recruiting trip to Pittsburgh. Vista Murrieta quarterback
Derrick Brown
recently switched his commitment from Utah to Washington, which had opened a possible spot for Eubank.
UNDECIDED
Junior Pomee, TE, Moreno Valley Rancho Verde
Ryan Henderson, DB/RB, Moreno Valley Rancho Verde
ARIZONA STATE
Quinton Pedroza, WR/DB, Chino
Brent Walker, OL, Norco
Michael Eubank, QB, Corona Centennial
BOISE STATE
Jake Van Ginkel, K, Upland
BYU
Adam Pulsipher, LB, Temecula Valley
COLORADO
Greg Henderson, DB, Norco
COLORADO STATE
Nuuvali Faapito, F/LB, La Quinta
FRESNO STATE
Ejiro Ederaine, LB, Corona Santiago
February, 1, 2011
2/01/11
6:55
AM PT
By
Dan Arritt
| ESPNLosAngeles.com
With the National Signing Day set for Wednesday, a number of Inland Empire football players have given verbal commitments to various schools across the country. Nothing is official until the papers are signed and returned to the respective colleges, but San Diego State and Oregon have received the most pledges from I.E. athletes. Here's the list of players and where they've committed.

ARIZONA STATE
Michael Eubank, QB, Corona Centennial
Quinton Pedroza, WR/DB, Chino
Brent Walker, OL, Norco

BOISE STATE
Jake Van Ginkel, K, Upland

BYU
Adam Pulsipher, LB, Temecula Valley

COLORADO
Greg Henderson, DB, Norco

COLORADO STATE
Nuvali Faapito, F/LB, La Quinta

FRESNO STATE
Ejiro Ederaine, LB, Corona Santiago

HAWAII
Promise Amadi, Ath., Chino

IDAHO
Dion Bass, DB, Corona Centennial
Todd Handley, RB, Riverside King

IOWA STATE
David Irving, DE/TE, San Jacinto

MONTANA
Nate Harris, RB/DB, Chino Hills

NEVADA
Desman Carter, DB, Fontana Kaiser
Superrior Reid, RB, Riverside Arlington

OREGON
Devon Blackmon, WR, Fontana Summit
Rodney Hardrick, LB, Colton
Ifo Ekpre-Olomu, S, Chino Hills
Jamal Prater, OL, Etiwanda

OREGON STATE
Larry Scott, WR, Corona Centennial

SACRAMENTO STATE
John Taylor, OL, Colton
Blake Robertson, WR, Corona

SAN DIEGO STATE
Darius Guillory, LB, Temecula Chaparral
Jemond Hazely, WR, Corona Santiago
Ryan Jack, LB, Corona Centennial
Paul Pitts, WR, Los Osos
Paul Rodriguez, OL, San Bernardino San Gorgonio
Jonathan Sanchez, DL, Vista Murrieta
Jordan Taylor, OL, Redlands

SAN JOSE STATE
Simon Connette, DB, Corona Santiago
Tyler Ervin, RB, Colton
Sam Boyd, TE, Eastvale Roosevelt

STANFORD
Kelsey Young, RB, Norco

UTAH
Ryan Henderson, DB/RB, Moreno Valley Rancho Verde

USC
DeVante Wilson, DE, Corona

WASHINGTON
Derrick Brown, QB, Vista Murrieta

WASHINGTON STATE
Marcus Mason, RB, Etiwanda

WEBER STATE
Barrinton Collins, RB, Corona Centennial
December, 3, 2010
12/03/10
11:56
PM PT
By
Dan Arritt
| ESPNLosAngeles.com


CHINO HILLS -- When you beat teams as easily as Corona Centennial has this season, it's easy to get comfortable.

But the Huskies learned Friday night they can't shift into cruise control this deep into the Inland Division playoffs and expect a walk in the park.

Leading by just five points against host Chino Hills early in the fourth quarter, the top-seeded Huskies finally pulled away down the stretch to win, 42-23, and advance to the championship game next weekend.

"We underestimated them," said Centennial quarterback Michael Eubank. "We thought we'd come out and dominate like we did every week, but we pulled it together and did what we had to do, knowing we had to win this game to get where we wanted to be."

Eubank did his part, rushing for 135 yards in 24 carries and scoring on a three-yard touchdown run. He also completed 14 of 25 passes for 198 yards and another score.

His only miscue came early in the second half, when he was intercepted by Chino Hills defensive back Nate Harris, who returned the ball 50 yards for a touchdown to cut the deficit to 21-17.

Eubank's touchdown run briefly gave the Huskies (13-0) some breathing room, but fourth-seeded Chino Hills (10-3) marched down the field and scored on a three-yard run by Oregon-bound running back/defensive back Ifo Ekpre-Olomu.


December, 2, 2010
12/02/10
5:26
PM PT
By
Dan Arritt
| ESPNLosAngeles.com
One of the most impressive efforts of the postseason was delivered by Vista Murrieta in a 45-6 victory last Friday against Norco in an Inland Division quarterfinal.

On defense, the Broncos played like they knew what was coming before the ball was snapped. On offense, they attacked Norco's weaknesses.

Well coached might be the best way to describe Vista Murrieta.

Third-seeded Rancho Cucamonga (11-1) is likely a little faster and more athletic than the second-seeded Broncos (11-1), so the visiting Cougars should make for a great semifinal opponent Saturday night.

Rancho Cucamonga senior running back Sateki Finau carved up Eastvale Roosevelt for a career-high 276 rushing yards and four touchdowns last week in a 51-36 quarterfinal victory. Quarterback Dimitri Morales threw another touchdown pass, giving him 12 touchdowns and no interceptions in the last six games.

They'll have their work cut out for them against the Broncos' defense, however.

San Diego State-bound defensive lineman Jonathan Sanchez holds down one end of the field for Vista Murrieta, often filtering runners inside to leading tacklers Jeremy Castro and Manuel Moreno. The other key cog is sophomore safety Su'a Cravens, who already has scholarship offers from UCLA and Hawaii.

The Cougars played two Southwestern League opponents this season, beating Temecula Great Oak, 34-17, in Week 1, and eliminating Murrieta Valley, 37-13, in the first round of the playoffs. Vista Murrieta beat Great Oak, 45-18, and Murrieta Valley, 38-15, both in league play.

Three more to see:

In the other Inland Division semifinal:

Corona Centennial (12-0) at Chino Hills (10-2), Friday -- Is Chino Hills just a bump in the road in Centennial's run for a section title? Or can the Huskies manage to put up a roadblock, something no other team has accomplished against Centennial this season?

Chances are, the former is much more likely to occur.

Chino Hills, seeded No. 4, has good athletes on the offensive side of the ball in running backs Ifo Ekpre-Olomu and Nate Harris, and an opportunistic defense led by the Oregon-bound defensive back Ekpre-Olomu and nose guard Auston Johnson, who has 19 sacks, but top-seeded Centennial has great athletes at every position.

Centennial quarterback Michael Eubank will likely surpass 1,000 rushing yards and 2,500 passing yards in the game, running back Barrinton Collins is inching up on the 2,000-yard barrier and receiver Larry Scott, who received a scholarship offer from Oregon State last week, is 100 yards away from topping 1,000 for the season.

Chino Hills has taken on two Big VIII League teams with mixed results. The Huskies lost to Corona Santiago, 24-12, in Week 1, but played much better in a 70-42 victory against Corona in the first round of the playoffs.

Centennial, well, the Huskies beat both teams by a combined score of 151-34.

ESPNLA.com's pick: Centennial 54, Chino Hills 24.


November, 22, 2010
11/22/10
4:09
PM PT
By
Dan Arritt
| ESPNLosAngeles.com
1. The Baseline League went 3-0 in Inland Division play Friday night, while the Citrus Belt League was 0-3. The biggest upset victory in the division belonged to Etiwanda, the third-place team from the Baseline, which defeated CBL champion Redlands East Valley, 21-16. The Eagles have been forced to outscore teams this season because its defense had allowed an average of 35.6 points coming into the playoffs. The defense came through against REV, however, returning a fourth-quarter fumble 100 yards for a touchdown, stretching its lead to 21-10.

2. What a day for Ifo Ekpre-Olomu of Chino Hills. He began Friday by committing to play for Oregon, then went out that night and scored four touchdowns in a 70-42 victory against Corona in an Inland Division first-round game. Ekpre-Olomu had two touchdown runs of six yards, another for 53 and a 100-yard kickoff return for a score. As lopsided as the final score appears, the Huskies led only, 49-42, heading into the fourth quarter.

3. A more impressive fourth-quarter surge was delivered Friday night by Riverside La Sierra in a 54-49 loss to Palm Springs in a Central Division first-round game. The Eagles scored 32 points in the final quarter, turning a laugher into a nail-biter. "I started the night 57 years old and I ended it 83," Palm Springs coach Steve Fabian told the Desert Sun after the game. Fabian decided to rest star running back Nephi Garcia after taking a 37-point lead and nearly regretted it.


November, 18, 2010
11/18/10
10:56
AM PT
By
Dan Arritt
| ESPNLosAngeles.com
Nobody expected Temecula Chaparral or Upland to win Southern Section titles last season either.

But then the Pumas got on a roll after finishing second in the Southwestern League and slipped by one quality opponent after another in the Inland Division playoffs, winning their first section title with a 13-7 victory against Southwestern League champ Vista Murrieta.

Over at Upland, the Highlanders squeaked into the Central Division playoffs as a wild card out of the Baseline League, then capped their championship run with a 19-7 victory against Baseline champion Rancho Cucamonga Los Osos.

Upland, now a member of the Inland Division, will host Chaparral in the opening round of playoffs Friday at 7 p.m. and, once again, both teams will enter the postseason having not fulfilled preseason expectations of winning league titles.

No worries.

The second season is here.

One of these teams is guaranteed to see their playoff hopes end in the first round, however. The other will move onto the second round and probably have their next opponent wondering: Here we go again?

Chaparral (4-6) showed as much life last Thursday in a 27-20 victory against Murrieta Valley as it has all season. Then again, the Pumas were faced with the possibility of missing the playoffs if they lost.

Antoine Arnold, considered one of the top receivers in the Inland Empire, had the best game of his injury-filled season, catching six passes for 169 yards and two touchdowns.


October, 12, 2010
10/12/10
3:49
PM PT
By
Dan Arritt
| ESPNLosAngeles.com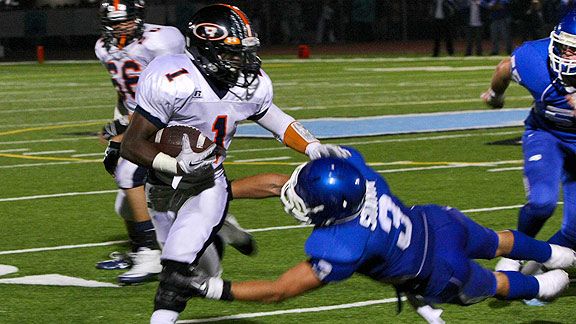 Courtesy of Paul Moureaux
Eastvale Roosevelt running back Buster Jackson helped the Mustangs upset Norco, 24-21, and create a logjam in the Big VIII League standings.
Corona Centennial continues to sit on its perch while the rest of the Big VIII League teams knock each other off. Corona Santiago defeated Eastvale Roosevelt in Week 3, then turned around and lost to Riverside King in Week 4. A night later, Roosevelt toppled Norco, putting ESPNLA.com in a no-win situation when it comes to establishing an Inland Empire top 10.
1. (1) Centennial, 5-0
The Huskies are averaging 51 points this season, putting them on pace for 714 through 14 games. Only Westlake Village Oaks Christian (2004, '06) and Bloomington (1994, '96, '97) have scored more in Southern Section history. Last week: Beat Riverside Poly, 52-8. Next: vs. Riverside North, Friday.
2. (3) Vista Murrieta, 4-1
Javonte Slater is headed to USC on a track and field scholarship, but he continues to prove he's more than just a straight-ahead runner. He had a season-high 145 rushing yards last weekend against Palisades. Last week: Defeated Palisades, 45-16. Next: vs. Temecula Chaparral, Thursday.
3. (2) Norco, 4-1
Something happened on the way to that showdown with Centennial on Oct. 29. The Cougars got run down by the Mustangs of Roosevelt. Last week: Lost to Roosevelt, 24-21. Next: at Santiago, Friday.
4. (4) Fontana Kaiser, 5-0
OK, so the Cats aren't perfect, giving up their first points since Week 1. Still, they managed to score 55 points in a game that lasted just under 90 minutes because officials used a running clock from the second quarter on. Last week: Beat Hesperia, 55-14. Next: vs. Mira Loma Jurupa Valley, Friday.
5. (10) Roosevelt, 4-1
Excuse the Mustangs for over-celebrating their upset victory against Norco last weekend. The program is only four years old and, quite frankly, that was its biggest victory to date. Last week: Beat Norco, 24-21. Next: vs. Poly, Friday.
October, 4, 2010
10/04/10
5:39
PM PT
By
Dan Arritt
| ESPNLosAngeles.com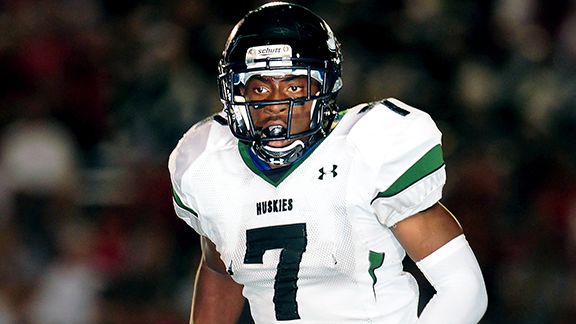 Courtesy of Lee Calkins
Ifo Ekpre-Olomu of Chino Hills, ESPN's No. 1 cornerback prospect in California, suffered a shoulder injury against Redlands East Valley last week.
1. A big sigh of relief at Chino Hills High, where two-way standout
Ifo Ekpre-Olomu
is expected to be back on the field when the Huskies travel to Claremont for their Sierra League opener Oct. 15. Ekpre-Olomu, rated as the
No. 1 cornerback prospect
in the state by ESPN, injured his right shoulder late in the third quarter of a 14-3 victory Friday night against Redlands East Valley and did not return. "Nothing's broke, just a sprain," Chino Hills coach
Derek Bub
said Monday. As a precaution, Ekpre-Olomu was scheduled to see a doctor later Monday, Bub said, but the possibility of any structural damage has been reduced. Ekpre-Olomu would be an especially big asset against Claremont, as the Wolfpack are led by one of the state's top quarterbacks,
Daniel Kessler
, who has thrown for 1,513 yards and 16 touchdowns this season.
2. Despite the return of its own blue-chip prospect, Fontana Summit suffered one of the bigger upsets of the season Friday night. The SkyHawks, the top-ranked team in the Southern Section Eastern Division, were downed by unranked Victorville Silverado, 20-18, at Fontana Miller High.
Devon Blackmon
of Summit,
ranked by ESPN
as the 36
th
best college prospect in the nation, missed the two previous games because of an ankle injury but was back on the field against the Hawks, catching five passes for 36 yards. Unfortunately, kicking is not in his skill set. The SkyHawks missed the point-after following their first two touchdowns, forcing them to try an unsuccessful two-point conversion with 90 seconds remaining.
October, 1, 2010
10/01/10
11:36
PM PT
By
Dan Arritt
| ESPNLosAngeles.com


REDLANDS, Calif. -- Even with standout defensive back Ifo Ekpre-Olomu nursing an injured right shoulder for most of the second half, the Chino Hills defense was immovable Friday night.

The Huskies put the clamps on Redlands East Valley from the start and didn't relent, setting the stage for a 14-3 victory at the University of Redlands.

The defense forced three turnovers and met the Wildcats in their own backfield on several occasions. Greg Bennett recovered a fumble on the game's first series and Chino Hills quickly capitalized with a five-yard touchdown pass from Andrew Chavez to Scott Calles.

"That turnover was big, that was the momentum of the game," Calles said.

REV (3-1) converted a field goal later in the first quarter but missed two other attempts that would have given it the lead. Chavez added the second touchdown on a nine-yard run with 5:40 remaining in the game.

The Wildcats, who came in ranked No. 4 in the Inland Empire by ESPNLA.com, did not record a first down in the second half until three minutes remained.

Ekpre-Olomu, rated as the No. 1 cornerback in the state by ESPN, went down with a right shoulder injury following a three-yard run with two minutes remaining in the third quarter. He did not return to the game, but is hoping next week's bye will give him a chance to heal.

Below are the two scoring plays by Chino Hills (4-1).


September, 30, 2010
9/30/10
1:34
PM PT
By
Dan Arritt
| ESPNLosAngeles.com
What started as a blip on the radar screen at the start of the season has quickly morphed into one of the marquee games in the Inland Empire.
Chino Hills (3-1) is set to play Redlands East Valley (3-0) on Friday night at University of Redlands, a meeting between two teams that are picking up momentum with each snap of the ball.

Chino Hills is led by
Ifo Ekpre-Olomu
(pictured), rated the
No. 1 cornerback
in the state by ESPN. Ekpre-Olumu, who took an official recruiting trip to Oregon two weeks ago, has been spending much of his energy on the offensive side of the ball, leading the Huskies in rushing and receiving.
With opponents opting to throw away from his side of the field,
Steve Smith
has effectively covered his ground with four interceptions.
Redlands East Valley, ranked No. 4 in the Inland Empire by ESPNLA.com, lost three Division I college recruits to graduation, including three-year starting quarterback
Tyler Shreve
, but gained attention this season with wins against Clovis East and Orange Lutheran.
Kickoff is set for 7:30 p.m.
Other games to watch:
Rancho Cucamonga (4-0) at Redlands (3-0-1), Friday, 7 p.m.
Redlands has won all three games by a touchdown or less, but staying close to the speedy Cougars will be an uphill battle. Rancho Cucamonga is led by running back
Sateki Finau
and wide receiver
Donovan Harden
, who have combined for 14 touchdowns this season. ESPNLA.com's pick: Rancho Cucamonga 31, Redlands 17.
No. 20 Eastvale Roosevelt (3-0) at Corona Santiago (1-2), Friday, 7 p.m
.
Roosevelt is up against its first real test of the season in this Big VIII League opener. The Mustangs will face a team that plays extremely well at home and had an extra week to prepare. Keeping running back
Joey Legere
(10 touchdowns) out of the end zone will be key for the Sharks. ESPNLA.com's pick: Roosevelt 21, Santiago 14.
No. 23 Encino Crespi (3-1) at No. 7 Vista Murrieta (3-0), Friday, 7 p.m.
Crespi returns to the Inland Empire for the first time since losing to Corona Centennial, 29-27, in 2006. The Celts are ranked 23
rd
in the latest ESPNLA.com top 25 and are building confidence after knocking off Clovis West, 34-33, two weeks ago. A matchup to watch is Vista Murrieta receiver
Michael Mazur
against Crespi defensive back
Charles Washington
. ESPNLA.com's pick: Vista Murrieta 28, Crespi 14.