Los Angeles Preps:

Imani Stafford
March, 17, 2012
3/17/12
7:06
PM PT
By
Sean Ceglinsky
| ESPNLosAngeles.com
ONTARIO -- Gardena Serra tried just about every gimmick defense in the book to limit the effectiveness of
Kelsey Plum
during Saturday afternoon's Southern California Regional championship playoff game at Colony High.
Nothing worked.
[+] Enlarge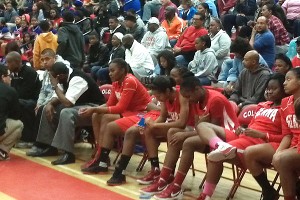 Sean Ceglinsky/For ESPNLA.comSerra players and coaches react after losing in the state regional final to La Jolla Country Day.
Plum finished with 23 points to help La Jolla Country Day take a five-point advantage at the halftime break and the lead ballooned to double digits in the fourth quarter en route to a 46-36 victory in a Division IV title showdown.
"Stopping Plum was one of our goals, but we didnt get the job done and it's disappointing," said Serra coach
McKinsey Hadley
.
With the victory over second-seeded Serra (30-4), top-seeded La Jolla Country Day (31-1) advances to next week's CIF state title game in Sacramento.
Plum was in the running for Gatorade State Girls' Basketball Player of the Year along with Southland standouts such as Santa Ana Mater Dei's
Nirra Fields
and
Jordan Adams
, along with Los Angeles Windward's
Imani Stafford
. Fields ultimately earned the honor.
"When teams focus on me, I try to get my teammates involved, that was the case tonight,'' Plum said.
After scoring 11 points in the first half, Plum got back to work in the third quarter. She scored a pair of baskets in the opening minutes and her play appeared to inspire the Torreys. The end result was a 33-28 lead to start the fourth.
With standout
Rejane Verin
on the bench with two fouls, Serra attempted to keep the score close in the first half.
Deandra Toler
and
Caila Hailey
combined for 11 points. The Cavaliers, however, trailed 23-17 at the halftime break.
Plum got off to a fast start. She knocked down a 3-pointer, was fouled in the act, and converted the subsequent free throw to complete the rare four-point play and give the Torreys a 11-7 advantage at the end of the first quarter.
Toler finished with 14 points.
February, 29, 2012
2/29/12
11:47
PM PT
By
Martin Henderson
| ESPNLosAngeles.com


ANAHEIM -- The game pitting top-seeded Windward against Gardena Serra was started late because of a double-overtime game that was played beforehand.

Then the two teams, ranked in the state's top 20, topped it by playing three overtimes.

When it was over, Serra had shocked the No. 1 team in the state, scoring an 82-79 victory at the Anaheim Convention Center Arena to win the Southern Section Division 4AA championship.

According to the Southern Section Record Book, it was the second-highest scoring girls' game in history, surpassed only by Riverside Poly and Norte Vista, which scored 179 during the 1981-82 season.

Windward had a 79-75 lead when Deandrea Toler went coast-to-coast to cut Serra's deficit to two with 41 seconds remaining, and with 6.5 seconds left, sophomore Caila Hailey converted two free throws to tie the score at 77-79.

Windward had a chance to win it, and went to 6-foot-7 Imani Stafford, who drove to the basket and was whistled -- correctly, it appeared -- for a double-dribble with 2.3 seconds left.

Windward called a timeout it didn't have, thus was assessed a technical foul and Siera Thompson knocked both down for an 81-79 lead for Serra. with less than a second left, Hailey made the second of two for the final margin.

Serra was no slouch. The Cavaliers (27-3) were ranked No. 16 in the state.

Windward -- which scored victories this season over Mater Dei, Brea Olinda and Long Beach Poly -- dropped to 27-4.

Thompson led Serra with 22 points, and Rejane Verin scored 20. The Cavs won the game at the free-throw line by converting 21-of-31, compared to Windward's 13-of-29.

"The better team won tonight," said Steve Smith, the Windward coach. "They were tougher than us."

Jordin Canada led Windward wit 21 points, Kristen Simon scored 17, Macchiati Smith 14 and Courtney Jaco 12.
February, 9, 2012
2/09/12
2:48
PM PT
The two-year drought is over.
La Verne Lutheran forward
Grant Jerrett
was named to the prestigious McDonald's All-American game on Thursday, becoming the first player from California to be honored since 2009 when four locals were named to the west roster. Jerrett, an Arizona signee, is the state's only representative this year.
"I feel honored and blessed to be able to play in this game," said Jerrett, who is averaging 24 points and 11 rebounds for back-to-back state champion Lutheran.
This year's game will be televised live by ESPN on March 28 at 6:30 p.m. PT from the United Center in Chicago.
Here is a link to
the complete boys' rosters
.
On the girls' side, the Southland will have four players in the game (which will be played the same night as the boys' game but at 4 p.m. PT) on the West roster
Mater Dei guards
Jordan Adams
and
Nirra Fields
are on the team, as well Silverado center
Candice Agee
and Windward center
Imani Stafford
.
Here is a link to
the complete girls' rosters
.
February, 4, 2012
2/04/12
7:26
AM PT
Ranked 1-2 in the state by Cal-Hi Sports, Los Angeles Windward completed a sweep of the three teams that have ruled girls' basketball in Southern California—and state—for years.
In Mater Dei's Meruelo Events Center in the final game—the marquee game—of the first day of the Nike Extravaganza, Windward scored a 65-62 victory over the two-time defending state champion and host Monarchs.
Windward (21-3) came into the game ranked No. 6 nationally in the ESPN Powerade Fab 50; Mater Dei (21-3) is No. 11.
"When you play in these kinds of games, you take a risk," Mater Dei coach
Kevin Kiernan told the Orange County Register
. "Why play teams you can beat by 50, what does that prove?"
He said that his team will be better for having played the game regardless of the outcome, a sentiment that was echoed by Windward coach
Steve Smith
about a 62-48 loss three weeks ago to the No. 1 team in the country, Phoenix St. Mary's.
"Without that game,"
Smith told Maxpreps
, "not sure how this one turns out."
March, 26, 2011
3/26/11
12:01
PM PT
By
Tim Haddock
| ESPNLosAngeles.com


SACRAMENTO – Windward's Jordin Canada knocked down a 3-pointer with 43 seconds left in CIF State Division IV girls basketball championship game and gave her team a 51-47 win over St. Mary's of Berkeley.

Windward had a five-point lead, 43-38, entering the fourth quarter. Shannon Mauldin of St. Mary's gave her team the lead, 44-43, with 5:53 to play in the game. Windward took back the lead on a basket by Imani Stafford before Mauldin tied it, 47-47, with a little more than a minute to play.

Mauldin's second big shot of the quarter prompted Windward coach Steve Smith to call a timeout.

"At that point of the game, we had to have some kind of rhythm," Smith said. "Their length gave us fits. We wanted to give everyone a chance to touch the ball."

Smith's play coming out of the timeout called for the players to swing the ball around the perimeter and then drop it in to Stafford. She was double-teamed as soon as she touched the ball. Stafford kicked it out to Canada at the top of the key and she nailed the game-winning 3-pointer.

Canada was asked after the game if she ever envisioned herself making a shot to win a state title.

"I try not to think about stuff like that. It's kind of selfish," Canada said. "I just play the game how I play it. It just so happened I had the last shot for my team. I had a feeling it was going in."

The Windward girls won their first state basketball championship in school history in their second trip. Windward has a 20-game winning streak. The streak started after Stafford missed the first 13 games of the season.

Stafford led all scorers with 18 points and had 19 rebounds. Ten of those were offensive rebounds.

"We wanted to keep her off the glass," St. Mary's coach Nathan Fripp said. "We knew she was talented. We knew she would be active on the window. Unfortunately for us, she was."

Canada scored 12 points on 5-of-10 shooting from the field. She made only one 3-pointer, but it was the difference in the game.

Emily Vann and Mauldin each scored a team-high 11 points for St. Mary's. Teammate Gabby Green scored 10.
March, 25, 2011
3/25/11
4:10
PM PT
By
Tim Haddock
| ESPNLosAngeles.com
CIF STATE GIRLS DIVISION IV

At Power Balance Pavilion, Sacramento

Matchup: Windward (28-4) vs. Albany St. Mary's (30-4), Saturday, 9:30 a.m.

How they got here: Windward has a 19-game winning streak and hasn't lost since Dec. 22 in the Tournament of Champions in Arizona. The Wildcats beat La Jolla Country Day, 68-58, in the Southern California Regional final and avenged two earlier losses to the Torries. Windward won the Southern Section Division 4AA championship, 68-46, over Bishop Montgomery. St. Mary's beat Modesto Christian, 70-42, in the Northern California Regional final to advance to the state championship. The Panthers have won 17 games in a row, including 73-48 over Piedmont in the North Coast Section Division 4 championship.

Key players: Four players scored in double figures for Windward in the Southern California Regional final against Country Day. Sophomore Courtney Jaco led the way with 18 points on six 3-pointers. Freshman Jordin Canada scored 14 points with four steals and had seven assists. Junior Paris Baird scored 13 points and freshman Kristen Simon had 11 points off the bench. Junior center Imani Stafford scored nine points and had 16 rebounds. Jaco, Canada and Stafford are averaging 12 points apiece for Windward.

St. Mary's freshman Gabby Green leads the team in scoring with 10.1 points per game and assists with 4.1 per game. She scored nine and had six assists against Modesto Christian in the Northern California Regional final. Senior Emily Vann leads the team in rebounding with 6.9 per game and is second on the team in scoring with 9.9 points per game. She scored 12 against Modesto Christian. Freshman forward Mikayla Cowling scored a team-high 16 points in the Northerh California Regional final.

What to expect: Stafford, at 6 feet 7, is a force in the paint for Windward. She and Simon pretty much had their way with Country Day in the post and on the offensive boards. DeAndre Moore is St. Mary's tallest player at 6-3. Windward should have a definite edge in the frontcourt.
March, 19, 2011
3/19/11
7:40
PM PT
By
Tim Haddock
| ESPNLosAngeles.com


ONTARIO -- The third time and Imani Stafford were the charms for the Windward girls' basketball team against La Jolla Country Day.

Windward beat Country Day, 68-58, to win the CIF Division IV Southern California Regional final at Colony High School on Saturday.

It was the third time Windward and Country Day have met this season. Country Day had won the previous two games.

Stafford, Windward's 6-foot-7 junior center, missed the first two games against Country Day. She made her presence felt in the regional final.

"She's huge," Windward coach Steve Smith said. "They had to pay attention to that."

She scored nine points and had 16 rebounds. She was a force in the paint, altering Country Day's shots throughout the game. Freshman teammate Kristen Simon shouldered the load with Stafford in the paint with 11 points and seven rebounds.

Down two points, 46-44, entering the fourth quarter, Windward went on a 19-4 run. Jordin Canada sparked the surge scoring five of her team's first eight points in the fourth quarter. Courtney Jaco knocked down a couple key 3-pointers in the run as Windward built a 64-51 lead.

Canada finished with 14 points and five assists. Jaco poured in a game-high 18 points and made six 3-pointers.

Kelsey Plum scored 18 points for Country Day. Maya Hood had 10 points and 11 rebounds.
March, 2, 2011
3/02/11
6:48
PM PT
ANAHEIM -- Windward had four players score in double figures Wednesday afternoon to rout Bishop Montgomery, 68-46, and capture the CIF-Southern Section Division 4AA girls' basketball title.

Top-seeded Windward, a small school with an enrollment of 345, never trailed. Imani Stafford and Kristen Simon each recorded double-doubles for the Wildcats (25-4).

Second-seeded Bishop Montgomery (22-10) was down 13 at halftime and cut it to single digits in the third quarter, but Windward pulled away behind Simon and Courtney Jaco, who scored seven apiece in the fourth.

Jordin Canada led Winward with 14 points and seven assists. Kristen Ale had 16 and Chelsey Aaron had 11 for Bishop Montgomery.