Los Angeles Preps:

Isaac Hamilton
May, 1, 2012
5/01/12
11:43
PM PT
Pasadena senior Blake Hamilton committed to Northern Arizona over the weekend. He also had a scholarship offers from Hawaii, Cal State Northridge and Sacramento State.

The 6-foot-5 forward averaged 16 points and 11 rebounds last season, helping Pasadena to the CIF-Southern Section Division 3AAA title. He is the cousin of brothers Isaac and Daniel Hamilton of St. John Bosco and Jordan Hamilton of the Denver Nuggets.
March, 17, 2012
3/17/12
3:30
PM PT


ONTARIO -- Sometimes the spotlight shines brightest on players like K.J. Moffett. The junior guard won't soon forget his moment.

Moffett's sprawling reverse layup with under two seconds remaining carried the Alemany boys' basketball team to the CIF Southern California Division III regional championship Saturday afternoon at Citizens Bank Arena. It was his only field goal in the Warriors' thrilling 62-61 victory over St. John Bosco but it secured a trip to Sacramento, where they'll meet NorCal champion San Francisco Sacred Heart Cathedral.

The ball reached Moffett's hands on a pass from teammate Marqueze Coleman, a top-scoring wing headed to Nevada. The lesser-known player made it count, driving baseline and converting on a difficult attempt.

"It didn't seem real," Moffett said. "It was a great feeling."

Alemany led by as many as 18 in the first half but needed a comeback late. Bosco went on a furious rally, jumping ahead by six with under two minutes left. The Braves led by one following Kameron Murrell's lay in with 11 seconds remaining.

"Wow is the only thing I can say about that game," Alemany coach Tray Meeks said.

Alemany (32-4), the Southern Section Division 3A champion, was led by Coleman's 24 points and point guard Max Guercy's 20.

Isaac Hamilton had 32 points and 11 rebounds for Bosco, which reached the regional final with a thrilling victory against Southern Section Division 3AAA champion Pasadena earlier in the week.


March, 14, 2012
3/14/12
12:17
AM PT
By
Sean Ceglinsky
| ESPNLosAngeles.com


MONROVIA -- It was one of those family affairs.

Someone, however, had to end up the winner. Consoling the loser was a necessary evil, in fact.

Nevertheless, Tuesday evening's Southern California Regional playoff game was a gathering the Los Angeles-based Hamilton family won't soon forget.

With the score tied and the finals seconds ticking off the fourth quarter clock, Daniel Hamilton from Bellflower St. John Bosco hit what proved to be the winning shot for the Braves in a 53-51 victory over Pasadena in a Division III semifinal showdown at Monrovia High School.

The bank-shot in the lane with 1.7 seconds left was made over the outstretched arms of his cousin, the Bulldogs' senior Blake Hamilton.

In the meantime, Braves teammate and older brother, junior Isaac Hamilton, was on the court and watched things unfold as his sophomore sibling sealed the deal.

Blake Hamilton was left to think about what could have been.

"I have to give my little cousin credit, he hit a big shot,'' Blake Hamilton said. "You never like to lose, no matter what the situation is. If you have to lose, I'd rather it be to someone in my family. I'm happy for my cousins, I guess. I came out on the short of the stick.''

Blake Hamilton did his best to keep second-seeded Pasadena (29-7) close. The senior wing scored six points early on to give the Bulldogs a 16-14 lead at the end of one. He added eight points in the second quarter to maintain a two-point advantage at the break.

The intensity level picked up in the second half and UCLA coach Ben Howland was in attendance, presumably to catch the highly-touted Hamilton brothers in action. The tandem has some strong family bloodlines, after all. Older brother, Jordan Hamilton, plays for the Denver Nuggets.


March, 10, 2012
3/10/12
10:52
PM PT
By
Tim Haddock
| ESPNLosAngeles.com


CALABASAS -- The St. John Bosco boys' basketball team is used to playing, and winning, close games. The quarterfinal game of the CIF State Division III Southern California Regional against Calabasas was no different.

St. John Bosco beat Calabasas, 75-71, in overtime in a matchup of top-20 teams in the ESPN Los Angeles rankings. Calabasas is the No. 13 team and St. John Bosco is No. 17. St. John Bosco moves on to the semifinals of the Division III Southern California Regional.

The Braves outscored the Coyotes, 10-6, in the overtime period. Isaac Hamilton scored four points in the extra period and helped give his team a four-point advantage in the opening minutes of overtime.

St. John Bosco coach Derrick Taylor said taking the lead early in overtime gave his team an edge.

"It's somewhat of a psychological advantage," Taylor said. "They (Calabasas) were really playing uphill. That was important."

Hamilton finished with 33 points, 11 rebounds and had five assists. He came alive in the second quarter, scoring 10 points. He followed up with another 10-point quarter in the third and was 9-for-11 from the free-throw line in the game.

"I had to turn him loose and I had to get him some more shots," Taylor said. "I had to open the offense up for him."

The game ended tied in regulation, 65-65. Calabasas sophomore Jeremy Lieberman scored a basket in the closing seconds to tie the score. St. John Bosco's Mark Uy put his team ahead by two points, 65-63, with a free throw before Lieberman's basket.

The score was tied five times in the fourth quarter. Calabasas had a three-point lead at one point. St. John Bosco (24-7) rallied to take a three-point lead, 63-60, with less than two minutes to play. It was a tight, see-saw game from the opening tipoff.

"We're not bothered by close games,." Taylor said. "We knew that we could come through. We're used to close games, so we didn't panic."

Lieberman finished with 23 points and five assists for Calabasas (28-4). Teammate Spencer Levy also scored 23 points and made four 3-pointers.

Daniel Hamilton scored 16 points for St. John Bosco. Darryl Matthews scored 11 points and had 15 rebounds.
March, 7, 2012
3/07/12
10:52
PM PT
By
Dan Arritt
| ESPNLosAngeles.com
The second-seeded Long Beach Poly boys' basketball team had to fight off a stiff test from No. 15 Capistrano Valley on Wednesday night in a Division 1 Southern California Regional first-round game before ultimately winning in overtime, 65-59.

The Jackrabbits finally took control by scoring the first six points of overtime while the Cougars were committing three turnovers. Capistrano Valley had led by as many as 13 points in the first half before Poly scored the final eight points of the second quarter to get back into the game.

The Jackrabbits will host seventh-seeded Orange Lutheran in Saturday's second round. The Lancers knocked off Dorsey, 64-57.

In other Division 1 games:

Etiwanda 57, Vista 50 – Sophomore point guard Jordan McLaughlin scored 18 points as the fifth-seeded Eagles overcame a four-point deficit at the start of the fourth quarter.

Mission Viejo 70, Torrey Pines 62 – The ninth-seeded Diablos surged to a 17-point lead after three quarters against No. 8 Torrey Pines.

Taft 84, Clovis West 54 – Anthony January, a 6-7 senior power forward for third-seeded Taft, scored 17 points as the Toreadors surged to a 26-12 lead after the opening quarter. Taft will host Fresno Bullard in Saturday's second round.

Fresno Bullard 68, Westchester 53 – The sixth-seeded Knights got 32 points and 15 rebounds from senior shooting guard Aaric Armstead. Westchester trailed by just five points heading into the final quarter but were outscored, 21-9.

In Division 2:

El Camino Real 71, Colony 63 – The ninth-seeded Titans led by two heading into the fourth quarter but No. 8 El Camino Real outscored Colony, 15-7, over the next four minutes to take the lead for good.

Elsinore 56, Thousand Oaks 46 – The fourth-seeded Tigers cut the deficit to two points at the end of the third quarter on a four-point play by E.J. Twyman at the buzzer and then outscored the 13th-seeded Lancers, 20-8, in the final quarter. Elsinore moves on to host fifth-seeded Inglewood, a 65-52 winner against Garfield.

Tulare Union 72, Righetti 71 – In the biggest upset in the division, the 11th-seeded Redskins knocked off No. 6 Righetti and advanced to play third-seeded San Diego Lincoln, a 76-64 winner against visiting Sunny Hills.

Fresno San Joaquin Memorial 51, Royal 43 – The 10th-seeded Highlanders went on the road and couldn't get past the seventh-seeded Panthers.


January, 27, 2012
1/27/12
10:50
PM PT
BELLFLOWER -- St. John Bosco turned off the gym lights for player introductions, Mater Dei proceeded to shoot them out.
A sellout crowd that buzzed before tipoff went silent within minutes. It was supposed to be a marquee Trinity League battle, but it quickly turned into one team's display of superiority.
[+] Enlarge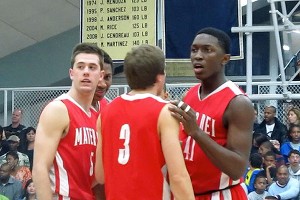 Blair Angulo/ESPNLosAngeles.comMater Dei showed its superiority in a lopsided win over St. John Bosco.
Mater Dei flexed its muscle with a resounding 86-71 victory against St. John Bosco, taking sole possession of first place. But was the Monarchs' place atop the standings ever really in doubt?
"We wanted to prove that we're the best team in this league," Mater Dei forward
Stanley Johnson
said. "They were talking junk ... we wanted to prove a point."
Consider the message delivered. Colorado-bound forward
Xavier Johnson
had a team-high 23 points and 11 rebounds for the defending state champion Monarchs.
"We wanted to beat them huge," Xavier Johnson said.
In anticipation of a capacity crowd, school officials advised fans to arrive at least three hours ahead of the 7 p.m. tipoff. Entrance gates opened at 4 p.m., and spectators trickled in until the seats filled up an hour and a half later. A Bosco official said attendance was capped at 1,310.
The atmosphere was there. Mater Dei (19-2, 6-0 Trinity) fed off of it, opening a 21-point gap after the first quarter. UNLV-bound
Katin Reinhardt
poured in 17 of his 22 points in the first quarter alone, and the Monarchs sank eight 3-pointers in the first eight minutes.
"This was a hype game," said Reinhardt, who along with Xavier Johnson had been battling the flu all week. "All of Southern California wanted to come watch. We had to come out strong and put the pedal to the metal."
For now it appears as if St. John Bosco (16-5, 5-1), with talented brothers
Isaac Hamilton
and
Daniel Hamilton
, will have to wait until next season to leave its mark on the league. The Braves got to within nine midway through the third quarter, but Reinhardt answered with a dagger from the corner.
"We do that and we're going to beat a lot of teams," Mater Dei coach
Gary McKnight
said. "Katin is at a different level at times."
Isaac Hamilton, a junior, finished with a game-high 30 points. Daniel Hamilton, a sophomore, had 15. The only suspense left before the final quarter? Who would be the lucky winner of the 50-50 raffle.
The teams meet again in a week, on Feb. 3 in Santa Ana. Mater Dei, like always, figures to turn off the lights for player introductions.
"Our introduction is bigger and better," Stanley Johnson said, smiling.
Blair Angulo covers preps for ESPN Los Angeles. Follow him on Twitter.
January, 25, 2012
1/25/12
10:38
PM PT
St. John Bosco (16-4) eked out a 72-68 victory at JSerra on Wednesday night to improve to 5-0 in Trinity League play, setting up a highly intriguing matchup with Mater Dei, the region's top-ranked squad, on Friday in Bellflower. Isaac Hamilton led the way with a game-high 26 points.

Loyola (16-3) lost at home to Alemany, 95-81, and is now two games back in the Mission League standings. The Cubs had gotten back into the race with an impressive win against Crespi earlier in the week. Loyola got 24 points from Julian Harrell.

In the Western League, Fairfax (14-7) beat Westchester, 53-46. Brendyn Taylor had 17 points. In the Pacific League, Muir (20-1) beat Burbank, 54-52, thanks to Jelani Mitchell's 17 points.

Windward (14-7) bounced back from a demoralizing Alpha League loss to Pacific Hills, defeating Sierra Canyon 68-67.

In the Ocean League, Culver City beat Beverly Hills, 87-81, behind 33 points from Aamahd Walker and 32 from Keilan Horton.
January, 18, 2012
1/18/12
10:38
PM PT
BELLFLOWER -- All eyes were fixed on St. John Bosco guard Isaac Hamilton Wednesday night. Up and down the floor he went, crashing the boards and slashing his way to the basket. The star junior was a sight to see.

Then, late in the game, Hamilton was whistled for his fifth foul. Suddenly, the player everyone came to see turned into a spectator.

St. John Bosco, though, responded the way good teams do. Captain Braiten Madrigal sank a clutch 3-pointer to extend the Braves' lead to six, and they held on for a crucial 80-73 Trinity League victory over visiting Orange Lutheran.

"I don't know what I was thinking," said Hamilton, who scored a game-high 37 points and grabbed 10 rebounds. "The fifth foul was just instincts. I should have held back, but I saw the ball coming and I thought it was an easy steal. Not being with the team in the final minutes hurt, but everyone else finished the game off."

St. John Bosco (14-2), which improved to 4-0 in the Trinity League, is off to a remarkable start under first-year coach Derrick Taylor, who spent the previous 11 years at Woodland Hills Taft.

Hamilton, the nation's 16th-ranked player in the 2013 class, picked up his fifth foul with 1:45 remaining, the Braves clinging to a five-point lead. It dwindled down to three before Madrigal's heroics.

"It was rough, but I knew we'd pull it out," said 6-foot-6 sophomore Daniel Hamilton, Isaac's younger brother who added 23 points and 11 assists. "We're a good team. We practice hard and play hard."


January, 13, 2012
1/13/12
9:27
PM PT
There was a bevvy of notable league basketball games in south Los Angeles County on Friday.
In the Western League, Palisades (9-8) withstood a furious charge by Fairfax and held on for a 64-60 victory. Fairfax (10-6) trailed by 26 early in the second half but pulled to within two in the final seconds before missing the go-ahead 3-pointer. Lions guard
Landon Drew
scored a game-high 19 points in a losing effort.
After a three-week layoff, Long Beach Poly (12-1) opened Moore League play by routing Lakewood, 74-30. Junior forward
Roschon Prince
had 25 points, getting to the free-throw line 26 times.
Loyola (13-2) is back in the Mission League race after beating Harvard-Westlake, 64-54, in front of a full house at Cal State Los Angeles.
In the Alpha League, Windward (13-5) beat Brentwood, 80-72, to gain the edge atop the standings. And despite the loss, Brentwood (12-3) proved its legitimacy. Pacific Hills (14-3), the league's other contender, was idle.
In the Ocean League, Santa Monica (11-5) beat Culver City, 67-61, despite 27 points from Centaurs guard
Keilan Horton
.
St. John Bosco (13-2) improved to 3-0 in Trinity League play with a 78-69 win at Santa Margarita. Top junior prospect
Isaac Hamilton
had a game-high 30 points. The Braves get the chance to make a statement when they host Orange Lutheran next week.
Blair Angulo covers preps for ESPN Los Angeles. Follow him on Twitter.
December, 6, 2011
12/06/11
6:20
PM PT
Loyola, Long Beach Poly and La Verne Lutheran are ranked in
the preseason POWERADE ESPNHS Fab 50 national rankings
, and they lead the way in our opening edition of the south Los Angeles County boys' basketball top 10:
1. Loyola (4-0)
Key players:
PG Parker Jackson-Cartwright, SG Justin Childress, SG Jacob Hazzard, SF Julian Harrell (Penn)
Last season:
The Cubs went 25-6 and won the CIF-Southern Section Div. I-A championship before losing by two to eventual state champion Mater Dei in regionals.
Why they're here:
Jackson-Cartwright, only a sophomore, is already considered the top point guard in the state. Mix in the shooting of Childress and Hazzard -- as well as the versatility of Harrell -- and the Cubs have a lineup that few can match.
2. Long Beach Poly (3-1)
Key players:
SF Roschon Prince, PF Jordan Bell, PG Chris Croom, SG Reuben Strickland
Last season:
The Jackrabbits posted a 30-2 record and captured the Division 1AA title in Anaheim before losing to eventual state champion Mater Dei in regionals.
Why they're here:
Poly coach Sharrief Metoyer lost his top two to graduation -- state player of the year Ryan Anderson (Boston College) and Alexis Moore (USC) -- but there's more than enough talent left. Prince and Bell might be the best one-two combination in the county.
3. La Verne Lutheran (4-0)
Key players:
PF Grant Jerrett (Arizona), SG Eric Cooper Jr. (Arizona), SF McKay Anderson, SG Cameron Osorno
Last season:
The Trojans overcame off-the-court adversity, finishing with a 25-5 mark and a second consecutive state championship.
Why they're here:
Jerrett, a long and lean power forward, is arguably the top prospect on the West Coast. Coach Eric Cooper Sr. returns nine letter-winners from last year's team, including son Eric Cooper Jr., a sharp-shooting junior who makes teams pay for double-teaming Jerrett down low.
4. St. John Bosco (4-0)
Key players:
SG Isaac Hamilton, PF Anthony January (UTEP), SF Darryl Matthews, SG Daniel Hamilton
Last season:
The Braves finished 21-9 and were eliminated in the quarterfinals of the CIF-SS Division 4AA playoffs.
Why they're here:
New coach Derrick Taylor, who built Woodland Hills Taft into a City Section power, has the Braves thinking about the Trinity League crown. Getting past defending state champion Mater Dei won't be easy, but Bosco has Isaac Hamilton, a transfer from Crenshaw who is one of the nation's top juniors.
5. Price (3-1)
Key players:
PF Skylar Spencer (San Diego State), PG Chance Murray, SG Chris Sandifer
Last season:
The high-flying Knights went 24-8 and fell just short against La Caņada in the CIF-SS Division 3AA championship game.
Why they're here:
Yes, Price lost guard Askia Booker (Colorado) and ultra athletic forward Norvel Pelle to graduation but don't dismiss coach Michael Lynch's bunch. Spencer is another high-soaring scorer who's lethal in fast break opportunities, and Murray, a junior, already has a scholarship offer from UCLA.