Los Angeles Preps:

J.R. Powell
March, 3, 2012
3/03/12
12:10
PM PT
By
Sean Ceglinsky
| ESPNLosAngeles.com
ANAHEIM -- Somewhere, somehow, someway,
Paul Pierce
is smiling.
His alma mater, Inglewood, entered Saturday's Southern Section Division 2AA final in search of its first title since 1994, back when Pierce was a promising prospect and running the show in the Southland.
Turns out, the Sentinels would not be denied. One of the program's most prestigious alums, Pierce, would have been proud of the effort. After trailing for a majority of the game against Simi Valley Royal, Inglewood took the lead in the fourth quarter and made the advantage hold up en route to a 60-57 victory at Anaheim Convention Center Arena.
"I don't really want to talk about 1994, this 2012 and I'm proud, thankful, for the group I have around me now,'' Inglewood coach
Pat Roy
said. "These kids worked hard all year. They were hungry, you saw that out there on the court today. They never gave up, and as a coach, that's what you want from your players.''
Kristopher Randall
and
Nicholas Smiley
combined for eight points in the fourth quarter for the unseeded Sentinels (22-11). The seventh-seeded Highlanders (24-7), on the other hand, could not find a reliable scoring presence down the stretch, when it mattered most. And that proved to be costly.
With Smiley and
Randy Onwuasor
and struggling from the perimeter in the first half of play,
Edward Scott Jr.
picked up the slack after intermission. The junior wing scored eight points in the third quarter to help the Sentinels battle back from a six-point halftime deficit. They trailed 46-44 at the start of the fourth.
"I just did what I was supposed to do, give us a lift,'' Scott Jr. said.
Charles Lockwood
picked up a pair of fouls early on and proceeded to the bench in the first quarter. With the 6-foot-9 junior on the sidelines,
Scott Woods
took over. Also 6-9, the fellow underclassman center scored six points and added seven rebounds and three bocks as Royal took a 31-25 advantage at the halftime break.
J.R. Powell
got off to a fast start, knocking down three three-pointers in the first quarter alone. He finished with 11 points in the first eight minutes to give the Highlanders a a 17-12 lead at the end of one.
Woods had 14 points, 14 rebounds and six blocks. Powell had 16 points.
Randall and Smiley had 15 points each. Onwuasor had 13 points.
Wonder how long it will take for word to get back to Pierce about his alma mater?
Sean Ceglinsky covers preps for ESPNLosAngeles.com. Follow him on
Twitter
.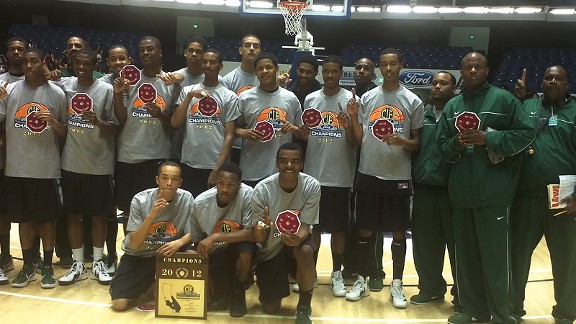 Sean Ceglinsky/For ESPNLA.comInglewood players and coaches celebrate their championship victory on Saturday.
January, 10, 2012
1/10/12
9:21
AM PT
By
Tim Haddock
| ESPNLosAngeles.com
The Royal boys basketball team handed Westlake its first loss in Marmonte League play on Monday night.

Royal's J.R. Powell came on strong late in his team's 62-51 win over Westlake (14-6). He hit three 3-pointers in the fourth quarter after being held scoreless in the first three quarters.

Scott Woods scored 22 points and was the leading scorer for Royal (12-5). Westlake's Joshua Brooks scored 18 points.

Calabasas (15-2) improved to 5-0 in Marmonte League play with a 71-46 win over Newbury Park. Holden Israel scored 23 points for Calabasas.

Calabasas is home against Westlake on Wednesday night and the Coyotes can take a commanding lead in the Marmonte League standings with a win.

In the Mission League, Alemany improved to 3-0 with a 79-69 win over St. Francis. Marqueze Coleman and Bear Henderson each had double-doubles for Alemany. Coleman had 26 points and 10 rebounds. Henderson scored 14 points and had 10 rebounds.

Alemany (14-2), winners of seven games in a row, plays Crespi in a match-up of the top two teams in the Mission League on Wednesday night. Crespi (15-1) is 2-0 against Mission League opponents.
January, 5, 2012
1/05/12
2:09
PM PT
By
Tim Haddock
| ESPNLosAngeles.com
The Marmonte League is shaping up to be a three-team race after the first three games of league play.

Calabasas and Westlake are tied for first with 3-0 records. Royal is surprisingly in third place with a 2-1 record.

Fourth place is up for grabs with four teams -- Moorpark, Thousand Oaks, Simi Valley and Agoura -- with 1-2 records.

Calabasas is coming off a tight, 66-64, win over Moorpark on Wednesday night. Spencer Levy led Calabasas with 20 points.

Royal downed perennial powerhouse Thousand Oaks, 52-40, behind the sharp shooting of senior J.R. Powell. He scored 15 points, hit three 3-pointers and set the school record for most 3-pointers in his career. He has 155, breaking Matt Padavick's record of 152.

Simi Valley beat Newbury Park, 74-62. Kameel Zriek scored 24 points for Simi in the win.

Calabasas is at Agoura on Friday night. Westlake travels to Moorpark and Royal is home against its crosstown rival Simi Valley.

The Mission League got off to a spirited start as well.

Crespi beat Loyola, 75-73, in the Mission League opener and handed the Cubs their first loss of the season.

Alemany beat Chaminade, 72-53. Max Guercy scored 30 points and had five assists for Alemany, winners of five in a row.

Harvard-Westlake beat St. Francis, 64-37.

Friday night is shaping up to be a big night in the Mission League too. Alemany plays at Loyola and Crespi is home against St. Francis.
December, 31, 2011
12/31/11
5:42
PM PT
By
Tim Haddock
| ESPNLosAngeles.com
The Alemany boys basketball team won the Modesto Christian Tournament. Grant won the Hart tournament. Thousand Oaks won their division at the MaxPreps tournament in Cathedral City.

Oaks Christian and Royal of Simi Valley didn't fare so well in the championship games of their tournaments.

Here's a look at some of the tournament championship games involving L.A. North region teams:
December, 6, 2011
12/06/11
11:13
PM PT
By
Tim Haddock
| ESPNLosAngeles.com
Here is the top-10 boys basketball teams in the L.A. North region. The teams are ranked with their 2010 records in parantheses:
Harvard-Westlake (29-5) – The Wolverines won the Southern Section Division 3A championship and advanced to the semifinals of the Southern California Regional in the CIF State Division 3 playoffs last year. Harvard-Westlake has two talented seniors returning. Zena Edosomwan averaged 17.0 points and 10.3 rebounds per game in his junior season. He scored 11 points and had 15 rebounds against Inglewood in the championship game of the Southern Section Division 3A playoffs. Josh Hearlihy averaged 14.5 points per game in his junior season. Sophomore forward Derick Newton has already made an impact with Harvard-Westlake, dropping 30 points on Dominguez on Saturday (Dec. 3). He was 8-for-10 from the field and 11-for-13 from the free-throw line.
Key returners: Edosomwan (senior forward), Hearlihy (senior guard).
Key newcomers: Newton (sophomore forward), Alex Copeland (freshman guard).
Can't-miss games: Harvard-Westlake vs. Loyola at Roybal Learning Center (Jan. 13), Harvard-Westlake at Crespi (Jan. 20), Alemany at Harvard-Westlake (Jan. 21), Harvard-Westlake vs. Loyola at L.A. Valley College (Feb. 3).
Woodland Hills Taft (29-3) – One of the key losses for Taft team is coach Derrick Taylor. He guided Taft to the City Section Division I championship last season, beating longtime nemesis Westchester, 66-62, in the title game. Jason Hart takes over a talented team, despite the loss of three key seniors. Seniors Brandon Perry and Steven Jones will anchor a promising team. They saw limited action last year, but displayed moments of brilliance. Perry averaged 4.0 points and 3.3 rebounds per game as a junior. He scored a season-high 17 points against El Camino Real in a 67-36 win for Taft. Jones only scored 3.9 points per game, but had one of his best games in the CIF State Division I playoffs. He scored 10 points and was one of five players from Taft in double figures in a 94-81 loss to Centennial in the semifinals of the Southern California regional. Much of the success of this team will depend on if or when Anthony January will become eligible to play for Taft. He transferred from Compton and isn't expected to be able to play for Taft until next month.
Key returners: Perry (senior forward), Steven Jones (senior guard).
Key newcomers: Hart (head coach).
Key transfer: January (Compton).
Can't-miss game: Taft at El Camino Real (Jan. 11).
Crespi (24-9) – The Celts lost their top scorer and floor leader, Matt Mounier, to graduation, but have three talented seniors returning. Crespi lost in the semifinals of the Southern Section Division 3A playoffs, 42-40, to Inglewood. The Celts earned a berth in the CIF State Division 3 playoffs and advanced to the second round before losing to La Canada, 43-42. Senior guard London Perrantes averaged 8.2 points and 5.5 rebounds per game last season. Justin Rubia will most likely join Perrantes in the backcourt for Crespi. He averaged 7.3 points per game as a junior. Forward Michael Milligan will provide senior leadership in the frontcourt.
Key returners: Perrantes (junior guard), Michael Avery (senior guard), Rubia (senior guard), Milligan (junior forward).
Key newcomer: Sammy Linn (freshman guard).
Can't-miss games: Crespi at Alemany (Jan. 11), Harvard-Westlake at Crespi (Jan. 20), Crespi at Loyola (Jan. 23).