Los Angeles Preps:

Jake Maulhardt
November, 13, 2011
11/13/11
4:13
PM PT
By
Tim Haddock
| ESPNLosAngeles.com
CIF-SS playoffs:
Western Division
Gardena Serra (8-2) shook up the seedings for the Western Division playoffs by beating Chaminade, 35-29, in the Mission League finale on Friday night. Serra went from the No. 3 seed to the top seed and Chaminade (8-2) fell from the No. 1 to No. 3. Second-seeded Arroyo Grande (9-1) and Serra look as if they are on a collision course for a rematch of last year's Western Division final. Chaminade played the toughest schedule of any team in the Western Division, but losing to Serra in the league season finale is not the way Eagles coach
Ed Croson
wanted to enter playoffs. Ventura (10-0) might be the most underrated undefeated team in the playoffs. All Ventura has done this year is outscore its opponents, 328-82, a four-to-one margin, and shut out three of its opponents. Four teams, including St. Francis, earned at-large bids into the Western Division playoffs. The Golden Knights might be the most dangerous of the four, but will have a tough quarterfinal game against Arroyo Grande if they can win their first-round game aganst Paramount, the San Gabriel League champion. Here's a breakdown of the division:
The seeds:
No. 1 Serra, No. 2 Arroyo Grande, No. 3 Chaminade, No. 4 Ventura
Best first-round matchup:
St. Francis (8-2) vs. Paramount (5-5) -- Paramount ended up in a three-way tie for first place with Dominguez and Downey in the San Gabriel League standings. The Pirates lost their league season finale, 32-27 to Dominguez, but earned the top seed from the San Gabriel League in the Western Division playoffs. Paramount's
Bernard Foy
is a ball hawk with six interceptions and three touchdowns. St. Francis doesn't score a lot of points, but they don't give up a lot of points either. The Golden Knights are averaging 28.5 points, but are only giving up 17.3. St. Francis defensive lineman
Tyler Marona
leads the team with 10 sacks. The Golden Knights' two losses came against Mission League opponents. The first was 44-30 against Serra. The second was a week later, 31-13, to Chaminade. A first-round upset is not out of the question for St. Francis. A deep run in the playoffs is highly questionable.
Toughest road: Ventura (10-0)
-- The Cougars don't seem to be getting the respect they deserve. Their first-round game is against Dominguez (7-3), which finished in a three-way tie for first place in the San Gabriel Valley League but earned an at-large bid in the playoffs. The Dons have won seven of their last eight games and will be a tough first-round challenge for Ventura. If the Cougars advance to the quarterfinals, they will most likely face a tested Santa Monica team, the Ocean League champion. Ventura is in the same half of the playoff bracket as Serra, the reigning Western Division champion.
Potential shocker:
Camarillo (7-3) vs. Chaminade (8-2), quarterfinals -- Camarillo has one of the best receivers in the state in
Jake Maulhardt
who has 105 catches for 1,465 yards and 14 touchdowns.
Conrad Kotake
has emerged as a legitmate receiving threat as well with 51 catches for 935 yards and 19 touchdowns. He has also scored four rushing touchdowns. The wild card is junior quarterback
Travis Valdez
. Since taking over the starting role on Oct. 6, he is undefeated and has won five games in a row. He has passed for 1,999 yards and 29 touchdowns. Mind you, Valdez's eye-popping numbers are all against Pacific View League opponents. Chaminade will be Valdez and Camarillo's toughest test to date. If the game's a shootout, it might favor Camarillo. If Camarillo can't stop Chaminade running back
Terrell Newby
, it will be an Eagles' blowout.
Darkhorse:
Chaminade (8-2) -- The Eagles went from being the favorite to win the Western Division championship to the No. 3 seed in playoffs. Losing to Serra has created doubters, maybe even among the Chaminade faithful. Then again, it might work to Chaminade's advantage to be considered an underdog. Chaminade played one of the toughest non-league schedules around. The Eagles beat Venice, Valencia and Mira Costa, all playoff teams in other divisions in Southern California, before starting Mission League play. Chaminade wouldn't have to face Serra again until the championship game of the Western Division playoffs, that is of course if the Eagles can win a potential matchup against Arroyo Grande in the semifinals.
Final analysis:
The Western Division is filled with potential upsets. The four at-large teams are just as dangerous as some of the league champions. Serra has a seemingly easy route to the Western Division semifinals, opening against Culver City. Ventura has not lost a game all season and probably won't until the semifinals, where Serra most likley awaits. Arroyo Grande has a much tougher road. St. Francis, Camarillo and Chaminade are in the bottom half of the Western Division bracket. The quarterfinals and semifinals might take a lot out of Arroyo Grande. Chaminade opens against Inglewood and will most likely face Arroyo Grande in the semifnals.
Championship prediction:
A case can be made for each of the top four teams in the Western Division playoffs to make the championship game. Serra is looking to repeat as champions. Arroyo Grande is looking to return to the title game for a second year in a row. Chaminade is the most battle-tested team in the Western Division playoffs. Ventura is undefeated and playing with a ton of confidence. In the end, it will be a rematch of the Mission League championship game between Chaminade and Serra. Chaminade is not going to lose to the same team twice in the same season.
Link to the Western Division playoff bracket on CalPreps.com
October, 31, 2011
10/31/11
10:55
PM PT
By
Tim Haddock
| ESPNLosAngeles.com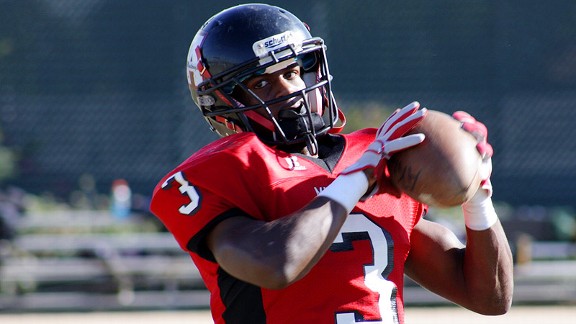 Tim Haddock For ESPNLA.comArleta's Dejon Coleman set a school record with 330 yards rushing vs. Jefferson last week.
Upon further review, Arleta running back Dejon Coleman rushed for 330 yards and set a school record against Jefferson in his team's 45-7 win on Friday afternoon. Coleman scored three touchdowns in the game and has 36 touchdowns on the season. El Camino Real running back Kawan Rally had a record-setting weekend too. He rushed for four touchdowns against Chatsworth and set a school record with 62 touchdowns for his high school career. El Camino won, 49-20, over its West Valley League rival.

A week after committing to San Jose State, Highland quarterback Christian Tago had one of his best games of his high school career. He passed for 294 yards and two touchdowns in Highland's 35-0 win over Eastside in a Golden League game. Highland is tied for first place in the Golden League with Quartz Hill and Eastside. Highland receiver Leonard Merriweather caught five of Tago's passes for 130 yards. He also rushed for 126 yards and scored two touchdowns.

Camarillo receiver Jake Maulhardt caught 10 passes for 203 yards and three touchdowns against Pacifica. He has 100 catches on the season, putting him in an elite group of receivers in CIF-Southern Section history. Thousand Oaks receiver Richard Mullaney set the Southern Section record with 122 receptions in his senior season in 2010. Pepe Villasenor from St. Bonaventure and Hayo Carpenter from Ridgecrest Burroughs are second on the Southern Section reception list at 111. Maulhardt has at least two more games and playoffs to move up on the receptions list.

Amy Weissenbach, one of the most decorated and accomplished runners in Harvard-Westlake history, has committed to Stanford. She is the National Federation High School record holder in the 800 and the reigning Gatorade National Girls Track and Field Althlete of the Year. She is a two-time CIF state champion in the 800 and was on the Harvard-Westlake distance medley relay team that set a national high school record. Weissman was on the Harvard-Westlake cross country team that won the CIF Division IV state championship in 2009. Calabasas senior Walker Huddy will commit to Cal and play on the school's golf team. Huddy won the Marmonte League championship and most valuable player as a sophomore and was an All Marmonte League first team selection in his junior year.

The South Hills girls' volleyball team won the Crescenta Valley tournament, downing Pasadena Poly, 25-17, 25-22, in the gold division championship match. Sydney West earned tournament MVP playing for South Hills. Sydney La Follette and Zoe Herrera from South Hills were selected to the all-tournament team. The Van Nuys girls' volleyball team won the silver division championship, defeating L.A. Baptist, 25-15, 18-25, 15-11. Van Nuys did not win a match in pool play, but beat Righetti in the quarterfinals and Maranatha in the semifinals to reach the championship match.
October, 24, 2011
10/24/11
1:40
PM PT
The Valencia football team handed Canyon its first loss of the season and emerged as the leader in the Foothill League standings. The Vikings have won the past two Foothill League championships, but Canyon came into the game with an undefeated record and a six-game winning streak. The future looks bright for Valencia, who had two underclassmen star in the win. Valencia junior quarterback Sean Murphy had one of his best games of the season. He passed for two touchdowns and rushed for another. He was 12-for-19 passing for 146 yards. Both of his touchdown throws went to sophomore Malik Townsend. He caught touchdown passes of 29 and 19 yards and finished with five catches for 74 yards. Valencia is 2-0 after the first two games of Foothill League play. Canyon, Saugus, Hart and West Ranch are 1-1 and tied for second place. Only two of those teams are guaranteed playoff spots. It should be an interesting next three weeks in the Foothill League.
Another underclassman has been playing well in Ventura County. Camarillo junior Travis Valdez, making only the third start of his high school career, passed for 389 yards and seven touchdowns in his team's 58-14 win over Hueneme. Valdez is 3-0 as the Camarillo starting quarterback and the Scorpions are 2-0 in Pacific View League play. Senior Conrad Kotake caught four touchdown passes and had 133 receiving yards. He was one of three receivers who had more than 100 yards in the game. Senior Jake Maulhardt caught nine passes for 133 yards and a touchdown. Corbin Covey had 106 yards receiving and scored a touchdown.
Burroughs of Burbank running back Zander Anding recorded his fourth 300-yard rushing game in a row. He gained 358 yards and scored three touchdowns in a 35-22 win over Crescenta Valley. Anding scored on runs of 93, 23 and 65 yards. Behind Anding, Burroughs improved to 4-0 in Pacific League play. The Indians are on the road and play Muir in Pasadena on Friday night.
A pair of City Section running backs combined to score nine touchdowns in crucial league wins. El Camino Real's Kawan Rally scored five rushing touchdowns and gained 218 yards in his team's 62-0 shutout on the road over Cleveland of Reseda. Arleta's Dejon Coleman rushed for three touchdowns and caught a touchdown pass in his team's 49-6 win over North Hollywood. He had touchdown runs of 4, 20 and 10 yards and had a 35-yard touchdown reception. He finished with 143 rushing yards and 64 receiving yards.
The Thousand Oaks boys water polo team won the Anaheim Canyon tournament for the second year in a row. Thousand Oaks beat Long Beach Poly, 14-2, in the championship game of the two-day tournament. Ben Rogers scored 13 goals on the final day of the tournament.
October, 3, 2011
10/03/11
4:59
PM PT
By
Tim Haddock
| ESPNLosAngeles.com
The Ventura football team ran its record to 5-0 with a convincing 27-0 win over Camarillo in one of the longest rivalries in Ventura County. The two teams met for the 30th time on Friday night. The game didn't quite live up to expectations, though. Camarillo receiver Jake Maulhardt was coming off a state-record performance against Canyon. He caught 28 passes to set the new state mark with 347 receiving yards and scored three touchdowns. Against Ventura, he caught only eight passes for 72 yards. Still a good night, but it pales in comparison to the previous game. Ventura receiver Hunter Winans outplayed Maulhardt with seven catches for 107 yards and a touchdown. He has 30 catches for 438 yards and two touchdowns in five games. Nobody expected Ventura to shut out Camarillo, which came into the game averaging 23 points. Ventura moved up to No. 7 in the latest CIF-Southern Section Western Division polls The Cougars were ranked 10th last week. St. Paul from the Mission League is ranked No. 1 in the Western Division, followed by Mission League rival Chaminade at No. 2.
The Paraclete football team set a school record with 86 points against Pasadena Marshall. The Spirits won the game, 86-0, playing second and third stringers in the second half. There is a CIF rule to use a running clock when a team is up by more than 30 points, but the Paraclete coaches said Marshall refused to use a running clock. "We asked for it after the first half," the Paraclete coaches said on Twitter. "We have nothing but respect for Coach [James] Zall and his squad. He's building something special." Paraclete was up 37-0 after the first quarter and 65-0 at halftime. The Spirits gained 547 yards of total offense and Anton Hutcherson scored three touchdowns. The Spirits forced five turnovers and held Marshall to minus-9 yards of offense.
Arleta's Dejon Coleman recorded his first seven-touchdown game and third six-touchdown game of the season in a 68-0 win over Monroe in the East Valley League opener. What is more impressive is that he scored his six rushing touchdowns in only nine carries in the game. He scored on runs of 73, 60, 35, 72, 47 and 19 yards and gained 320 yards in nine carries. For those keeping score at home, that's 35.5 yards per carry. He also scored on a 72-yard kickoff return in the second half. That gives him 20 touchdowns in four games.
Canyon receiver Drew Wolitarsky caught two touchdown passes in his team's 56-6 win over Beverly Hills. He set the school record with 26 career receiving touchdowns on Friday night. For good measure, he scored a touchdown on a 66-yard punt return in the second quarter. Wolitarsky caught five passes for 101 yards and had scoring catches of 33 and 29 yards from quarterback Jonathan Jerozal. Wolitarsky has caught 24 passes for 491 yards and six touchdowns in four games. He is averaging 20.4 yards per catch and 122.8 receiving yards per game.
The Downey girls' volleyball team was the surprise winner in the 28-team Royal Classic over the weekend in Simi Valley. Downey beat Ayala, 25-22, in the championship match and knocked off reigning Royal Classic champion Notre Dame Academy, 25-23, 29-27, in the semifinals. Host Royal lost in the quarterfinals of the gold division playoffs to Downey, 25-23, 25-22. El Camino Real won the silver division championship, 25-23, 25-18, over Granada Hills.
October, 1, 2011
10/01/11
12:41
AM PT
By
Tim Haddock
| ESPNLosAngeles.com
CAMARILLO -- The game between Ventura and Camarillo was supposed to be a matchup of two of the best receivers in the state.

But it was an unheralded receiver from Ventura who stole the show.

Hunter Winans caught seven passes for 107 yards and scored a touchdown in Ventura's 27-0 nonleague shutout against Camarillo on Friday night.

While Winans shined against Camarillo, Ventura coach Brad Steward was not surprised by his performance.

"It was another good game for Hunter," Steward said.

The senior receiver has been playing in the shadow of Nick Rudolph, who was selected to the MaxPreps preseason All-American team as a tight end. But Rudolph missed the last two games because of a separated shoulder.

Rudolph made his return against Camarillo (1-3) and caught five passes for 51 yards. He caught two critical passes on Ventura's second scoring drive and helped set up a Conner Armstrong touchdown run in the first quarter.

On the other side of the field, Camarillo receiver Jake Maulhardt was coming off a state-record performance against Canyon last week. He caught 28 passes to break the state record and scored three touchdowns.

Maulhardt wasn't nearly as effective against Ventura, catching eight passes for 72 yards and no touchdowns. Six of his catches came in the second half.


September, 28, 2011
9/28/11
3:08
PM PT
By
Tim Haddock
| ESPNLosAngeles.com
Camarillo receiver Jake Maulhardt had one of the greatest performances in state history against Canyon High School last week. He set a state record with 28 receptions and scored three touchdowns.

But his team lost, 52-28, to Canyon and dropped to 1-2 on the season. Camarillo's offense has been able to put points on the scoreboard, averaging 23 a game. Its defense, on the other hand, is giving up 30.6 points per game.

Camarillo coach Dennis Reidmiller says he is hoping his defense can increase its intensity against undefeated Ventura (4-0) on Friday night at Camarillo High School.

"We're scoring points," Reidmiller said. "We're not doing a real good job of tackling. We got to do a much better job of tackling."

Ventura is coming off a 35-20 win over Nordhoff and has been scoring at a rapid clip, 37.7 points per game. Running back Conner Armstrong has rushed for 466 yards and scored 10 touchdowns in four games. Quarterback Rodney Stanley has thrown for 816 yards and eight touchdowns.

Stanley has been posting those numbers without one of the team's best receivers, tight end Nick Rudolph. He was selected to the MaxPreps preseason All-American team, but has missed the last two games and has only eight catches for 149 yards and two touchdowns. He is expected to make his first start since Sept. 9 against Agoura.

"He's a little banged up and sat out the last two weeks," Ventura coach Brad Steward said.

Steward added that receiver Hunter Winans has played well in Rudolph's absence and is a big reason why the team is undefeated.

"We like to point toward an undefeated season," Steward said. "We want to be as good as we can when league starts."

Camarillo presents problems for Ventura, and every other team it faces, with the 6-foot-7 Maulhardt at receiver. One of the nice surprises on the Camarillo side is the play of sophomore quarterback Michael Marin. He has passed for 922 yards, completing 68 percent of his passes, and nine touchdowns in three games. He has only thrown one interception in 124 pass attempts. Steward said his team will have to score to keep up with Camarillo.

"I think they're very, very dangerous," Steward said. "We're hoping to get a few stops. We're trying to disguise coverages. We can't let them sit on one thing. Keep it varied and keep them off-balance."

Here's a look at some of the other top games in the region:


September, 26, 2011
9/26/11
7:52
PM PT
By
Tim Haddock
| ESPNLosAngeles.com
The games between Oaks Christian and St. Bonaventure are quickly becoming classics. The latest contest included a power outage that only knocked out the stadium lights but not the scoreboards, and interrupted the game for nearly 30 minutes. It took 15 minutes for the lights to be restored and another 15 minutes for players to stretch and return to the game. When the lights went out, Oaks Christian was ahead, 27-24, with 6:52 to play in the fourth quarter. St. Bonaventure was down 20-3 at halftime and scored two touchdowns in the fourth quarter to trim the lead to three points. St. Bonaventure receiver Montre Lee scored the second touchdown of the quarter on a 55-yard pass from quarterback Marc Evans. The Seraphs were about the get the ball back after forcing Oaks Christian to punt. But with the football in the air, the lights went out. The ball was downed on the St. Bonaventure 1-yard line. The delay seemed to sap all the momentum from St. Bonaventure. Oaks Christian scored a safety when the game resumed after St. Bonaventure was called for holding in the end zone. Oaks Christian's Marcus Jones forced his second fumble of the game and St. Bonaventure turned the ball over for the third time, ending a drive inside the Oaks Christian 20-yard line in the final minutes. St. Bonaventure coach Todd Therrien told the LA Times that Oaks Christian must have a hundred of rabbits' feet with the way the last couple of games have ended between the two teams. Oaks Christian coach Bill Redell insists the lights didn't go out on purpose, but he didn't know why they went out at all. Suspicions linger, but the end result is another dramatic win for Oaks Christian.
The final tally on Camarillo's Jake Maulhardt's record-setting receiving game against Canyon Country Canyon is 28 catches for 347 yards and three touchdowns. His 28 receptions are a state record, breaking the mark of 26 catches set by David Sepulveda for Fullerton in a game against Buena Park in 1984. Maulhardt's 28 receptions are fourth in the national record books. He broke the Ventura County record of 19 catches by Richard Mullaney of Thousand Oaks last year. His 347 receiving yards are No. 3 on the state list, behind Ramon Nevarez of Bolsa Grande (377 yards in 1996) and Keith Poole of Clovis (373 yards in 1991). Maulhardt scored on catches of 21, 25 and 37 yards. Camarillo coach Dennis Reidmiller told the Ventura County Star that if he knew Maulhardt had 28 catches during the game, he would have thrown to him a couple more times to try to get him an even 30. For good measure, Camarillo sophomore quarterback Michael Marin was 41-of-54 passing for 416 yards and four touchdowns.
September, 26, 2011
9/26/11
3:45
PM PT
By
Tim Haddock
| ESPNLosAngeles.com
Oaks Christian took care of business and beat St. Bonaventure by 12 points in a match-up of two of the top teams in Southern California. The Lions maintain the top spot in the L.A. North rankings and St. Bonaventure drops to No. 5.
Two newcomers to the L.A. North top 10: St. Francis and Ventura. Both teams are undefeated and both face tough challenges on Friday night.
St. Francis goes up against an undefeated West Ranch team from the Foothill League.
Ventura plays Camarillo and receiver
Jake Maulhardt
, who set the state record with 28 catches against Canyon in a 52-28 loss. Maulhardt had 347 receiving yards and scored three touchdowns.
Here is a look at the top 10:
(1) Oaks Christian (2-1) -- Much of the attention in Oaks Christian's 36-24 win over St. Bonaventure was placed on sophomore quarterback Brandon Dawkins, who was making his first varsity start. Defensive end Marcus Jones deserves some attention too. He had three sacks, forced two fumbles and led a defense that forced three turnovers. Next up for Oaks Christian is Calabasas on Friday night.
(3) Crespi (4-0) -- The Celts blanked Palisades, 40-0, to record their second shutout of the season. Crespi is averaging 48.5 points per game and giving up only 8.5 points per game. Next up for Crespi is Vista Murrieta.
(5) Alemany (3-1) -- The Warriors bounced back from a one-point loss to JW North to beat Chaminade, 31-14. Alemany plays Dorsey on Friday night.
(4) Westlake (4-0) -- The Warriors beat Thousand Oaks 38-6 and scored 24 points in the third quarter to blow open the game and take a 35-0 lead. Westlake running back Jarrius Bishop scored two touchdowns. Westlake travels to Royal on Friday night.
(2) St. Bonaventure (2-1) -- The Seraphs lost their first game of the season with the help of a timely power outage in the fourth quarter at Oaks Christian. The stadium lights went out as Oaks Christian was punting with a three-point lead. St. Bonaventure hosts Simi Valley at Ventura High on Friday night.
(7) Canyon (3-0) -- The good news is Canyon crushed Camarillo, 52-28, and receiver Coley Apsay had a breakout game with eight catches for 151 yards and two touchdowns. The bad news is Canyon surrendered a state record 28 receptions to Camarillo receiver Jake Maulhardt. Next up for Canyon is Beverly Hills.
(6) Chaminade (2-1) -- The Eagles lost their first game of the season to Alemany. But there is no shame in losing to a strong Alemany team. Chaminade is on the road to play Mira Costa on Friday night.
(8) Sherman Oaks Notre Dame (4-0) -- The resurgent Knights keep rolling. This time, Notre Dame disposed of Birmingham, 34-12. The Knights' defense is giving up only 9.7 points per game. Next up for Notre Dame is Golden Valley.
(NR) St. Francis (3-0) -- The Golden Knights are coming off a 27-17 win on the road against Venice. St. Francis goes up against another undefeated team in West Ranch (4-0) on Friday night.
(NR) Ventura (4-0) -- The Cougars are coming off a 35-20 win over Nordhoff and shut out Agoura, 38-0, in Week 2. Ventura takes on Camarillo and Maulhardt on Friday night.