Los Angeles Preps:

Jake Solley
October, 21, 2011
10/21/11
11:54
PM PT
By
Tim Haddock
| ESPNLosAngeles.com


VALENCIA – The Canyon football team made too many mistakes, missed too many opportunities, and in the end, played a team that was not quite ready to relinquish the Foothill League championship.

Valencia jumped out to a 17-point halftime lead and rolled to a 34-7 win over previously undefeated Canyon, the No. 20 team in the ESPNLA.com football rankings, in a Foothill League game at Valencia High School on Friday night.

Valencia receiver Malik Townsend caught two touchdown passes and the Vikings defense held Canyon to 34 rushing yards and 212 yards of total offense.

"I knew it was going to take a team effort," Valencia coach Larry Muir said. "The secondary stepped up. The defensive line was going to have to play tough against the run."

Valencia is the two-time reigning Foothill League champion. Canyon (6-1) won its first six games of the season, including the Foothill League opener last week against West Ranch.

Valencia (4-3) played a tough preseason schedule that included Chaminade and Loyola. The Vikings were 3-3 entering the game against Canyon.

The Vikings opened the game with an 11-play, 80-yard drive that ended with a one-yard touchdown run by quarterback Sean Murphy and chewed up nearly five minutes of the first quarter.

Canyon's first drive consisted of three plays and a punt. Valencia got the ball back at midfield and stalled after three plays.

Valencia was forced to punt, but Canyon had 12 players on the field for the punt return. The penalty gave Valencia a first down and the Vikings capped the drive with a 29-yard touchdown pass from Murphy to Townsend.

It was the first of many mistakes by Canyon.


October, 19, 2011
10/19/11
9:58
PM PT
By
Tim Haddock
| ESPNLosAngeles.com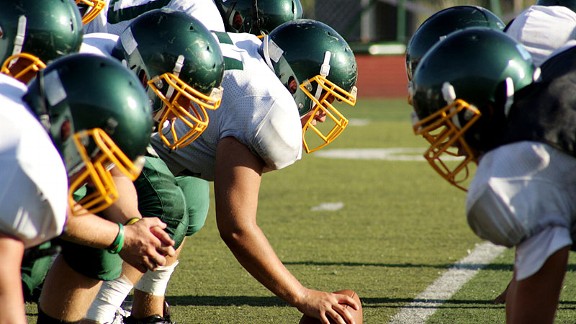 Tim Haddock/For ESPNLA.comCanyon will be facing a tough defense when it takes on Valencia in a key Foothill League game.
The Canyon football team has been rolling over opponents, averaging 49.8 points. The Valencia football team has been shutting down opposing offenses, yielding an average of 12.2 points.
When the two teams meet on Friday night at Valencia High School, it will be a classic matchup of an explosive offense vs. a stingy defense.
Except that the Valencia offense woke up against West Ranch in the Foothill League opener last week.
Valencia (3-3), the reigning Foothill League champ, scored a season-high 31 points in a 31-14 win over West Ranch. Running back
Jake Solley
rushed for 99 yards and two touchdowns for Valencia, which came into the game averaging only 13.6 points.
Canyon (6-0), the No. 20 team in the ESPNLA top 25 rankings, is coming off a 51-28 win over Saugus. The Cowboys eclipsed the 50-point mark for the fourth time this season and have been beating teams by a average margin of 36 points per game.
Canyon quarterback
Jonathan Jerozal
threw three touchdowns passes, two to receiver
Drew Wolitarsky
, in the game against Saugus. But Canyon coach
Rich Gutierrez
said it was the emergence of the running attack that has led to Canyon's high scores and eye-popping statistics.
Canyon running back
Max Archuleta
has rushed for 727 yards and scored eight touchdowns in six games. He is averaging 121.1 yards per game and 7.8 yards per carry. Gutierrez says Archuleta is a phenomenal athlete, but he had no idea how much of an impact he would make on the offense.
"I didn't know what to expect," Gutierrez said. "The offensive line is doing their thing. It's execution. It's increased our options."
With a running game that demands attention, Jerozal and Wolitarsky have been able to shine throughout the season. It has also given receivers
Coley Apsay
and
Brenden Stach
chances to make plays.
Gutierrez calls Apsay, the starting point guard on the Canyon basketball team, his team's most consistent player.
"Coley's one of our best athletes," Gutierrez said. "He's a solid possession receiver."
Valencia will definitely be the toughest defense Canyon has faced all season. But Gutierrez says he expects a tough game every week.
"They have great players, great coaches," Gutierrez said. "I don't want to take anything away from Saugus, but I almost see every week as the toughest test we have. I see every game as a tough game. They got talented kids. It's good stuff."
Here's a look at some of the other top games in the L.A. North:
October, 8, 2011
10/08/11
11:53
PM PT
By
Tim Haddock
| ESPNLosAngeles.com


VALLEY GLEN -- The Loyola football team came up with four big, game-changing plays against Valencia at L.A. Valley College on Saturday night. But Loyola coach Mike Christensen said a little nine-yard touchdown pass and dominating defense were the reasons for his team's 28-10 win over the visting Vikings.

However the game is dissected, one player stood out: Loyola's Eamon McOsker.

He scored two touchdowns, one on a 65-yard fumble recovery and another on a nine-yard catch. He returned the opening kickoff 66 yards to the Valencia 33-yard line and set up his team's first touchdown.

McOsker had a complete game, coming up with big plays on offense, defense and special teams. His touchdown catch in the third quarter impressed Christensen the most.

"That catch was the best play of the night," Christensen said. "I think he's our best football player. We're glad he's on our side."

On a night when there weren't that many great plays, McOsker came up with the most. Both teams played a great defensive game. Valencia (2-3) gave up only 74 yards of offense to Loyola in the first half. Loyola (5-1) held the Vikings to 107 yards of offense at halftime. But the Cubs, the No. 16 team in the ESPNLA.com prep football Top 25 rankings, went into halftime with a 14-3 lead.

The difference in the first half was the opening kickoff return by McOsker and two short touchdown runs by Cameron Walker. The first kickoff return resulted in a four-play, 33-yard drive that was capped by a four-yard touchdown run by Walker.

Walker scored his second touchdown on a one-yard run in the second quarter. He only rushed for 23 yards in eight carries in the first half and didn't have a single carry in the second half.

Valencia's only points in the first half came on a 19-yard field goal by Brett Schreiber in the second quarter. Valencia drove down to the Loyola two-yard line but couldn't punch the football in for a touchdown.

"Defensively, we dominated the game," Christensen said. "Offensively, there's a lot of plays that didn't work because of penalties."