Los Angeles Preps:

Jake Van Ginkel
February, 2, 2011
2/02/11
12:56
PM PT
By
Dan Arritt
| ESPNLosAngeles.com
Below is an updated list of high school football recruits from the Inland Empire and where they're headed.
Tight end
Junior Pomee
and cornerback
Ryan Henderson
of Moreno Valley Rancho Verde are expected to announce their decisions at 5:30 p.m.
Reports
indicate they're headed to USC.
Corona Centennial quarterback
Michael Eubank
just announced he will stick with Arizona State. His decision will be broadcast on FS West at 7 p.m. He had also considered Pittsburgh and Utah.
Eubank committed to the Sun Devils in December but recently had taken a recruiting trip to Pittsburgh. Vista Murrieta quarterback
Derrick Brown
recently switched his commitment from Utah to Washington, which had opened a possible spot for Eubank.
UNDECIDED
Junior Pomee, TE, Moreno Valley Rancho Verde
Ryan Henderson, DB/RB, Moreno Valley Rancho Verde
ARIZONA STATE
Quinton Pedroza, WR/DB, Chino
Brent Walker, OL, Norco
Michael Eubank, QB, Corona Centennial
BOISE STATE
Jake Van Ginkel, K, Upland
BYU
Adam Pulsipher, LB, Temecula Valley
COLORADO
Greg Henderson, DB, Norco
COLORADO STATE
Nuuvali Faapito, F/LB, La Quinta
FRESNO STATE
Ejiro Ederaine, LB, Corona Santiago
February, 1, 2011
2/01/11
6:55
AM PT
By
Dan Arritt
| ESPNLosAngeles.com
With the National Signing Day set for Wednesday, a number of Inland Empire football players have given verbal commitments to various schools across the country. Nothing is official until the papers are signed and returned to the respective colleges, but San Diego State and Oregon have received the most pledges from I.E. athletes. Here's the list of players and where they've committed.

ARIZONA STATE
Michael Eubank, QB, Corona Centennial
Quinton Pedroza, WR/DB, Chino
Brent Walker, OL, Norco

BOISE STATE
Jake Van Ginkel, K, Upland

BYU
Adam Pulsipher, LB, Temecula Valley

COLORADO
Greg Henderson, DB, Norco

COLORADO STATE
Nuvali Faapito, F/LB, La Quinta

FRESNO STATE
Ejiro Ederaine, LB, Corona Santiago

HAWAII
Promise Amadi, Ath., Chino

IDAHO
Dion Bass, DB, Corona Centennial
Todd Handley, RB, Riverside King

IOWA STATE
David Irving, DE/TE, San Jacinto

MONTANA
Nate Harris, RB/DB, Chino Hills

NEVADA
Desman Carter, DB, Fontana Kaiser
Superrior Reid, RB, Riverside Arlington

OREGON
Devon Blackmon, WR, Fontana Summit
Rodney Hardrick, LB, Colton
Ifo Ekpre-Olomu, S, Chino Hills
Jamal Prater, OL, Etiwanda

OREGON STATE
Larry Scott, WR, Corona Centennial

SACRAMENTO STATE
John Taylor, OL, Colton
Blake Robertson, WR, Corona

SAN DIEGO STATE
Darius Guillory, LB, Temecula Chaparral
Jemond Hazely, WR, Corona Santiago
Ryan Jack, LB, Corona Centennial
Paul Pitts, WR, Los Osos
Paul Rodriguez, OL, San Bernardino San Gorgonio
Jonathan Sanchez, DL, Vista Murrieta
Jordan Taylor, OL, Redlands

SAN JOSE STATE
Simon Connette, DB, Corona Santiago
Tyler Ervin, RB, Colton
Sam Boyd, TE, Eastvale Roosevelt

STANFORD
Kelsey Young, RB, Norco

UTAH
Ryan Henderson, DB/RB, Moreno Valley Rancho Verde

USC
DeVante Wilson, DE, Corona

WASHINGTON
Derrick Brown, QB, Vista Murrieta

WASHINGTON STATE
Marcus Mason, RB, Etiwanda

WEBER STATE
Barrinton Collins, RB, Corona Centennial
November, 19, 2010
11/19/10
11:24
PM PT
By
Dan Arritt
| ESPNLosAngeles.com


UPLAND — For one of the rare occasions, two Southern Section defending champions went head-to-head Friday night in the Inland Division playoffs and both Upland and Temecula Chaparral played as if they had something to lose.

In the end, injuries caught up with Chaparral, allowing the Highlanders to rally from an early deficit and win, 40-35, at Upland High.

Upland running back Donta Abron Jr. rushed for 176 yards in 18 carries and scored two touchdowns, including the go-ahead score early in the third quarter that gave the Highlanders a 30-28 lead they never relinquished.

Upland kicker Jake Van Ginkel kicked four field goals, including a 38-yarder that gave the Highlanders their final five-point cushion with 1:10 remaining, and receiver Kenneth Lawler caught five passes for 164 yards and a 73-yard score in the opening quarter.

The Highlanders, who won the Central Division title last season and was then moved to the Inland Division this season, had to claw back right from the start. On the first play from scrimmage, Chaparral linebacker Josh Ponder returned an interception 27 yards for a touchdown.


November, 15, 2010
11/15/10
4:02
PM PT
By
Dan Arritt
| ESPNLosAngeles.com
1. The best Inland Empire team not to make the playoffs is Rancho Cucamonga Los Osos. The Grizzlies were officially eliminated Friday when they lost to second-place Upland, 41-38, on a 29-yard field goal by Jake Van Ginkel with 3.9 second remaining. Earlier this season, Los Osos lost in overtime, 29-28, against league champion Rancho Cucamonga. It's the third consecutive season that Upland has ended the Grizzlies' season. The Highlanders beat Los Osos in the Central Division championship game last season and in a semifinal the year before.

2. Temecula Great Oak had a 14-point halftime lead and its playoff future in hand Friday night, but then Temecula Valley turned the tables in the Southwestern League finale and scored 27 unanswered points to win, 34-21, spoiling the Wolfpack's postseason hopes. Great Oak's loss was Murrieta Valley's gain, however, as the Nighthawks got a second life after blowing a chance to control their own playoff destiny the night before in a 27-20 loss to Temecula Chaparral.

3. Coming into the season, Victorville Victor Valley had been a combined 5-23 the last seven seasons in the Desert Sky League, earning one trip to the playoffs in that span. Last season, the Jackrabbits finished 7-3 overall but failed to make the playoffs after losing to Ridgecrest Burroughs in the regular-season finale. On Friday, the Jackrabbits had a chance to win the league title with a victory against Burroughs and this time they pulled it off, 25-24, thanks to a 26-yard field goal by Isaiah Kepley with 1:14 left.


September, 23, 2010
9/23/10
8:43
PM PT
By
Dan Arritt
| ESPNLosAngeles.com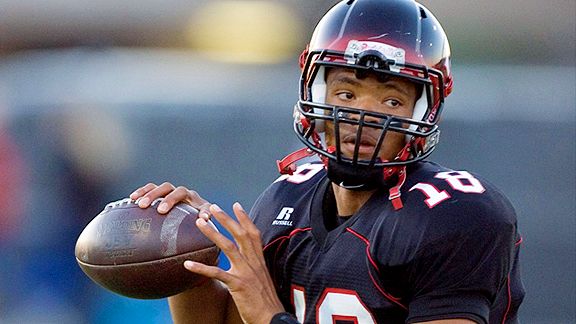 Larry Goren/Special to ESPNLA.com
Michael Eubank and Centennial figure to be motivated to play Chaparral on Friday.
Tough choice.
A couple of weeks ago, the best high school football game in the Inland Empire on Friday night was a no-brainer. Now it's a head scratcher.
On the south end of Riverside County, defending Southern Section Inland Division champion Temecula Chaparral is hosting Corona Centennial, winner of two of the last three Inland Division titles.
Centennial
opened the season
ranked No. 3 in the I.E. by ESPNLA but has
jumped to No. 1
based on one-sided victories against Lake Balboa Birmingham and Mater Dei. Chaparral was ranked No. 1 in the preseason but has fallen to No. 5 after an 0-2 start.
On the north end of San Bernardino County is a game that's much more difficult to predict. Upland, ranked fourth, is hosting No. 3 Norco in a battle of 2-0 teams.
ESPNLA
couldn't decided which fork to take in the road, so we'll be attending both games.
Centennial looks like a two-touchdown favorite against the Pumas but will probably win by three because the Huskies and quarterback
Michael Eubank
are still unhappy about losing to Chaparral in last season's Inland Division semifinals.
The Upland-Norco game figures to go one of two ways: Norco running back
Kelsey Young
breaks a couple long touchdowns early and the Cougars pin their ears back on defense and make Upland a one-dimensional passing team. Or, the Highlanders withstand the early surge by Norco and win on a last-second field goal by standout kicker
Jake Van Ginkel
.
Check back Friday to see the results.
September, 7, 2010
9/07/10
9:04
PM PT
By
Dan Arritt
| ESPNLosAngeles.com
The most well-publicized player in the Inland Empire isn't a strong-armed quarterback. It's not a fleet-footed running back or even a high-flying receiver. In fact, this particular athlete won't be asked to throw a block all season, and if he's forced to make a tackle, it's because 10 other guys failed to do their jobs.
Without a doubt, the most recognizable name in the I.E. is
Jake Van Ginkel
of Upland, one of the highest-rated placekickers in the country.
Van Ginkel's name first surfaced more than three years ago, when
this video
of him kicking a 60-yard field goal made the rounds on YouTube. As of Tuesday evening, the video had recorded more than 180,000 views.
Before he even made the varsity team at Upland, the Wall Street Journal wrote
a piece
on Jake and his family, which includes four brothers, all of whom have been placekickers at one time or another.