Los Angeles Preps:

Jalen Greene
February, 15, 2012
2/15/12
3:32
PM PT
State bowl game appearances had become the norm at Gardena Serra in recent years. Expectations fell dramatically in 2011 following the graduation of elite talent, namely George Farmer and Marqise Lee. Still, Serra was good enough to earn a No. 1 seeding in the CIF-Southern Section Western Division playoffs, but stumbled in first-round shocker against Culver City.

The Cavaliers will be looking to bounce back this year. They have one of the region's top running backs in senior-to-be Anterio Bateman, and there's a crop of young talent moving up the ranks.

Quarterback Jalen Greene, athlete Jordan Lasley and linebacker Dwight Williams were among a handful of elite sophomores invited to USC's prestigious "Junior Day" camp last week.

Bateman averaged over nine yards per carry last season despite being limited by a nagging ankle injury. Greene accumulated more than 2,000 yards of offense and had 17 total touchdowns in a dual-threat role. Lasley transferred in from Carson, where he was the heir apparent to all-City Section honoree Darreus Rogers. Williams is the team's leading returning tackler.

Serra opens the season in late August against Sherman Oaks Notre Dame before leaving the state for a game in Utah.
November, 12, 2011
11/12/11
12:21
AM PT


GARDENA -- As it turns out, stories about Serra's demise have been greatly exaggerated.

Yes, the Cavaliers graduated a boatload of talent and are still greener than broccoli, but there they were Friday night, storming the field after another Mission League championship win.

Young and inexperienced Serra held on to beat Chaminade, 35-29, in a thrilling game that featured five lead changes. A group of Cavaliers tried to douse coach Scott Altenberg with icy water but couldn't, proving how ripe they really are.

"That's our team in a nutshell," Altenberg said. "They tried to dump me with water, they tripped and dumped it on themselves."

It could have been easy for Serra (8-2, 5-0) to make excuses given the lack of star power. This team doesn't have the lucrative names like in years past. No Robert Woods, no Marqise Lee or George Farmer.

None of that mattered.

Ronnie Vaughn rushed for 221 yards and two touchdowns, and sophomore quarterback Jalen Greene had 217 total yards plus the go-ahead score in the fourth quarter to carry the Cavaliers. Chaminade (8-2, 4-1), ranked No. 15 in the ESPN Los Angeles Top 25, had the ball with 1:18 remaining and 90 yards to go but couldn't generate magic. Logan Scott's last-second heave from the Serra 37 sailed wide of the end zone, and Serra players stormed the field.

"A lot of things were going through my head," Greene said. "I was nervous and I didn't even want to watch the play, but I was just hoping, 'Please don't catch this ball, please pick it, just let us get this W tonight.' "

Vaughn's 23-yard touchdown run had given No. 25-ranked Serra a comfortable 35-22 advantage with 5:57 left. Less than 40 seconds later, Scott responded with a clutch 76-yard scoring pass to Kevin Lewallyn, cutting the deficit to 35-29. Chaminade caught Serra napping and recovered the ensuing onside kick but couldn't capitalize, turning the ball over on downs.

The Eagles had taken a brief lead on Terrell Newby's 47-yard touchdown run late in the third quarter.

The Cavaliers were without leading rusher Anterio Bateman, who was on crutches and had his left ankle in a cast. His absence didn't appear to affect the running game -- Greene, Vaughn and Malik Roberson combined for 224 rushing in the first half alone. Greene finished with 140 rushing yards in 13 carries.


November, 11, 2011
11/11/11
10:14
AM PT
League championships are up for grabs across the region this week. Here are Friday night's top games in south Los Angeles County:
No. 15 Chaminade at No. 25 Serra, Friday, 7 p.m.
-- A couple of months ago Gardena Serra football coach Scott Altenberg appeared to be in the clear from yet another celebratory ice-water bath. That's no longer the case -- not that he really minds. The abilities of sophomore quarterback Jalen Greene have the Cavaliers (7-2, 4-0) thinking about the Mission League championship during a supposed down year. Chaminade (8-1, 4-0), which nearly upset Serra last year, hopes Terrell Newby and Logan Scott can finish the job this time around.
No. 23 Crespi vs. No. 17 Loyola at L.A. Valley College, Friday, 7 p.m.
-- The Loyola Cubs (7-2, 2-1) don't have to win -- they're in the Pac-5 Division playoffs no matter what happens Friday. The same can't be said for Crespi (7-2, 1-2), which is coming off a bye week and, even more alarming, two straight losses. If the Celts lose again, they'd hope for a Notre Dame loss to league leader Alemany, which would set up a three-way tie for the third playoff spot between Crespi, N.D. and Bishop Amat. The Celts can avoid the mess with a win.
Orange Lutheran at No. 18 St. John Bosco, Friday, 7 p.m.
-- Will the third time be the charm in Bellflower? The St. John Bosco Braves (6-3, 2-2) have lost two straight Trinity League games -- to Servite and Santa Margarita -- that would have earned them a playoff bid. Now, it's quite simple: Win and they're in. Orange Lutheran (6-3, 1-3) lost a game it wasn't supposed to lose last week against JSerra.
St. Bernard at Bishop Montgomery, Friday, 7 p.m.
-- With a mere 121 passing yards Friday, quarterback Christian Smith of St. Bernard (9-0, 5-0) can reach the 3,000-yard mark. His single-game low this year is 155 yards (his next lowest output is 267), so Smith should have no problem. The senior ranks third in the state with 2,879 yards and is tied for fourth with 30 touchdown passes. Bishop Montgomery (6-3, 5-0) is surely aware of it, but it's one thing to know and another to stop. B.M. looks to defend its Del Rey League title.
Blair Angulo covers preps for ESPN Los Angeles. Follow him on Twitter.
November, 7, 2011
11/07/11
6:18
PM PT
The top five performances in south Los Angeles County for Week 9:
QB Kenny Potter (San Pedro)
: The Pirates clinched at least a share of the Marine League title behind Potter's 318 total yards, including 227 on the ground, in a 49-42 win over Narbonne.
QB Christian Smith (St. Bernard)
: Smith completed 31 of 41 attempts for a career-high 475 yards and three touchdowns in a 44-6 win against Mary Star. His Vikings are undefeated.
RB Lance Fernandez (Garfield)
: Fernandez had quite a memorable East L.A. Classic, carrying the ball 24 times for 162 yards and four scores in a 29-15 win against rival Roosevelt.
RB Tyrone Taylor (Torrance)
: The Cal State Fullerton baseball commit went deep a few times Friday: 399 all-purpose yards (305 rushing) and six total touchdowns against Lawndale.
QB Jalen Greene (Serra)
: The sophomore had 240 total yards and four touchdowns in a 70-21 win at Harvard-Westlake, making up for the loss of running back Anterio Bateman (ankle).
Blair Angulo covers preps for ESPN Los Angeles. Follow him on Twitter.
October, 19, 2011
10/19/11
7:31
PM PT
Here are five of this week's must-see games in south Los Angeles County:
[+] Enlarge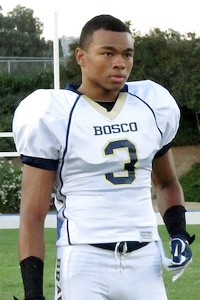 Blair Angulo for ESPNLA.com Bryce Treggs leads all Pac-5 Division receivers with 744 yards so far this season.
No. 25 Mater Dei at No. 19 St. John Bosco, Friday, 7:30 p.m.
-- They've been waiting for this in Bellflower for a while. The St. John Bosco Braves (5-1), playing at home for the first time in more than a month, can make a loud statement by beating revitalized Mater Dei (3-3), which is coming off a rather shocking upset of previously unbeaten Santa Margarita. A loss Friday would deal a major blow to Bosco's Trinity League hopes, a win would cement them as a serious contender for one of the league's three playoff spots. Cal-bound Bryce Treggs leads all Pac-5 Division receivers with 744 yards and ranks third with seven touchdowns.
Carson at No. 24 Narbonne, Friday, 7 p.m.
-- Think a fractured finger is going to keep Carson receiver Darreus Rogers out of this one? No chance. The USC commit suffered a hand injury in last week's 30-9 victory over rival Banning but that hasn't stopped him from
predicting a three-touchdown performance
Friday. The Carson Colts (3-3) have won 15 straight Marine League games, though that carries little weight against the confident Narbonne Gauchos (4-2) and talented quarterback Troy Williams. A possible No. 1 seeding for the City Section Division 1 playoffs is on the line.
Lakewood at Cabrillo, Friday, 7 p.m.
-- Quick, name the leading passer in the Pac-5 Division. It's not Utah-bound Travis Wilson (999 yards) of San Clemente or Conner Sullivan (1,193) of Orange Lutheran. It's not Crespi's Cody Cordell (1,354), St. John Bosco's Rene Medina (1,376) or even Mission Viejo's Alex Bridgford (1,724). The division's top passer? It's Cabrillo's Derek Stewart, who has 1,917 yards and 17 touchdowns for the upstart Jaguars (6-1). The Lakewood Lancers (5-2), behind standouts Darius Powe and Malik Gilmore, are hungry for a win after last week's loss to Moore League favorite Long Beach Poly.
St. Francis at Gardena Serra, Friday, 7 p.m.
-- It's a different feeling in Gardena, where the Serra Cavaliers (4-2) are, at least by their standards, on a down year. And even though they've lost two games in a season for the first time since 2007, don't count them out of the Mission League race just yet. Coach Scott Altenberg's bunch is a perfect 1-0 in league and a victory Friday against undefeated St. Francis (6-0) would speed up the rebuilding process. Dual-threat quarterback Jalen Greene, a sophomore who averages 185 yards of total offense per game, gives Serra hope.
San Dimas vs. Covina at Covina District Field, Friday, 7 p.m.
-- Opening weekend didn't unfold how these Valle Vista teams had hoped -- San Dimas lost to Bonita, Covina lost to West Covina. There's been nothing but wins since. The San Dimas Saints (5-1) have won five straight games, outscoring opponents 221-52 behind a strong Wing-T offense. Quarterback Billy Livingston (shoulder) was successful in his return to action last week for the streaking Covina Colts (6-1). A league title is at stake here, as well as serious consideration for a No. 1 ranking in the Mid-Valley Division.
September, 28, 2011
9/28/11
1:08
PM PT
As part of our running feature, here are five of this week's must-see games involving teams from south Los Angeles County:
No. 18 St. John Bosco at La Habra, Thursday, 7 p.m.
— Players usually want to forget recent failures, so the humbled St. John Bosco Braves (3-1) could benefit from their short rest following last week's loss to Loyola at L.A. Valley College. A likely bullet point in Braves coach Jason Negro's motivational speech: La Habra (2-2) has already given a pair of Trinity League teams -- Servite and Orange Lutheran -- all they could handle.
No. 3 Mission Viejo at No. 22 Carson, Friday, 7:30 p.m.
— For those not keeping tally, the Carson Colts (1-2) meet a ranked opponent for the fourth consecutive week. Nationally-ranked Mission Viejo promises to be the toughest test yet. Sure, Carson is in danger of losing its third straight, but how could other City Section teams not admire the ambition? Quarterback Kevin McMahon has to find USC-bound receiver Darreus Rogers often.
No. 15 Loyola at No. 21 Upland, Friday, 7 p.m.
— Until last Friday, the Loyola Cubs (4-0) were solid candidates for most improved. But, after what coach Mike Christensen's bunch did to St. John Bosco, consider that an understatement. Boise State-bound Chaz Anderson, a difference maker on both sides of the ball, has the Cubs believing in Serra League glory following a poor 3-7 mark in 2010. They can accumulate more believers by winning at Upland (4-0).
Serra at Narbonne, Friday, 7 p.m.
— As the games go by, Serra sophomore Jalen Greene's passing numbers keep getting better -- from 91 yards to 175 to 180 -- despite the absence of top playmaker Raymond Ford (ankle). The progression at key positions is important for Serra (3-1). The Narbonne Gauchos (1-2) will be plenty motivated after coming up just short the last two weeks at Long Beach Poly and Tesoro.
Arcadia at Muir, 7 p.m.
— Clearly, schedule makers had no intention of saving the best for last. This Pacific League opener promises to have the intensity of a title game. The Muir Mustangs (2-1) look to bounce back after being overwhelmed by Rancho Cucamonga last week; the Arcadia Apaches (2-1) hope to capitalize on another opportunity after knocking off rival and defending Mid-Valley Division champ Monrovia two weeks ago.
Blair Angulo covers preps for ESPN Los Angeles. Follow him on Twitter.
September, 18, 2011
9/18/11
10:52
PM PT
The top seven teams held their ground in our latest south Los Angeles County rankings. Defending Mid-Valley Division champion Monrovia fell off after losing to rival Arcadia, opening the door for a newcomer from the Western Division. Our top three teams hit the road Friday, so there could be movement next week.
(Note: Last week's rankings are in parentheses.)
1. (1) Long Beach Poly (3-0)
The Jackrabbits bent but didn't break, holding on against a gritty City Section contender. Afterward, coach Raul Lara stressed how important it was to maintain the momentum they've built. Last week: Beat Narbonne, 19-16. Next: at Mission Viejo, Friday.
2. (2) St. John Bosco (3-0)
Senior quarterback Rene Medina threw for two touchdowns and ran for another and Royce Moore had 150 yards rushing in a rout. Now, the Braves and their high-powered offense hit the road. Last week: Beat Santa Fe, 51-0. Next: vs. Loyola at L.A. Valley College, Friday.
3. (3) Bishop Amat (2-1)
Talk about bouncing back. Playing big, bad Servite seems to have paid immediate dividends. Senior tailback Jalen Moore broke out for 303 rushing yards and five touchdowns. Last week: Beat La Mirada, 49-13. Next: at Damien, Friday.
4. (4) Carson (1-1)
Rested and refocused following a humbling loss to Long Beach Poly, the Colts begin the latter half of their rigorous nonleague schedule. The bye might have come at the right time for coach Elijah Asante's bunch. Last week: Idle. Next: vs. Santa Margarita, Friday.
5. (5) Lakewood (2-1)
The "Milk Bucket" trophy stays in Lakewood for at least another year, as the Lancers came back from a halftime deficit to beat their rivals from the north. Brock Dale threw for three scores. Last week: Beat Mayfair, 42-29. Next: vs. Leuzinger, Friday.
6. (6) Narbonne (1-1)
Dual-threat quarterback Troy Williams had only 102 passing yards and eight on the ground, and the Gauchos still nearly pulled off a shocker at Veterans Stadium. Last week: Lost to Long Beach Poly, 19-16. Next: at Tesoro, Thursday.
7. (7) Serra (2-1)
The young Cavaliers overcame the absence of Anterio Bateman (ankle) and Raymond Ford (ankle), with tailback Ronnie Vaughn shouldering a heavier load. Sophomore Jalen Greene keeps showing progress at quarterback. Last week: Beat Mira Costa, 33-0. Next: at Banning, Friday.
8. (10) Charter Oak (3-0)
This offense is supercharged. Senior quarterback Travis Santiago accounted for six touchdowns, throwing for 336 yards on 18 of 24 passing and adding 72 rushing yards. Last week: Beat Esperanza, 54-28. Next: vs. Rancho Cucamonga, Friday.
9. (8) West Covina (2-1)
More proof the Bulldogs are more than just a one-man team. Top player Chris Solomon (ankle) isn't 100 percent but it didn't matter, as Jimmy Frazier ran for 242 yards and four touchdowns. Last week: Beat South Hills, 35-33. Next: vs. Glendora, Friday.
10. (NR) St. Paul (2-0)
The Swordsmen showed why they're ranked No. 2 in the CIF Southern Section Western Division poll, steamrollering a helpless Norwalk team to the tune of nearly 300 yards rushing. Last week: Beat Norwalk, 48-6. Next: at Garfield, Friday.
Dropped out
: Monrovia (9)
Five more, in alphabetic order
: Cathedral, Claremont, Crenshaw, Gahr, St. Francis.
Agree or disagree with the "L.A. South" top 10? Did your favorite school get snubbed? Leave a comment on this post or contact ESPNLosAngeles.com preps writer Blair Angulo directly on his Twitter page.
September, 2, 2011
9/02/11
10:42
PM PT
By
Sean Ceglinsky
| ESPNLosAngeles.com
GARDENA, Calif -- Khalfani Muhammad from Sherman Oaks Notre Dame might not be the most high-profile prep football prospect in the Southland. The perception about him could, however, be on the verge of changing. Sooner, rather than later, mind you.

The 5-foot-9, 175-pound junior gained 186 all-purpose yards and scored a pair of touchdowns Friday night to guide the visiting Knights to a rather impressive 35-13 upset victory over Gardena Serra, which was No. 25 in the ESPNLosAngeles.com preseason rankings.

"I went out there and did my thing, my coach handed me the ball and I made some plays,'' Muhammad said. "My teammates had my back and I had their backs. That's just the way things work around here. We got the job done and had fun doing it. What a win for us.''

Muhammad has been contacted by a number of different Division I schools but does not have any official scholarship offers as of yet. Once word starts to spread about his latest effort, it's possible things will begin to change.

He gained 162 yards on the ground in 22 carries.

"We ran the ball down their throats tonight, Khalfani did a great job, he was able to do whatever he wanted out there,'' Notre Dame quarterback Kelly Hilinksi said.

Serra (0-1) struggled to move the ball with consistency. The Cavaliers played a majority of the game without their star, Raymond Ford. The UCLA-bound senior strained his right foot in the second quarter and did not return.


August, 19, 2011
8/19/11
12:43
PM PT
By
Sean Ceglinsky
| ESPNLosAngeles.com
When it comes to talented prep football teams in the Southland, seemingly no group has enjoyed as much recent success as Gardena Serra. The roster this season, mind you, might not be loaded with multiple high-profile players, as it has been in the past. Nevertheless, the Cavaliers figure to build on their 44-4 record the last four years and be a force to be reckon with once again.
In order to maintain their reputation as one of the best around, Serra needs to find ways to keep
Raymond Ford
involved on the offense side of the ball. The senior receiver, after all, is the heir apparent to
George Farmer
, now at USC. Ford has the potential to be the playmaker Farmer was last season when he played alongside fellow wideout
Marqise Lee
, also currently with the Trojans.
One potential problem: There are lingering questions about who is going to get the ball into the hands of Ford.
It appears as if sophomore
Jalen Greene
is the front-runner to win the starting quarterback job. If he falters,
Ryan Barbarin
patiently waits in the wings and the junior would like nothing more than the opportunity to prove himself.
Here is a closer look at the Cavaliers:
Team:
Gardena Serra
Coach:
Scott Altenberg, 13th year
2010 Record:
14-1, won CIF Southern Section Western Division championship.
Returning starters:
Five total. Three on defense. Two on offense.
Key players on offense:
WR Raymond Ford (UCLA commit), RB Anterio Bateman.
Key players on defense:
S Patrick Wooten, DT Kris Cooper, DT Kache Palacio, LB Thomas Brown.
Difference maker:
It begins and ends with Ford, also a shut-down corner in the secondary. George Farmer and Marqise Lee are gone. A season ago, the seniors were the Southland's premier pass-catching tandem. Both are at USC now. Ford will be expected to fill the void left behind and the senior appears capable of handling the additional workload.
Newcomers:
Brown, a transfer from Long Beach St. Anthony. Palacio, a transfer from Los Angeles Westchester. QB Jalen Greene. QB Ryan Barbarin.
Not to be missed:
at West Hills Chaminade, Friday, Nov. 11. There will be tons of tests along the way, to be sure. None of those games, however, figure to be as important as the season finale in the San Fernando Valley in a showdown with Mission League title implications. The Eagles hope to make a statement with a win and will likely give Serra all it can handle in this one.
Coach's comment:
"We haven't lost many games around here in the recent past, and because of that, we have a target on our backs. Some people might think we don't have the big names anymore and there will be plenty of teams gunning for us. That's the way things work, it's the nature of the beast. Our job is to make sure there is not a huge drop off in our level of play."
Final analysis:
Replacing Framer and Lee will not be easy. QB Conner Preston also graduated, having moved on to SMU. Season-ending injuries to OLB Ardis Perez and MLB Malachi Mageo a couple of weeks ago certainly does not help matters. Bottom line: Ford must stretch the field vertically to keep opposing defenses honest and Bateman needs to take advantage of open running lanes when the situation presents itself. If that happens, Serra figures to be in position to make, yet another, postseason run.
Sean Ceglinsky covers preps for ESPNLosAngeles.com. Follow him on
Twitter
.