Los Angeles Preps:

Jamaal Williams
February, 1, 2012
2/01/12
3:35
PM PT
By
Dan Arritt
| ESPNLosAngeles.com
Upland wide receiver Kenny Lawler, the last major unsigned recruit from the Inland Empire, made it official Wednesday afternoon, announcing he will sign with California.

Lawler took a last-minute recruiting trip over the weekend to California after visiting Oregon State and Washington State the two prior weekends. Heading into Wednesday's national signing day, he was reportedly down to California and Oregon State.

The Bears return leading receiver Keenan Allen, but second-leading receiver Marvin Jones has exhausted his eligibility. A spot opened up for Lawler in Cal's recruiting class after Oaks Christian wide receiver Jordan Payton, who had committed to the Golden Bears in early January, switched to Washington last week before ultimately signing with UCLA.

Lawler said on Fox Sports Prime Ticket that a major factor in his decision was California hiring one of his longtime coaches, Charlie Collins, as a staff member.

"I know he's going to have my back up there," Lawler said.

The 6-3, 185-pound senior committed to Arizona State shortly after last year's national signing day, the first school to offer him a scholarship. He stuck by the commitment until late November, shortly after the Wildcats fired coach Dennis Erickson.

Lawler caught 53 passes for 1,267 yards and 12 touchdowns last season, including nine scores in the final four games. His size and reach allows him to out-jump most defensive backs.

Lawler is one of four Upland players to sign a letter of intent Wednesday. Running back Donte Abron, Jr., defensive back Marques Mosley and fullback Christian Powell signed with Colorado earlier in the day.

Here's a full list of signings from Wednesday:


January, 31, 2012
1/31/12
3:34
PM PT
By
Dan Arritt
| ESPNLosAngeles.com
Less than 24 hours before national signing day and high school football recruits from the Inland Empire continue to sway on their decisions, or learn that a previous offer is no longer on the table.
UCLA and Colorado are two schools in the middle of some down-to-the-wire movement involving I.E. recruits.
Christian Powell
, the
third-ranked
fullback recruit in the nation, committed to UCLA earlier this month but switched to Colorado on Monday night, reports several outlets, including
Greg Biggins
of ESPN Recruiting Nation.
He would be the third player from Upland to be part of the Buffaloes' recruiting class, joining running back
Donte Abron, Jr
., and wide receiver/defensive back
Marques Mosley
. Powell, at 6 feet, 250 pounds, also played defensive line for the Highlanders, recording 15 sacks last season, but is expected to play fullback in coach
Eric Bienemy
's offense.
Corona Santiago offensive lineman
Isaiah Folasa
, also once a UCLA commit under former coach
Rick Neuheisel
, will reportedly sign with New Mexico State on Wednesday, according to Santiago coach
Jeff Steinberg
.
Folasa took a recruiting trip to Colorado the weekend of Jan. 21, but the Buffaloes were unable to accept his commitment because they had ran out of available scholarships for this class, Biggins reported. In addition to the Upland trio, Arlington defensive lineman
Samson Kafovalu
and Citrus Hill running back
Davien Payne
have also pledged to Colorado.
Here's the latest list of recruits from the I.E.
December, 22, 2011
12/22/11
9:46
PM PT
By
Dan Arritt
| ESPNLosAngeles.com
Now that the high football season has ended, the recruiting period is in full swing. The Inland Empire, which has stockpiled a number of collegiate conferences over the years, has its share of blue-chip recruits again this season. Here's a list of seniors who have made non-binding verbal commitments to schools in advance of the national signing day in early February, followed by a list of those who are still undecided.

COMMITTED RECRUITS

QB -- Matt Morin, Chaparral (San Diego State); Austin Decoud, Redlands East Valley (Idaho).

RB -- Donta Abron, Jr., Upland (Colorado); Davien Payne, Citrus Hill (Colorado).

ATHLETE -- Damontae Kazee, Cajon (San Diego State); Bryan Harper, Colony (Washington); Jamaal Williams, Summit (BYU).

OL -- Lio Lafaele, Corona Centennial (Utah); Dylan LaFrenz, Los Osos (Arizona State); Isaiah Folasa, Corona Santiago (UCLA); Kyle Hart, Ridgecrest Burroughs (San Jose State).

DL -- Jeremy Castro, Vista Murrieta (Oregon); Teddy Queen, Chaparral (San Diego State); Samson Kafovalu, Arlington (Colorado).

LB -- Scott Starr, Norco (USC); C.J. Dozier, Chaparral (Arizona State); Darnell Murray, Citrus Hill (UTEP).

DB -- Donte Deayon, Summit (Boise State); Corbin McCarthy, Norco (Duke); Marques Mosley, Upland (Colorado).

UNDECIDED

ATHLETE -- Reshawn Hooker, A.B. Miller (Boise State, UCLA).

WR -- Kenny Lawler, Upland (UCLA, Oregon State, California, Michigan State).

DL -- Milo Jordan, Corona Centennial (USC, UCLA, Arizona State, Nebraska, Washington); Christian Powell, Upland (Washington, Nebraska, Texas A&M).

LB -- Joe Robinson, Chaparral (Nebraska, Arizona); Robert Wagner, Colony (Arizona, San Diego State); Nolan Peralta, Elsinore (Fresno State, San Jose State).
December, 10, 2011
12/10/11
11:40
PM PT


ROMOLAND -- The Summit football team didn't let this opportunity slip through their hands.

The top-seeded SkyHawks advanced to the CIF-Southern Section Eastern Division final for the second consecutive season and this time they closed the deal, winning the program's first championship with a 24-17 victory Saturday night at Heritage High School.

Summit senior quarterback Bernard Porter gave his team the lead for good, scoring on a five-yard run with 8 minutes 33 seconds remaining, and the defense twice stopped the third-seeded Patriots in the closing minutes to secure the victory.

"We know what it takes to get here and what it takes to win," Porter said.

Summit, which opened in 2006, and Heritage, which opened a year later, met last season in the second round, with the SkyHawks winning, 29-22. Porter also scored the winning touchdown in the game, crossing the goal line with 8:22 remaining to erase a one-point deficit.

After knocking off second-seeded Serrano in the semifinals last season, the SkyHawks appeared to have the momentum heading into the championship game but lost to third-seeded Elsinore, 21-7.

"After last year, we have new determination, new character," said Summit running back Jamaal Williams, a BYU-bound senior who rushed for two touchdowns against Heritage. "It's mostly a team now. Last year was all selfishness, one player trying to do it for the whole team. This year we did it as a team, no one player, we all rely on each other."


November, 1, 2011
11/01/11
5:54
PM PT
By
Sean Ceglinsky
| ESPNLosAngeles.com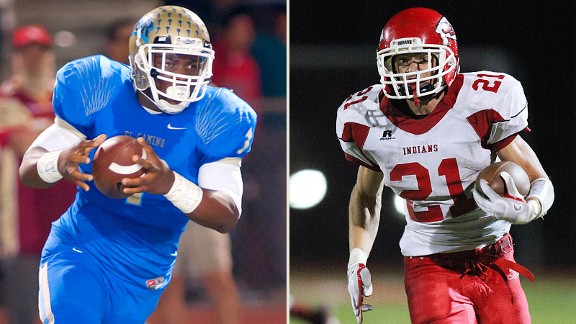 Dustin Jack Photography, Courtesy of Dwight KimRunning back Kawan Rally, left, of El Camino Real, and Zander Anding of Burroughs, are gaining attention with their big numbers.
LOS ANGELES --
Kawan Rally
who?
Zander Anding
what?
If their names sound unfamiliar, fear not. You are not alone.
Make no mistake, both running backs are not nearly as well-known as some of their more high-profile peers from the Southland. Nevertheless, Rally from Woodland Hills El Camino Real and Anding from Burbank Burroughs are a pair of seniors worth remembering.
In terms of statistical performances this season, each is in the midst of an eye-opening effort. Rally and Anding, in fact, are on the verge of stealing the spotlight from their more publicized counterparts at the position.
"People don't talk about me all the time, but that's cool, I go out there and let my play do the talking for me. That's how you get everyone's attention,'' Rally said.
All signs point to his strategy paying off. Eventually.
Rally leads California in rushing, having surpassed the 2,000-yard plateau with 327 yards on the ground and four touchdowns in last week's 49-20 victory over Chatsworth. The 5-foot-10, 220-plus pound tailback has 2,033 yards in 193 carries this season, a 10.5 yards-per-carry average. He also has 27 touchdowns.
August, 23, 2011
8/23/11
5:16
PM PT
By
Dan Arritt
| ESPNLosAngeles.com
SUNKIST LEAGUE

Last season's results: Fontana Kaiser (12-1, 5-0); Fontana Summit (10-3-1, 4-1); Riverside Norte Vista (5-6, 3-2); Riverside Patriot (4-6, 2-3); Bloomington (4-7, 1-4); Mira Loma Jurupa Valley (1-9, 0-5).

Players to watch: Kaiser has lost only one league game in the last 10 years but could be facing its toughest run after graduating 18 of 22 starters from last season's team. Waiting to pounce on the Cats is Summit and Jurupa Valley. Summit is led by Donte Deayon, a two-way star who committed to Boise State this summer. He tied for the state lead with 10 interceptions last season and also caught 38 passes for a league-leading 524 yards and five touchdowns. Jamaal Williams was another valuable two-way player for the Eastern Division finalists, rushing for 717 yards and 11 touchdowns and playing free safety. He has committed to Brigham Young. Bernard Porter also returns at quarterback after passing for a league-leading 1,611 yards and 13 touchdowns and rushing for seven other scores. Jurupa Valley's defense might be even better. Alex Beam had a league-leading 137 tackles last season, and fellow returners Sergio Camacho, Robert Magana, Alfonso Villegas, Darien Pule and Anthony Torres were also key members of the unit. On offense, quarterback Martin Mercado was the league's second-leading passer and receiver Ramon Barrajas caught 22 passes for 367 passes and three touchdowns. Patriot has the league's top returning rusher in Nano Martinez, who totaled 894 yards and five touchdowns last season. Daniel Rico led the way on defense with five sacks. Bloomington features two experienced skill players in quarterback Demetreus Moore and running back Johnta Carter. Heritage might be short on experience but the Patriots might have the most intimidating player in offensive lineman Aiseah Hanson, who stands 6-4, 320.

Projected order of finish: Summit, Jurupa Valley, Kaiser, Patriot, Bloomington, Norte Vista.

Key games: Sept. 2 – Summit vs. Etiwanda @ Fontana A.B. Miller HS; Sept. 9 – Summit @ Redlands; Sept. 16 – Kaiser @ San Bernardino Cajon; Sept. 22 – Summit vs. Colton @ A.B. Miller; Sept. 23 – Riverside North @ Kaiser; Oct. 14 – Jurupa Valley vs. Patriot at Riverside Rubidoux HS; Oct. 21 – Kaiser @ Jurupa Valley; Nov. 4 – Summit @ Jurupa Valley; Nov. 11 – Summit vs. Kaiser @ A.B. Miller.

Alumni in the NFL: Lonyae Miller, Dallas Cowboys (Rialto/Fontana Kaiser '06); Jason Shirley, Cincinnati Bengals (Kaiser '03);

Fast fact: Bloomington hasn't had a winning record since 2007 but the Bruins still boast the state record for most points scored in a season. The 1994 team plowed its way to 880 points in 14 games, which was also a national record until 2001. By comparison, Bloomington has scored 866 points in its last 42 games.