Los Angeles Preps:

Jamel Hart
November, 13, 2011
11/13/11
1:01
PM PT
By
Dan Arritt
| ESPNLosAngeles.com
CIF-SS playoffs:
Central Division
This group might not carry the hoopla of the Inland Division, but it certainly has some quality teams and superb athletes. Rancho Verde hasn't lost a regular-season game since 2007, yet hasn't won a section title in that stretch either. Not so for Palm Springs and Colony. Palm Springs won the Eastern Division title in 2009, and the Titans won Central Division titles in 2006 and 2007. Here's a breakdown of the division:
The seeds
: No. 1 Rancho Verde, No. 2 Palm Springs, No. 3 La Sierra, No. 4 Colony.
Best first-round matchup
: Palm Desert (5-4) at Carter (9-1) -- Carter had a chance to clinch the program's first outright San Andreas League title Thursday night against Cajon but lost, 24-7. That missed opportunity could spill over to the playoffs. Carter will have its hands full trying to stop Palm Desert running back
Tim Santa Maria
, who rushed for 333 yards in 33 carries and scored four touchdowns in a 38-35 loss Friday against La Quinta, dropping the Aztecs into third place in the Desert Valley League and setting up this matchup.
Toughest road
: Palm Springs (10-0) -- The Indians' unblemished record might be a bit misleading because they really haven't played any quality opponents this season, though they did blow out everyone except Palm Desert in the season opener. They open against a Rialto team that has a big-time victory against Cajon this season, one that likely cost the Cowboys a top four seeding. Waiting in the wings would be a matchup against Chino or Arlington, two other programs that could pose a problem with their potent run games.
Potential shocker
: Valley View at Colony, first round -- Valley View had a bye in Week 10 to give them extra time to prepare for the playoffs and provide running back
Michael Harrison
a chance to rest up for the heavy workload he's likely to encounter. Harrison, who has rushed for 1,373 and 16 touchdowns this season, is the type of power runner that has given Colony fits this season. The Titans have already allowed 100-yard rushing performances to
Xavier Browne
of Chino,
Devon Samuels
of Chaffey,
Jamel Hart
of South Hills,
Jordan Robinson
of Ayala and
Corey Victoria
of Glendora.
Darkhorse
: Cajon (9-1) -- As mentioned above, Cajon would likely be one of the top three seeds if not for its loss against Rialto three weeks ago. The Cowboys have the athletes to make a run at any team in this division, and seem to have found a quality replacement for quarterback
Edwin Martinez
, who went down with a knee injury two weeks ago.
De Juan Brooks
stepped up from the junior varsity and threw for 241 yards and three touchdowns in the victory against Carter, locking up a share of the San Andreas League title.
Final analysis
: This division is Rancho Verde's to lose but that's exactly what the Mustangs did last season, cruising to the championship game before getting stunned by Colton, the third-place team from the San Andreas League. They certainly didn't catch any breaks in the brackets, getting stuck on the same side as Cajon and Colony, both of which feature Division 1-bound athletes who can change the course of a game.
Championship prediction
: Palm Springs vs. Rancho Verde – These two programs appear to be in a class by themselves, though neither has really proved themselves against quality opponents during the regular season. Look for both teams to build momentum during some challenging early games and meet head on for the section title. Rancho Verde 27, Palm Springs 21.
Link to the Central Division bracket on CalPreps.com
October, 12, 2011
10/12/11
4:19
PM PT
League play kicks off with a bang. As part of our running feature, here are five of this week's must-see games in south Los Angeles County:
[+] Enlarge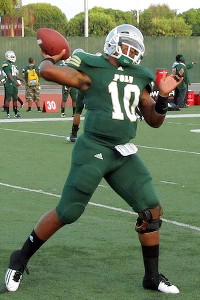 Blair Angulo/For ESPNLA.comPoly QB Chaiyse Hales hopes to repeat his performance of a year ago against Lakewood.
No. 19 Lakewood vs. No. 6 Long Beach Poly at Veterans Stadium, Friday, 7 p.m.
: When the final whistle blew last year, the Long Beach Poly Jackrabbits gave coach Raul Lara the celebratory, icy Gatorade bath. He probably wouldn't mind a good soaking Friday night. The scoreboard keeper at the Vet might be busy. Poly (5-1, 2-0 Moore League) finally found its offensive rhythm last week, hanging 67 points on Jordan, and the Lakewood Lancers (5-1, 2-0) are averaging 45 points per game under first-year offensive coordinator Zach LaMonda, a former assistant coach at Servite. Jackrabbits senior quarterback Chaiyse Hales was the standout in last year's rivalry game, throwing for 189 yards and two touchdowns, and running for another score.
No. 22 Alemany at No. 7 Bishop Amat, Friday, 7 p.m.
: Poor defensive play is Bishop Amat coach Steve Hagerty's biggest concern heading into this one -- and for good reason. The Lancers (5-1) have allowed the most points (111) among Serra League teams this year. These two met for the league title in last season's finale -- Alemany (4-1) claimed the championship with a 38-30 win -- so you know the Lancers will be plenty motivated. "It's going to be a fight," Lancers senior running back Jalen Moore said after last week's 38-35 win at Venice. "The league is going to come down to the end, but I feel like we should be able to take it all way." The game will stream live on
FOXSportsWest.com
as part of the website's
Prep Zone platform
.
Charter Oak vs. South Hills at Covina District Field, Friday, 7 p.m.
: For now, the Sierra League appears to be a four-team race and these two are a part of that group. The Charter Oak Chargers are the favorites (4-1) but Friday's road game could get tricky given that the South Hills Huskies (3-2) aren't strangers to tight games. Four of their five contests have been decided by four points or less. Chargers defensive coordinator Roger Lehigh would like to contain tailback Jamel Hart, who has hit triple-digit rushing yards in every game this season. It all adds up to an intriguing league opener.
Damien at Claremont, Friday, 7 p.m.:
This is the
other
marquee Sierra League matchup, though it could have been a headliner any other week. The Damien Spartans (4-1) are fresh off a win against a Pac-5 Division opponent, JSerra, and their only loss this season was to Bishop Amat, which entered the week ranked No. 7 by ESPN Los Angeles. Meanwhile, the Claremont Wolfpack (4-1) are looking to avenge last year's loss. Quarterback Gabe Schaper looks to rebound after throwing two costly interceptions last week.
West Covina at Bonita, Friday, 7 p.m.
: Will spectators be in for another epic? These two met twice in 2010. West Covina thumped Bonita in the first game, basically securing the Hacienda League championship behind Chris Solomon's spectacular running. They saw each other again in the Southeast Division title game, which the West Covina Bulldogs (5-1) won on a thrilling last-minute drive. The Bonita Bearcats (2-3), coming off a bye week, will have redemption on their minds.
Blair Angulo covers preps for ESPN Los Angeles. Follow him on Twitter.
October, 5, 2011
10/05/11
7:14
PM PT
As part of our running feature, here are five of this week's must-see games in south Los Angeles County:
Los Osos vs. South Hills at Covina District Field, Thursday, 7 p.m.
-- Don't let the South Hills Huskies' mediocre 2-2 record fool you. They've been in every game, losing to Ontario Colony by one and defending Southeast Division champ West Covina by two. Workhorse Jamel Hart is a threat to score any time he touches the ball. Los Osos is also 2-2, but its two losses came against a couple of undefeated teams, Orange Lutheran and Vista Murrieta.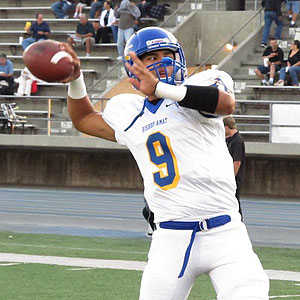 Blair Angulo/For ESPNLA.comQuarterback Rio Ruiz will lead Bishop Amat into its Thursday road game at Venice.
No. 8 Bishop Amat at Venice, Thursday, 7 p.m.
-- A final hurdle for the Bishop Amat Lancers (4-1) before they begin what promises to be a grueling Serra League slate. Matching up against Venice (1-3) might not be a day at the beach, though. The Gondoliers have lost three straight but, after facing the likes of Chaminade, St. Francis and La Mesa Helix, they won't be wide eyed when a Pac-5 squad lines up across from them.
Diamond Ranch at Diamond Bar, Friday, 7 p.m.
-- Childhood friends (turned enemies) will face off when these rival schools meet for just the second time ever. Diamond Ranch (2-3), which sits in Pomona near the Chino Hills and Diamond Bar borders, won the inaugural game last year, 41-0. The stakes have been raised this season, with the winner set to capture the
newly introduced Mayor's Cup trophy
. The Diamond Bar Brahmas (2-3) have lost two straight.
Narbonne at Culver City, Friday, 7 p.m.
-- Battle tested Narbonne (2-2) continues its preseason gauntlet of tough opponents. Junior quarterback Troy Williams carried the Gauchos to a victory against Gardena Serra last week and, like always, figures to be the focal point of that uptempo attack. Culver City (4-0), which has allowed only 14.5 points per game, will be well aware.
Roosevelt at South East, Friday, 7 p.m.
-- Undefeated South East (5-0) has one of the area's most electrifying players, Robert Lewis. The Southern Methodist commit already has 12 rushing touchdowns and four performances of more than 150 yards. The Jaguars are one of only three undefeated City Section Division II teams and, if they win Friday, gain control of the Eastern League.
Blair Angulo covers preps for ESPN Los Angeles. Follow him on Twitter.
August, 19, 2011
8/19/11
6:10
PM PT
With the start of the high school football season less than two weeks away, we give you a list of the top 15 returning rushers in south Los Angeles County, sorted by last year's totals.
Robert Lewis
, a senior at South East, is ranked No. 12 on this list but is more than just a ball carrier. Lewis, the top-rated senior running back in the area according to ESPNU recruiting, is committed to Southern Methodist. He's a dynamic playmaker that should build on a solid junior season. West Covina's
Chris Solomon
ranks second on this list, even though he's projected as a safety at the next level.
Rank / Name (Year, School) / Yards / Touchdowns
1. Giovanni Rivera (Senior, Sierra Vista): 2,304 yards - 14 TD
2.
Chris Solomon
(Senior, West Covina): 1,790 yards - 20 TD
3.
Jalen Moore
(Senior, Bishop Amat): 1,634 yards - 23 TD
4.
Jamel Hart
(Senior, South Hills): 1,318 yards - 17 TD
5. Marquise McGuire (Junior, Long Beach Jordan): 1,200 yards - 3 TD
6. Michael Ortega (Senior, St. Paul): 1,196 yards - 7 TD
7.
Walter Moctezuma
(Senior, Marshall): 1,190 yards - 15 TD
8. Tony Botello (Senior, Pioneer): 1,189 yards -- 12 TD
9. Michael Wimberly (Senior, West Adams Prep): 1,026 yards - 9 TD
10. Darrell Santiago (Junior, San Pedro): 965 yards - 15 TD
11.
Thomas Brown
(Senior, Serra): 960 yards - 6 TD
12.
Robert Lewis
(Senior, South East): 901 yards - 11 TD
13.
Kori Garcia
(Senior, Santa Monica): 856 yards - 9 TD
14.
Tairen Owens
(Senior, Muir): 822 yards - 10 TD
15. Anterio Bateman (Junior, Serra): 783 yards - 5 TD
September, 16, 2010
9/16/10
11:46
PM PT


COVINA -- The night began with South Hills bursting through a banner that read, "Huskies run this town."

As it turns out, West Covina tailback Beejay Lee does.

The junior tore through South Hills' defense as if it were made of paper, despite only carrying the ball six times while splitting duties with three other backs. But Lee was effective when called upon, contributing three scores on 126 yards rushing to pace West Covina to a 42-27 win at Covina District Stadium.

Lee's legs secured the city's bragging rights for the next year. Less than two miles and exactly three stop lights separate South Hills and West Covina on Cameron Avenue.

"They're always favored," Lee said regarding rival South Hills. "We always come out ready to work and ready to win. We feel like we work harder than them at practice and we showed it."

The Bulldogs (2-1) ran away with it, the Huskies adding two late touchdowns that made the outcome more respectable. This was domination by West Covina's offensive line, which not only paved the way for Lee but also helped sophomore Jimmy Frazier reach the end zone twice on close to 100 yards rushing.