Los Angeles Preps:

James Kaprielian
May, 22, 2012
5/22/12
7:09
AM PT
1. Corona del Mar's hopes of winning a second consecutive Southern Section volleyball championship ended in four games as the second-seeded Sea Kings were dethroned by top-seeded Oak Park, 22-25, 25-22, 25-17, 25-21, on Saturday in the Division 2 finals. More bad news came Sunday: CdM was not selected to play in the Southern California Regional playoffs, leaving Orange County in the rare position of not having a representative playing for a regional title.

2. James Kaprielian and Irvine Beckman were almost a casualty of the first round. Kaprielian is one of the Southland's outstanding pitchers, but the second-seeded Patriots needed a two-out, seventh-inning RBI single by Torin Goldstein—who drove in Jake Hazard—to provide a 1-0 victory over El Rancho. Kaprielian (10-2) pitched a two-hitter and struck out 12. In his last nine appearances—five of which were seven innings—Kaprielian has allowed three hits or fewer. In that span: 49 2/3 innings, 13 hits, 4 walks, 68 strikeouts.

3. So much for baseball rankings. The Sunset League laid the hurt on the Moore League as at-large Huntington Beach won at fourth-seeded Long Beach Poly in the opening round Friday, 2-1, as Shane Grace scattered five hits and Matt Urabe went three-for-three and drove in both runs. Another Sunset League school, Huntington Beach Marina, KO'd highly regarded (and seventh-seeded) Lakewood, 2-0, behind Austin Olivas' four-hitter. It was fairly indicative of Orange County's performance: in games that two O.C. teams weren't playing each other in the first round, the county went 5-2; the only setbacks were Marmonte League champ Agoura's home win over Brea Olinda, 6-1, and third-seeded Riverside North beating (another Sunset League team) Huntington Beach Edison, 11-2. In both cases, the O.C. teams had to win play-in games before going on the road.


June, 7, 2011
6/07/11
11:16
AM PT
1. If you're going to lose a game, you might as well do so in epic fashion. That's what happened to Anaheim Canyon in its first Southern Section Softball Championship. The Comanches, who were a third-place team from their league, took a 1-0 lead into the bottom of the seventh inning on the strength of
Cheyanne Tarango's
pitching and a home run by
Taylor Swearingen
. But three walks brought up Corona Santiago's best hitter with the bases loaded and two outs;
Lauren Sweet
hit a grand slam to win the game. It has to rank as one of the best finals ever.
2. Cypress Oxford Academy was vying for its third consecutive title, but the Patriots were
beaten by Pasadena Poly
, 10-0. It was a stark contrast to the softball final. Given the choice, we're guessing Oxford Academy -- which finished 26-3 -- would have preferred to go down in epic fashion, too. They weren't the only losers in the finals. Esperanza, which had earlier in the playoffs beaten second-seeded Mater Dei, scored in the first inning but did no damage afterward in a 7-1 loss to Riverside North
in the Division 1 championship.
June, 2, 2011
6/02/11
8:22
PM PT
By
Sean Ceglinsky
| ESPNLosAngeles.com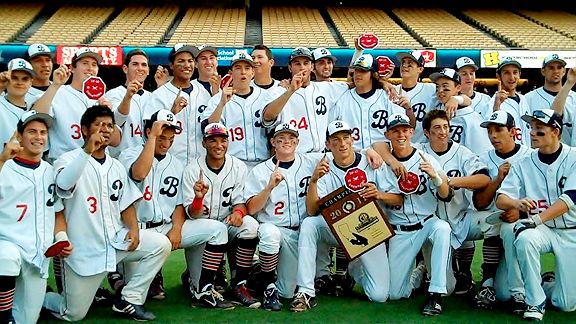 Blair Angulo/ESPNLosAngeles.comThe Irvine Beckman baseball team post for a team photo after winning the Southern Section Division 3 championship.
LOS ANGELES -- Similar to most good, disciplined hitters, Zack Rivera was merely attempting to make some all-important contact. Mission accomplished.
The junior for the Irvine Beckman baseball team belted a two-run homer in the bottom of the first inning of Thursday's Southern Section Division 3 championship game at Dodger Stadium and the blast proved to be the difference in a 4-1 victory over Irvine Woodbridge.
"Bat to ball, that's the only thing I was thinking, find a pitch to drive,'' Rivera said. "When I hit the ball, I knew I got a hold of it. Dodger Stadium is a big park though, and for a minute, I thought the ball was going into foul territory. Everything was in slow motion, then it cleared the fence. It was one of those moments every baseball player thinks about at some point.''
The sequence nearly did not materialize for Beckman (25-6).
Ben Wylly, the starter for Woodbridge (19-12), retired the first two batters that he faced. Justin Hazard, however, reached base on an error to keep the inning alive and set the stage for Rivera. He stepped into the batters box, of course, and drilled the ball down the left-field line, just over 330 sign into the empty seats, to give the Patriots a 2-0 lead heading into the second inning.
"That homerun was one of those no-doubters,'' Beckman coach Kevin Lavalle said. "It was gone, out of Dodger Stadium. It would've been a homer at our field and a homer at Woodbridge's field too. Once we got the lead, there was no way we were going to lose this game.''
Give the Warriors credit, with little or no momentum early on, they did not give up. Woodbridge rallied in the top of the second, in fact. Matt Budgell led off with a single, and promptly, stole second base. He scored on a Sam Lemmon basehit to cut the lead in half, 2-1.
Hazard's hustling style of play led to another run in the bottom half of the third inning. He beat out an infield grounder, sliding head first at first base. Connor Deneen, who led off with a single, ended up scoring on the play to increase the advantage to 3-1.
The lead proved to be more than enough for James Kaprielian. The ace for Beckman went the distance, giving up four hits and striking out seven batters.
"I was a little nervous in the beginning, but after Zack hit that clutch home run, I relaxed, I think we all started to relax,'' Kaprielian said. "Once the third inning rolled around, I shook things off, settled down and started throwing some strikes. I was in the zone.''
Making matters worse for the Warriors was the fact that they lost to Rivera and Beckman, a Pacific Coast League rival, for the fourth time this season.
"I was a worried before the game,'' Lavalle said. "I didn't want to have to break out my speech about how tough it is to beat a team three, or four, times in one year.
"Thankfully, there were no letdowns. Zack did not have a letdown. James did not have a letdown. None of our kids had a letdown out there today. You know, if you can't get up for a title game at Dodger Stadium on June 2, you don't belong in games like this one.''