Los Angeles Preps:

Jason Negro
November, 18, 2011
11/18/11
11:43
PM PT
By
Sean Ceglinsky
| ESPNLosAngeles.com
MISSION HILLS -- Each and every time Bellflower St. John Bosco needed a big play in Friday night's Southern Section playoff game,
Bryce Treggs
delivered.
The senior receiver finished with 130 yards on seven receptions, two catches coming in the fourth quarter on the game-winning drive, as the visiting Braves came from behind multiple times en route to a 33-28 victory over Alemany in a Pac-5 Division opener.
"He was the best player on the field, I saw that, you saw that, everyone saw that,'' St. John Bosco coach
Jason Negro
said. "Teams game plan for him all of the time and that's a testament to how good of an athlete he is. He was lights out for us tonight.''
For all intents and purposes, the Braves (9-2) entered the game as a bit of an underdog despite having been No. 17 in the most recent ESPNLosAngeles.com rankings.
The Warriors (8-3) were No. 12 in the same poll.
Treggs had pair of clutch receptions in the waning moments of the game. His 25-yard catch and 11-yarder set up
DaVonte Young
's 3-yard touchdown run with less than a minute remaining in the game. Alemay had no answer for Treggs.
"It was go time, and when it's go time, that's my time to shine,'' said Treggs, who has committed to Cal. "My teammates carried me the whole game. I felt like I owed it to all of them to come up with a couple of big plays. I got warmed up and it was on.''
Steven Mitchell
did his best to keep Alemany close.
He blocked a 46-yard field goal attempt by
Reid Budrovich
in the third quarter and Alemany took over near midfield.
Devon Dunn
completed a 20-yard pass to
Jeff Farrar
and scored on a 1-yard run to give the Warriors a 28-27 lead with 10:57 left in the game.
Dunn finished 14-of-23 for 275 yards for the Warriors. His three interceptions, however, and one lost fumble proved to be costly in the end result.
"Quarterback has to be the toughest position in this sport,'' Dunn said. "There was a lot of pressure on me. I am going to have to deal with it now.''
Treggs was relatively quiet in the first half. Things changed over the course of the final 24 minutes of play. Drastically, mind you. He had a 20-yard touchdown reception to give St. John Bosco a 27-21 advantage with 7:20 remaining in the third quarter.
Treggs did not come down with his first catch until the 8:08 mark of the second quarter. Receptions came in bunches the rest of the way. His 28-yard grab set up a 1-yard touchdown run by
Royce Moore
to give the Braves a 21-20 lead at the halftime break.
"I dont' worry about getting mine, I'm not a selfish player,'' Treggs said.
When it appeared as if St. John Bosco had the momentum, the Warriors answered. Dunn hit Farrar on a 55-yard touchdown pass. Mitchell followed with 35-yard interception return to give Alemany a 21-13 lead with 5:07 left in the second quarter.
Trailing for the first time in the game, the Braves responded midway through the first half of play.
Rene Medina
connected with
Nick Lehman
on a 19-yard touchdown pass and St. John Bosco regained the advantage, 13-7, with 7:00 left in the second quarter.
Medina completed 14-of-24 passes for 256 yards.
Late in the first quarter, Mitchell atoned for an earlier mistake. He took a handoff from Dunn and then darted to the left. Alertly, Mitchell cut the run back to the right side and scored on a 4-yard jaunt. As a result, Alemany led 7-6 with 1:48 remaining on the clock.
Following a poor punt in the opening minutes, St. John Bosco took over with good field position. Minutes later, Moore was able to break through the middle of the line and score on a 15-yard run to give the Braves a 6-0 lead with 7:44 left in the first quarter.
Sean Ceglinsky covers preps for ESPNLosAngeles.com. Follow him on
Twitter
.
September, 29, 2011
9/29/11
11:06
PM PT


LA HABRA -- For a brief moment, the sequence appeared harmless and undisguised. Yet, as defenses across the Southland have found out in recent years, nothing is ever simple when St. John Bosco receiver Bryce Treggs is involved, not even a short bubble screen. Treggs turned inside, caught the ball, made a swift cut up field and was gone.

See ya.

La Habra defenders desperately lunged at his feet, but Treggs seemed to find a different gear with each stride, gliding into the end zone for an 89-yard touchdown. St. John Bosco's first offensive play of the game proved to be a dagger in a surprisingly dominant 41-6 victory over La Habra on Thursday night.

"I wanted to work on my track speed," Treggs said with a wide grin. "Just get my knees up and keep going. That's all I was thinking."

The Cal-bound Treggs finished with eight catches, 192 receiving yards and two touchdowns. His other score came on a deep, 47-yard post route that made it 21-0 near the end of the first quarter.

The rout was on.

"It was critical for us to get ahead of these guys early," St. John Bosco coach Jason Negro said. "We fell behind 21-0 last week [against Loyola], tried to fight our way back and couldn't do it. We told our kids we needed to get on top right away."

Contributions from all angles gave the Braves (4-1), ranked No. 18 in the ESPN Los Angeles prep football top 25, a big cushion. They had five takeaways -- including a pivotal interception on La Habra's first play from scrimmage -- and got solid production from senior quarterback Rene Medina (242 passing yards) and tailback DaVonte Young (78 yards rushing and a score).

"We just couldn't stop them," La Habra linebacker Aaron Porter said. "It was tough on us."

The Highlanders (2-3) fell against a Trinity League team for the third straight week, following losses to Servite (24-16) and Orange Lutheran (30-24). They were out of sync from the start and struggled to generate momentum, narrowly avoiding the shutout on the final play of the night.

"I didn't expect anything like this," Young said. "I'm very thrilled with the final score."

Said Treggs: "In last week's loss we came out very flat and didn't set the tone. That's what changed. The scoreboard showed it."
September, 28, 2011
9/28/11
1:08
PM PT
As part of our running feature, here are five of this week's must-see games involving teams from south Los Angeles County:
No. 18 St. John Bosco at La Habra, Thursday, 7 p.m.
— Players usually want to forget recent failures, so the humbled St. John Bosco Braves (3-1) could benefit from their short rest following last week's loss to Loyola at L.A. Valley College. A likely bullet point in Braves coach Jason Negro's motivational speech: La Habra (2-2) has already given a pair of Trinity League teams -- Servite and Orange Lutheran -- all they could handle.
No. 3 Mission Viejo at No. 22 Carson, Friday, 7:30 p.m.
— For those not keeping tally, the Carson Colts (1-2) meet a ranked opponent for the fourth consecutive week. Nationally-ranked Mission Viejo promises to be the toughest test yet. Sure, Carson is in danger of losing its third straight, but how could other City Section teams not admire the ambition? Quarterback Kevin McMahon has to find USC-bound receiver Darreus Rogers often.
No. 15 Loyola at No. 21 Upland, Friday, 7 p.m.
— Until last Friday, the Loyola Cubs (4-0) were solid candidates for most improved. But, after what coach Mike Christensen's bunch did to St. John Bosco, consider that an understatement. Boise State-bound Chaz Anderson, a difference maker on both sides of the ball, has the Cubs believing in Serra League glory following a poor 3-7 mark in 2010. They can accumulate more believers by winning at Upland (4-0).
Serra at Narbonne, Friday, 7 p.m.
— As the games go by, Serra sophomore Jalen Greene's passing numbers keep getting better -- from 91 yards to 175 to 180 -- despite the absence of top playmaker Raymond Ford (ankle). The progression at key positions is important for Serra (3-1). The Narbonne Gauchos (1-2) will be plenty motivated after coming up just short the last two weeks at Long Beach Poly and Tesoro.
Arcadia at Muir, 7 p.m.
— Clearly, schedule makers had no intention of saving the best for last. This Pacific League opener promises to have the intensity of a title game. The Muir Mustangs (2-1) look to bounce back after being overwhelmed by Rancho Cucamonga last week; the Arcadia Apaches (2-1) hope to capitalize on another opportunity after knocking off rival and defending Mid-Valley Division champ Monrovia two weeks ago.
Blair Angulo covers preps for ESPN Los Angeles. Follow him on Twitter.
August, 31, 2011
8/31/11
9:39
PM PT
We catapult into the high school football season and bring you a preseason look at the top 10 teams in south Los Angeles County. Eight of the 10 were ranked in our final regional rankings last year -- St. John Bosco and Narbonne are the only newcomers. And although teams such as Lakewood, Serra, Crenshaw and West Covina graduated a ton of talent, they'll need to falter before they're bumped from the list. We'll release new rankings every Tuesday.
(Notes: Last season's records are in parentheses; this top 10 is independent of ESPNLA.com's prep football top 25 rankings).
1. Long Beach Poly (8-3)
Expectations are always high at Poly, but they're up near the moon this year. The Jackrabbits return a plethora of talent, including five players that are committed to Arizona State. Poly will go as far as senior quarterback
Chaiyse Hales
takes them. Up next: at Sacramento Grant, Friday.
2. Bishop Amat (9-2)
There might not be a team in the Southland more antsy to get on the field than Amat. The Lancers were a perfect 9-0 to start 2010 but faltered late, losing to Alemany in what amounted to a Serra League title game and stumbling against Tesoro in the first round of the Pac-5 playoffs. Up next: vs. Garfield, Friday.
3. St. John Bosco (5-5)
We present the best team that didn't make the postseason last season, an award coach Jason Negro would probably not be too happy with. On the bright side, the Braves are now a year wiser. The rest of the Trinity League should be on its toes. Up next: vs. Mission Hills, Friday.
4. Carson (11-3)
Someone might want to check Elijah Asante's sanity level. The second-year coach has lined up the area's most difficult nonleague schedule, undoubtedly trying to play the best to become the best. The Colts aren't shying away from anyone, that's for sure. Up next: vs. Mater Dei, Friday.
5. Dominguez (10-2)
A defense littered with college prospects, including cornerback
Brandon Beaver
and lineman
Damion Turpin
, promises to be this team's strength. The offense, meanwhile, will most likely run through top blocker
Lacy Westbrook
. Up next: vs. Crespi, Friday.
6. Lakewood (10-2)
New coach Vince Lobendahn takes over for the popular Thadd MacNeal with one clear objective: getting the ball to
Darius Powe
, the area's top uncommitted wideout. Big Red is rebuilding but Lobendahn thinks a Moore League title is within grasp. Up next: vs. Locke, Friday.
7. Serra (14-1)
The Cavaliers aren't as loaded as they have been recently, but they're still considered a contender in the Western Division. UCLA commit
Raymond Ford
has the tough task of filling George Farmer and Marqise Lee's big shoes. Up next: vs. Sherman Oaks Notre Dame, Friday.
8. Narbonne (6-6)
With junior Troy Williams, perhaps the top signal caller in the City Section, under center, the Gauchos have set their sights on making a trip to the Memorial Coliseum in December. The defense will be key. Up next: vs. Palos Verdes, Sept. 9.
9. Crenshaw (12-2)
Stud De'Anthony Thomas is
now in Eugene
, so the pizzazz might not be as high as it has been for the defending back-to-back City Section champs. Still, coach Robert Garrett figures to have his Cougars ready every week. Up next: vs. Alta (Utah) at Mission Viejo High, Saturday.
10. West Covina (13-1)
The Bulldogs are led by one of the better players you've never heard of, tailback/safety
Chris Solomon
. West Covina captured the Southeast Division crown last year and look like the early favorites again this fall. Up next: vs. Covina at Covina District Stadium, Saturday.
Five more to watch, in alphabetic order
: Charter Oak, Mira Costa, Monrovia, St. Paul, Venice.
Agree or disagree with the "L.A. South" preseason top 10? Did your favorite school get snubbed? Leave a comment on this post or contact ESPNLosAngeles.com preps writer Blair Angulo directly on his Twitter page.
August, 25, 2011
8/25/11
4:02
PM PT
Really, St. John Bosco's 2010 season might not have been as bad as it looked on paper. The mediocre 5-5 record didn't tell the whole story and neither did the Braves' failure to make the postseason. Cracking the Trinity League top three is no easy task, after all.
Still, general consensus was that the Braves were really good but, maybe, just not good enough. They were athletic and explosive but, perhaps, unable to get over the proverbial hump due to unripened talent. Those same excuses won't do in 2011 because Bosco is expected to be even better, slightly more athletic and ... ready.
Many of the same faces -- including must-see receiver
Bryce Treggs
-- return this fall. Mix in a handful of impact transfers and you've got what looks to be a recipe for redemption.
Here is a closer look at the Braves:
Team
: St. John Bosco.
Coach
: Jason Negro, second season.
2010 Record
: 5-5, did not make playoffs.
Returning starters
: 11 total. Six on offense, five on defense.
Key players on offense
: WR Bryce Treggs (California commit), WR Justin Johnson, OL Beau Boyster (Arizona commit), QB Rene Medina
Key players on defense
: DB Dalis Bruce, DB Royce Moore, DB Shane Bauman
Difference maker
: Treggs, the nation's No. 21-ranked receiver according to ESPNU, might be the most explosive player in the area. He's shifty and elusive, and has the capacity to line up in the slot or on the outside. The Cal commit made 56 receptions for 1,010 yards and 12 touchdowns to go along with 37 tackles and four interceptions last season.
Newcomers
: DB Dalis Bruce (transfer from Danville Monte Vista), RB DaVonte Young (transfer from Irvine and Tustin)
Not to be missed
: vs. Servite, Friday, Oct. 28. The Braves played Servite tough last season at Cerritos College, at one point holding a lead before losing to the eventual state runner-up by eight. Mighty Friars beware: a change of scenery might be exactly what Bosco needs to pull off the upset.
Final analysis
: With a number of quality players returning, it'd be completely shocking if St. John Bosco didn't at least crack the Trinity League top three this fall. Sure, the Braves were an ugly 1-4 in one of the country's most difficult leagues last year, but, in the eternal optimist's view, their largest margin of defeat was 11 points (to Mater Dei). If Medina shows even slight improvement at quarterback, and Negro gets similar production from Treggs and Co., it could be a special season in Bellflower.
Blair Angulo covers preps for ESPNLosAngeles.com. Follow him on Twitter.
October, 15, 2010
10/15/10
12:12
AM PT
By
Martin Henderson
| ESPNLosAngeles.com
SANTA ANA – My gosh, how good is Victor Blackwell going to be when he grows up? The Mater Dei receiver already plays like a man among boys, and that was evidenced in full bloom Thursday against St. John Bosco in the Trinity League opener.

Blackwell is already a chiseled 6-foot-1, 191-pound specimen. The USC commit scored twice in the first half of 14th-ranked Mater Dei's 31-20 victory over the Braves, but the manner in which Blackwell plays – and makes plays – continues to impress week after week.

"Too much Blackwell," said Jason Negro, the first-year coach at Bosco whose team played a game that was much closer than the score indicated – the Braves (4-2, 0-1) led 20-17 in the fourth quarter. "He's a tremendous player. We knew that coming in and we designed some things and he still hurt us."

Blackwell caught six passes for 135 yards and two touchdowns, of 32 and 15 yards for Mater Dei (4-2, 1-0), which has won four in a row. But Blackwell was also directly responsible for all three penalties committed by Bosco – two pass interference penalties and an offside against a defensive back.

It was a classic Trinity League battle, indicative of how tough each game will be. Bosco very clearly was upset-minded.


October, 14, 2010
10/14/10
9:00
AM PT
By
Martin Henderson
| ESPNLosAngeles.com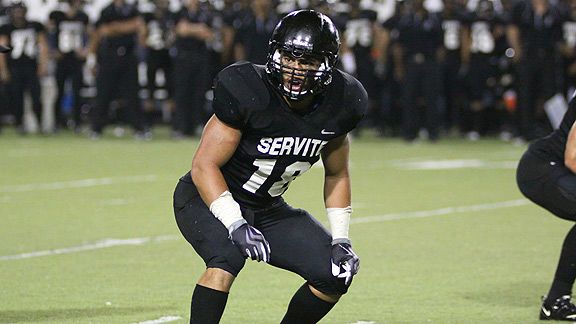 Courtesy of Laurence Martinez
The Trinity League is tougher than ever, and that has top-ranked Servite and linebacker Butch Pauu (18) looking over their shoulder.
In the four years of its existence, the Trinity League is responsible for two Pac-5 and two State Bowl championships, but Thursday ushers in a new era for the Southern Section's marquee league.
It's better than ever.
Mater Dei (3-2) plays host to St. John Bosco (4-1) at Santa Ana Stadium to begin the league's fifth year, and Bosco won't be the pushover it has been. Orange Lutheran (3-2) plays host to Santa Margarita (4-1) at Orange Coast College, and the visiting Eagles won't have any resemblance to the team that failed to win a league game for the first time in its history a year ago. Servite (5-0) – which has won or shared five straight league titles, including the league's first outright championship a year ago – visits JSerra (5-0) at Saddleback College to face a program that last week defeated a team by the same margin as highly regarded Bishop Amat.
First-year coaches
Harry Welch
at Santa Margarita (he has won two state bowl titles with different teams) and
Jason Negro
at Bosco (he guided Trabuco Hills to its section finals in two of the past three years) have elevated those programs already and seem to be the biggest reasons for the new landscape. There are no more also-rans in the league. Now, everyone is an also-running.
"It's always had elite teams in the league, and it had the appearance at times that it was top heavy – the Big Three," said Negro, whose squad is led by senior running back
Martin Brown
and several juniors. "It's more of a complete league now, from 1 to 6 you've got teams capable of winning this league. It's a shame there are only going to be three teams selected for the playoffs out of this. . . . There's going to be somebody not in the playoffs who could win one or two playoff games."
October, 4, 2010
10/04/10
11:38
AM PT
By
Martin Henderson
| ESPNLosAngeles.com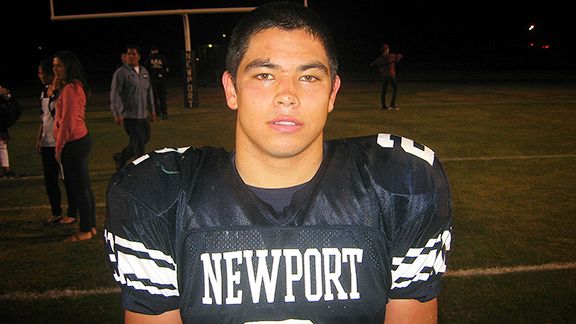 Martin Henderson/Special to ESPNLA.com
Newport Harbor's Buzzy Yokoyama suffered a knee injury last week against San Clemente.
Some observations from the fifth weekend of high school sports in Orange County:
1. The most distressing news of the weekend had to be the knee injury to
Buzzy Yokoyama
, who moved from receiver to running back at Newport Harbor and looked like one of the best in Orange County. He was the county's second-leading rusher going into the game against San Clemente, but he suffered a knee injury in the second quarter with the score tied at 7-7. He was replaced by
Drew Diller
, who scored twice, in the 21-20 overtime loss; Diller was stopped on a two-point conversion attempt for the victory.
2. It took a career turn, but
Jason Negro
finally beat La Habra. The former Trabuco Hills coach, whoe team was beaten by the Highlanders in the semifinals in 2008 and the championship in 2009, finally scored a victory over his nemesis, 35-17, while wearing the blue of St. John Bosco (4-1). After his team's victory, Negro made a guarantee – that La Habra (2-3) would be in the Southern Division finals. That wouldn't surprise me at all.
September, 25, 2010
9/25/10
12:54
AM PT


BELLFLOWER -- 710 ESPN Radio's Beto Duran caught up with St. John Bosco running back Martin Brown and coach Jason Negro after Friday night's 37-15 home victory over Loyola.

Brown had TD runs of 30 and two yards as the Braves improved to 3-1 heading into their final nonleague game against La Habra next week. Bryce Treggs had TD receptions of 15 and 25 yards from quarterback Ray Medina.

Loyola, which got touchdowns from Darren Rosenburg and Jarod Baker, fell to 1-3.