Los Angeles Preps:

Jelani Mitchell
February, 9, 2012
2/09/12
9:03
PM PT
PASADENA --
Brandon Jolley
had some fun with the Rose City rivalry Thursday night, blowing kisses toward the opposing fans after nearly every made basket in the second half.
It didn't matter who scored; Jolley blew kisses, each more exuberant than the last. And when it was time for seriousness, Jolley was there too.
Nine-time Pacific League champion Pasadena had been dethroned by Muir earlier in the week, and, earlier in the season, beaten by its neighboring rival for the first time in over a decade. Jolley made sure to avenge the loss and regain pride, leading Pasadena to a 71-53 road victory against Muir in the regular-season finale.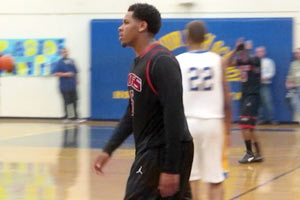 Blair Angulo/For ESPNLA.comBrandon Jolley's 26 points were the difference as Pasadena avenged an earlier loss to Muir.
"When they beat us at our house [last month] we underestimated them, we didn't really care about them," said Jolley, who poured in a game-high 26 points and grabbed eight boards. "We had to take them more seriously."
Pasadena (19-7) galloped into the Mustangs' gym, opening a 23-9 lead after the first quarter behind Jolley's energy down low. The Bulldogs began with a sizzling 14-2 run, and the highly anticipated rematch never lived up to the hype.
"There's a lot of talk in this town, and Jolley was one who felt there was too much talk going on," Pasadena coach
Tim Tucker
said. "I think people got it confused that we're the second team in the city. We're not the second team in the city. We might have some blips and a little bad luck, but we're five points away from being undefeated [in league] this year. We know how good we are. Jolley knows how good he is. We came out to prove it."
Muir's bumpy beginning, meanwhile, coincided with coach
Gamal Smalley
's decision to honor his seniors by fielding an all-senior lineup. The group of non-starters stayed on the floor for almost two minutes.
"We were in foul trouble in the first game so we couldn't play Pasadena defense," Tucker said. "We got down, slapped the floor and said 'We're not giving them anything.' We got out to an early lead and built on it."
January, 25, 2012
1/25/12
10:38
PM PT
St. John Bosco (16-4) eked out a 72-68 victory at JSerra on Wednesday night to improve to 5-0 in Trinity League play, setting up a highly intriguing matchup with Mater Dei, the region's top-ranked squad, on Friday in Bellflower. Isaac Hamilton led the way with a game-high 26 points.

Loyola (16-3) lost at home to Alemany, 95-81, and is now two games back in the Mission League standings. The Cubs had gotten back into the race with an impressive win against Crespi earlier in the week. Loyola got 24 points from Julian Harrell.

In the Western League, Fairfax (14-7) beat Westchester, 53-46. Brendyn Taylor had 17 points. In the Pacific League, Muir (20-1) beat Burbank, 54-52, thanks to Jelani Mitchell's 17 points.

Windward (14-7) bounced back from a demoralizing Alpha League loss to Pacific Hills, defeating Sierra Canyon 68-67.

In the Ocean League, Culver City beat Beverly Hills, 87-81, behind 33 points from Aamahd Walker and 32 from Keilan Horton.
January, 20, 2012
1/20/12
9:07
PM PT


PASADENA -- There's a new force in the Rose City.

Muir beat rival Pasadena for the first time in more than a decade Friday night, 64-60, and grabbed the top spot in the Pacific League. When the final buzzer sounded, visiting Muir fans stormed the court at Pasadena's Tom Hamilton Gym.

A frantic altercation soon followed: Pasadena's Brandon Jolley suffered a cut on his hand while going after Muir's Jelani Mitchell, bloodying the walls in the hallway leading into the locker rooms. Police were called in to clear the area, and cooler heads prevailed. Muir players were escorted by police from the locker room to their bus in the parking lot, where a large crowd still remained about a half hour following the game's conclusion.

"This is tremendous," Mitchell said before the altercation. "Pasadena has been the best team in this league for a long time. We beat them. And we beat them at their house."

Mitchell sank two clutch free throws with seven seconds remaining to put Muir (18-1, 7-0 Pacific) up by four. Pasadena missed a jumper at the other end, the final seconds ticked off the clock and the drought was over. Half of the gym erupted.

"I'm really excited for the guys and happy for the program," Muir coach Gamal Smalley said. "It's a big hurdle but now we have the rest of the race. I told the guys it's only one game. As much as we're happy and celebratory, we have to now stay focused. To turn the corner as a program, consistency is a major issue."

Pasadena (13-6, 6-1) has claimed the league title nine straight years, but that streak is now in serious jeopardy. Muir's lone loss came against two-loss Village Christian in the championship game of the La Salle/Temple City Tournament.

Muir's Tevin Polk scored a team-high 16 points off the bench, though he is normally a starter. Smalley's game plan to use Polk in a substitute role worked. Jolley had 16 for Pasadena and coach Tim Tucker said his hand injury was not serious.

"He doesn't like to lose," Tucker said of Jolley.


March, 5, 2011
3/05/11
9:27
PM PT
By
Tim Haddock
| ESPNLosAngeles.com


SANTA ANA -- Flintridge Prep coach Garrett Ohara summed up the CIF Southern Section Division 5AA boys' basketball championship game in one sentence.

"Points were at a premium," he said.

In the final two minutes of the game, they were about as scarce as finding a reasonable price for gas.

Jared Nosworthy made 1-of-2 free throws to break a 44-44 tie with a little more than two minutes to play and Flintridge Prep held on for a 47-44 victory over Muir at Mater Dei High School on Saturday.



Freshman Robert Cartwright gave Flintridge Prep a three-point lead, 47-44, with 1:32 to play. Those were the only points scored in the final 2:30.

Playing with four fouls for most of the second half, Nosworthy scored 14 points and made 6-of-9 free throws. Ohara said Nosworthy isn't one of his better players from the free-throw line, but made his shots count against Muir.

"He played his best game at the right time," Ohara said.

Cartwright scored only seven points in the game, but none were bigger than the two he scored at the end of the game.

Nosworthy said he didn't think his free throw and Cartwright's basket would be the last points scored. Both teams traded baskets and leads with a flurry in the third quarter.