Los Angeles Preps:

Jerico Richardson
March, 15, 2012
3/15/12
8:34
PM PT
By
Tim Haddock
| ESPNLosAngeles.com


The Alemany boys' basketball team has quite a luxury in Max Guercy. He's a pass-first point guard in a world full of look-at-me-first basketball players.

He wants to involve his teammates in games, be it on an alley-oop pass to a dunking Marqueze Coleman or finding a wide-open Jerico Richardson for a 3-pointer.

That approach was evident in Alemany's CIF Southern California Regional Division III semifinal against Cathedral Catholic from San Diego on Tuesday night.

Guercy scored only two points in the first half against Cathedral, opting to guide Coleman to 19 first-half points and involving his teammates in the offensive flow.

Despite the unselfish play, Alemany had only a one-point lead at halftime. Guercy took more of a scoring role in the second half.

He scored 14 points in the final two periods as Alemany built a 16-point lead in the third quarter. Behind Guercy's offensive leadership and 11 assists, Alemany went on to win by 20 points, 84-64.

"We called some stuff for him to get going," Alemany coach Tray Meeks said. "He made the rest happen."

Coleman scored a game-high 31 points, but he readily gave the credit for the blowout to Guercy.

"He's a force," Coleman said. "He's going to take us as far as he wants to go. He's our point guard. He's the captain of our team. It's up to him."


January, 7, 2012
1/07/12
12:32
AM PT
By
Sean Ceglinsky
| ESPNLosAngeles.com
MISSION HILLS -- Losing was not an option for
Max Guercy
.
Trailing by double digits in the third quarter, the senior point guard for Mission Hills Alemany took over. Guercy scored 10 straight points, 13 over an eight-minute stretch, to spark a comeback and guide the host Warriors to 69-63 Mission League victory over Los Angeles Loyola.
"Max Guercy is a stud, there's not much more that you can say about him,'' Warriors coach
Tray Meeks
said. "Honestly, he did what a senior is supposed to do in those kind of scenarios. He's a Division I player, in my book. Someone needs to get this kid and have him sign a scholarship.''
A team that figures to be ranked among the premier programs in the ESPNLosAngeles.com top 20 rankings throughout this season, the Cubs (11-2, 0-2) were in one of those must-win situations in the league race. The setback could lead them to fall out of contention.
None of that mattered to the Guercy and the Warriors (13-2, 2-0).
Down 37-25 to start the second half, Guercy got hot. He converted a four-point play, knocking down a three-pointer and hitting the subsequent free-throw. A pair of layups followed. His three-pointer tied up the score, 50-50, with :22 seconds remaining in the third quarter.
"The basket was looking really big, I couldn't miss. I felt like I was in one of those zones, as they say,'' Guercy said. "There comes a time, a point in these kind of big games, where you need to dig down deep and do what's best for the team. That was my only goal.''
Mission accomplished. The 5-foot-6 floor general did his job. Without any college offers to speak of, the perception about Guercy could be on the verge of changing.
All told, he finished with 21 points, six rebounds and five assists.
Make no mistake, Guercy had plenty of help along the way. Nevada-bound
Marqueze Coleman
played well from start to finish and had 19 points. Football player,
Jerico Richardson
, a UCLA commit, added 14 points of his own.
Bear Henderson
ended up with 14 points.
Jacob Hazzard
did his best to keep the Cubs close. He scored 15 points, all coming on three-pointers.
Justin Childress
added 13 and
Julian Harrell
finished with 12 points.
Sean Ceglinsky covers preps for ESPNLosAngeles.com. Follow him on
Twitter
.
December, 6, 2011
12/06/11
11:13
PM PT
By
Tim Haddock
| ESPNLosAngeles.com
Here is the top-10 boys basketball teams in the L.A. North region. The teams are ranked with their 2010 records in parantheses:
Harvard-Westlake (29-5) – The Wolverines won the Southern Section Division 3A championship and advanced to the semifinals of the Southern California Regional in the CIF State Division 3 playoffs last year. Harvard-Westlake has two talented seniors returning. Zena Edosomwan averaged 17.0 points and 10.3 rebounds per game in his junior season. He scored 11 points and had 15 rebounds against Inglewood in the championship game of the Southern Section Division 3A playoffs. Josh Hearlihy averaged 14.5 points per game in his junior season. Sophomore forward Derick Newton has already made an impact with Harvard-Westlake, dropping 30 points on Dominguez on Saturday (Dec. 3). He was 8-for-10 from the field and 11-for-13 from the free-throw line.
Key returners: Edosomwan (senior forward), Hearlihy (senior guard).
Key newcomers: Newton (sophomore forward), Alex Copeland (freshman guard).
Can't-miss games: Harvard-Westlake vs. Loyola at Roybal Learning Center (Jan. 13), Harvard-Westlake at Crespi (Jan. 20), Alemany at Harvard-Westlake (Jan. 21), Harvard-Westlake vs. Loyola at L.A. Valley College (Feb. 3).
Woodland Hills Taft (29-3) – One of the key losses for Taft team is coach Derrick Taylor. He guided Taft to the City Section Division I championship last season, beating longtime nemesis Westchester, 66-62, in the title game. Jason Hart takes over a talented team, despite the loss of three key seniors. Seniors Brandon Perry and Steven Jones will anchor a promising team. They saw limited action last year, but displayed moments of brilliance. Perry averaged 4.0 points and 3.3 rebounds per game as a junior. He scored a season-high 17 points against El Camino Real in a 67-36 win for Taft. Jones only scored 3.9 points per game, but had one of his best games in the CIF State Division I playoffs. He scored 10 points and was one of five players from Taft in double figures in a 94-81 loss to Centennial in the semifinals of the Southern California regional. Much of the success of this team will depend on if or when Anthony January will become eligible to play for Taft. He transferred from Compton and isn't expected to be able to play for Taft until next month.
Key returners: Perry (senior forward), Steven Jones (senior guard).
Key newcomers: Hart (head coach).
Key transfer: January (Compton).
Can't-miss game: Taft at El Camino Real (Jan. 11).
Crespi (24-9) – The Celts lost their top scorer and floor leader, Matt Mounier, to graduation, but have three talented seniors returning. Crespi lost in the semifinals of the Southern Section Division 3A playoffs, 42-40, to Inglewood. The Celts earned a berth in the CIF State Division 3 playoffs and advanced to the second round before losing to La Canada, 43-42. Senior guard London Perrantes averaged 8.2 points and 5.5 rebounds per game last season. Justin Rubia will most likely join Perrantes in the backcourt for Crespi. He averaged 7.3 points per game as a junior. Forward Michael Milligan will provide senior leadership in the frontcourt.
Key returners: Perrantes (junior guard), Michael Avery (senior guard), Rubia (senior guard), Milligan (junior forward).
Key newcomer: Sammy Linn (freshman guard).
Can't-miss games: Crespi at Alemany (Jan. 11), Harvard-Westlake at Crespi (Jan. 20), Crespi at Loyola (Jan. 23).
November, 7, 2011
11/07/11
6:17
PM PT
By
Tim Haddock
| ESPNLosAngeles.com
Let's try to make sense of some of the league standings and playoff possibilities on this all-important week of regular season finales. First, the Serra League. Alemany, with a 28-14 win over Loyola, already has at least a share of the league title. The Warriors have yet to lose a Serra League game since joining last year. They are in the Southern Section Pac-5 Division playoffs regardless of what happens Friday night. The other two teams from the Serra League that will make the playoffs is anyone's guess. Sherman Oaks Notre Dame and Loyola actually control their destiny. If Loyola beats Crespi, the Cubs are in the playoffs and the Celts are out. If Notre Dame beats Alemany, the Knights are in and Crespi and Bishop Amat are out. "Notre Dame is a solid team," Alemany coach Dean Herrington said after the Loyola game. "They might be playing for a playoff spot. We gotta come ready to play." Amat is on a bye and needs a lot of help to make the playoffs. The Lancers are 1-3 in league but can still get in if Notre Dame and Crespi lose. Amat, Crespi and Notre Dame would each have 1-3 records in league and coin flips would decide which team makes the playoffs. The Pac-5 Division has no wild-card berths, which means some very good teams are going to see their seasons end prematurely.
The playoff picture in the Marmonte League is a little more clear but not by much. Westlake heads into its season finale with St. Bonaventure with an 8-0 league record and all alone in first place. St. Bonaventure is tied for second place with Oaks Christian at 7-1. Believe it or not, Oaks Christian still has a chance to win a share of the Marmonte League title if the Seraphs, at home at Ventura High School on Thursday night, can beat Westlake. Whichever team wins the Marmonte League title will most likely earn the top seeding in the Southern Section Northern Division playoffs. The last guaranteed playoff spot from the Marmonte League will go to either Moorpark or Thousand Oaks. Both teams are tied for fifth place with 4-4 records. Moorpark is home against Simi Valley, the surprise of the Marmonte League and sitting comfortably in fourth place. Thousand Oaks ends the Marmonte League schedule at home against Calabasas, a team that hasn't won a league game all season.
November, 5, 2011
11/05/11
12:23
AM PT
By
Tim Haddock
| ESPNLosAngeles.com


MISSION HILLS – Alemany coach Dean Herrington had two words of advice for his junior quarterback Devon Dunn in the middle of his game-winning drive in the fourth quarter against Serra League rival Loyola.

Be careful.

Easier said than done on a muddy and sloppy field that was pelted by showers all afternoon.

But Dunn took his coach's words to heart and found receiver Corey Sims with 46 seconds left to score the go-ahead touchdown. Alemany scored two touchdowns in the final minute of the game to beat Loyola, 28-14, on Friday night at Alemany High School.

The four-yard touchdown catch by Sims -- one of Herrington's favorite two-point conversion plays that produced an all-important six points -- gave Alemany a 21-14 lead. Defensive back Steven Mitchell intercepted a pass and returned it 55 yards to ice the game and hand Loyola its first Serra League loss of the season.

Alemany (7-2), the No. 12 team in the ESPNLA.com Top 25 rankings, clinched at least a share of the Serra League championship with a perfect 3-0 record and one game left to play. Loyola (7-2), ranked No. 13 by ESPNLA, is alone in second place in the Serra League with a 2-1 record.

Down by seven points at halftime and five minutes into the fourth quarter, Loyola tied the scored, 14-14, on an 18-yard touchdown catch by Kodi Whitfield.

Alemany got the ball back with 6:35 left to play and drove 67 yards to take a seven-point lead. Dunn completed three passes for 36 yards in the drive, including the four-yard touchdown to Sims.

Alemany only needed a field goal to win the game, but Herrington was not comfortable attempting a kick on the sloppy field.

"With the mud and stuff, it's not a given," Herrington said.


November, 2, 2011
11/02/11
5:51
PM PT
By
Tim Haddock
| ESPNLosAngeles.com
When the season started, Alemany coach Dean Herrington knew he had a special group of receivers on his football team.

Junior Steven Mitchell has emerged as the best of the bunch.

He leads the team with 34 catches for 741 yards, an average of 92.6 yards per game, and nine touchdowns. He has nearly three times as many receiving yards as UCLA-bound Jerico Richardson, who is second on the team with 265 yards. Mitchell's nine touchdowns are more than Richardson, Jeff Farrar and Corey Simms combined.

"He has unbelievable speed and great body control," Herrington said. "Against Dorsey, he only touched the ball four times. That will never happen again."

The game against Dorsey was one of the few hiccups this season for Alemany (6-2), the No. 12 team in the ESPN Los Angeles prep football Top 25 rankings. The Warriors lost that game, 14-13. Both of Alemany's losses have been by one point. The Warriors also lost to J.W. North 36-35.

When Alemany plays Loyola (7-1), the No. 13 team in the ESPNLA rankings, on Friday night at home in a crucial Serra League game, Herrington will make sure Mitchell is very much in the mix.

Alemany and Loyola are tied for first place in league with 2-0 records. The winner of Friday night's game is guaranteed at least a share of the league title.

"It's a big game in the sense that we control our own destiny," Loyola coach Mike Christensen said. "You can't take a breath in this league. If you do, you're going to get beat."


October, 16, 2011
10/16/11
10:14
PM PT
By
Tim Haddock
| ESPNLosAngeles.com
Only one team in the top 10 lost last week. Sherman Oaks Notre Dame, the No. 10 team in the L.A. North, lost to Crespi, 28-26, in the Serra League opener. It was a close game and another tough loss for Notre Dame, which dropped its second in a row.
Enter Thousand Oaks at No. 10. The Lancers can make a mess of the Marmonte League if they can figure out a way to beat Oaks Christian on Friday night.
Four teams remain undefeated, including top-ranked Westlake. St. Francis needed a last-second field goal to beat Harvard-Westlake and stay unbeaten. Canyon got a record-breaking performance from quarterback
Jonathan Jerozal
in its Foothill League opening win over Saugus. Ventura scored just enough to beat Dos Pueblos in the Channel League opener for both teams.
Here's a look at the top 10:
(1) Westlake (6-0) -- Dashon Hunt scored three touchdowns in Westlake's 45-14 win over Simi Valley. He scored two rushing touchdowns and intercepted a pass for a touchdown.
(2) Crespi (5-1) -- Crespi's offense was far from crisp in a 28-26 win over Sherman Oaks Notre Dame. Special teams, on the other hand, came up with some huge plays. Crespi had a kick-off return for a touchdown and a blocked field-goal attempt for a touchdown. A blocked punt set up a third touchdown for the Celts.
(3) Alemany (5-2) -- The Warriors started Serra League play with a huge win over Bishop Amat, 26-21. Coach Dean Herrington won his 50th game at Alemany. Quarterback Devon Dunn wasn't spectacular but threw a touchdown pass to Jerico Richardson and rushed for a touchdown.
(4) Chaminade (5-1) -- After playing some of the top teams in Southern California, Chaminade had a bit of a cakewalk against St. Paul, the No. 1 team in the Southern Section Western Division. Chaminade, the No. 2 team in the Western Division, beat St. Paul, 31-6, in the Mission League opener. Looks as if there will be a new Western Division No. 1 on Monday.
(5) Oaks Christian (4-2) -- Sophomore quarterback Brian Dawkins threw for 387 yards and four touchdowns in his team's 50-0 shutout over Royal. Dawkins broke Jimmy Clausen's school record for passing yards in a game. Clausen threw for 367 yards against Santa Paula in 2006.
September, 23, 2011
9/23/11
11:41
PM PT
By
Sean Ceglinsky
| ESPNLosAngeles.com
WEST HILLS -- For those who have not heard the name Steven Mitchell, consider this a formal introduction. His name is one to remember, rest assured.

The junior wide receiver from Mission Hills Alemany made a number of game-changing plays Friday night, seemingly too many count, to help guide the visiting Warriors to a rather impressive 38-14 victory over West Hills Chaminade in a nonleague game.

"I was in the zone out there tonight, I felt like I couldn't be stopped,'' said Mitchell, who finished with nine receptions for 151 yards and a pair of touchdown catches. "I was seeing things before they happened. There wasn't much thinking. Instincts took over.''

Mind you, with the game out of reach, he did not play in the fourth quarter.

The win was important on several levels for the Warriors (3-1), No. 10 in the ESPNLosAngeles.com top 25 rankings. They were coming off last week's 36-35 loss to Riverside North and the skeptics began wondering about whether the team was overrated.

The talk is bound to subside now.

The Eagles (2-1), No. 18 in the ESPNLosAngeles.com rankings, were in the wrong place at the wrong time. With no answer for Mitchell, they were in trouble from the start.


September, 20, 2011
9/20/11
4:44
PM PT
By
Sean Ceglinsky
| ESPNLosAngeles.com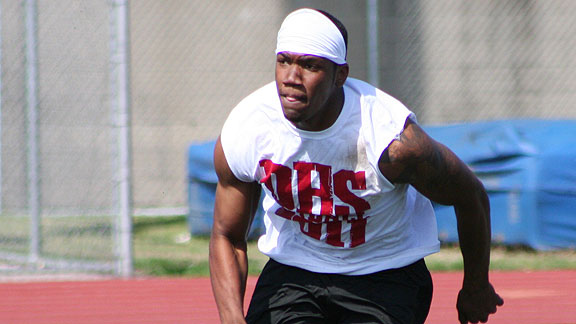 WeAreSC.comJabari Ruffin, who has committed to USC, is ranked the No. 4 prospect overall in California.
Defense, as the old adage states, wins championships. We've all heard it before.
If that's the case, the Southland appears to have more than enough talented players residing on the defensive side of the ball to make a decided difference for their respective teams.
With so many different individuals making crucial plays all over the field in the first two weeks of the season thus far, we figured that it might be a good idea to take an in-depth look at some of the premier prospects residing on the defensive side of the ball in the greater Los Angeles area.
That said, consider this as a who's who list of the more high-profile prospects around.
Defensive line: Monrovia's
Ellis McCarthy
. When it comes to the top recruits from these parts, few are better than the 6-foot-4, 305-pound senior. McCarthy is a force to be reckoned with every time he lines up. He's a run-stopping force. That's not to say the big man can't put pressure on the quarterback. McCarthy does it all, plain and simple. His top choices for college include USC, Cal, Florida, Washington and Oregon.
Defensive line: Westlake's
Justin Solis
. The top players in Ventura County typically do not receive nearly as much recognition as they deserve. Solis, however, is the exception to the rule. The 6-3, 285-pound senior was recruited by a handful of Pac-12 Conference programs. Ultimately, Colorado proved to be the best fit. Boise State, Georgia Tech and Iowa State also offered.
Defensive line: Irvine Woodbridge's
Kyle Kelly
. The 6-3, 225-plus pound senior is a pass-rushing specialist, a load to deal with from the edge. Kelly committed to Arizona despite having offers from Florida and Vanderbilt. Vista Murrieta's Jeremy Castro and Long Beach Poly's Alonzo Williams were also considered for this spot. In the end though, Kelly offers far too much upside.
Linebacker: Downey's
Jabari Ruffin
. ESPNU ranks him as one of Southern California's top recruits. Only San Clemente's Kyle Murphy is ahead of Ruffin. After watching the 6-3, 225-pound senior in action, it's blatantly obvious he is far more advanced than most of his peers. His game is tailor-made for the next level. USC landed a prized prospect when he committed in early March.
Linebacker: La Habra's
Aaron Porter
. Don't run the ball up the middle against this guy. And don't think your running back or tight end is going to break free in the middle of the defense when the 6-1, 230-pound senior is in uniform. Porter, heading to UCLA, is a jack-of-all trades. Opponents best know where he is on the field, at all times. Avoiding his general direction is recommended.
January, 22, 2011
1/22/11
11:04
PM PT
By
Sean Ceglinsky
| ESPNLosAngeles.com
MISSION HILLS -- Too much Damiene Cain. And too much Zena Edosomwan. The same thing could be said about Josh Hearlihy.

Too much size. Too much strength.

Too much of all of the above, actually.

At times, it appeared as if the North Hollywood Harvard-Westlake High boys' basketball team was unstoppable on Saturday night against host Alemany. In fact, the Warriors attempted to use just about every gimmick defense known to slow down the Wolverines. But ultimately, nothing worked in an 83-72 Mission League loss.

"We used our size to our advantage tonight, we imposed our will,'' Harvard-Westlake coach Greg Hillard said. "I think we did a real good job of frustrating Alemany out there on the court tonight. We had everything working.''

Indeed, the Wolverines (17-2, 6-0) did have everything working, from the opening whistle until the final buzzer sounded. In the process, they appeared worthy of their No. 9 ranking in the ESPNLosAngeles.com Top 20 rankings.

The Warriors (14-6, 4-2), on the other hand, were overmatched. With the loss, they fall two games behind first-place Harvard-Westlake.


January, 17, 2011
1/17/11
3:29
PM PT
By
Tim Haddock
| ESPNLosAngeles.com
Jerico Richardson, Jr., Alemany

He scored 16 points and was instrumental in his team's 80-57 win over Crepi in a Mission League game. He followed that up with 19 points in his team's 70-67 win over Oaks Christian in the War on the Floor Showcase at Pierce College. He was 7-of-13 from the field and helped Alemany outscore Crespi, 47-33, in the second half. Richardson led four Alemany players in double figures against Oaks Christian.

Natalie Florescu, So., Harvard-Westlake

She scored 18 points, 14 in the second half, in her team's 61-55 win over Bellarmine-Jefferson. Harvard-Westlake extended its home winning streak to 22 games and extended its winning streak over Bell-Jeff to four games. Her 3-pointer with a little more than five minutes to play tied the game, 51-51. Harvard-Westlake went on to score the next seven points in the game to pull away.
November, 13, 2010
11/13/10
12:21
AM PT
By
Tim Haddock
| ESPNLosAngeles.com


MISSION HILLS -- It took less than a minute for the Alemany football team to take control of its Serra League regular-season finale against Bishop Amat at Alemany High School on Friday night.

Alemany, the No. 6 team in the ESPNLA.com rankings, scored two touchdowns in the final minute of the first half and ended its regular season with a 38-30 win over Bishop Amat, the fifth-ranked team by ESPNLA.com.

Alemany finished the regular season with a perfect 10-0 record and won the Serra League championship. Bishop Amat (9-1, 4-1 in Serra League) lost for the first time this season.

The game was decided in the final minute of the first half. Down 17-14, Alemany scored two touchdowns and went up 28-17 at halftime. Alemany quarterback Vernon Adams orchestrated two quick-scoring drives and the special teams executed an unconventional, yet successful onside kick.

"We got the breaks and came up with some big catches," Alemany coach Dean Herrington said.

Adams capped a 79-yard scoring drive with a 24-yard touchdown pass to Steven Mitchell with 17 seconds left to play in the first half. The touchdown gave Alemany a 21-17 lead.

Not satisfied with taking the lead just before halftime, Herrington called for an onside pooch kick. The ball ricocheted off a Bishop Amat player and landed in the middle of the field. Alemany recovered the ball and took over on the 35-yard line.


September, 24, 2010
9/24/10
11:28
PM PT
By
Sean Ceglinsky
| ESPNLosAngeles.com
MISSION HILLS -- Alemany's Saladin McCullough had one important responsibility during the waning moments of Friday's intersectional football game against visiting Woodland Hills Taft and that was to hold onto the ball.

Rest assured, the senior didn't fumble. In fact, he turned what was supposed to be a rather basic running play off the end into an exciting 24-yard touchdown run with less than five minutes left on the fourth quarter clock to essentially clinch a 36-26 victory over the Toreadors.

"I was trying to stay inbounds, chew up some clock, and there was no way I was going to cough up the ball in that situation, our coaches would've been all over me,'' McCullough said. "Once I saw the hole, I hit it and took off down the sideline. No one was going to catch me from behind.''

The highlight reel run by the determined McCullough gave Alemany (4-0), No. 12 in ESPNLosAngeles.com's Top 25 rankings, a 36-20 lead and all but ruined any hopes Taft (1-2) might have had at making a comeback.

The Warriors weren't satisfied with a three-point lead early in the fourth quarter. Accordingly, Jericho Richardson scooped a Taft fumble and returned it 52 yards for a score to extend the advantage to 30-20 with 10:52 left in the game.

Cisrow McClain scored on a 3-yard touchdown run with 1:44 remaining in the fourth quarter, but it was too little too late for Taft. The damage had already been done by Alemany, which came up with big play after big play.