Los Angeles Preps:

Jerry DeBusk
April, 17, 2012
4/17/12
3:49
PM PT
Santa Margarita on Tuesday announced it was hiring a college basketball coach to replace the retiring Jerry DeBusk.

Jeff Reinert, who coached 24 seasons at the college level with such programs as Fresno State, Oregon State, BYU, and Nebraska and Simpson College, will take over the program beginning next week. Most recently he was the associate head coach at Fresno, where he was also the recruiting coordinator and responsible for defense and the post players.

Reinert served as the head coach at Utah Valley College where he became that program's all-time winningest coach with a 179-77 record. As an athlete, he played at New Mexico before transferring to Gonzaga where he was a teammate to John Stockton and made the West Coast Conference All-Academic team.

Reinert replaces Jerry DeBusk, who was 640-255 overall, 467-136 at Santa Margarita. The team won two state championships and five Southern Section and seven league titles.
February, 23, 2012
2/23/12
6:49
AM PT
The second round of the Southern Section boys' basketball playoffs -- and in some cases the third -- is in the books. Here's a look at the most compelling news from Tuesday's games.

Biggest upset: Tesoro should be writing a paper on how to shock the world. Its football team upset Servite in the Southern Section Pac-5 football playoffs, and on Tuesday the basketball team followed suit with a 62-56 victory over second-seeded Canyon Country Canyon in Division 2AA. Jalen Bruce scored 17, Jed Abello 13 and and Tyler Lancona (14 rebounds) and Nick Pallas (12 rebounds) scored 11 apiece.

Worst disappointment: Hands down, Ocean View's exit in the second round of the Division 2AA playoffs was a monumental. The Sea Hawks, in their first season ever without Coach Jim Harris -- who died last year after battling cancer -- but coached by Harris' son, Jimmy Harris, were the top-seeded team in the division. They had won 18 in a row, including a late-season victory over Mission Viejo that catapulted them into the No. 2 position in the Orange County Register top 10. They had not lost since Dec. 17 when 7-footer Conor Clifford was out with an injury. Until now. And it wasn't even close. Cristian Rivera scored 24, Kendall Small 13 and Clifford 11, but those efforts weren't enough against a Thousand Oaks team that made 11 of 12 shots from the three-point arc en route to an 82-66 home victory.

Best performance (in a loss): Second-seeded Sun Valley Village Christian had no answer for Mamadou Ndiaye, the 7-foot-5 center for Brethren Christian. Ndiaye scored 43 points in an 81-66 loss in the 5AA quarterfinals. No one else scored more than eight points.


February, 22, 2012
2/22/12
5:38
PM PT
RANCHO SANTA MARGARITA -- They may have finished in fifth place in the Trinity League, but Santa Margarita continued to roll in the Southern Section Division 3A boys' basketball playoffs.

The fourth-seeded Eagles didn't just advance to the semifinals with a 61-51 quarterfinal victory over Corona del Mar, but they knocked out the team that a year earlier had upset them in the first round, 64-40.

Revenge was an ample motivator, said Wolfie Wood, who scored 10 of his 25 points in the fourth quarter as Santa Margarita held off the Sea Kings, who cut a 20-point lead to as few as eight points.

Santa Margarita (17-13) now has the tall task of playing at top-seeded Mission Hills Alemany (26-4), which defeated La Puente Bishop Amat, 68-37, on Friday.

No matter what happens in the future, Tuesday marked the final home game in Jerry DeBusk's 20-year coaching career at Santa Margarita Catholic.

"I felt like it was good for him, and good for the seniors, because it's kind of us four bonding," Wood said of himself, Connor Pope, Evan Edwards and DeBusk. "We know it's the seniors and Coach DeBusk's last game, so it was good for us to win this for him, and go out on a high note."


January, 30, 2012
1/30/12
6:46
AM PT
1. Foothill made a strong bid last week for the Orange County top 10. After beating Anaheim Canyon for the second time, 82-71, to pull even with the Comanches atop the Century League, Foothill avenged a loss to Esperanza with a 60-56 victory on Saturday. James Marinacci scored 16, and Connor Stevens 11 and Justin Davis 10 as the Knights overcame a 47-43 deficit heading into the fourth quarter.

2. Santa Margarita coach Jerry DeBusk announced Saturday that he was retiring at the end of this season. DeBusk has coached the Eagles for 20 seasons and has a 463-133 record at the school. Although only 13-11 this season, Santa Margarita was ranked No. 4 in the Southern Section Division 3A poll last week. DeBusk will remain at the school as an instructor in the Auxilliary Studies Program.

3. Ocean View scored 41 points in the first quarter of its 90-45 victory over Orange. According to the CIF-Southern Section Record Book, the record for most points scored in a quarter is 54 by Perris against Norte Vista in 1976-77; the record in Orange County is 44 by Santa Ana Valley against Estancia in 1977-78. For Ocean View, it averaged a point every 11.7 seconds in the quarter. The Sea Hawks led after the first eight minutes, 41-10. The Sea Hawks clearly turned down the heat after that as Cristian Rivera scored only 11 points and Conor Clifford eight; both average 14 per game. The leading scorer was Robby Weaver with 18 points, more than three times his average. For the game, Ocean View shot 58.1 percent from the field, and made nine of 21 three-point baskets.


February, 10, 2011
2/10/11
3:56
PM PT
By
Sean Ceglinsky
| ESPNLosAngeles.com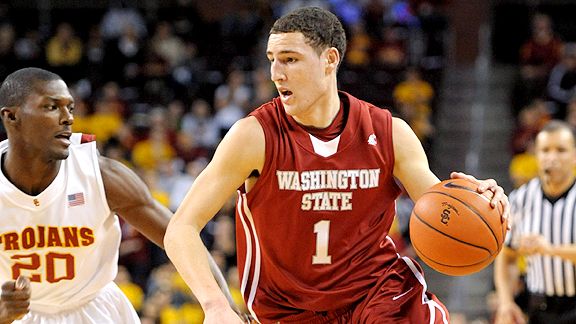 Kirby Lee/Image of Sport/US PresswireKlay Thompson was a standout at Santa Margarita High before blossoming into one of the Pac-10's top players.

Like father, like son?

Well, not just yet.

If, however, the past is any indication of what the future might have in store for Klay Thompson, the Santa Margarita High graduate who has emerged as a budding star at Washington State could possibly end up following in the footsteps of the family's patriarch.

His dad, mind you, is none other than Mychal Thompson.

Yes, the same Mychal Thompson who was the top pick in the 1978 NBA draft and enjoyed a rather successful 12-year professional career, including a stint with the Los Angeles Lakers for five seasons during the late 1980s and early '90s.

Make no mistake, the younger Thompson appears to be heading in the right direction. The 6-foot-6 junior leads the Pac-10 Conference in scoring, averaging 21.2 points for the Cougars (16-7 overall), who host Stanford on Thursday at 7 p.m.

"I have high aspirations for Klay,'' his father said this week. "My son has all the talent in the world, I tell him that all the time. He can be an NBA player some day. It's all about making the most of your opportunities and he understands that.''

Klay Thompson did not become a sensation overnight.

He made a name for himself as a freshman when he started 33 games at Washington State. Thompson led the team in 3-point field goal percentage (.412) and free-throw percentage (.902). He was also third in scoring (12.5 points per game).