Los Angeles Preps:

John Perez
April, 16, 2012
4/16/12
7:30
PM PT
By
Dan Arritt
| ESPNLosAngeles.com
1. A third football player from the Inland Empire committed to a major college program over the weekend. Kylie Fitts, a defensive lineman who will be a senior at Redlands East Valley next fall, committed to USC following the spring game on Saturday at the Coliseum. Fitts, a 6-foot-4, 260-pound pass rusher, had 8 ½ sacks last season and two caused fumbles for the 11-1 Wildcats. He's the second I.E. recruit to commit to the Trojans this spring. Two weeks ago, Rancho Cucamonga cornerback Chris Hawkins committed to USC, and last week J.W. North tight end Marcus Baugh committed to Ohio State.

2. Paul Martinez continues to string together a sensational senior season for the Arlington baseball team. Through 15 games, the Oregon State-bound shortstop is hitting .627 (32-for-51) with 21 runs scored and just two strikeouts in 59 plate appearances. His batting average is fourth-best in the Southern Section, according to MaxPreps. He had two hits or more in 10 games. Martinez is one of three I.E. players who signed with the Beavers in the fall. J.W. North first baseman Gabriel Clark and Canyon Springs middle infielder Dennis Banks are also headed to Corvalis.

3. The Redlands baseball team remained undefeated in Citrus Belt League play after squeaking out a 6-5 victory Saturday against Fontana in a rain make-up game. Roman Cross, who has taken over at catcher after Jacob Nottingham went down with a season-ending knee injury, drove in the eventual winning run with a run-scoring ground out in the bottom of the sixth inning. Fontana put the Terriers in an early hole by scoring three runs in the top of the first, but Redlands answered with three in the bottom of the inning. The Terriers (17-1, 6-0) face a key home-and-home series this week against Redlands East Valley (11-5, 4-1).

4. The Riverside City track and field championships were held Saturday at M.L. King High School and a couple of meet records went by the wayside. La Sierra senior Edgar Cobian won the "Marshall Mile" in 4 minutes 21.70 seconds to establish a new meet record. The Marshall Mile is named after former J.W. North track coach Earl Marshall. Cobian, a two-time state qualifier, also won the 800 in 1:57.14. Zach Lewis of Ramona, a state finalist in the 300 hurdles last season, set meet records in both hurdle events. He won the 110s in 15 seconds flat and the 300s in 38.13, the sixth-fastest time in the state this season. The other meet record was established in the girls' shot put. Tanya Sapa of La Sierra finished first with a mark of 45 feet 1 ½ inches.

5. Santiago girls' basketball coach John Perez told the Riverside Press-Enterprise he's hanging up the whistle after leading the Sharks to a 108-13 record the last four seasons. The rest of the Big VIII League coaches will be glad to see him go. His teams went undefeated all four years in league play and reached the Division 1AA semifinals last season. The Sharks should be in good shape for the new coach. They'll return four starters, including Division 1AA first-team selections Chrishae Rowe and Monique Billings. Perez also coaches the softball team at Santiago and plans to remain at the helm, at least through this season, he said.
February, 28, 2012
2/28/12
5:49
PM PT
By
Dan Arritt
| ESPNLosAngeles.com
ANAHEIM -- The Mater Dei girls' basketball team has a way of making good teams look bad.
The second-seeded Monarchs took on unbeaten Corona Santiago on Tuesday afternoon in a Southern Section Division 1AA semifinal and wasted no time sprinting away from the third-seeded Sharks en route to a 71-32 victory at the Anaheim Convention Center Arena.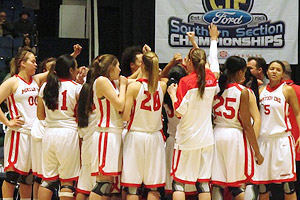 Blair Angulo/For ESPNLA.comA 25-0 run that began in the first quarter fueled Mater Dei to an easy win over previously undefeated Corona Santiago.
Mater Dei used a 25-0 run that stretched from the first quarter and into the second to take a 20-point lead and the Monarchs never looked back.
"Coming into an arena-type setting, to shoot as well as we did in the first quarter, I think that gave us a huge advantage," said Mater Dei coach
Kevin Kiernan
.
Santiago (30-1) scored the game's first five points before the Monarchs finally got on the board on a three-point basket by
Kaija Powell
with 5:14 left in the first quarter.
Mater Dei (29-3) kept on scoring, ending the first quarter on a 22-0 run and then scoring the first three points of the second. The Monarchs shot 6-for-10 from beyond the three-point stripe in the opening quarter.
"Usually, it's harder to shoot the threes in this type of setting, but we've been shooting pretty well lately," Kiernan said. "I think that got us off to a great start."
March, 12, 2010
3/12/10
2:12
PM PT
By
Dan Arritt
| ESPNLosAngeles.com
It's rare when an intentional foul benefits the offending team.
But that's essentially what happened Thursday night in a Southern California Regional Division 1 second-round girls' basketball game between Summit High of Fontana and Santiago of Corona.
With about five minutes remaining and fourth-seeded Santiago clutching a one-point lead, Sharks forward
Cebrina Johnson
was fouled and hit the floor. As an intentional foul was was being whistled, Santiago Coach
John Perez
ran onto the court to check on Johnson.
Summit Coach
LaTrina Duncan
noticed that Perez had not been given permission to enter the playing surface and informed the officials. They agreed and assessed a technical foul on Perez.
Santiago made one-of-two free throws for the intentional foul, but instead of retaining possession, Summit was awarded two free throws for the technical, which the SkyHawks converted, and the ball. They scored to take a two-point lead and led the rest of the way in the
63-58 victory
.
Duncan, interestingly,
took over on an interim basis
in January after head coach
Alexis Barile
gave birth to twins that were 10 weeks premature. Duncan was a first-year assistant for the SkyHawks after occupying the same role at Los Osos High in Rancho Cucamonga and Chaffey College.
Fifth-seeded Summit, in just its fourth season of varsity competition, will travel to top-seeded Long Beach Poly for Saturday's semifinals.