Los Angeles Preps:

John Wooden
February, 23, 2012
2/23/12
5:03
PM PT
By
Sean Ceglinsky
| ESPNLosAngeles.com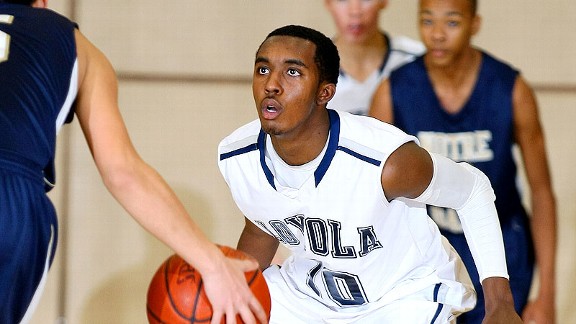 Courtesy of Nick KozaJacob Hazzard will lead Loyola into the CIF-SS Division 1AA quarterfinals on Friday against Upland.
LOS ANGELES -- About an hour before the opening tip,
Jacob Hazzard
goes through his pregame routine. Sitting alone in the corner of the locker room and seemingly collecting his thoughts, the senior from Los Angeles Loyola pulls out a pen and writes No. 42 on his shoes.
The digits are significant to him, of course. They hold a spot close to his heart.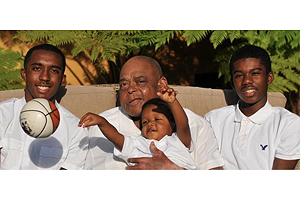 Courtesy of Hazzard familyJacob Hazzard, left, and younger brother Max Hazzard, right, have fond memories of their grandfather, Walt, center, who had a decorated career at UCLA and in the NBA. Walt Hazzard died in November.
No. 42 adorned the jersey of his grandfather, the late
Walt Hazzard
, during his days in college at UCLA and the NBA thereafter. It's the younger Hazzard's way of not only paying homage to the patriarch of the family, but preparing himself mentally and physically for the task at hand.
"Not a day goes by without me thinking about my grandfather," Jacob Hazzard said. "We always called him Papa. He was a great man, a person worth remembering at all times.''
Walt Hazzard died Nov. 18 at Ronald Reagan UCLA Medical Center. He was 69. He had suffered a stroke in 1996 and endured complications following heart surgery. The loss hit the family hard, to be sure, and was felt throughout the basketball community.
Grandfather's memory lives on, nonetheless. Grandson would not have it any other way.
"Papa was a big influence, a role model, to many people all over the world, not just me,'' Hazzard said. "Growing up, I was like a sponge and tried to soak up all of his knowledge, both on and off the court. He was always there for me, for everyone in our family. I think most knew about him as the great Walt Hazzard. But not many people got to see the grandfather side.
"It was really tough for me when he died. The gym, the basketball court, has been my sanctuary ever since that day. It's the place I have gone to escape and remember all of the good times we had together. It's the place that makes me feel like he's smiling down on me.''
With basketball obviously in his blood, Hazzard appears to be following a path eerily similar to that of his well-known namesake. The 5-foot-10 guard is a key contributor for the Cubs (23-4 overall), who are No. 4 in the ESPNLosAngeles.com top 20 rankings. Hazzard & Co. travel to Upland on Friday night for a Southern Section Division 1AA quarterfinal showdown.
November, 15, 2011
11/15/11
5:20
PM PT
By
Dan Arritt
| ESPNLosAngeles.com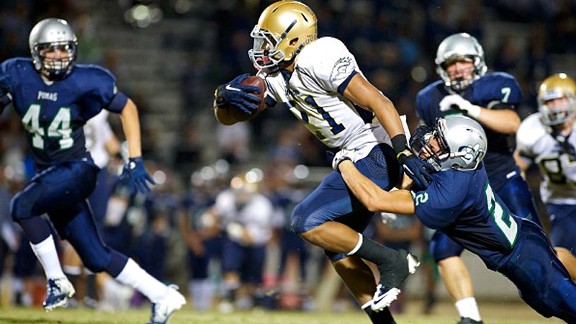 Vista Murrieta High SchoolSu'a Cravens has an advantage in the recruiting process by coming from a family with so many good athletes.
MURRIETA -- USC wants him as a halfback, Oklahoma hopes to slot him at linebacker or strong safety. Notre Dame, UCLA, Stanford or Boise State? They might feel lucky just to lure
Su'a Cravens
on campus for a visit.
These are just a few of the options for the nation's hottest recruit in the class of 2013.
Cravens, a 6-foot-2, 205-pound junior for Vista Murrieta High School in Southwest Riverside County, already claims 17 scholarship offers from major colleges across the country.
[+] Enlarge
Vista Murrieta High SchoolSu'a Cravens is probably more known for his defense, but he has shown this season what he can do on offense too.
Over the next 12 to 15 months, likely right up until National Signing Day, Cravens will certainly hear from a lot more. Weekly phone calls, in-house visits, on-campus meet-and greets. A lucky few might even earn one of those five official visits.
Talk about a lot to digest for a kid who won't turn 17 until next summer.
Fortunately for Cravens, who will lead the Broncos into the first round of the SS-Inland Division playoffs Friday night against visiting La Verne Damien, there's no shortage of trusted advice.
His family tree is filled with athletes who've been through the recruiting process, listened to the promises and witnessed how scenarios can quickly change once a college career begins.
Look no further than his grandfather,
Jack Cravens
, who was convinced to turn down a scholarship offer to play for legendary UCLA basketball coach
John Wooden
.
"I have a lot of helpful information around me," Su'a Cravens said. "And I'm always listening."
His two closest advisers are his father,
Kevin Cravens
, and older brother,
Siaki
, a junior defensive lineman for the University of Hawaii.
Siaki's recruiting experience began when he was one of the top tight ends in the Inland Empire during his senior season at Temecula Valley High in 2007. One of the schools that showed interest was Utah, coached by
Kyle Whittingham
, whose sister is married to Kevin Cravens' younger brother,
Ryan
.
Siaki committed to the Utes as a slot receiver, but the coaching staff switched him to middle linebacker the first day of practice.
"For a kid who had never played defense before, that was a total shock to him," Kevin Cravens said.