Los Angeles Preps:

Jon Hamro
March, 28, 2012
3/28/12
4:39
PM PT
Jaime Ortiz
, a longtime fixture on the San Clemente sidelines during
Eric Patton'
s long decade-plus reign as coach, has been named the Tritons' new football coach.
Ortiz replaces
Jon Hamro
, who served as the interim coach at San Clemente after Patton (97-44-1) was
relieved of his duties
after 11 seasons for
his alleged role in a slush fund
kickback scheme with a south Orange County sports equipment and apparel company. The decision to remove Patton came Aug. 16, 2011, just a few weeks before the team's first game, a 35-6 victory over Long Beach Cabrillo on Sept. 2.
Under Hamro, who had been an offensive line coach and was also the school's athletic director, and a group of players led by
Travis Wilson, Christian Tober, Mike Elespuru
and
Herbert Gamboa
, San Clemente went 12-2 and reached the Pac-5 championship game where it was beaten by Santa Margarita, 27-13.
Ortiz, 36, has been the defensive coordinator for San Clemente for 11 seasons. Hamro will resume his role as the offensive line coach.
February, 1, 2012
2/01/12
7:07
PM PT
SAN CLEMENTE -- The Kyle Murphy Show has finally come to an end, unless the Southland's top college recruit lives up to his hype, in which case the show may just be beginning.

Murphy unburdened himself Wednesday afternoon when he announced that he would attend Stanford instead of USC to continue his football career. The 6-foot-7, 275-pound offensive tackle signed his national letter of intent at 1:54 p.m., inside a temporary building on campus with his mother, Keri, sitting at his side.

Keri and Gary Murphy have an older son, Kevin Murphy, who is a left tackle for Harvard; he is 6-8, 310.

Murphy was one of the last major players still undecided. Actually, he was with his parents Tuesday evening when he finalized his decision, then told his parents after telling a couple of close friends.

The announcement came in front of a couple of hundred students, and a horde of cameras, with about two dozen classmates who were recognized for their signings or commitments to colleges to attend their athletic careers.

"I had to make my own decision," Murphy said afterward, when it was mentioned that teammate Christian Tober was trying to recruit him to USC to the end. Tober, a receiver and defensive back, will attend USC as a preferred walk-on.

"I just felt I connected with the people better at Stanford, I know the incoming class pretty well -- a lot of kids," said Murphy, who carries a 3.97 grade-point average is unsure of his major but will consider an engineering or economics degree.


December, 28, 2011
12/28/11
7:37
AM PT
Santa Margarita didn't win the Trinity League title, but the Eagles won something more valuable -- the Southern Section Pac-5 and State Division I Bowl championships. It gave coach Harry Welch his ninth section title and his third state title in six years, remarkably, with three different teams. With Johnny Stanton's leap into the end zone with 16 seconds remaining and the Eagles scoring a 42-37 victory over San Jose Bellarmine, we can put the season to bed. Here's a look at the All-Orange County team.

COACH OF THE YEAR

Jon Hamro, San Clemente -- He couldn't have stepped into a worse situation. Less than three weeks before the start of the season, head coach Eric Patton was relieved of his duties for his alleged involvement in a kickback scheme from a defunct sporting apparel company. With the microscope aimed at the Tritons (12-2), the team had its best season in history and reached the Pac-5 title game, its first championship appearance since 1979. Without great leadership and a deft transition of coaching, the team could of foundered; instead it triumphed.

PLAYER OF THE YEAR

QB -- Johnny Stanton, Santa Margarita, 6-3, 200, Jr. -- Over the final six weeks of the season, beginning with the season-ending 43-42 loss to Servite (by virtue of an overtime two-point conversion) in the Trinity League finale, Stanton couldn't be stopped. In succession, he faced the two-time defending champion Friars, Bishop Amat, Long Beach Poly, Mission Viejo, San Clemente and San Jose Bellarmine. Other quarterbacks had better numbers than Stanton's 13 TDs and nine interceptions, but Stanton's running ability (1,528 yards, 25 TDs) and leadership was the great equalizer. In five playoff games, he averaged 159 yards passing and threw six TD passes against one interception, and averaged 112 yards rushing with nine touchdowns. With the Division I Bowl championship on the line on fourth and one with 16 seconds remaining, Stanton scored -- the sixth touchdown he had a hand in -- to give his Eagles a 42-37 victory.

FIRST TEAM OFFENSE

RB -- Ryan Wolpin, Santa Margarita, 5-9, 185, Jr. -- Wolpin was a touchdown machine for the Eagles. He scored 28 times, 27 while rushing. He averaged 109.1 yards per game, and 6.6 yards per carry, against a loaded schedule that was among the toughest in the nation.

RB -- Tyler Siudzinski, Tustin, 5-10, 185, Sr. -- Orange County's leading rusher as a junior, Siudzinski didn't match those numbers during his senior season but he did lead Tustin to its first section title since 1948. He rushed for 1,967 yards -- averaging 141 per game and 6.4 per carry -- and scored 21 touchdowns.

WR -- Brett Bartolone, La Habra, 5-10, 180, Sr. -- Bartolone was another one of those playmakers of the highest order. He caught 50 passes for eight touchdowns, and also rushed for 924 yards and nine touchdowns to help the Highlanders reach the Southwest semifinals.

WR -- Cody White, El Toro, 6-2, 175, Jr. -- White's inclusion is in part deference to quarterback Conner Manning, who broke Matt Barkley's single-season county record, with 4,219 yards and 41 touchdowns. Of those, White had 18 TDs among his 85 catches for 1,295 yards.

TE -- Christo Kourtzidis, Orange Lutheran, 6-4, 230, Sr. -- He wasn't the prolific receiver of another great OLu tight end, Blake Ayles, but CK was an outstanding blocker and made plenty of critical catches among his 38 receptions. Averaging 10.9 yards per catch, he has committed to Florida State.

OL -- Max Tuerk, Santa Margarita, 6-6, 254, Sr. -- On a team that started nine underclassmen on offense, the left tackle provided the senior leadership that helped the Eagles win the Pac-5 and State Division I Bowl championships. He committed to USC.

OL -- Kyle Murphy, San Clemente, 6-7, 275, Sr. -- The big left tackle may have played this season as the best player in the country to still be undecided on where he will play college; he is so good he will have his choice. Murphy paved the way for San Clemente (12-2) to average 166 yards passing, 226 rushing .

OL -- Travis Averill, Servite, 6-4, 280, Sr. -- You better be tough to excel in the Trinity League, and Averill is plenty tough; he was a starter on both previous Pac-5 championship teams and helped the Friars win a seventh consecutive league title before suffering its stunning upset loss to Tesoro in the second round.

OL -- Colby Cyburt, Mission Viejo, 6-5, 265, Sr. -- Part of a terrific offensive line that also featured Austin Maass, Cyburt led the way for the Diablos' balanced offense that averaged 202 yards passing and 150 rushing despite several injuries to key skill personnel.

OL -- Lomitusi Sasi, Tustin, 6-3, 300, Sr. -- The Tillers ran the ball 90 percent of the time, but they could do that knowing they had a strong offensive line anchored by Sasi. A two-way starter, he helped the unseeded team close with eight consecutive victories, including an upset of El Toro for the Southwest title.

K -- John McGrory, Santa Margarita, 6-2, 180, Sr. -- McGrory missed only two PATs all season, finally ending a Southern Section record streak of 106 in a row (over two years) in the first round of the playoffs. He was perfect on five field goal attempts, averaged 38 yards per punt and pinned opponents inside the 20 on nine of 24 punts.

FIRST TEAM DEFENSE

DL -- Chris Frost, Santa Margarita, 6-4, 238, Sr. --Paired with Sean Donegan on the opposing end, the Eagles had two huge ends that made it difficult for opposing offenses to find success on the outside. Selected the Trinity League's MVP on defense, Frost had 12 1/2 sacks among his 99 tackles, forced four fumbles and recovered two.

DL -- Kyle Kelley, Woodbridge, 6-3, 215, Sr. -- Arizona commit followed up a junior season in which he had 19 sacks with a senior season in which he had 22 for the Warriors; also forced a fumble and recovered two. Had 18 tackles against Southern Division champion Corona del Mar.

DL -- Chazz Roberts, Tesoro, 6-0, 243, Jr. -- One of the 16 underclassmen who started for the Titans, Roberts recovered a pair of fumbles and led the defense with 8 1/2 sacks as the third-place Titans reached the Pac-5 semifinals with victories over league champions Edison and Servite.

LB -- Butch Pauu, Servite, 5-11, 220, Sr. -- A three-year starter for the two-time Pac-5 champion Friars, Pauu was among the county's most devastating hitters. He also emerged this season as a legit offensive threat receiving the ball. He committed to BYU.

LB -- Ricky Ortiz, Mater Dei, 6-2, 220, Sr. -- A combination of size, speed and strength made Ortiz the Monarchs' defensive playmaker. A three-year starter, he always had to be accounted for, which was easier said than done because he was so active on defense -- and so good.

LB -- Aaron Porter, La Habra, 6-2, 235, Sr. -- All you need to know about Porter is that in a game against Servite he had his way with the Friars. A UCLA commit, Porter had 11 1/2 sacks on his way to setting a school record for tackles, forced five fumbles and intercepted two passes. He also played offense and rushed for 865 yards and 17 TDs.

LB -- Ryan Harris, Mission Viejo, 5-10, 210, Sr. --Another one of the county's big hitters, Harris had 123 tackles, including three sacks, forced four fumbles and recovered two, and also had two interceptions for the Pac-5 semifinalist.

DB -- Connor O'Brien, Santa Margarita, 6-2, 162, Jr. -- Pressure applied up front paid dividends in the defensive backfield as O'Brien led the county with eight interceptions. He was an aggressive safety in on 91 tackles and forced two fumbles. His eight picks and 15 breakups set school records.

DB -- Christian Tober, San Clemente, 5-9, 175, Sr. -- Tober has big-play speed, and would be underutilized on an all-county team if he wasn't also returning kicks; he had a 34.1 average. He had four interceptions, forced two fumbles, and also blocked three field goals. On offense, he caught 23 passes and averaged 26.6 yards per reception.

DB -- Max Redfield, Mission Viejo, 6-3, 195, Jr. -- Redfield has Blue Chip written all over him. An outstanding athlete he has all-county wide receiver potential as well. He had 91 tackles and three interceptions, and already received an offer from USC.

DB -- Anthony Pierce, Mission Viejo, 5-9, 170, Sr. -- Outstanding cover man was chosen South Coast League co-MVP on defense along with teammate Harris. He forced four fumbles and had three interceptions on a defense that allowed 42.5 percent of its points in the fourth quarter -- by which time the game was usually under control.

P -- Sean Wale, La Habra, 6-0, 155, Sr. -- Averaged 45.3 yards, and in his final game against El Toro where field position was played such a crucial role he averaged 50.7. Also kicked eight field goals, including a 52-yarder.
December, 10, 2011
12/10/11
11:35
PM PT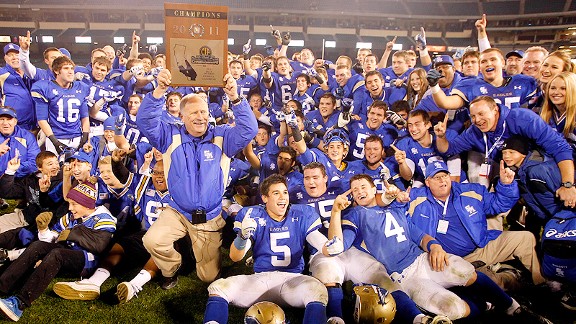 Alex Gallardo/ESPNLosAngeles.comCoach Harry Welch celebrates winning the Pac-5 title with his team at Angel Stadium.
ANAHEIM -- For the ninth time in his career,
Harry Welch
raised a championship trophy over his head. If he could, he would raise
Johnny Stanton
, too. But Stanton did his own carrying Saturday night at Angel Stadium, carrying the Eagles to the Southern Section Pac-5 title with a 27-13 victory over San Clemente.
Welch has had a lot of these moments -- five with Canyon Country Canyon, three with San Juan Capistrano St. Margaret's -- but when he grabbed the microphone after the game played in front of 14,424, he said "I have never been more proud than I am now."
The last three teams that Santa Margarita (12-2) defeated en route to their first championship since winning back-to-back in 1996-97 had only one loss; third-seeded Long Beach Poly (10-2), second-seeded Mission Viejo (11-2) and San Clemente (12-2).
If Welch loves this team, he'll love next year's too. Only two seniors start on offense, one of them being USC-bound lineman
Max Tuerk
. But the rest are underclassmen, including Stanton, the dual-threat quarterback who passed for 92 yards and ran for 148. His touchdown pass to
River Cracraft
with 11 seconds left in the first half gave Santa Margarita a 14-13 lead, and his two-yard score in the third quarter made it 21-13.
Then he engineered the drive of the game, one that covered 89 yards and consumed 9 minutes 56 seconds. It ended with
Ryan Wolpin's
second score, a three-yard run with 3:09 left in the game. It was at that point that San Clemente got its first possession of the fourth quarter. The Tritons had no more magic in what had been a magical season. Cracraft intercepted a
Travis Wilson
pass with 1:52 left in the game, and Santa Margarita ran out the clock.