Los Angeles Preps:

Jon Mack
November, 12, 2011
11/12/11
12:37
AM PT
By
Tim Haddock
| ESPNLosAngeles.com


VALLEY GLEN -- The Loyola football team erased a 15-point deficit and beat visiting Crespi, 36-35, in overtime in the Serra League season finale at L.A. Valley College on Friday night.

The win sealed second place in the Serra League for Loyola. Crespi's playoff fate was left in a three-way coin flip at Sherman Oaks Notre Dame High School.

Crespi, Notre Dame and Bishop Amat ended up in a three-way tie for third place in the Serra League with 1-3 records. The third and final spot from the Serra League in the Pac-5 Division playoffs was decided by coin flips. Bishop Amat, which had completed its regular season and did not play Friday night, won the flips and will advance.

Alemany beat Notre Dame, 21-14, to wrap up its second Serra League championship in a row and complete a 4-0 undefeated league run.

Even though Loyola didn't need to win its league finale to make the playoffs, the Cubs played as if it were an elimination game in the playoffs.

"That's who we are," Loyola receiver Chaz Anderson said. "That really displayed our personality out there."

Loyola's Kodi Whitfield caught a 25-yard touchdown pass from quarterback Nick Cotton in the first overtime period to tie the score, 35-35. Conrad Ukropina knocked through the all-important extra point to win the game.

"We kept battling," Loyola coach Mike Christensen said. "It was nice to see. We preach that stuff all year."

Crespi scored a touchdown on a one-yard quarterback sneak by Cody Cordell on the Celts first possession in overtime. But kicker Patrick Cassley missed the extra point. It was his third missed point-after try in the game.

When asked if the missed extra points were the difference in the game, Crespi coach Jon Mack could only say, "Who knows?"

Christensen pointed out that his kicker missed a field-goal try and that evened out the missed extra points. Either way, the game was decided by inches, be it on extra points or at the goal line.

Crespi took an early 10-0 lead in the first quarter and extended it to 22-7 in the second quarter. But Loyola battled back, tying the score in the third quarter and sending the game into overtime on a one-yard touchdown run by Wyatt Bradford with 3:31 to play in the fourth quarter.


October, 29, 2011
10/29/11
12:16
AM PT
By
Sean Ceglinsky
| ESPNLosAngeles.com


MISSION HILLS -- When Devon Dunn plays well, so does Alemany. And on Friday night, the junior quarterback played about as well as he has all season.

Dunn completed 18-of-25 passes for 259 yards with a touchdown. Wait, there's more. He also carried the ball 14 times and gained 75 yards on the ground with another two scores. The end result: A 30-28 Serra League victory over visiting Encino Crespi.

"How Devon goes is how we go, most times,'' Warriors coach Dean Herrington said. "He played some darned near perfect football for us tonight. He is getting better and better every week. I think that bodes well for this team the rest of the season.

It was an important win for the Warriors (6-2, 2-0), No. 13 in the ESPNLosAngeles.com rankings. They remain in the hunt for the league title with two games left in regular season. Crespi (7-2, 1-2), No. 18 in most recent poll, could be in trouble.

"This was big, Crespi is our rival, we played our buts off, gave it 150 percent,'' Dunn said. "There was no way we were going to lose at home.''

Following a penalty in the fourth quarter, John Sanchez booted a 41-yard field goal to give Alemany a 30-28 lead with 7:37 remaining in the game.

Chris Harper made a diving catch, a 37-yarder, to move the ball into Alemany territory. On the next play, in the wildcat formation, Mike Davison took the snap and scored on a 27-yard run to give Crespi a 28-27 lead with 1:10 left in the third quarter.


October, 21, 2011
10/21/11
11:01
PM PT
By
Sean Ceglinsky
| ESPNLosAngeles.com
ENCINO -- Rio Ruiz is known as a baseball player, first and foremost. More than a few scouts project him as a first-round draft pick in the 2012 MLB Draft.

Friday night, however, the senior from La Puente Bishop Amat played the part of football player. And then some. Ruiz completed 19-of-25 passes for 236 yards and pair of touchdowns to guide the visiting Lancers to a 28-14 Serra League victory over Crespi.

"Every week, this is what we get from Rio, he's a gamer,'' Bishop Amat coach Steve Hagerty said. "We know baseball is his first priority, we have no problems with that. We're just happy to have him around during football season. We'll go as far as he takes us.''

That was apparent from start to finish against the Celts (6-2, 1-1), no. 14 in the ESPNLosAngeles.com rankings. Ruiz was on point for the No. 14 Lancers (6-2, 1-1).

"Baseball is my first love, but I'm a competitor, that's why I play football,'' Ruiz said. "Tonight, I would not have been able to do anything without my offensive line. They rewarded me with time, I rewarded them with touchdowns. Things worked out good for all us.''

The fact the Celts had four turnovers didn't help their cause.

Crespi's Corey Peoples suffered what appeared to be a stinger at the 5:49 mark of the fourth quarter. A 30-minute delay followed because of the injury. He had use of his lower extremities, but was taken in an ambulance to a nearby hospital as a precautionary measure.

Once play resumed, Bishop Amat scored again. Jalen Moore took off on an 18-yard touchdown run to extend the advantage to 28-14 with 5:14 remaining in the game.

When all was said and done, Moore had 157 total offensive yards.


October, 18, 2011
10/18/11
7:03
PM PT
By
Sean Ceglinsky
| ESPNLosAngeles.com
ENCINO -- It appears to be a typical afternoon of football practice at Crespi. The first player to emerge from the locker room is
Chris Harper
. The senior receiver makes a beeline to the adjacent field. Right then and there, you get the sense that things are far from normal.
There is work to be done, and apparently, Harper is intent on being first in line for reps.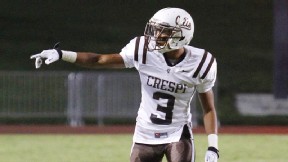 Courtesy of Angela MeansCrespi's Chris Harper has 10 touchdown receptions this season, ranking among the state's top 10.
A few teammates walk and talk on their way to practice. Some individuals lightly jog. However, there does not seem to be a sense of urgency. That is, until Harper decides it's time to speed up the process. Some choice words of encouragement follow. He is ready to get started.
A grueling session ensues. The drills seemingly are never-ending -- too many to count.
More than three hours later, the sun is beginning to set. Practice has been finished for the better part of 30 minutes. Most of his teammates are long gone at this point. Nevertheless, Harper is at midfield, fine tuning his skill set with a group of Celts' assistant coaches.
His work ethic is relentless. Unwavering. On a different level from everyone else.
The resolve Harper exhibits during the week in preparation for game day separates him from his peers. That type of sheer determination is paying off underneath the Friday night lights, of course, and has Harper on the verge of adding his name to the Southland's list of premier prospects.
"I let my actions speak for themselves, there is always ways to get better, to improve, that's why I never take a day off, or a play off,'' Harper said. "Nothing in life comes for free. I was always taught that if you want something bad enough, you half to work for it. That's just the way I am.''
The strategy has worked out particularly well for Harper so far. Full steam ahead.
He has been largely, although not solely responsible for the fast start at Crespi (6-1 overall) this season. The Celts are No. 14 in the ESPNLosAngeles.com Top 25 rankings as they head into Friday's Serra League showdown against No. 16 La Puente Bishop Amat (5-2).
"You can see it in his eyes, Chris is a different person once he steps on the field,'' Crespi coach
Jon Mack
said. "He has bought it to what we're doing here. He's a leader, in every sense.
"What people might not know about him is, he's great student with a GPA well over 3.0. He has no issues in the classroom. There are no roadblocks in his future. When you think about what it means to be a student-athlete at Crespi, Chris Harper if one of the first kids that comes to mind.
October, 15, 2011
10/15/11
12:34
AM PT
By
Tim Haddock
| ESPNLosAngeles.com


ENCINO -- An hour after the football game between Encino Crespi and Sherman Oaks Notre Dame, Celts coach Jon Mack was asked to sum up his team's performance.

"I still haven't recovered," Mack said.

The Crespi players gave their coach and their fans several heart-stopping moments in their 28-26 win over Notre Dame in the Serra League opener for both teams Friday night.

Crespi scored touchdowns on a kickoff return and a blocked field-goal attempt. Notre Dame returned two interceptions for touchdowns and scored 17 unanswered points in the second quarter.

In the end though, Crespi came up with three huge plays on special teams and escaped with a narrow victory over its Serra League and San Fernando Valley rival.

"Special teams helped keep us alive in the first half," Mack said. "We found a way in the end."

Crespi's Nate Walker returned the opening kickoff 99 yards for a touchdown and gave the Celts an early 7-0 lead.

But Notre Dame battled back scoring two touchdowns in the last four minutes of the second quarter. Sam Robinson caught a five-yard touchdown pass from Kelly Hilinski to tie the score, 7-7, with 3:58 to play in the first half.

Kevin Carrasco gave Notre Dame a 10-point lead when he intercepted a pass from Crespi quarterback Cody Cordell and returned in 30 yards for a touchdown with 1:16 left in the first half.


October, 13, 2011
10/13/11
11:34
AM PT
By
Sean Ceglinsky
| ESPNLosAngeles.com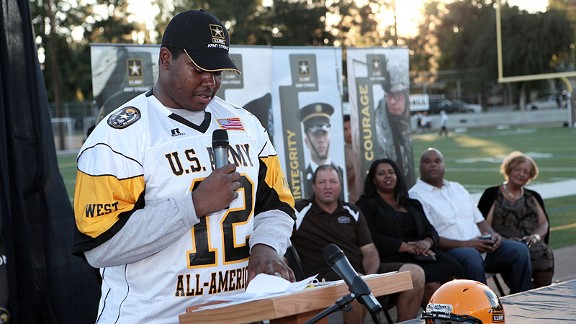 Angela MeansCrespi's Jordan Simmons was named to the U.S. Army All-American Bowl this week.
ENCINO -- The accolades continue to mount for
Jordan Simmons
from Crespi.
The prep football season, mind you, is not over yet. We're at the midway point.
Nevertheless, Simmons accepted an invitation to play in the 2012 U.S. Army All-American Bowl this week. His selection comes as little surprise. The honor is one of many for the 6-foot-5 and 325-plus pound senior offensive lineman, considered one of the country's premier prospects.
[+] Enlarge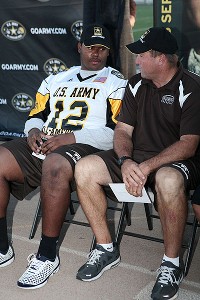 Angela MeansSome recruiting experts think Jordan Simmons' ability will be a fit at guard at college.
"I'm really looking forward to competing against some of the best guys,'' Simmons said with regards to playing in the all-star game featuring the nation's elite. The action take places in a few months, on Jan. 12. Simmons will represent the West against a team of standouts from the East. NBC will broadcast the event live at 1 P.M. EST from the Alamo Dome in San Antonio, Texas.
"This game will give me a chance to see how I measure up against some of the top competition that's out there,'' Simmons added. "My goal is to come out and establish my name. I know if I keep working hard, and keep working on my fundamentals, then I should be fine."
ESPN Recruiting ranks Simmons as the nation's No. 5 player at guard and No. 86 overall. Closer to home, Simmons is No. 6 in the Southland and No. 9 in the Golden State.
He has close to 30 scholarship offers on the table, quite a few from Division I powerhouse programs. Auburn, Florida, Michigan, Ohio State and Notre Dame are among the many potential suitors. Nearby, coaches and scouts from UCLA and USC are constant contact with him.
"Simmons is a big boy who will we feel will fit best at guard in college,'' said
Craig Haubert
, a well-respected ESPN national recruiting analyst. "This ESPNU 150 prospect brings more to the table than just his massive size though. He also has good flexibility and foot quickness. He needs to watch his pad level at times, but he can be a dominant blocker in the run game."
October, 12, 2011
10/12/11
3:51
PM PT
By
Tim Haddock
| ESPNLosAngeles.com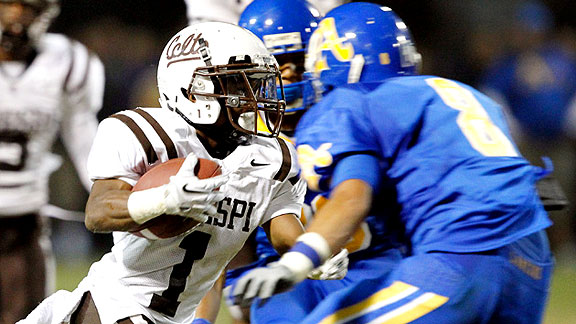 Alex Gallardo for ESPNLosAngeles.comCrespi's Mike Davidson is one of several players Notre Dame will need to contain in their Serra League opener Friday.
Sherman Oaks Notre Dame coach
Kevin Rooney
used an odd word choice to describe his team's game against Crespi of Encino on Friday night.
The two teams open Serra League play with championship aspirations. All five teams in the Serra League appear in the ESPNLA top-25 prep football rankings. Rooney takes his No. 24 Notre Dame team on the road to play No. 16 Crespi and said it will be a "fun" way to open Serra League play.
"In our league, every game is critical," Rooney said. "Crespi is a top team and our rival. It will be a tremendous challenge. It's kind of fun it starts this way. It's critical that each team wins every game they can."
Notre Dame (4-1) lost its first game of the season to Chaminade, 36-32, last week. The Knights erased an 18-point, first-half deficit and took an 11-point lead in the fourth quarter. But Chaminade scored 14 points in the final two minutes to win it.
The winning drive started when Chaminade recovered an onside kick. Running back
Terrell Newby
scored the winning touchdown with 15 seconds left.
"It was a tough loss," Rooney said. "There were a lot of good things we did in the game. We're past that and getting ready for Crespi."
Notre Dame running back
Khalfani Muhammad
has emerged as one of the top running backs in the San Fernando Valley. He rushed for 84 yards and scored two touchdowns against Chaminade.
Quarterback
Kelly Hilinski
threw for 225 yards, completing 14 of 18 passes, and scored on a one-yard run in the second half.
Crespi (5-1) is coming off a 56-7 drubbing of Woodland Hills Taft. Quarterback
Cody Cordell
threw for three touchdowns and 155 yards in limited action. Receiver
Christopher Harper
caught two touchdown passes and finished the game with three catches for 64 yards.
Crespi won its first four games of the season and had outscored its opponents, 194-34. The Celts' only loss came against Vista Murrieta, 38-20, two weeks ago.
"You always learn more from a loss. I feel they outprepared us," Crespi coach Jon Mack said. "The boys are playing well. We're pleased how the season is going."
Notre Dame went 2-8 and won only one league game last year. The team has made quite a turnaround, winning its first five games of the 2011 season and entering Serra League play as a championship contender.
"They're a year older," Rooney said. "Most of them played last year. Experience helps keep them on the right path. We're trying to learn from everything that has happened."
Here's a look at some of the other top games in the L.A. North:
September, 2, 2011
9/02/11
11:53
PM PT


COMPTON -- Crespi finally got redemption Friday night ... and then some.

A year after stumbling out of the gate by losing their opener to Dominguez, the Celts made sure a repeat wasn't in store, pummeling the Dons, 48-6, behind a 34-point first half. Officials used a running clock for the fourth quarter and both teams emptied their benches.

"It was great coming into their house and beating them by more than 40 points," Crespi senior Mike Davison said. "Last year they came out with a lucky win but we came here, executed and came out victorious."

Davison, a speedy, shifty, 5-foot-2 receiver, scored two touchdowns and probably caused more headaches. He had a 21-yard scoring run on an end-around hand-off that made it 14-0, then reached the end zone in the third quarter following a dizzying sequence from seven yards out that left Dominguez defenders catching their breath.

"I was just thinking touchdown," Davison said.

Fellow receiver Chris Harper had 140 yards receiving and two touchdowns, while tailback Terry Williams ran for 64 yards and a score prior to sitting out most of the second half.

"Any time you can come back and beat a team that beat you last year it's always a good thing," Harper said.


August, 26, 2011
8/26/11
1:25
PM PT
By
Sean Ceglinsky
| ESPNLosAngeles.com
Encino Crespi lost several key players from a season ago. Then again, the Celts are no different from any other team in the Southland. Perhaps the thing separating them from other programs is the fact this group returns a solid foundation as coach
Jon Mack
enters his second year at the helm.
Senior
Chris Harper
takes over as the No. 1 option at receiver in the high-powered Crespi offense following the departure of
Devin Lucien
, who is playing at UCLA. Fellow wideout
Mike Davison
, also an upperclassman, figures to assume a larger role as well.
Here's a closer look at the Celts:
Team:
Encino Crespi.
Coach:
Jon Mack, second season.
2010 Record:
8-4, lost in quarterfinals of CIF Southern Section Pac-5 Division playoffs.
Returning starters:
15 total. Eight on offense. Seven on defense.
Key players on offense:
OL Jordan Simmons, WR Chris Harper, WR Mike Davison, TE Trevon Callahan, TE Jack Vonarb, RB Terry Williams.
Key players on defense:
DB Noah Ciccel, DB Nathan Walker, LB Sebastian Edwards, LB Corey Peoples, LB LJ Wilkerson, DL Khorey Gabriel, DL Sean Lomoto.
Difference maker:
Simmons, no question about it. The 6-foot-5, 325-pound senior is a superb pass-protector. He is is also a force in the rushing attack, agile enough to get out in space and make a clear path. Accordingly, Simmons is being recruited by most every powerhouse program in the country. He keeps Paul Rawate, Crespi's director of marketing and public relations, busy week in and week out with phone calls from prospective schools. Where Simmons ends up is anyone's guess. One thing is certain: He will be playing on Saturdays in the very near future.
Newcomers:
OL Jacob Speer (Granada Hills transfer), OL Colin Prestesater (Glendora transfer), OL Wes Hewitt (Humbolt transfer), QB Cody Cordell (Oaks Christian transfer), LB Sklyer Stone (Westlake transfer), QB Brad Kaaya, WR Jabarian Blackwell.
Not to be missed:
at Mission Hills Alemany, Friday, Oct. 28. The host Warriors figure to be ranked among the top 10 teams in the ESPNLosAngeles.com poll at this stage of the season. Crespi might be as well. This game should be for all the marbles, a showdown with Serra League title implications. Clear your schedules now, this one could be a classic.
Coach's comment:
"What a difference a year makes. This time last year we were struggling to teach the language, the fundamentals and the techniques of the game. Now, we are working on perfecting things. I am very pleased with the attitude and effort of this team and cannot wait for fall ball to start."
Final analysis:
Once the Celts determine who the quarterback will be -- Cordell is currently leading Kaaya in the race for the starter's role -- they could possibly be on their way to big things. Harper, Davison and Callahan are reliable targets. And with Simmons in the mix, watch out. Crespi will likely compete for a league title and appears poised for a deep postseason run.
Sean Ceglinsky covers preps for ESPNLosAngeles.com. Follow him on
Twitter
.
December, 6, 2010
12/06/10
9:50
PM PT
By
Sean Ceglinsky
| ESPNLosAngeles.com
ENCINO -- It appears as if Charles Washington has decided where he'll spend the next four years. The 6-foot, 185-pound senior defensive back for the Crespi High football team verbally committed to Fresno State on Monday morning, according to Paul Rawate, Crespi's director of marketing and public relations. Washington chose the Bulldogs despite having scholarship offers from several other schools.

Washington was a fixture in the secondary for Crespi (8-4) this season. He averaged six tackles per game, had three interceptions and five pass deflections to help guide the Celts to the Southern Section Pac-5 Division playoff quarterfinals, where they eventually lost to perennial Southland powerhouse Anaheim Servite, 40-16.

"Charles does many things well for us, too many to count, he's a playmaker,'' Crespi coach Jon Mack said. "He's got a good attitude and is a hard-worker, Charles has a bright future ahead of him.''

The fact Washington played well this season shouldn't come as a surprise considering the success he had as a junior: 72 tackles and five pass deflections as an underclassman is good indication of just that. Accordingly, Iowa State, New Mexico State and Wyoming were among the many programs interested in his services.

Ultimately, Fresno State proved to be the best fit, although nothing is official until Washington signs a letter of intent. And putting his name on the dotted line figures to be formality at this point.
November, 18, 2010
11/18/10
10:30
PM PT
By
Martin Henderson
| ESPNLosAngeles.com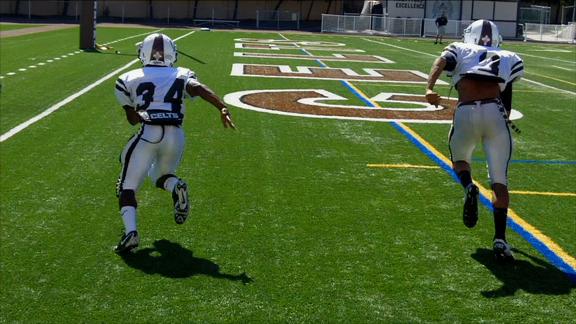 LONG BEACH -- The referee made the call emphatically. There was no question in his mind that
Richard Turner
caught a third-down pass out of bounds along the sideline of the end zone while guarded by
Nathan Walker
. The crowd moaned. Coaches screamed.
There were only 3 minutes 3 seconds left in the game, Crespi held a seven-point lead and it was a do-or-die moment for Los Alamitos.
Now, it was fourth down from the eight-yard line.
Dylan Lagarde
passed to Turner again. He turned to the end zone but was tackled from behind by Walker at the four-yard line.
For all intents and purposes, the game was over.
Two plays later Crespi's
Kenny Stenhouse
threw deep to
Devin Lucien
for a 96-yard insurance score as the Celts defeated Los Alamitos, 28-14, in the first round of the Pac-5 playoffs. Crespi (8-3), which missed the playoffs both years since its 2007 finals appearance, will play the winner of the Servite-Long Beach Jordan game played Friday.
Stenhouse completed 10 of 18 for 233 yards and three touchdowns – two to Lucien, one to
Trevon Calahan
.
September, 2, 2010
9/02/10
6:22
PM PT
By
Sean Ceglinsky
| ESPNLosAngeles.com
Jon Mack knows a thing, or two, about football. The veteran coach proved as much time and again while building Ventura St. Bonaventure into a Southern California powerhouse during his 17-year stint on the sidelines for the Seraphs.

Seemingly in search of a new challenge, Mack, 50, is hoping to duplicate the feat at Encino Crespi. And he'll take the first step in doing so Friday night in his debut for the Celts in their season opener against visiting Compton Dominguez at 7 p.m.

"I had a good run at St. Bonaventure, but that's in the past, I'm looking toward the future these days,'' said Mack, who was raised in the San Fernando Valley and went to school at Sherman Oaks Notre Dame High, Pierce College and Cal State Northridge.

"I've got plenty of work to do, but I feel like I'm in a good position over here at Crespi. I've got the support from all of the administrators and the players have been responsive. To be honest, all of the pieces of the puzzle seem to be in place.''

Mack compiled a 163-47-1 record at St. Bonaventure. During his tenure, the Seraphs won 11 league championships and seven CIF Southern Section titles.

Crespi is no slouch when it comes to adding hardware to the trophy case. The Celts have won 10 league titles and three Southern Section championships.

That said, it will be interesting to see if Mack can, somehow, work his coaching magic at this new gig similar to the way he did at the old place. One thing is certain: His first day on the job with the Celts is Friday against Dominguez.