Los Angeles Preps:

Jordan Hamilton
May, 1, 2012
5/01/12
11:43
PM PT
Pasadena senior Blake Hamilton committed to Northern Arizona over the weekend. He also had a scholarship offers from Hawaii, Cal State Northridge and Sacramento State.

The 6-foot-5 forward averaged 16 points and 11 rebounds last season, helping Pasadena to the CIF-Southern Section Division 3AAA title. He is the cousin of brothers Isaac and Daniel Hamilton of St. John Bosco and Jordan Hamilton of the Denver Nuggets.
March, 14, 2012
3/14/12
12:17
AM PT
By
Sean Ceglinsky
| ESPNLosAngeles.com


MONROVIA -- It was one of those family affairs.

Someone, however, had to end up the winner. Consoling the loser was a necessary evil, in fact.

Nevertheless, Tuesday evening's Southern California Regional playoff game was a gathering the Los Angeles-based Hamilton family won't soon forget.

With the score tied and the finals seconds ticking off the fourth quarter clock, Daniel Hamilton from Bellflower St. John Bosco hit what proved to be the winning shot for the Braves in a 53-51 victory over Pasadena in a Division III semifinal showdown at Monrovia High School.

The bank-shot in the lane with 1.7 seconds left was made over the outstretched arms of his cousin, the Bulldogs' senior Blake Hamilton.

In the meantime, Braves teammate and older brother, junior Isaac Hamilton, was on the court and watched things unfold as his sophomore sibling sealed the deal.

Blake Hamilton was left to think about what could have been.

"I have to give my little cousin credit, he hit a big shot,'' Blake Hamilton said. "You never like to lose, no matter what the situation is. If you have to lose, I'd rather it be to someone in my family. I'm happy for my cousins, I guess. I came out on the short of the stick.''

Blake Hamilton did his best to keep second-seeded Pasadena (29-7) close. The senior wing scored six points early on to give the Bulldogs a 16-14 lead at the end of one. He added eight points in the second quarter to maintain a two-point advantage at the break.

The intensity level picked up in the second half and UCLA coach Ben Howland was in attendance, presumably to catch the highly-touted Hamilton brothers in action. The tandem has some strong family bloodlines, after all. Older brother, Jordan Hamilton, plays for the Denver Nuggets.


February, 4, 2011
2/04/11
3:45
PM PT
By
Sean Ceglinsky
| ESPNLosAngeles.com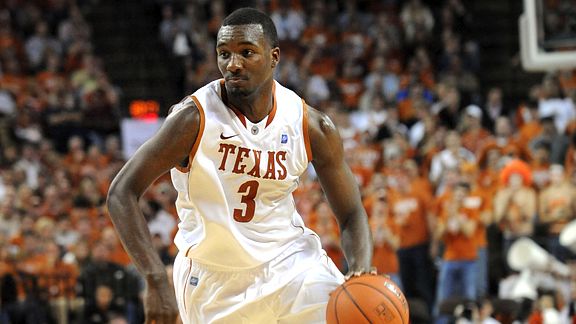 Brendan Maloney/US PresswireJordan Hamilton, a former Compton Dominguez High standout, is averaging 19 points and 7.5 rebounds for Texas.
For as long as most can remember, the Southland has been one of those must-stop destinations on the West Coast for Division I college basketball coaches and scouts in search of the next potential big thing at the next level.
So imagine what was going on in the minds of the powers that be once they all had an opportunity to set their eyes on
Jordan Hamilton
during his high school days at Los Angeles Dorsey before an eventual transfer to nearby Compton Dominguez.
After speaking with numerous individuals who were around back then, from 2005 to 2009, the consensus seemed to be that Hamilton was always destined to succeed and become yet another local product to move on and make a name for himself nationally.
Sure enough, Hamilton has lived up to the hype. A starter for Texas nowadays, the 6-foot-7 sophomore small forward is averaging a team-high 19 points and 7.5 rebounds per game for the Longhorns (19-3 overall), who are No. 3 in the ESPN/USA Today Coaches Poll and No. 3 in the Associated Press rankings.
Hamilton and Co. next play host to Texas Tech for a Big 12 Conference game on Saturday night.
It seems not so long ago, Hamilton was a senior at Dominguez. At the time, ESPNU ranked him as the No. 1 small forward in the country and No. 8 recruit overall.
"Yeah, I know about Jordan Hamilton, know him well,'' said
Joel Francisco
, a recruiting analyst for ESPN. "In high school, he was one of the best out West. He was one of the top scorers in the nation. I had a feeling that he had the type of game that was ready for the next level. I always thought he was capable of making an immediate impact somewhere.''
February, 1, 2011
2/01/11
6:19
PM PT
By
Sean Ceglinsky
| ESPNLosAngeles.com


LOS ANGELES -- Might as well enjoy him now.

After all, he won't be around here for much longer.

By most accounts, Norvel Pelle is the premier prep basketball player the Southland has to offer. And it doesn't matter where the game is, at home or on the road, crowds typically flock to the gym in an effort to catch a glimpse of the senior from Price High in action.

Some cheer. Others jeer. Bottom line: Pelle is a big draw.

Such was the case once again Saturday night. Spectators were out in force at the Fairfax State Preview Classic to watch Pelle & Co. defeat Mission Hills Alemany, 66-61. Interestingly enough, a collection of college coaches and scouts were in attendance as well, presumably there to see Pelle for perhaps one of the final times before he takes his game to St. John's next season.

"Norvel brings a whole lot to the table,'' Price coach Michael Lynch said. "It seems like everyone wants a piece of him sometimes, so the key for him is to stay focused as much as possible. He's getting better and better at concentrating on things and that's a good sign because you never know how a kid is going to respond to a certain situation and all of the hype.

"On the court, he makes his teammates better, no question about it. He's a talent, a force, the kind of player that opens things up for everyone else around him. There's a lot to like about him, he does many things well. Norvel can be a dynamic player whenever he wants.''