Los Angeles Preps:

Jordan Simmons
February, 1, 2012
2/01/12
10:50
AM PT
By
Tim Haddock
| ESPNLosAngeles.com


Seven football players from Crespi in Encino will be continuing their careers in college.

Jordan Simmons is the top recruit from Crespi. The 6-feet-5, 330 pound offensive lineman is headed to USC.

"I decided to go to USC because I felt like it was the perfect fit for me," Simmons said. "I just want to compete when I step on that first day. I'm excited. I'm ready to start."

Simmons wanted to enroll at USC in the spring, but he said Crespi wouldn't allow him to graduate early. He will be competing for a spot on a USC team that is coming off NCAA sanctions and is expected to challenge for a national championship.
January, 7, 2012
1/07/12
12:13
PM PT
Pasadena Muir defensive back
Kevon Seymour
committed to USC on Saturday at the U.S. Army All-American Bowl game in San Antonio, Texas.
The four-star prospect also considered Cal, Oregon and UCLA. The 6-foot-1, 175-pound Seymour is the 19th-ranked player in California.
Seymour gives USC its 12th verbal commit, joining local standouts
Jabari Ruffin
(Downey),
Max Tuerk
(Santa Margarita),
Jordan Simmons
(Crespi),
Scott Starr
(Norco) and
Darreus Rogers
(Carson).
National signing day is Wednesday, Feb. 1.
Blair Angulo covers preps for ESPN Los Angeles. Follow him on Twitter.
January, 4, 2012
1/04/12
12:02
PM PT
By
Tim Haddock
| ESPNLosAngeles.com
The U.S. Army All-American Bowl has 16 players from California on the
West roster
.
Two players, seniors
Jordan Payton
and
Ishmael Adams
, are from Oaks Christian.
Payton is a 6-feet-2 wide receiver who is expected to announce where he will play in college after the game on Saturday. His choices have been whittled down to three: Notre Dame, Cal and UCLA.
Adams was a two-way player in high school, at cornerback and running back, and is headed to UCLA as a defensive back.
Other players from California on the West roster include Crespi offensive lineman
Jordan Simmons
, Dominguez cornerback
Brandon Beaver
, Monrovia defensive lineman
Ellis McCarthy
and Muir defensive back
Kevon Seymour
.
The U.S. Army All-American Bowl will be televised from the Alamodome in San Antonio, Texas, on Saturday at 10 a.m. on NBC.
October, 13, 2011
10/13/11
11:34
AM PT
By
Sean Ceglinsky
| ESPNLosAngeles.com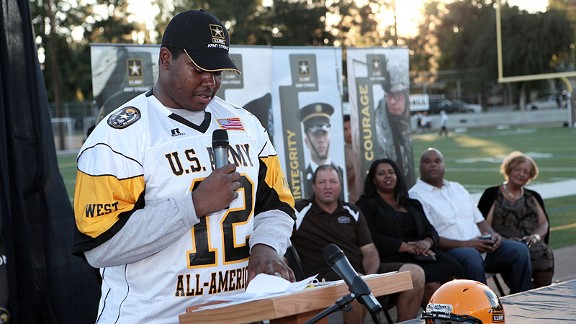 Angela MeansCrespi's Jordan Simmons was named to the U.S. Army All-American Bowl this week.
ENCINO -- The accolades continue to mount for
Jordan Simmons
from Crespi.
The prep football season, mind you, is not over yet. We're at the midway point.
Nevertheless, Simmons accepted an invitation to play in the 2012 U.S. Army All-American Bowl this week. His selection comes as little surprise. The honor is one of many for the 6-foot-5 and 325-plus pound senior offensive lineman, considered one of the country's premier prospects.
[+] Enlarge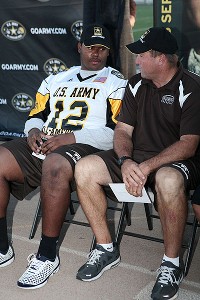 Angela MeansSome recruiting experts think Jordan Simmons' ability will be a fit at guard at college.
"I'm really looking forward to competing against some of the best guys,'' Simmons said with regards to playing in the all-star game featuring the nation's elite. The action take places in a few months, on Jan. 12. Simmons will represent the West against a team of standouts from the East. NBC will broadcast the event live at 1 P.M. EST from the Alamo Dome in San Antonio, Texas.
"This game will give me a chance to see how I measure up against some of the top competition that's out there,'' Simmons added. "My goal is to come out and establish my name. I know if I keep working hard, and keep working on my fundamentals, then I should be fine."
ESPN Recruiting ranks Simmons as the nation's No. 5 player at guard and No. 86 overall. Closer to home, Simmons is No. 6 in the Southland and No. 9 in the Golden State.
He has close to 30 scholarship offers on the table, quite a few from Division I powerhouse programs. Auburn, Florida, Michigan, Ohio State and Notre Dame are among the many potential suitors. Nearby, coaches and scouts from UCLA and USC are constant contact with him.
"Simmons is a big boy who will we feel will fit best at guard in college,'' said
Craig Haubert
, a well-respected ESPN national recruiting analyst. "This ESPNU 150 prospect brings more to the table than just his massive size though. He also has good flexibility and foot quickness. He needs to watch his pad level at times, but he can be a dominant blocker in the run game."
October, 11, 2011
10/11/11
5:05
PM PT
By
Sean Ceglinsky
| ESPNLosAngeles.com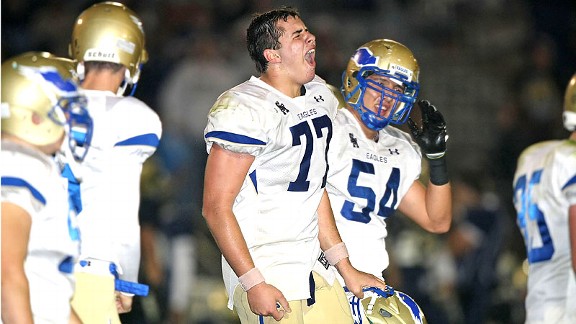 Courtesy Robert Russell Photography Max Tuerk has been sought after by most major Division I programs in the country.
RANCHO SANTA MARGARITA -- When he is off the football field,
Max Tuerk
is about as nice as they come. Well-mannered. Well-spoken. Well-liked.
Once he steps out on the gridiron and the Friday night lights begin to flicker, the whole Mr. Nice Guy approach immediately becomes a thing of the past.
Tuerk's demeanor changes, seemingly 180 degrees.
His nasty streak reveals itself. At that point, it is wise for opponents to avoid the 6-foot-5, 285-plus pound offensive tackle from Santa Margarita at all costs. Defensive lineman rarely fare well in one-on-one matchups with Tuerk. Linebackers stand little, or no, chance. Cornerbacks and safeties, forget about it, the senior is winning that battle every time.
"I like to think my parents brought me up the right way. They did," Tuerk said. "If the ball is snapped though, I don't know what happens to me. I turn into a totally different person. I really can't explain it. My mentality changes, or something. It's all business.''
Tuerk & Co. have recently been taking care of business. Heading into Thursday's Trinity League opener against host Santa Ana Mater Dei, the Eagles (5-0 overall) are on a roll. In fact, they recently moved up to No. 2 in the ESPNLosAngeles prep football Top 25 rankings.
In terms of being recognized as one of the premier programs the Southland has to offer, Santa Margarita was expected to take the next step this season. Many observers would not have imagined the transformation happening quite this fast for the Eagles.
Tuerk has been largely, though not solely responsible for directing the ascent. Still, the USC-committed recruit deserves some credit for the success thus far.
"You could tell that Max was truly something special from start,'' Santa Margarita coach
Harry Welch
said.
Given the fact he is considered a living legend in Southern California circles and has closely monitored Tuerk's development since signing on as the Eagles' head coach a few short years ago, the seal approval from Welch is about as good as it gets.
September, 28, 2011
9/28/11
4:33
PM PT
By
Dan Arritt
| ESPNLosAngeles.com
Grudge week arrives with a couple of heavy-hitting cross-section matchups and one long-awaited Big VIII League opener. The
Calpreps.com
computer is also looking to rebound from another tough loss last week to the human brain from ESPNLA.
A-Game
(ESPNLA top 25 rankings included)
No. 15 Loyola (4-0) at No. 21 Upland (4-0), Friday (7 p.m.)
– Upland has been a nightmare for defensive coordinators this season, averaging 46 points a game. The Highlanders exploded for 54 last week against Norco, led by by
USC-bound
inside linebacker
Scott Starr
. Upland will need to be even better this week. Against four quality offenses, Loyola is giving up an average of just under nine points a game. Keep an eye on
Chaz Anderson
of Loyola, a wide receiver/defensive back who has
committed
to Boise State. He caught two touchdown passes last week in a
28-14
victory against St. John Bosco and helped limit Bosco's talented passing game, led by
Cal-bound
wide receiver
Bryce Treggs
, to just 121 yards through the air.
Cameron Walker
also stepped into a two-way role last week following the ankle injury to starting running back
Wyatt Bradford
. Walker responded with 76 yards rushing and a touchdown and helped form the blanket in the secondary. The Cubs will be up against another Pac 12-bound receiver in
Kenny Lawler
(
Arizona State
), but they'll also need to keep an eye on shifty running back
Donta Abron
, who's plenty capable of inflicting damage of his own.
Calpreps.com computerized projection: Loyola 35, Upland 28
ESPNLA: Loyola 31, Upland 30
B-List
No. 17 Vista Murrieta (3-0) at No. 4 Crespi (4-0), Friday (7 p.m.)
– Vista Murrieta was coasting along this time last year, then the Broncos hosted Crespi and their defense suddenly turned into a wet paper bag and they lost, 45-31. Now it's Vista Murrieta's turn to make the long commute to Encino and face a team with 15 returning starters and a couple of high-profile transfers, including quarterback
Cody Cordell
(Oaks Christian). Crespi's most heavily recruited player is offensive lineman
Jordan Simmons
, ranked as the
No. 5 guard
in the nation by ESPN. He's part of an offensive line that averages 280 pounds. They'll get a nice push from Vista Murrieta's defensive front, led by
Washington-commit
Jeremy Castro
, who had 11 sacks in 14 games last season and two so far this year.
Calpreps.com: Vista Murrieta, 24, Crespi 21
ESPNLA: Crespi 27, Vista Murrieta 17
Norco (2-1) at Roosevelt (1-2), Friday (7 p.m.)
– Get ready for the longest-awaited payback in the Big VIII this season. Roosevelt toppled the Cougars,
24-21
, on Norco's home field last season, stopping them on fourth down with about 4 1/2 minutes remaining and putting a huge dent in their league title hopes. Roosevelt quarterback
Aaron Crone
threw for a league-leading 23 touchdown passes as a junior but hasn't played this season because of an injured throwing shoulder suffered in a preseason game. If he's still not ready to go, it could be a long night for the Mustangs.
Calpreps.com: Norco 35, Roosevelt 22
ESPNLA: Norco 42, Roosevelt 21
No. 23 Redlands East Valley (3-0) at Chino Hills (2-2), Friday (7 p.m.)
– Redlands East Valley might be looking to exact a bit of revenge as well. A year ago against Chino Hills, the Wildcats were dismal on offense, managing only one field goal in a
14-3
loss. The biggest hope for Chino Hills is that REV gets caught looking ahead to next week's game against No. 3 Mission Viejo. Chino Hills can move the ball with one of the I.E.'s top junior receivers in
Jack Austin
, and boasts a defense that held Pomona running back
Sir Darius Yarbrough
, a 600-yard rusher heading into the game, to 12 yards last week in a 37-6 victory. REV had a bit of a wakeup call the same night against Dorsey, hanging on for a 14-12 victory. The Wildcats dropped 10 passes in the last two weeks and can't afford those mistakes if they want to avoid getting embarrassed by Chino Hills again.
Calpreps.com: Redlands East Valley 26, Chino Hills 10
ESPNLA: Chino Hills 14, Redlands East Valley 13
Last week's picks:
Calpreps.com: 4-1.
ESPNLA: 5-0.
Overall:
Calpreps.com: 6-3.
ESPNLA: 8-1.
September, 11, 2011
9/11/11
10:26
PM PT
By
Sean Ceglinsky
| ESPNLosAngeles.com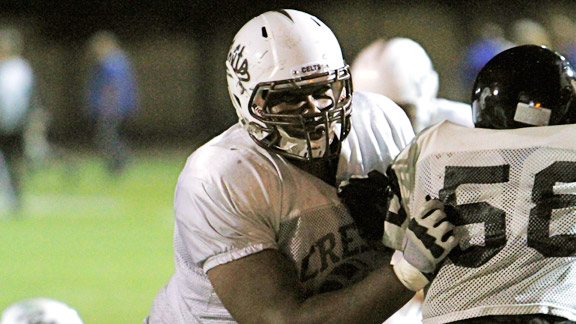 Crespi HS athleticsCrespi lineman Jordan Simmons is one of many talented players the Southland has to offer this season.
With Week 1 of the prep football season officially in the books, we thought it best to take some time and talk about some of the premier players the Southland has to offer. Make no mistake, the talent pool around these parts is as deep as it has ever been.
For all intents and purposes, the list compiled below could very well serve as an early season all-star team, for the offensive side of the ball, that is. As for next week, expect an in-depth review of the top defensive players from the greater Los Angeles area.
So, without further adieu, let's get things started.
Quarterback: Temecula Chaparral's
Matt Morin
. Some might argue that San Clemente's Travis Wilson or Arroyo Grande's Brent Vanderveen are more deserving of recognition. Rightfully so, considering both are top-notch prospects. We'll stick with Morin, for the time being. The 6-foot-2 left-handed gunslinger makes things appear easy, more often than not, even in the most extenuating circumstances. The Pumas figure to go as far as the San Diego State-bound senior will take them this season. It will be interesting to see if he makes us look good with his selection at this position. Who knows, maybe we do know what we're doing around here. Only time will tell.
Running back: South Gate South East's
Robert Lewis
. This one was a no-brainer. He possesses tremendous speed and elusiveness. Lewis is a threat to score each time he touches the ball, out of the backfield, or in the passing game. And while Lewis is occasionally knocked for being somewhat undersized, at 5-10, 160 pounds, he has proven to be as tough as they come when called upon to pick up tough yardage in between the tackles. The senior, heading to Southern Methodist University (SMU), gained close to 2,000 all-purposes yards a season ago and scored 18 touchdowns. It is reasonable to expect a similar effort this time around.
Receiver: Inglewood's
Derrick Woods
. The 5-11, 185-plus pound senior is one of the most sought-after unsigned recruits in the country. He has scholarship offers on the table from a number of different schools, most notably powerhouse programs such as Alabama, Florida and Michigan. Here at home, Woods is hot commodity as well. Seemingly all of the Pac-12 Conference colleges have expressed varied levels of interest in him, none as much as nearby UCLA and USC. Where he ends up is anyone's guess. This much is certain: Woods is one to watch.
Receiver: Lakewood's
Darius Powe
. Eerily similar to the aforementioned Woods, Powe is another high-profile prospect who has not made a decision about his immediate future. Boise State, Nebraska and Miami are a few of the many programs who have offered him. His physical presence appears to be the biggest selling point to his potential suitors. At 6-2 and close to 200 pounds, the senior typically creates matchup problems when he's on the field. It doesn't matter if Powe lines up outside or in the slot, he gives opposing cornerbacks and safeties fits from start to finish.
Receiver: Carson's
Darreus Rogers
. He entered the all-important spring and summertime camp circuits slightly underneath the recruiting radar. But by the time September rolled around, Rogers was about as highly touted as any individual on the West Coast. One problem: College coaches and scouts, alike, appeared to be on the outside looking in given the fact the 6-1, 195-pound senior had already committed to USC. In two games this season, Rogers has gained more than 200 yards receiving each time. Rogers is in a class of his own in the Los Angeles City Section.
Tight end: Orange Lutheran's
Christo Kourtzidis
. Cliché or not, this kid is a man among boys once he steps out on the field. The 6-4, 240-pounder sticks out like a sore thumb once he puts on his cleats, shoulder pads and helmet. Kourtzidis has the quickness to get off the line fast, well before most of his opponents. He has the speed to stretch the field vertically, as well. Downfield, Kourtzidis possesses above average hands. In space, he makes people miss. Not to be outdone, in the running game, the Florida State-bound senior is a more than capable blocker.
Guard: Encino Crespi's
Jordan Simmons
. Name one of the country's top college, and chances are, the program has offered the 6-5, 325-pound senior a scholarship. At last check, Simmons had more than 30 schools interested in his services. Auburn and Florida are players. Georgia and Notre Dame are in the mix. Count Ohio State and USC as fans of Simmons. The decision about his final destination, however, does not figure to made until after the season.
Guard: Anaheim Servite's
Travis Averill
. Skill position players typically earn the most attention for a Friars team that has had its share of talented prospects in the not so distant past. Averill has proven to be the one capable of breaking the mold. The 6-4, 275-pound senior, bound for Boise State, does many things well. He uses his hands and feet rather well in the passing game. When Servite runs the ball, Averill is powerful enough to move the pile with relative ease.
Center: Bellflower St. John Bosco's
Beau Boyster
. By some accounts, no single player is as valuable to his respective team as the guy who snaps the ball to the quarterback. Boyster is all that. And then some. The 6-4, 285-pound senior, heading to Arizona, will likely be an integral part to the success of the Braves this season. Keep in mind, expectations are sky high for this group. We are talking about a team that appears poised for a prolonged postseason run.
Tackle: San Clemente's
Kyle Murphy
. The 6-6, 270-pound senior is pleasant to be around off the field, a likeable kid. Once the ball is snapped, no one is nastier. Murphy has a mean streak, to be sure. Perhaps his on-the-field demeanor is what separates him from most of his peers. Whatever the case, the future is bright. Murphy has a number of offers -- too many to count. Auburn, Florida, Notre Dame and Michigan are interested. UCLA and USC are a couple of other options for him.
Tackle: Santa Margarita's
Max Tuerk
. Out on the edge, his sole responsibility is to protect the signal caller. Truth be told, few Southland individuals do it better than the 6-5, 285-pound senior. USC coach Lane Kiffin and his staff know this all too well. Accordingly, they intently pursued Tuerk until he gave them a commitment in late May. All signs point to him making an immediate impact at the next level. In the meantime, it's full steam ahead for Tuerk and the Eagles.
Sean Ceglinsky covers preps for ESPNLosAngeles.com. Follow him on
Twitter
.
August, 26, 2011
8/26/11
1:25
PM PT
By
Sean Ceglinsky
| ESPNLosAngeles.com
Encino Crespi lost several key players from a season ago. Then again, the Celts are no different from any other team in the Southland. Perhaps the thing separating them from other programs is the fact this group returns a solid foundation as coach
Jon Mack
enters his second year at the helm.
Senior
Chris Harper
takes over as the No. 1 option at receiver in the high-powered Crespi offense following the departure of
Devin Lucien
, who is playing at UCLA. Fellow wideout
Mike Davison
, also an upperclassman, figures to assume a larger role as well.
Here's a closer look at the Celts:
Team:
Encino Crespi.
Coach:
Jon Mack, second season.
2010 Record:
8-4, lost in quarterfinals of CIF Southern Section Pac-5 Division playoffs.
Returning starters:
15 total. Eight on offense. Seven on defense.
Key players on offense:
OL Jordan Simmons, WR Chris Harper, WR Mike Davison, TE Trevon Callahan, TE Jack Vonarb, RB Terry Williams.
Key players on defense:
DB Noah Ciccel, DB Nathan Walker, LB Sebastian Edwards, LB Corey Peoples, LB LJ Wilkerson, DL Khorey Gabriel, DL Sean Lomoto.
Difference maker:
Simmons, no question about it. The 6-foot-5, 325-pound senior is a superb pass-protector. He is is also a force in the rushing attack, agile enough to get out in space and make a clear path. Accordingly, Simmons is being recruited by most every powerhouse program in the country. He keeps Paul Rawate, Crespi's director of marketing and public relations, busy week in and week out with phone calls from prospective schools. Where Simmons ends up is anyone's guess. One thing is certain: He will be playing on Saturdays in the very near future.
Newcomers:
OL Jacob Speer (Granada Hills transfer), OL Colin Prestesater (Glendora transfer), OL Wes Hewitt (Humbolt transfer), QB Cody Cordell (Oaks Christian transfer), LB Sklyer Stone (Westlake transfer), QB Brad Kaaya, WR Jabarian Blackwell.
Not to be missed:
at Mission Hills Alemany, Friday, Oct. 28. The host Warriors figure to be ranked among the top 10 teams in the ESPNLosAngeles.com poll at this stage of the season. Crespi might be as well. This game should be for all the marbles, a showdown with Serra League title implications. Clear your schedules now, this one could be a classic.
Coach's comment:
"What a difference a year makes. This time last year we were struggling to teach the language, the fundamentals and the techniques of the game. Now, we are working on perfecting things. I am very pleased with the attitude and effort of this team and cannot wait for fall ball to start."
Final analysis:
Once the Celts determine who the quarterback will be -- Cordell is currently leading Kaaya in the race for the starter's role -- they could possibly be on their way to big things. Harper, Davison and Callahan are reliable targets. And with Simmons in the mix, watch out. Crespi will likely compete for a league title and appears poised for a deep postseason run.
Sean Ceglinsky covers preps for ESPNLosAngeles.com. Follow him on
Twitter
.