Los Angeles Preps:

Joseph Gray
January, 24, 2011
1/24/11
11:58
AM PT
1. What you've heard about Los Angeles Price forward Norvel Pelle is true -- he can fly with the best of them. During a spectacular sequence Saturday night in the California Elite Showcase at the University of La Verne, Pelle blocked Arizona-bound forward Grant Jerrett not once or twice, but three times before slamming one home at the other end. Pelle's 20 points paced Price to a 79-65 over fellow small school La Verne Lutheran. Pelle is taking his talents to St. John's next fall.

2. Speaking of big men, Damien's Chris Reyes might be someone to keep an eye on. The junior had 22 points, 15 rebounds and seven blocks Friday in a win at Chino Hills Ayala, with 18 of his points coming after the break. Damien coach Matt Dunn acknowledged that Reyes needed better concentration to start and he got it from his big guy. The Spartans (18-2) could have had a monster weekend, but they lost to undefeated Mission Viejo, 56-51, on Saturday despite 25 from Reyes.

3. Scoring machine Cezar Guerrero injured himself early in the second half of St. John Bosco's 61-55 home loss to JSerra on Friday and did not return. The star guard had scored 17 points at the time of his exit, yet the Braves still trailed by nine. He had 41 points and nailed the game-winner at Orange Lutheran three nights earlier. It was another setback for Bosco, which hasn't been able to put wins together during Trinity League play. JSerra was winless in league heading into Friday.

4. Three-star quarterback Joseph Gray (Los Angeles, Calif./Dorsey) switched his commitment from Washington to San Jose State on Friday. The senior prospect thrived in the Dons' spread offense last season, passing for 3,030 yards and 31 touchdowns. He had verbally committed to the Huskies in October, but wavered when he took an official visit to San Jose last week. Washington has commitments from two other Dorsey standouts -- linebacker Matthew Lyons and receiver Marvin Hall. National signing day is Feb. 2.

5. Compton's basketball team has taken care of business the last two weeks, meaning it heads into Wednesday's Moore League showdown at Long Beach Poly with a semblance of momentum. Top-ranked Poly has ripped Compton twice already by a combined 35 points. The Tarbabes' average of 80 points the last four games offers some optimism.
November, 12, 2010
11/12/10
11:21
PM PT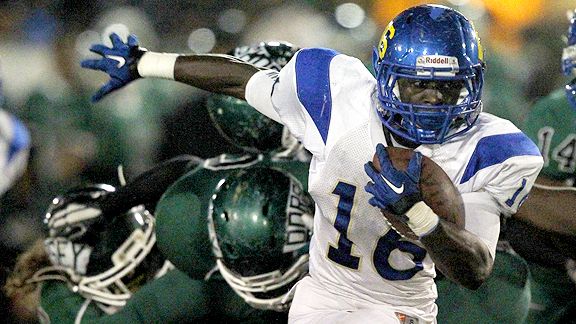 Alex Gallardo/Special to ESPNLA.comUS Presswire
Crenshaw's DeAnthony Thomas had 171 yards in offense in only 13 touches against Dorsey.
LOS ANGELES -- Crenshaw's message was loud and clear Friday night.
The city belongs to the Cougars and no one else after a 53-12 victory over Dorsey.
The clash between the top two City Section teams turned into a laugher quick, with No. 9 Crenshaw building a 34-0 lead after the first quarter. Just minutes later, it was 47-0.
This was one loud, cruel message: Los Angeles is not big enough for both Crenshaw and Dorsey. It's one or the other. And for the sixth straight year, it was all Cougars.
Blue and yellow might make green on the color wheel, but on Friday, that combination made green disappear.
Rancho Cienega Park's Jackie Robinson Stadium -- packed to the brim at kickoff -- thinned out during halftime. The music stopped playing. Fans behind Dorsey's bench traded in their dance moves for blankets. Much of the large crowd bolted before Crenshaw emerged with the one-sided victory and a probable No. 1 seeding for the City Section playoffs.
"We controlled our own destiny," Crenshaw coach
Robert Garrett
said. "There shouldn't be any question for the seeding."
October, 18, 2010
10/18/10
12:01
PM PT
1. You didn't get the sense that Bishop Amat's
Jalen Moore
expected to talk to reporters following his team's come-from-behind win against No. 9 Crespi on Friday. After the playing of the school's alma mater, the junior tailback jogged toward the locker room with the rest of his teammates until he was nabbed. It's weird, given he had rushed for 270 yards and a pair of fourth-quarter touchdowns. It's one thing for a player to say, "It was a team effort, the offensive line really helped us out, etc." It's another thing to show it, which Moore did. Or perhaps he's just camera shy.
2. How about the performance of Dorsey quarterback
Joseph Gray
, who basically played on one ankle Friday? The Washington-bound slinger
threw for seven touchdowns
in the Dons' rout of Locke. If Gray keeps this up, Dorsey (6-0) and Crenshaw (4-2) appear headed for a clash on Nov. 12. Save the date.
3. Serra's
George Farmer
was back at full strength Saturday, which only meant pain for St. Francis defensive backs. The stud wideout, who sat out the second half of the Narbonne game two weeks ago due to an injured hip, had three touchdowns and 217 yards receiving in
a 41-14 road win
.
4. After seeing Crespi's high-powered offense Friday at Bishop Amat, it's hard to imagine any team having success against
Kenny Stenhouse
and Co. But that's exactly what Compton Dominguez did a month back, riding out of Encino with a 14-11 win. Hold Crespi to a mere 11 points? On the road? That's mind-boggling. Dominguez (5-1) was at it again Friday, winning a defensive struggle at Warren, 21-16. The five-point victory followed one of four points, which followed a pair of shutouts. Clump that together with a now-impressive six-point loss to Bishop Amat and you've got a sleeper in Compton.
5. Lakewood took a big blow in its loss to Long Beach Poly last week, but
got off the mat on Friday
to return to its winning ways. Poly was idle, but will resume its Moore League title redemption tour Friday against Millikan.
October, 16, 2010
10/16/10
12:40
AM PT


LOS ANGELES -- 710 ESPN Radio's Beto Duran covered the Dorsey-Locke game Friday night at Rancho Cienega Park as the Dons, ranked No. 18 by ESPNLA.com, rolled to a 56-26 victory in their Coliseum League opener.

Dorsey quarterback Joseph Gray, a Washington commit, passed for 385 yards and seven touchdowns. Gray hurt his left ankle in the second quarter and missed a series but did come back to play. But after his seventh TD pass he limped around and had to be carried off the field.

One of the beneficiaries of Gray's big night was Marvin Hall, who had 150 receiving yards and three touchdown catches. Running back Robbie Gassaway had two TD catches, Domonique Mays had two touchdowns and Keith Lakey had one for Dorsey, which improved to 6-0 overall.

Locke, which fell to 3-3, was led by quarterback Ronnie McKamie, who passed for 230 yards and two touchdowns before leaving the game in the second half because of an injury.
September, 14, 2010
9/14/10
11:43
PM PT
Joseph Gray, Dorsey, Sr.

The senior quarterback has Dorsey (2-0) back in business. Gray passed for a school-record 360 yards in a 37-24 home victory over Woodland Hills Taft on Thursday. He has shown great poise in the Dons' no-huddle offense and has the ability spread the ball around.
Rachel Bush, Redondo Union, Jr.

Perennial powerhouse Redondo Union dominated
The Great Cow Run
at Cerritos Regional Park on Saturday. Bush, along with teammate Lyndsey Mull, led the way with an average mile of 5:48.4. The duo was part of the team that combined to run the fastest 4 x 1600-meter time (20.03.48) in U.S. history earlier this year.
September, 13, 2010
9/13/10
6:52
PM PT
Blair Angulo/For ESPNLA.com
It doesn't seem as if Lakewood's football team has many weaknesses.
Some observations from Week 1 in the South Los Angeles region.
1. There may not be a better defensive team than Lakewood. Coach
Thadd MacNeal
is thrilled with the Lancers' run defense -- and for good reason. Lakewood was downright stingy at St. John Bosco on Friday, allowing the only score on a reverse wideout pass at the end of the first half. If there's a cause for concern, it would be the special teams, which missed a pair of easy field-goal attempts and muffed a punt.
2. It's a shame we're not headed for an undefeated showdown between Moore League rivals Long Beach Poly and Lakewood. The Jackrabbits suffered an ugly 32-7 loss to visiting Ventura St. Bonaventure on Friday. Perhaps the Seraphs are as good as the score indicates, or maybe Poly's passing attack isn't as refined as originally thought.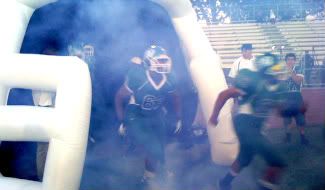 Blair Angulo/For ESPNLA.com Dorsey came out firing on Thursday.
3. Don't be too alarmed by Crenshaw's 0-2 start. The defending state runner-up Cougars are good, having lost both road games by a combined nine points. But good may not be good enough -- they needed to be great to get back to the state title game.
4. Watch out for Dorsey if
Joseph Gray
gets into a rhythm. The senior quarterback started hot, cooled off, then turned it on in a win Thursday over Woodland Hills Taft. A deep corps of receivers -- led by speedster
Marvin Hall
-- gives Gray enough options to spread it around in Dorsey's no-huddle offense.
5. Venice running back
Teondray Caldwell
is opening some eyes early.
Click here
for a quick feature on what he's done so far, including a seven-touchdown performance against Harvard-Westlake.
September, 10, 2010
9/10/10
1:18
AM PT


It might be your night when a quick hitch route develops into something much greater.

Dorsey receiver Marvin Hall ran the simple pattern on the first play from scrimmage Thursday night and quarterback Joseph Gray got him the ball.

What followed is exactly what coaches dream of when they draw up their first plays.

"We wanted to get off to a fast start," Dorsey coach Paul Knox said smiling. "We wanted to control this game."

An aggressive side-step following the catch allowed Hall to turn it into an 80-yard race down the sideline, proving that nothing is ever simple when you factor in his speed. He was at it again minutes later, adding a score of 21 yards.

Ladies and gentleman, we give you Dorsey's X-factor.

"Marvin has really matured," Knox said. "Last year he started for us, but he wasn't the focal point of our offense. With a year of experience, he knows what we're asking of him and he's been delivering."

The fast start propelled No. 17 Dorsey (2-0) past visiting No. 23 Woodland Hills Taft, 37-24, at Jackie Robinson Stadium.


September, 1, 2010
9/01/10
7:11
PM PT
UCLA star safety Rahim Moore has his sights set on the Bruins' season opener Saturday at Kansas State. The junior's focus is on the Wildcats, as he hopes to take some of the magic that made him the nation's interceptions leader last year with him to Manhattan, Kan.

But he's also keeping one eye on his beloved Dorsey Dons. Moore earned four letters (2004-07) while at Dorsey.

"Man, last year was tough," Moore said following a recent UCLA practice, referring to Dorsey's 35-6 loss to heated rival Crenshaw in the City Section semifinals. "We were young."

Moore likes what he has heard of this year's team. The Dons return seven starters on offense, including quarterback Joseph Gray. Linebacker Matthew Lyons, a Washington commit who had 135 tackles last fall, leads a defense that allowed less than 19 points per game a year ago.

Dorsey, ranked No. 18 in ESPNLA.com's preseason rankings, opens its season tonight at North Hollywood. An intriguing matchup awaits in Week 2 against No. 25 Woodland Hills Taft.

"I think we'll be very good," Moore said.