Los Angeles Preps:

Junior Pomee
February, 2, 2011
2/02/11
12:56
PM PT
By
Dan Arritt
| ESPNLosAngeles.com
Below is an updated list of high school football recruits from the Inland Empire and where they're headed.
Tight end
Junior Pomee
and cornerback
Ryan Henderson
of Moreno Valley Rancho Verde are expected to announce their decisions at 5:30 p.m.
Reports
indicate they're headed to USC.
Corona Centennial quarterback
Michael Eubank
just announced he will stick with Arizona State. His decision will be broadcast on FS West at 7 p.m. He had also considered Pittsburgh and Utah.
Eubank committed to the Sun Devils in December but recently had taken a recruiting trip to Pittsburgh. Vista Murrieta quarterback
Derrick Brown
recently switched his commitment from Utah to Washington, which had opened a possible spot for Eubank.
UNDECIDED
Junior Pomee, TE, Moreno Valley Rancho Verde
Ryan Henderson, DB/RB, Moreno Valley Rancho Verde
ARIZONA STATE
Quinton Pedroza, WR/DB, Chino
Brent Walker, OL, Norco
Michael Eubank, QB, Corona Centennial
BOISE STATE
Jake Van Ginkel, K, Upland
BYU
Adam Pulsipher, LB, Temecula Valley
COLORADO
Greg Henderson, DB, Norco
COLORADO STATE
Nuuvali Faapito, F/LB, La Quinta
FRESNO STATE
Ejiro Ederaine, LB, Corona Santiago
February, 1, 2011
2/01/11
5:42
PM PT
By
Greg Biggins
| ESPNLosAngeles.com
Who's still on the board? With signing day rapidly approaching, here's a look at what top un-committed players from Southern California are still out there (or those from out of the area considering USC, UCLA or both) and who they're currently considering.
ATH Marqise Lee (Gardena, Calif./Serra) -- USC, Oregon, Miami, Cal, UCLA
Lee has been a strong lean to USC for weeks now and that's where the smart money should be. Oregon and Miami are still pushing hard, Cal hasn't given up and Lee took an unofficial visit to UCLA on Sunday and reportedly clicked very well with new OC and WR coach Mike Johnson. Lee will announce at noon PT on Fox Sports West.
WR Devin Lucien (Encino, Calif./Crespi) -- Arizona State, Colorado, UCLA, Utah, Miami
Lucien could go several different directions and the only surprise would be if he picked Utah, since he has never visited the campus. UCLA was thought to be the early favorite but ASU and Colorado are right there at the top as well. Lucien is looking to play early and the depth chart at Colorado is wide open. The coaches at ASU have been relentless and his visit to Miami might have been his favorite. Lucien will announce at 3 p.m. PT.
DB Ryan Henderson (Moreno Valley, Calif./Rancho Verde) -- Utah, USC
Henderson committed early to Utah but took an official visit to USC a few weeks ago and was blown away by the Trojans. USC was Henderson's dream school growing up, it's close to home and it's where his family wants him. The corner enjoyed his visit to Utah but look for him to sign with the Trojans.
January, 17, 2011
1/17/11
2:15
PM PT
1. It didn't take long for Fairfax to realize that it wasn't in Canada anymore. Two-time state champ Westchester (16-5) dominated the Western League showdown, winning 67-40 and perhaps hinting that there might not be much competition between the two this season. Fairfax (10-5), which easily won three games at the Snowball Classic in Canada, didn't respond well to the loss. The Lions fell to University, 56-48, a night later. Both defeats came at home.

2. All of Chris Reyes' game-high 19 points came before the fourth quarter, yet La Verne Damien (15-1) managed to erase a halftime deficit and claim its first-ever victory at Chino Hills (14-4). The Spartans went into the locker room down three before winning 59-50. J.P. Chakbazof had 13 points for Sierra League-leading Damien.

3. Long Beach Poly doesn't have just one great basketball team. The girls' team is ranked No. 2 in the nation for a reason; Long Beach Wilson found that out the hard way. The Jackrabbits (14-2) forced 38 turnovers -- or more than one per minute -- in a blowout, 63-24 win over Wilson. Poly's only two losses have come against Brea Olinda.

4. Carson football coach Elijah Asante announced on his Twitter account that senior dual-threat quarterback Justin Alo (2,534 yards, 18 touchdowns) received an offer to play at Hawaii. After speaking to him following a playoff game in November, Alo -- a first-team All-City selection -- was sure he would eventually land an offer or two. He had a rough time against Crenshaw's defense in the City Championship, but he proved to be a valuable player throughout the season.

5. Alo and the Black team defeated the White team, 21-8, in the first-ever Polynesian All-American Classic at Cathedral High on Saturday. The four-day event is designed to give players one more shot at earning a college scholarship. But that doesn't mean top prospects are excluded. J.R. Tavai (Mira Costa/USC) and Junior Pomee (Rancho Verde/undecided) were among the participants.
December, 11, 2010
12/11/10
12:38
AM PT
By
Pedro Moura
| ESPNLosAngeles.com


MORENO VALLEY -- In the week leading up to Friday night's highly anticipated Colton-Rancho Verde CIF-SS Central Division championship game, Colton coach Rick Bray told his running back, senior star Tyler Ervin, that he was going to have him run the ball 50 times against the Mustangs to keep the talented Rancho Verde offense off the field.

Bray didn't quite get to his goal -- Ervin only had 42 carries for 168 yards -- but the plan worked to perfection, as underdog Colton controlled the pace of the game from start to finish and topped host Rancho Verde, 17-7, to hand the Mustangs their first loss of the season and win the school's first CIF title in 32 years.

"We knew that if we smacked them in the mouth and ran hard on every single play, nothing can stop us," Ervin said afterward. "We are a force to be reckoned with."

A good portion of Ervin's 42 carries appeared to be on a very similar play the Yellowjackets called again and again. Colton quarterback Jordan Mixon didn't delay and got to the line of scrimmage quick, where he would pitch to Ervin -- sometimes left, sometimes right -- a guard or tackle would run out and pull for the 5-foot-10, 175-pound speedster, and Ervin would get five or so yards a pop.

"We saw it all coming," said Rancho Verde defensive end/tight end Junior Pomee. "We knew they were going to run it with the same person, same play, over and over again.

"The defense just couldn't stop it."

Mixon wasn't asked to throw the ball very often, but when he was, he was on target. He twice connected with receiver Rodney Hardrick for scoring passes in the second half, including a 79-yard catch-and-run that broke the game open with 10 minutes to go in the fourth quarter.

Rancho Verde (13-1) came into the game averaging 48 points per game as the undefeated champions of the Inland Valley League and hadn't scored fewer than 28 points all season.

After a shaky, scoreless first quarter, the Mustangs appeared to get it together a bit and took a 7-3 lead into the halftime break on a touchdown grab by Breon Redman. But quarterback Travis Champion was clearly troubled by consistent pressure from the Colton defensive line in the second half and wasn't able to deliver much of anything of substance. When Champion threw two picks late in the game as the Mustangs tried to put together desperation drives, he was replaced by backup Jordan Jones, who didn't fare much better.

Colton (12-3) didn't even win its league this season, finishing third behind Cajon and San Gorgonio in the San Andreas League, but the Yellowjackets turned it up in CIF postseason play, beating Colony and Palm Springs to start off the run and then sneaking away with a one-point overtime victory over Cajon last week in the semifinals.

Bray, in his first season as head coach after serving as an assistant for 21 years, was elated with his team's performance -- especially against what he considered to be superior competition.

"That team has a bunch of great athletes," Bray said. "We're good athletes."

Rancho Verde played its season in memory of fallen linebacker Emil Smith, who died in a car accident in July. Pomee said he and his teammates were proud to have made it as far as they did.

Said Pomee: "We're just really happy that we played our hearts out for him."
December, 9, 2010
12/09/10
7:06
PM PT
By
Dan Arritt
| ESPNLosAngeles.com
Corona Centennial and Vista Murrieta, who have emerged as two of the Inland Empire's strongest football powers in the last decade, will meet for just the second time Friday night in the Inland Division championship game at Centennial.

Kickoff is set for 7:30 p.m.

The only other time the teams played was two years ago in the semifinals. Centennial won, 41-14, behind three touchdown passes and two rushing by quarterback Taylor Martinez, now at Nebraska. That team went on to defeat Concord De La Salle in the CIF-Division I state bowl game and finish 15-0.

Offensively, the top-seeded Huskies (13-0) are very similar this season. They also feature a talented dual-purpose quarterback in Michael Eubank, a senior who has thrown for 2,532 yards and 21 touchdowns this season, with just three interceptions. On the ground, he has amassed 1,092 yards and 18 touchdowns, averaging 10.1 yards per carry.

The biggest difference between this season's offense and the 2008 version is running back Barrinton Collins, whose quick feet and explosiveness prevents defenses from focusing on Eubank. Collins has rushed for 2,026 yards (11.3 avg.) and scored 37 touchdowns.

Defensively, they're a plus-23 in turnover ratio. Ryan Jack, a San Diego State-bound linebacker, is the team's leading tackler.


December, 5, 2010
12/05/10
12:00
PM PT
By
Sean Ceglinsky
| ESPNLosAngeles.com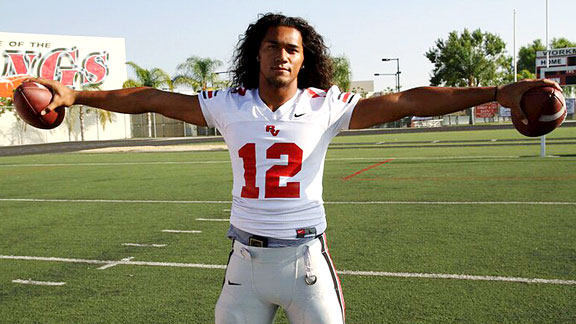 Courtesy of Ruben Arras
Junior Pomee, tight end at Rancho Verde, is one of the most highly recruited players at his position.
He plays for him, heavy-hearted and all.
Junior Pomee
appears to have a rather promising future ahead of him on the football field. Keep in mind, the 6-foot-3, 225-plus pound senior from Moreno Valley Rancho Verde High is one of the country's top tight end prospects with a scholarship offer on the table from several NCAA powerhouse programs.
Pomee, however, is a bit reluctant to move forward. He has some unfinished business to take care of, namely honoring a fallen teammate,
Emil Smith
, who was killed in an automobile accident months before the 2010 season.
Before life continues for Pomee, it's his desire to commemorate the life that was lost the best way he knows how: with a Southern Section Central Division championship. Accordingly, he played a prominent role in Friday night's 42-21 semifinal victory over host La Quinta to move the Mustangs a step closer to winning a title in Smith's memory.
"We dedicated the season to Emil, and we know he's upstairs, watching down on us. We're not going to let him down,'' Pomee said. "Before our games, we carry out a banner with his picture on it and then hit the field. It's like Emil is still with us, in some ways. His spirit motivates us. His spirit gives us energy and emotion. His spirit gets us hyped to play."
Similar to Pomee, Smith appeared to have just about everything going for him. The senior linebacker had committed to Boise State in June. On July 18, he was sitting in the passenger seat, alongside his older brother and driver,
Dimitri Garcia
, when they crashed into oncoming traffic in nearby Hemet.
Just like that, Smith was gone. And just like that, Pomee was devastated. His teammates, too. Seemingly everyone on campus was distraught.
November, 12, 2010
11/12/10
11:24
PM PT
By
Dan Arritt
| ESPNLosAngeles.com


RIVERSIDE — When the Moreno Valley Rancho Verde and Riverside Arlington football teams met Friday night, there were plenty of reasons to leave it all on the field.

Not only was there a Inland Valley League title at stake, but Arlington was playing without coach Pat McCarthy, who was recuperating in the hospital after suffering cardiac arrest before practice earlier in the week.

Rancho Verde was trying to wrap up an undefeated regular season in honor of Emil Smith, the Boise State-bound senior-to-be who was killed in a car accident over the summer.

In the end, Rancho Verde had a little too much firepower and the Mustangs held on for a 28-16 victory at Riverside Ramona High.

"These guys are fighters," said Eric Seckinger, who was filling info McCarthy. "They were feeding off coach Mac."


August, 31, 2010
8/31/10
7:32
PM PT
By
Dan Arritt
| ESPNLosAngeles.com
1. Temecula Chaparral (Southwestern League)

The Pumas earned the right to strut after winning the Inland Division title last season, and they have the goods to back it up with the return of last season's Inland Division co-offensive player of the year, Antoine Arnold, and co-defensive player of the year, Darius Guillory.

2. Vista Murrieta (Southwestern League)

Can we just fast forward to Oct. 14? Of course, that's when the Broncos are scheduled to host Chaparral in their Southwestern League opener. Quarterback Derrick Brown, a three-year starter, has been eyeing that date since last December.

3. Corona Centennial (Big VIII League)

The 2008 Division I state bowl champions aren't accustomed to looking up at others in the rankings. At least they'll have a chance to do something about it, traveling to Chaparral for a nonleague game Sept. 24. Centennial is also led by a fleet-footed returning quarterback, senior Michael Eubank.

4. Upland (Baseline League)

Fresh off a Central Division title run, the Highlanders will bank on the depth of their running game and the health of quarterback Justin Nunes to make noise in the newly joined Inland Division. Two key transfers from Alta Loma won't hurt either.

5. Norco (Big VIII League)

Norco has a Gerhart and another talented running back headed to Stanford. A few years ago, it was state career rushing leader Toby Gerhart. This season it's senior running back Kelsey Young and freshman quarterback Coltin Gerhart, the youngest brother of Toby.